Pineapple Green Smoothie Recipe
This Pineapple Green Smoothie recipe made with spinach is so good I even got my soon to be daughter in-law to drink it. And she liked it! Why am I surprised?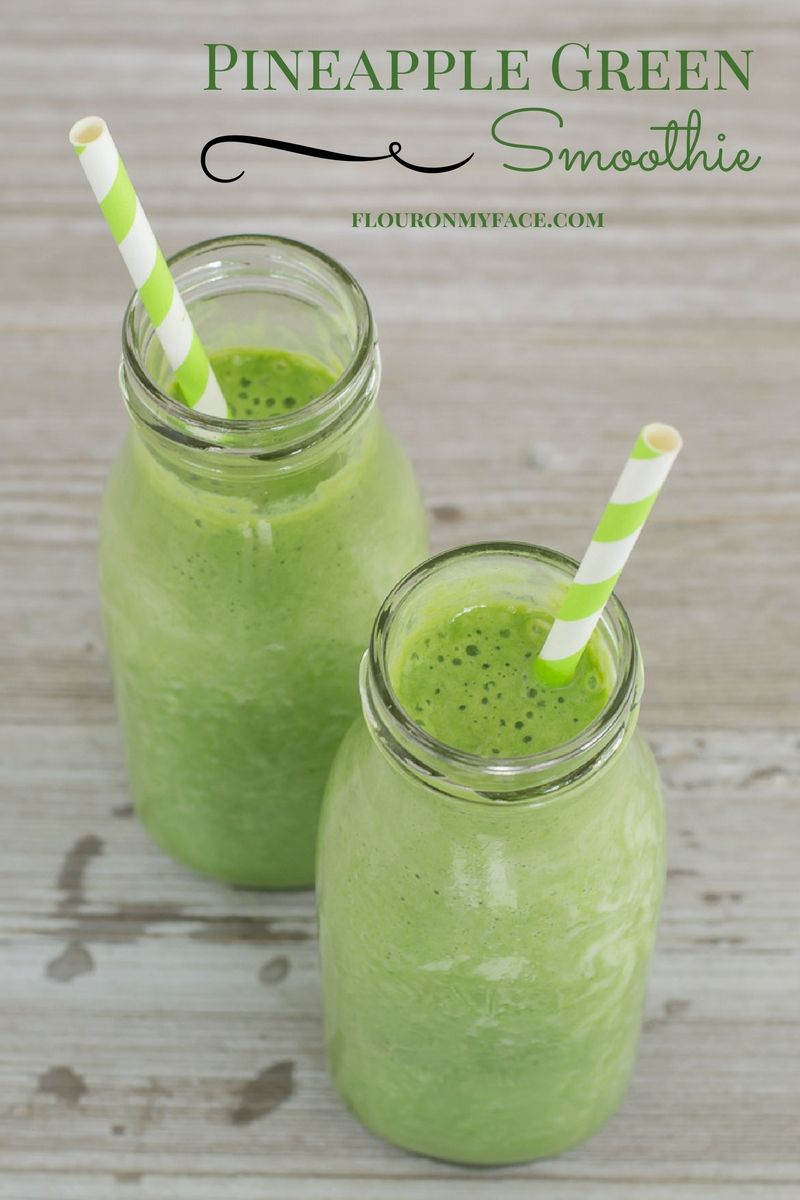 Because that girl does not like anything. She is the pickiest eater I have ever met. But after sucking down this Pineapple Green Smoothie she wanted to know if I would make them for her every day.
My answer to that was don't you have a blender? It was a trick question because I just gave her a blender about a month ago. So I wrote the recipe down for her and sent her on her way.
Green Smoothies are good for you!
I was looking through some old posts when I came across this totally ugly photo of the Green Monster Smoothie recipe I shared many moons ago. The recipe is great but the photo is horrendous! One of these days I will update the photo.
I also made a Kiwi Cucumber Smoothie recipe that is so refreshing. Cucumber really perks the flavor of a green smoothie up. You've got to try it!
How to make a green smoothie that isn't bitter?
Have you tried green smoothie before and found them way too bitter? I try to avoid adding sugar to my smoothie recipes because I am trying to drink a healthy smoothie. Adding sugar is not usually needed when you make a smoothie recipe with fruit. The fresh spinach or fresh kale can give a green smoothie a bitter flavor I don't like.
Instead of adding sugar add a teaspoon of natural honey to your green smoothie recipe. It cuts the bitter flavor and will have you sucking that green smoothie down in a flash.
How to start making healthy smoothies?
Sometimes getting the recommended amount of fresh fruits and vegetables into your daily diet can hard. We are all busy and sometimes we make bad food choices because we don't have time to eat a nutritious breakfast, lunch or dinner. We end up skipping meals altogether, eating frozen microwave meals or eating take out.
One way to avoid eating foods we know are bad for us is to work smoothies into our daily diet.
Affiliate links below!
6 things you need to start making smoothies
All you need is a few basic ingredients and a good blender to add juicing or smoothies to your life.
Fresh fruit
Fresh vegetables
a milk product or juice
yogurt
ice
A good strong blender is so important when your making smoothies on a daily basis. Once you get into the habit of making a smoothie every day for breakfast, lunch or a mid day snack you blender is going to take a beating.
Frozen fruit and ice cubes put wear and tear on an average blender. After you burn up a few $40 blenders your going to kick yourself for not buying a Blendtec blender.
I've had mine for about four years and couldn't be happier. It rips right through ice and frozen fruit like a dream. I get a perfect smoothie every time.
If you love creamy smoothies make them with milk, coconut, almond or any milk of choice. Using fruit or vegetable juice with give a much different texture than a milk or non-dairy milk will give you.
Use fruit and vegetables that you love. Mix and match different fruits and vegetables until you find that favorite combination of flavors that has you looking forward to enjoying your daily smoothie.
Frozen or fresh fruits and vegetables can be used.
Plain or flavored yogurt can be used. I prefer plain yogurt over vanilla yogurt in my smoothies.
I try to avoid adding a sweetener most of the time because most smoothie ingredients like yogurt and fruit is sweet enough already.
I will add a little honey or a tiny amount of sugar in a green smoothie that has spinach or kale in it because those vegetables tend to have a slightly bitter flavor to them.
Ice is a no brainer. You can use store bought ice cubes, ice cubes from an ice maker or even the old fashioned ice cube tray ice cubes you make yourself.
And of course you need a strong blender. As I mentioned I own and love my Blendtec blender. You can use whatever blender you own until you burn it up and need to buy a good strong blender like a Blendtec.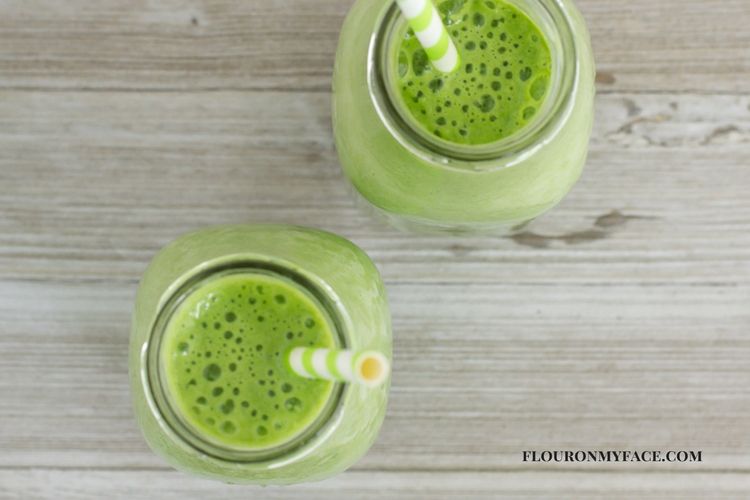 How to make a Pineapple Green Smoothie Recipe
Ingredients
½ cup ice cubes
½ cup milk
½ cup yogurt
½ cup frozen pineapple chunks
2 tablespoons thawed, drained well and squeezed frozen spinach or 1 cup firmly packed fresh spinach leaves
1 teaspoon honey
 Directions
Place all the ingredients into a blender.
Blend until smooth and creamy.
Makes 1 serving.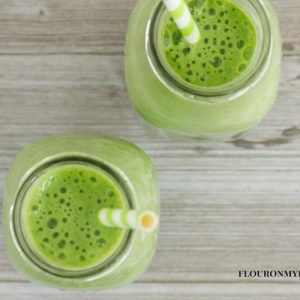 Pineapple Green Smoothie Recipe
A refreshing Pineapple Green Smoothie recipe to get you motivated in the mornings.
Rate this Recipe
Ingredients
½

cup

ice cubes

½

cup

milk

½

cup

yogurt

½

cup

frozen pineapple chunks

2

tablespoons

thawed, drained well and squeezed frozen spinach

(or 1 cup firmly packed fresh spinach leaves)
Follow Flour On My Face on Pinterest
Instructions
Place all the ingredients into a blender.

Blend until smooth and creamy.
Nutrition
Calories:
227
kcal
Carbohydrates:
31
g
Protein:
10
g
Fat:
8
g
Saturated Fat:
5
g
Polyunsaturated Fat:
1
g
Monounsaturated Fat:
2
g
Cholesterol:
28
mg
Sodium:
139
mg
Potassium:
663
mg
Fiber:
2
g
Sugar:
29
g
Vitamin A:
3151
IU
Vitamin C:
20
mg
Calcium:
338
mg
Iron:
1
mg
Tried this recipe?
Share a picture on Instagram and tag @flouronmyface2