Green Monster Smoothie Recipe
Start the morning with a glass of greens to get a head start on your vegetables for the day with this Green Monster Smoothie recipe.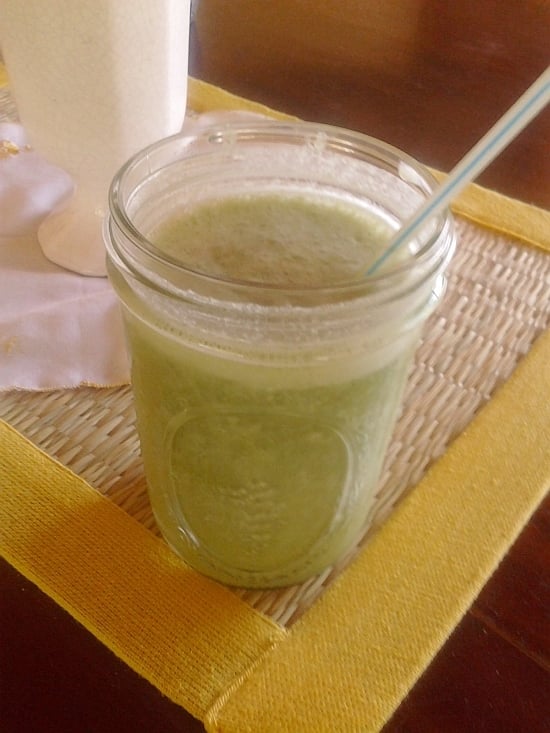 This week I decided that I was going to drink a green monster smoothie every morning for breakfast.
Breakfast and I do not get along. I have always hated eating breakfast. I know this isn't good for my body. Matter of fact truth be told sometimes I go all day until about 3 or even 4 pm with out eating a thing.
You and I both know this isn't a good thing.
Last weekend I came across a blog with tons of green monster smoothie recipes. I just happen to have some frozen banana's in the freeze. Matter of fact I had almost all the ingredients to make a green monster except for the spinach or kale. After reading some comments about how the kale was a stronger flavor and if you used baby spinach leaves you didn't taste it I decided to go with the spinach.
I had my husband pick some up from the store and the next morning I made my first green monster. It wasn't bad so I decided I could make myself drnk one for breakfast every morning. That was on Sunday so Monday was the day to begin my new breakfast routine.
Mondays are hectic around here and I had my first Green Monster smoothie FAIL. I totally forgot about making one until about noon.
I decided to skip it that day and begin today on Tuesday.
Today is the day. I mixed one up. This is what I used today. My recipes are probably going to change daily. I'll use what I have on hand and then replenish the supplies as I need to.
This recipe will make one serving green smoothie.
How to make a Green Monster Smoothie recipe
Ingredients
1 cup homemade coconut milk
½ frozen banana
2 handful baby spinach leaves
1 large frozen strawberry
2 ice cubes
Directions
Put all the ingredients into a blender and pulse until thick and creamy.
Makes one serving.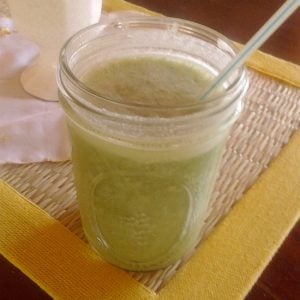 Green Monster Smoothie
Get your vegetables the smoothie way with this green monster smoothie recipe.
Rate this Recipe
Ingredients
1

cup

homemade coconut milk

½

frozen banana

½

cup

homemade organic yogurt

2

handful

baby spinach leaves

1

large

frozen strawberry

2

ice cubes
Follow Flour On My Face on Pinterest
Instructions
Add ingredients to blender in order listed.

Blend to desired texture.
Nutrition
Calories:
595
kcal
Carbohydrates:
30
g
Protein:
11
g
Fat:
53
g
Saturated Fat:
45
g
Polyunsaturated Fat:
1
g
Monounsaturated Fat:
3
g
Cholesterol:
16
mg
Sodium:
135
mg
Potassium:
1274
mg
Fiber:
3
g
Sugar:
15
g
Vitamin A:
5788
IU
Vitamin C:
41
mg
Calcium:
256
mg
Iron:
9
mg
Tried this recipe?
Share a picture on Instagram and tag @flouronmyface2