Looking for an easy Halloween treat? This Halloween Cookie Bark recipe is so easy to make and you can top it off with whatever goodies you like?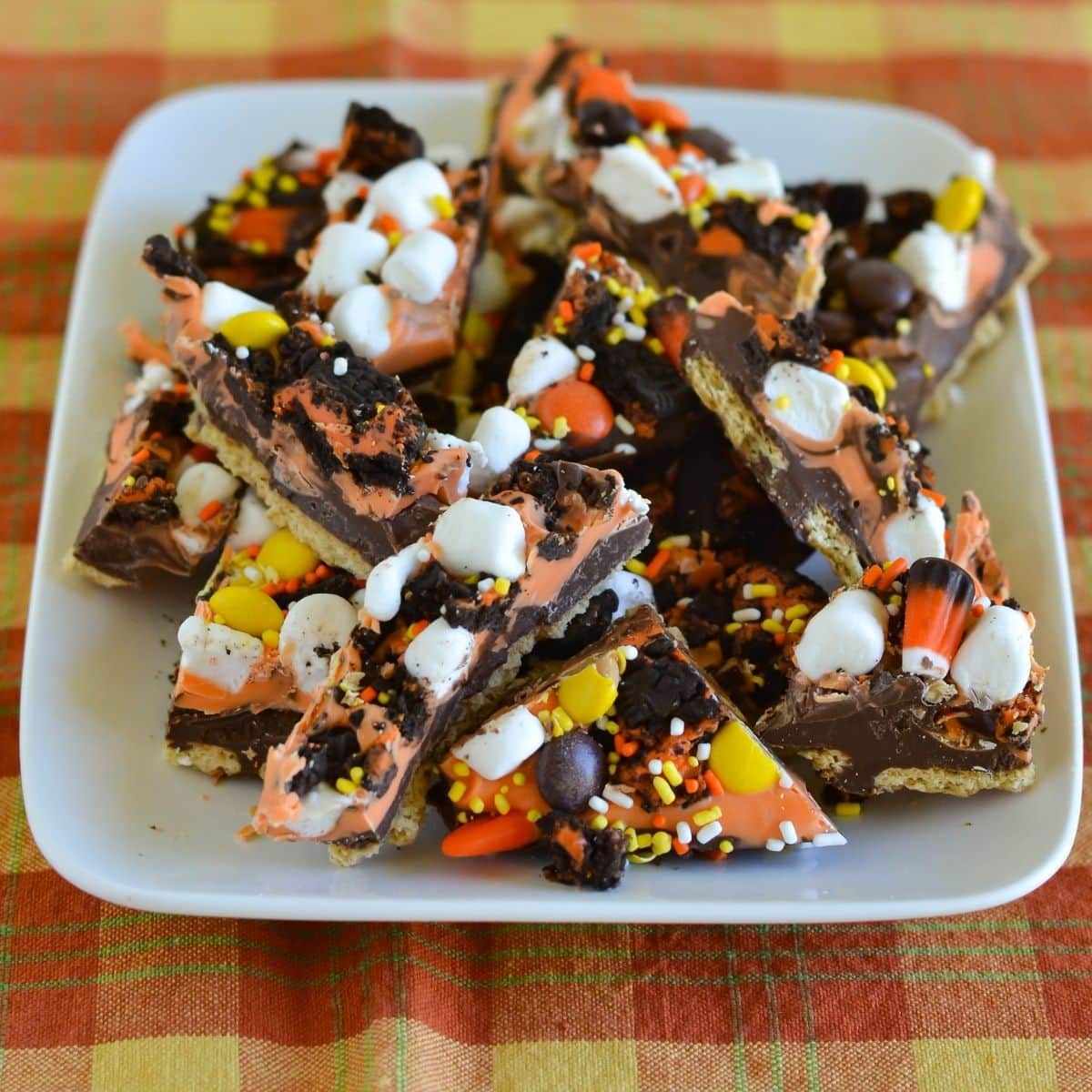 This is a perfect Halloween treat for the14578 kids to help make.
Halloween Cookie Bark is a multi layered delight starting with a layer of graham crackers, then two layers of milk chocolate and a layer of orange candy melts to match the Halloween theme.
This very same recipe could be made to celebrate any holiday by changing the flavors/colors of the chocolate layers then using candy and cookies to top it all off that correspond with the holiday.
It is also a perfect way to use up left over Halloween candy.
I used Oreo Halloween cookies with an orange filling for this Halloween Bark recipe. Recently Oreo has been making their sandwich cookies with fillings to celebrate the holidays. It makes using Oreo cookies and creating easy holiday treat recipes so much more fun.
Halloween Cookie Bark Ingredients
2 cups milk chocolate chips
1 bag orange Wilton Candy Melts
5 graham crackers
6 crushed Oreo cookies
¼ cup Reese's Pieces
½ cup mini marshmallows
handful of candy corn
Halloween colored sprinkles
2 tablespoons Crisco shortening
Directions
Line an 8 x 8 baking pan with parchment paper.
Cover the bottom of the pan with the graham crackers.
Slowly melt the chocolate chips with 1 tablespoon Crisco at 10 second intervals until creamy and smooth.
Spread the melted chocolate on top of the graham crackers to the edges and corners of the pan.
Melt the Wilton orange Candy Melts and 1 tablespoon shortening at 10 second intervals until creamy and smooth.
Pour over the chocolate layer and spread to the corners and edges with a spatula.
Sprinkle the marshmallows over the melted candy melts.
Sprinkle the crushed Oreos over the top of the marshmallows.
Drop the Reese's Pieces over the top.
Randomly drop the candy corn over the top.
Sprinkle the Halloween colored sprinkles over the top.
Cut a piece of parchment paper to fit the top of the pan.
Lay it over the top and gently apply pressure over all the toppings to embed them in the melted chocolate.
Allow the chocolate to harden overnight.
Cut into pieces the next day.
More Halloween Treats
Click the buttons below in the recipe card to print, save to Pinterest or save the recipe to your favorites.
Leave a comment if you have a question about this or any other recipes I have shared. Tried one of my recipes? Leave a star rating on the recipe. Leaving a rating really helps me out. Thanks! Come hang out with me on Pinterest, Facebook and Instagram.
Looking for more Halloween treats to celebrate the spookiest holiday of the year?
Try some of these other easy to make Halloween Treats