Get your free Halloween Treat Bag Topper printable and impress your trick or treaters this Halloween!
As an adult, I've grown to love Halloween with its festive decorations and tasty treats. But as a kid, I wasn't a fan of dressing up in costumes.
Instead, I enjoyed handing out candy to the neighborhood kids. Now that I have grandkids of my own, I love making special treats for them, like spooky Halloween cupcakes.
Join in on the fun and create some memorable moments this Halloween season.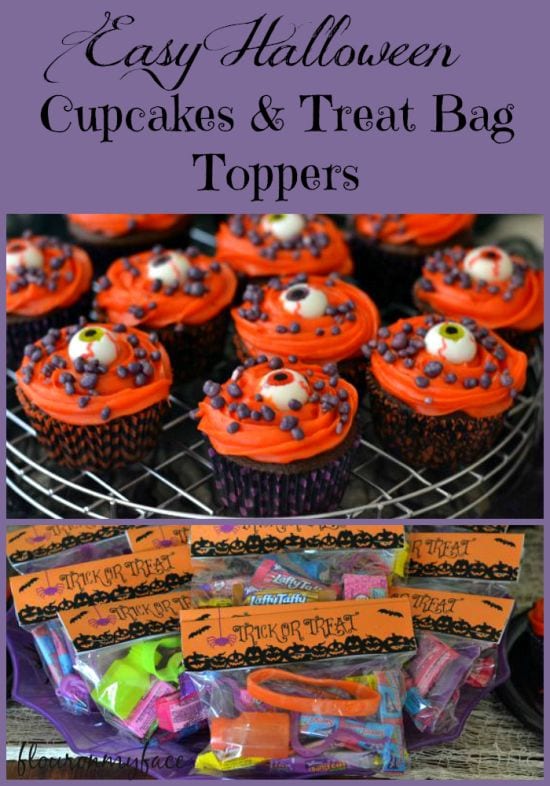 What to fill Halloween Treat Bags with
Get ready to fill your Halloween goodie bags with the best treats! I got my hands on some huge bags of Halloween candy, including the irresistible Wonka Mix Ups and Wonka Kiddie Carnival Chewy Mix.
Each bag is stuffed with all the candy my grandkids love, like Laffy Taffy, Sweet Tarts, Bottle Caps, and Nerds.
But the real highlight is the Wonka Kiddie Carnival Chewy Mix, which boasts a whopping 185 pieces of the Original Spree, Sweet Tarts, Sweet Tart Chews, and Caramel Apple Laffy Taffy.
And that's not all!
I also grabbed some mini bubbles, bracelets, plastic skeletons, and spooky creatures to add some extra fun to the Halloween goodie bags.
Don't forget to download and print these amazing Halloween Treat Bag Toppers to create your own spooky surprises.
Get ready for the best Halloween treats ever!
Grab this exclusive content today!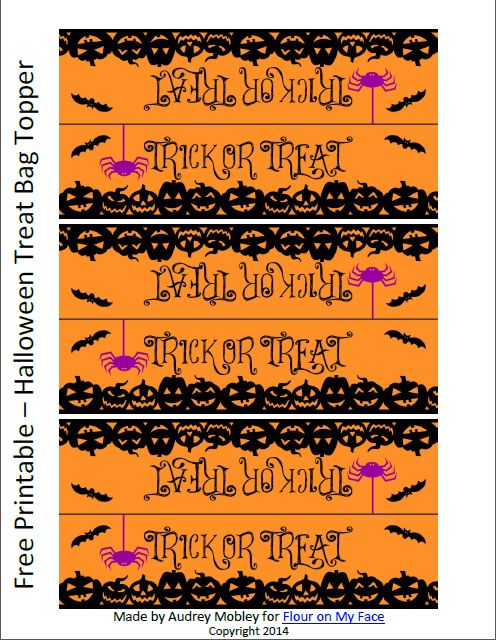 How to use the Halloween Treat Bag Toppers
Each sheet will print 3 goodie bag toppers.
Step 1: Download and save the printable.
Step 2: Set your printer's ink to the Best color setting for optimal quality. Print the Halloween bag toppers on white card stock. Print as many sheets as you need bag toppers.
Step 3: Cut along the edges of each topper. Fold each toppers in half along the dotted line. Score along the folded edge for a clean fold.
Step 4: Fill a sandwich size zip topped bag with Halloween candy and small plastic toys. Close the bag pressing the air out.
Step 5: Slid the edge of the baggie top along the fold of the topper centering it over the bags top edge. Attach the Halloween Bag Topper with staples to the top of the bag using a stapler.
If there is excess space in the bag at the top simply fold the top of the bag down before stapling the decorative bag topper.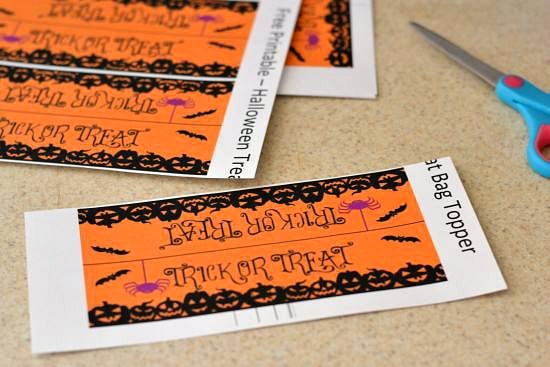 Check out how cute my Halloween goodie bags turned out!
It is so easy to make these cute Halloween treat bags with this fun Halloween treat bag topper printable and they turn out beautiful.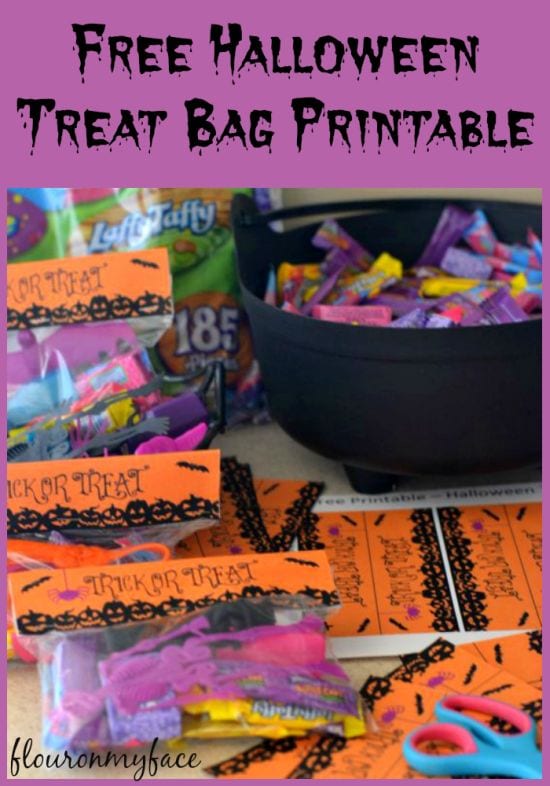 Helpful Products
Must-have Halloween goodies for your treat bags.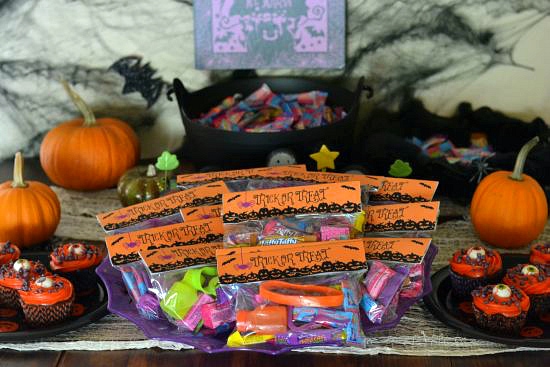 Now we all know we have to have some spooky cupcakes to help celebrate Halloween, or to take to a Halloween party.
These spooky eyeball cupcakes are so easy to make. All you need is a box of chocolate cake mix, a can of orange frosting, Gummy eyeballs or Eyeballs gumballs and a couple of boxes of purple Nerds from the bag of Wonka Mix Ups that you already bought to make the fun Halloween Treat Bags.
How to Make Halloween Eyeball Cupcakes
Bake the cupcakes following the directions on the box of chocolate cake mix.
Let the cupcakes cool completely.
Frost the cupcakes with the orange frosting. Set a gummy eyeball or an eyeball gumball in the center of the cupcake.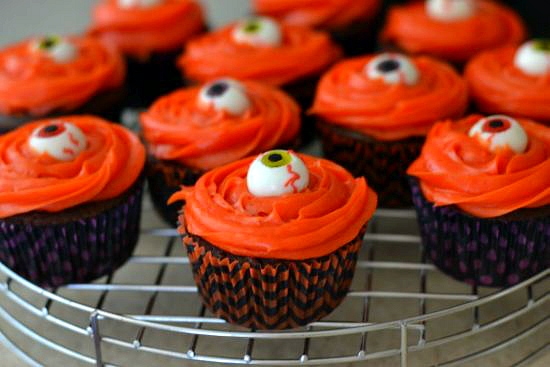 Sprinkle the purple Nerds around the eyeball.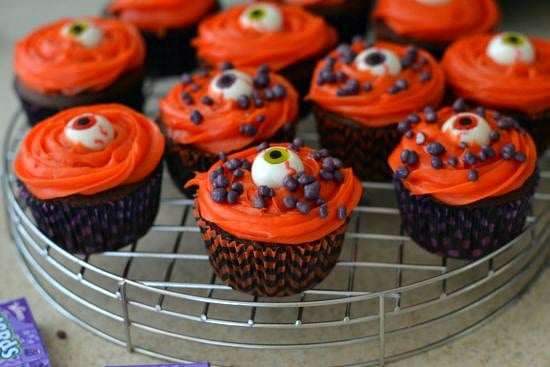 Now isn't that easy? Look at how creepy and cool those gummy eyeballs look!