Free Halloween Treat Bag Topper Printable
Easy Halloween Cupcakes
Disclosure: This #CollectiveBias #Treats4All shop has been compensated by Collective Bias, Inc. and its advertiser. I've created this Free Halloween Treat Bag Topper Printable and these Easy Halloween Eyeball Cupcakes to show you how easy it is to celebrate Halloween with Nestle.   All opinions are mine alone.
Halloween is one of my favorite holidays now that I am adult. I love the fun and spooky decorations. I love the treats. I love decorating the house. Now as a kid it was a different story. I don't know why but I really didn't like the dressing up in a costume part.  The candy part was fun but I gave up trick or treating as soon as I could and instead would hand the candy out instead. 
Now that I have a bunch of grand kids I love making treats for them. Cupcakes are always a big hit with the grandkids and I had an idea to make some fun and a little spooky Halloween cupcakes for them this year.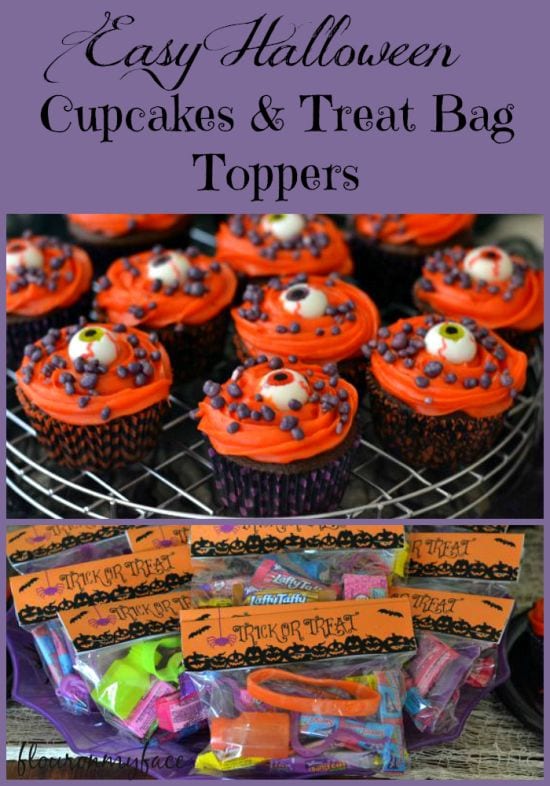 I also decided to have my daughter make these Halloween Treat Bag Toppers for me (she is very talented in digital design) and make up goodie bags to hand out to all the little trick or treaters who come to my door. 
I picked up a couple of huge bags of Nestle Halloween candy at Walmart to fill my goodie bags. I bought a bag of Wonka Mix Ups and a Wonka Kiddie Carnival Chewy Mix .  Each bag is packed full of candy my grand kids love like Laffy Taffy, Sweet Tarts, Bottle Caps and Nerds. The Wonka Kiddie Carnival Chewy Mix has a 185 pieces of the Original Spree, Sweet Tarts, Sweet Tart Chews and Caramel Apple Laffy Taffy.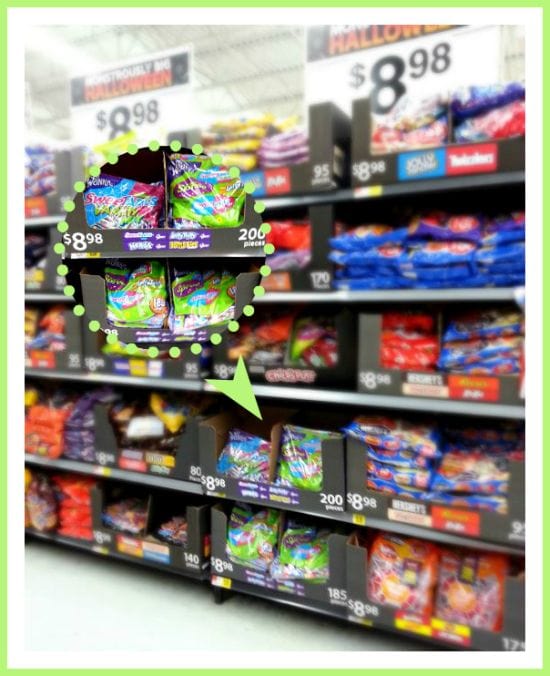 Along with the Nestle Halloween candy I bought, mini bubbles, bracelets, plastic skeletons and spooky creatures to put in the Halloween goodie bags.
Click on the image below to print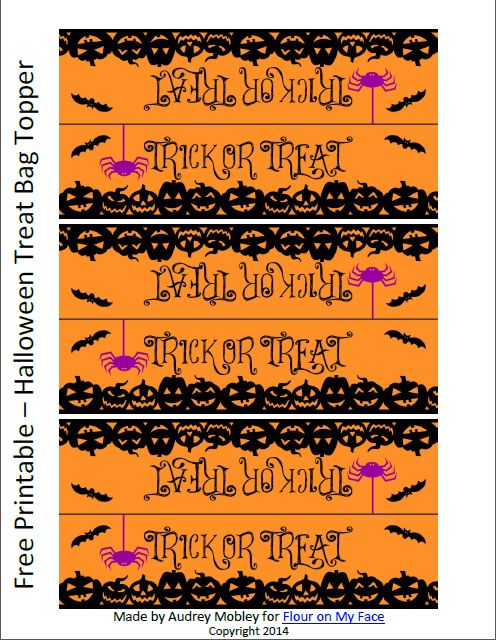 If you would like to make these Halloween Treat Bag Toppers to make your own Halloween goodie bags you can download the free Halloween Treat Bag Topper Free Printable here. Each sheet will print 3 goodie bag toppers. Be sure to set your printers ink to the Best setting when printing. 
 Print out as many sheets as you need, cut them out, fold them in half and score them, fill your sandwich size bag with the Wonka Mix Ups and Wonka Kiddie Carnival Chewy Mix and staple the Halloween Bag Topper to the top of a zip topped sandwich bag. You can fold down the top of the sandwich bag if there is a lot of room at the top after you have filled the bags.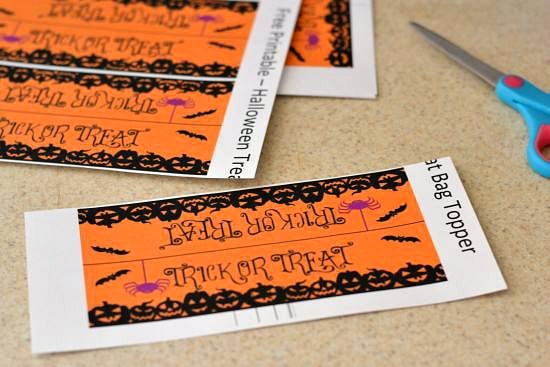 Check out how cute my Halloween goodie bags turned out! It is so easy to make these with this fun Halloween treat bag topper printable and they turn out beautiful.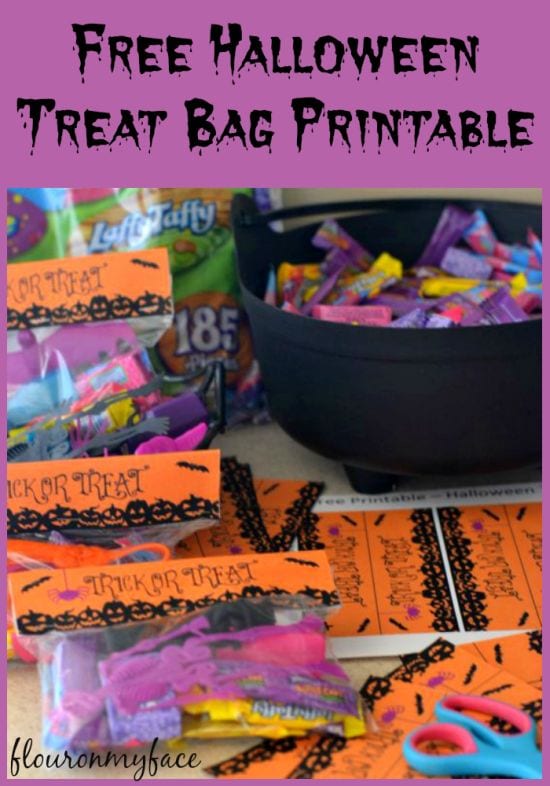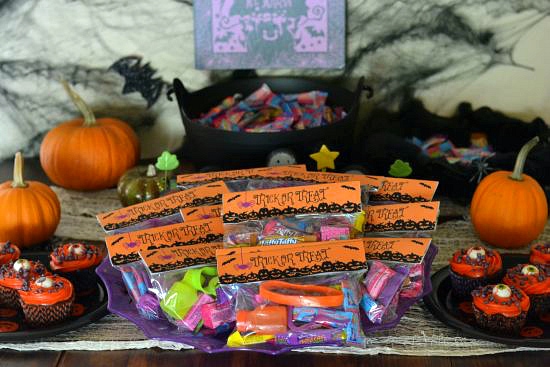 Before we get to the Halloween cupcakes I wanted to share a tip for making life easier on Halloween. Halloween night is such a busy night. What with getting the kids ready in their costumes, taking the kids trick or treating and handing out candy to the little ghosts and goblins that come knocking. I never have time to get dinner ready. My answer to making life easier on Halloween night is to pop a Digornio pizza in the oven. Digornio pizza is our family favorite when it comes to frozen pizza's. Everyone in the family loves the DiGiorno Original Rising Crust Pepperoni. So instead of worrying about making dinner I take the easy way out on Halloween night.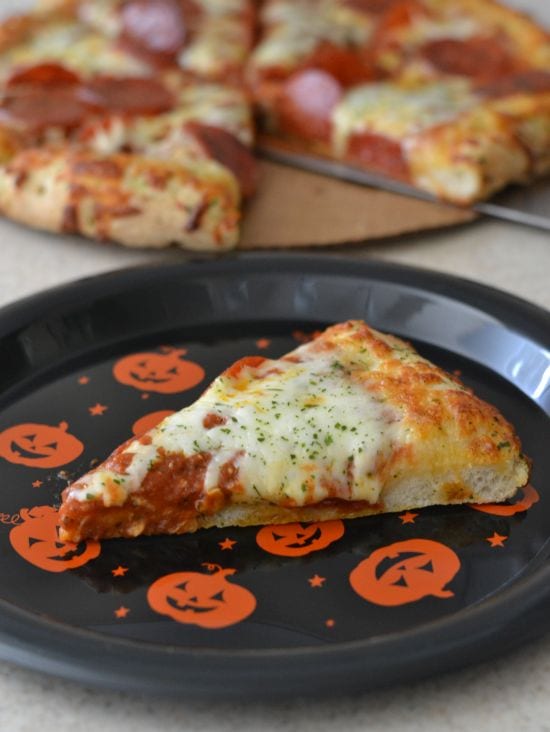 Now we all know we have to have some spooky cupcakes to help celebrate Halloween, or to take to a Halloween party. These spooky eyeball cupcakes are so easy to make. All you need is a box of chocolate cake mix, a can of orange frosting, Gummy eyeballs or Eyeball gumballs and a couple of boxes of purple Nerds from the bag of Wonka Mix Ups that you already bought to make the fun Halloween Treat Bags.
How to Make Halloween Eyeball Cupcakes
Bake the cupcakes following the directions on the box of chocolate cake mix. Let the cupcakes cool completely. Frost the cupcakes with the orange frosting. Set a gummy eyeball or a eyeball gumball in the center of the cupcake.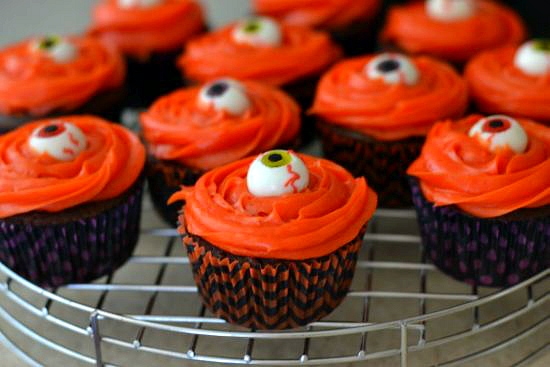 Sprinkle the purple Nerds around the eyeball.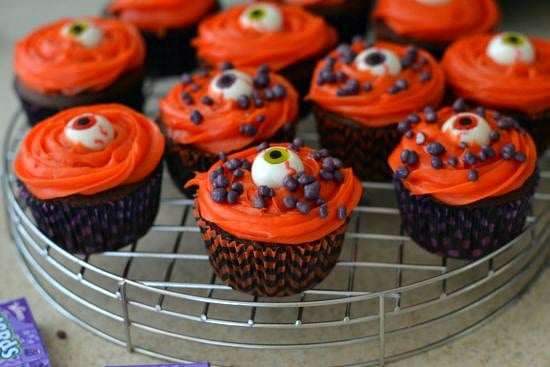 Now isn't that easy? Look at how creepy and cool those gummy eyeballs look!