Boiled Shrimp and Spicy Garlic Dipping Sauce
Boil Florida Pink Shrimp is the best shrimp you will ever taste. I love Boiled Shrimp and Spicy Garlic Dipping Sauce. It is the best way to eat boil and peel shrimp!
As I was making the Boiled Shrimp and Spicy Garlic Dipping Sauce my mouth was literally watering. I couldn't wait to dip a sweet and juicy Florida Gulf  shrimp in the spicy garlic dipping sauce.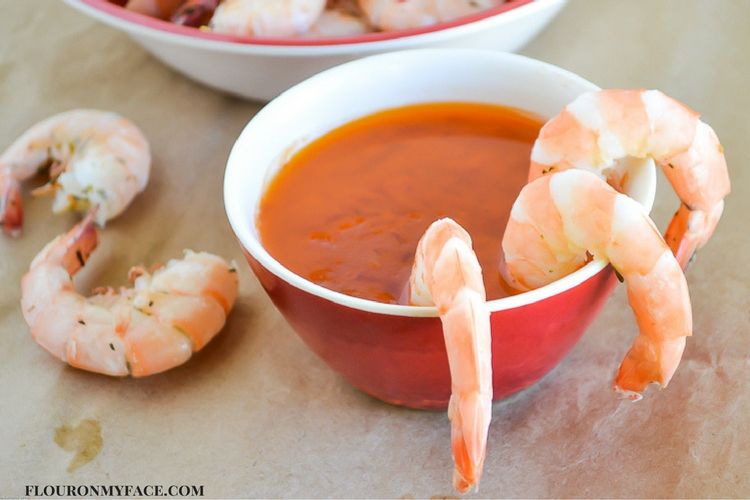 If you have never tasted a plump Florida Gulf Pink Shrimp you are in for a treat. I'm lucky enough to live off the west coast of Florida where I can buy freshly caught Florida Gulf Pink Shrimp any time I want.  Most of the large grocery chains sell frozen Florida Gulf Pink Shrimp so no matter where you live you can enjoy some too. Read the labels.
The next time you plan on boiling up some shrimp, stone crab claws, lobster or blue crab be sure to make this Spicy Garlic Dipping Sauce to go along with it. It only takes a couple of minutes to make it and the flavor goes perfect with shellfish. Even with the time it takes to boil the shrimp this tasty meal or appetizer is ready in about 15 minutes.
When I eat shrimp or crab legs I like to cook it with just a bit of seasoning. I don't want to overpower it with a heavy seasoning. I like to enjoy the sweet flavor of the shellfish. But when it comes to my dipping sauce I love a flavor that will complement the shellfish with a bit of garlic and a bit of zing from hot sauce. 
You can find the entire recipe along with how to boil shrimp so it is tender and sweet below in Ziplist format. Be sure to save it to your recipe box for later.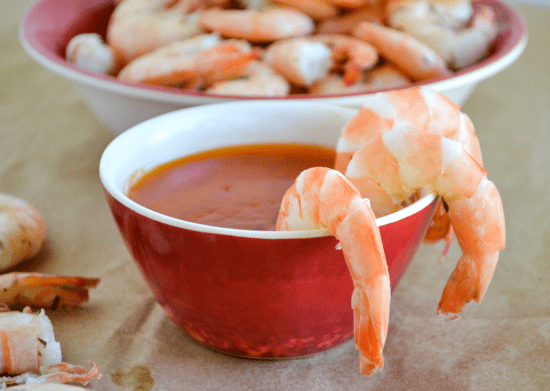 How to make Boiled Shrimp and Spicy Garlic Dipping Sauce
Boiled Shrimp & Spicy Garlic Dipping Sauce
:
Arlene Mobley-Flour On My Face
Recipe type:
dipping sauce
Ingredients
Boiled Shrimp
1½ pounds uncooked fresh or frozen shrimp
2 teaspoons Italian Seasoning
1 teaspoon Garlic Salt with Parsley
Spicy Garlic Dipping Sauce
¼ cup butter
1 teaspoon garlic salt w/ parsley
1 teaspoon Louisiana hot sauce
¼ cup ketchup
Directions
To Cook the Shrimp
If using fresh shrimp de-head and rinse under cold water, leaving peel intact.
Bring a large pot of water to a full rolling boil.
Add the Italian seasoning and garlic salt to the water.
Carefully add shrimp to the pot and boil for 5-7 minutes or until shrimp are bright pink and cooked through. Do not over cook.
Place a large colander in the sink and pour the shrimp into the colander to drain. Do not rinse
To Make the Spicy Garlic Dipping Sauce
Melt the butter and the garlic salt in the microwave for about 20 seconds or until completely melted.
Add the ketchup and hot sauce.
Stir well to combine.
Serve immediately with boiled shrimp, stone crabs or blue crab.