It wouldn't be BBQ season without fall apart tender Kansas City Style Baby Back Ribs. These are easy to make in the oven if you don't have a smoker and one of my favorite bbq recipes.
Over the years I have made many bbq ribs. I have grilled them over charcoal, cooked them on a gas grill, slow baked them in the oven and smoked them in a water smoker.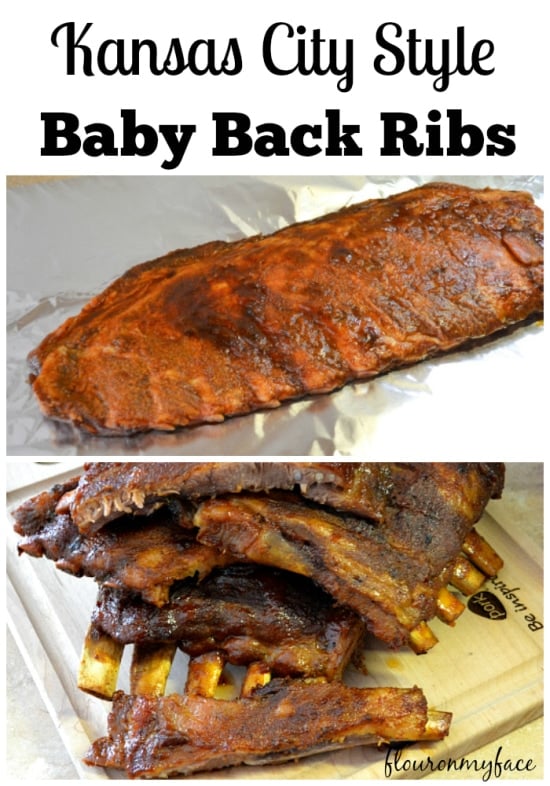 One of my favorite ways to cook barbecue pork spare ribs is on a water smoker.
There is nothing that can get my mouth watering faster than a couple of racks of pork ribs as they slowly smoke over some hickory or better yet mesquite chips.
We actually like a combination of hickory and mesquite chips when we smoke pork. 
But not everyone owns a smoker. It is an investment.
You can get a small Water Smoker Grill on Amazon (affiliate link). And that is a steal. 
So what can you do when you don't own a smoker but want the same fall apart tender Kansas Style Baby Back ribs bbq that you get from cooking low and slow in a smoker?
Well, you can do what I do. Cook them low and slow in the oven.
The trick to getting fall apart tender pork ribs in the oven is to wrap them tightly in aluminum foil. The aluminum foil traps the moisture from the meat and the flavor from the rub and locks it into the ribs. 
The Kansas Style Baby Back ribs turn out so finger licking good that I don't even miss the smoky flavor from smoking over hardwood chips.
You can add a little bit of liquid smoke to the pork rub to get the same smoky flavor if you like.
Print the Kansas City Style Baby Back Ribs Recipe below
Email questions or recipe requests to flouronmyface@gmail.com. Follow me on Pinterest, YouTube, Instagram and Facebook.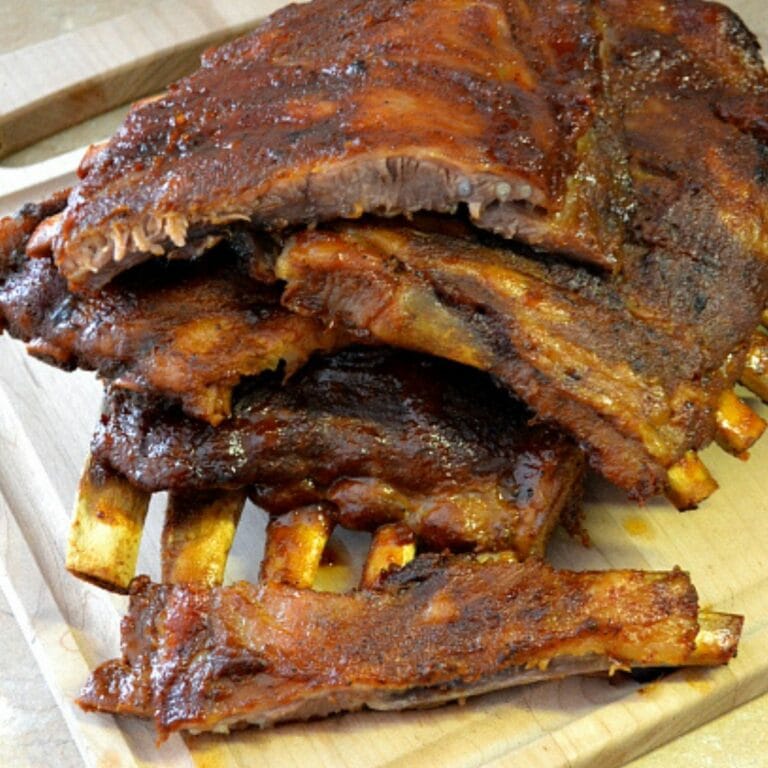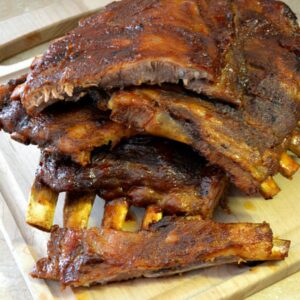 Kansas City Style Baby Back Ribs Recipe
Kansas City Style Baby Back Ribs Recipe
It is easy to make fall apart tender Kansas City Style Baby Back Ribs at home when you bake them low and slow in the oven using my trick to get moist and tender pork ribs in the oven. Rate this Recipe
Ingredients
2

cups

brown sugar

⅛

cup

dried mustard

3

tablespoons

yellow mustard

1

tablespoon

garlic powder

1

tablespoon

paprika

2

teaspoons

cayenne pepper

2

tablespoons

dried minced onion

1

tablespoon

pepper

2

racks

baby back ribs

(thick membrane removed)
Follow Flour On My Face on Pinterest
Instructions
Mix all the dry rub ingredients together.

Remove the thick membrane from the back of the ribs by working the point of a knife under one edge. Using a paper towel grasp the edge of membrane and slowly peel it from the back of each rack of ribs. Repeat as needed until all the membrane has been removed.

Rub the dry rub all over each rack of ribs. Covering the entire surface of each rack of ribs well. Wrap the ribs in plastic wrap or aluminum. Place the ribs on a cookie sheet to catch the drips and refrigerate at least 4 hours or overnight.
Cooking the baby back ribs.
Smoke the ribs for 6-8 hours in a smoker, or wrap tightly in new aluminum foil and place in a large baking pan or on a large cooking sheet.

Bake in a low oven (325F) for 4-6 hours, occasionally turning and checking for done-ness. During the last 45 minutes of cooking carefully remove the hot aluminum foil and baste with your favorite bbq sauce.

Ribs are done when fall apart tender.
Recipe Expert Tips
Prep and cook time can vary depending on how long you marinate in the rub and how long you bake in the oven. The size of the rack of ribs will also play a factor in cooking time.
Nutrition
Serving:
1
Serving
Calories:
735
kcal
Carbohydrates:
77
g
Protein:
38
g
Fat:
32
g
Saturated Fat:
11
g
Polyunsaturated Fat:
5
g
Monounsaturated Fat:
14
g
Trans Fat:
1
g
Cholesterol:
130
mg
Sodium:
269
mg
Potassium:
668
mg
Fiber:
1
g
Sugar:
72
g
Vitamin A:
379
IU
Vitamin C:
4
mg
Calcium:
142
mg
Iron:
3
mg
Tried this recipe?
Share a picture on Instagram and tag @flouronmyface2
Check out my BBQ Recipes page where you can find all my favorite barbecue recipes along with perfect summer side dish recipes and drink recipes.