Fresh Florida Strawberries
Every year during the months of  February and  March the grocery stores are overflowing with plump sweet Florida strawberries. The Florida winter strawberry season actually runs from November to April but to me the strawberries available during February and March are the best.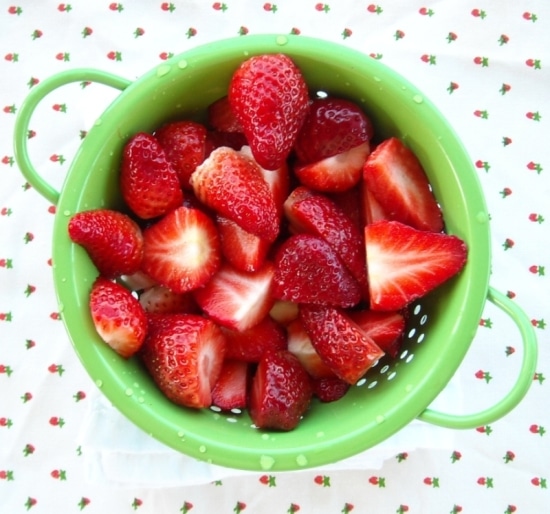 My refrigerator is overflowing with fresh strawberries right now. We like to eat them straight from the container. Rinsed off first of course. We make smoothies and homemade yogurt pops. One of my favorite recipes Strawberry Banana Buttermilk ice pops.
And of course I also enjoy making strawberry jam. My husband likes a 
carambola
 and strawberry jam that I made a few years ago and has been pestering me to make it again. It really didn't excite me so I have been trying to put it off. But he brought me home a bag of freshly picked carambola to nudge me in that direction.
 My favorite jam is a strawberry and blueberry blend.
I was poking around google and found a couple of interesting sites I thought you might enjoy.
StrawberrySue is the official blog from the Florida Strawberry Growers Association. You can find recipe, news and events and a newsletter just to name a few of the things you can find if you visit the blog.
There is a Florida Strawberry Handout that is geared towards educators from the
Florida Strawberry Growers Association.
If 
you're
 a homeschooling family or a teacher you can request the
 Educational Packet
available for the 
classroom
.
If 
you're
 like me and you like to find interesting information and share it with your children or grandchildren there is a downloadable
Florida Strawberry Handout Packet
that is full of information and fun things to share with your children.. The handout covers historical facts about strawberries, a word search puzzle, strawberry nutritional facts, information about the different varieties of strawberries, planting your own strawberry patch, become a plant breeder and strawberry recipes.
If your planning to grown your own strawberries with your children or grandchildren this spring this handout would be a perfect way to introduce them to every aspect of strawberries.
Older children would have fun with the become a plant breeder section. Did you know there are 200 seeds on the average strawberry? I didn't but imagine the excitement your child might have growing their very own strawberry variety from seeds on a strawberry. There are step by step instructions on how to harvest the seeds from a strawberry and plant them. I will be trying this out with my granddaughter.
Have fun! I think teaching children how fruits and vegetables grow is very important. It is amazing just how many children do not have a clue that the fruit and vegetables they help pick out in the grocery store actually grows on a farm.
Disclosure: I have not been compensated for this blog post in any way. I just happen to live in Florida and love strawberries and wanted to share the love with my readers!