Make a batch of this homemade infused Pineapple Ginger Rum at home so you can enjoy this amazing infused rum to make summer beach themed cocktail recipes like the Shell Beach Cocktail?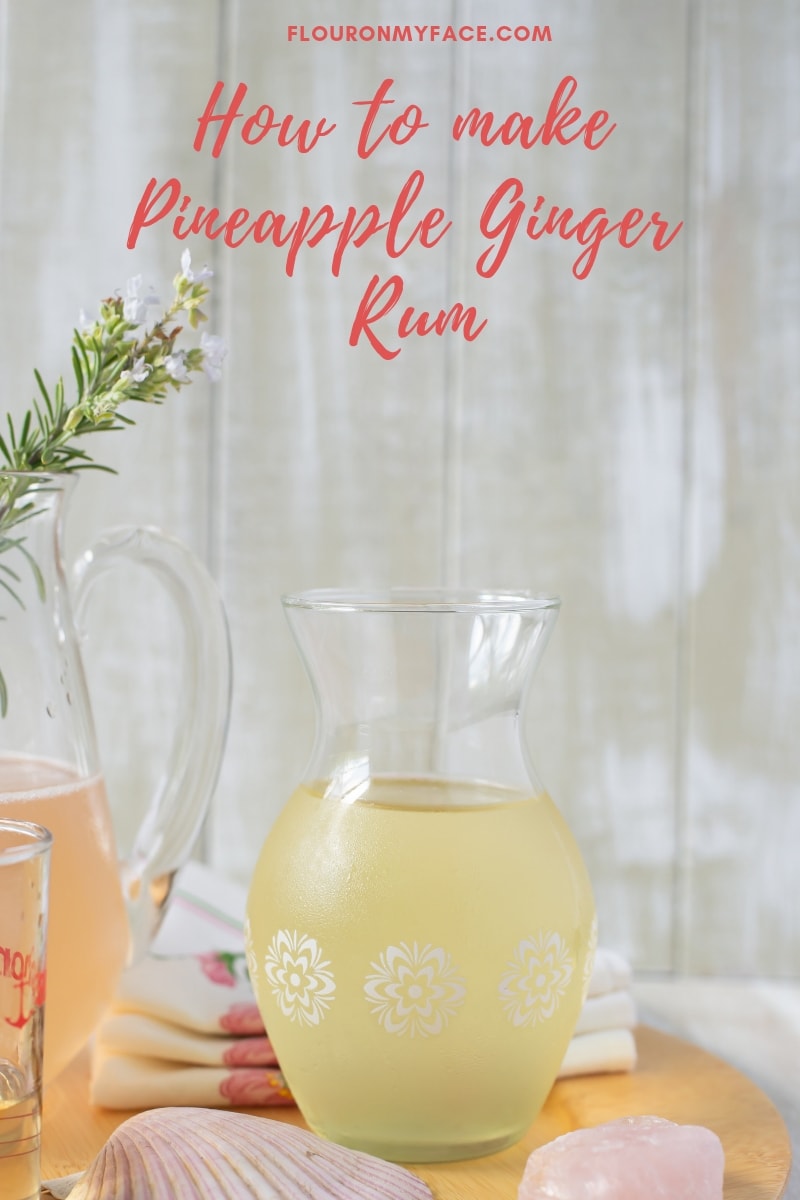 Making your own infused rum is all the rage these days. So much so that the rum manufacturers have started offering fruit-infused rum to their customers.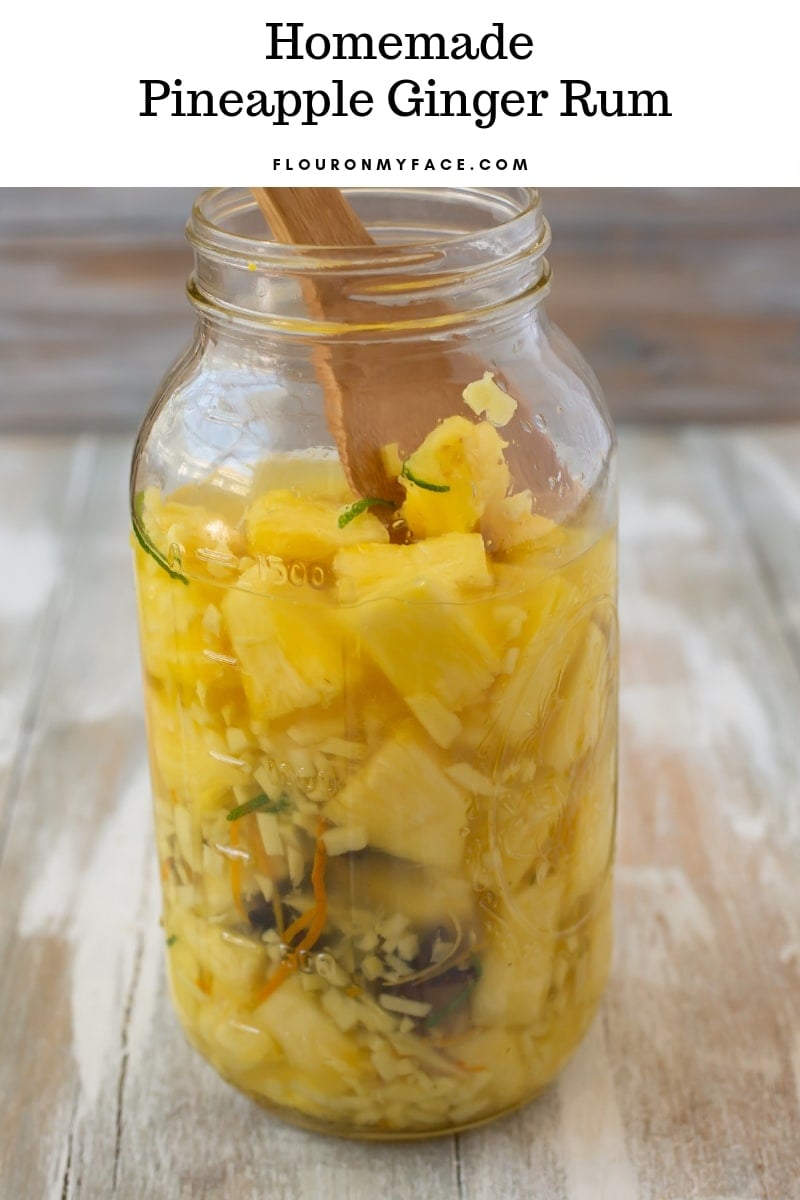 Homemade Pineapple Ginger Rum
We all know homemade is better. When you make homemade fruit-infused rum to use in summer cocktail recipes you know exactly what goes into it.
It also doesn't have that fake artificial fruit flavoring because you have made it using fresh fruit.
What ingredients do you need to make pineapple ginger rum?
Homemade pineapple ginger rum is made with white rum and fresh pineapple, ginger root, citrus zest, and star anise that has been allowed to steep for two weeks before mixing into your favorite cocktail.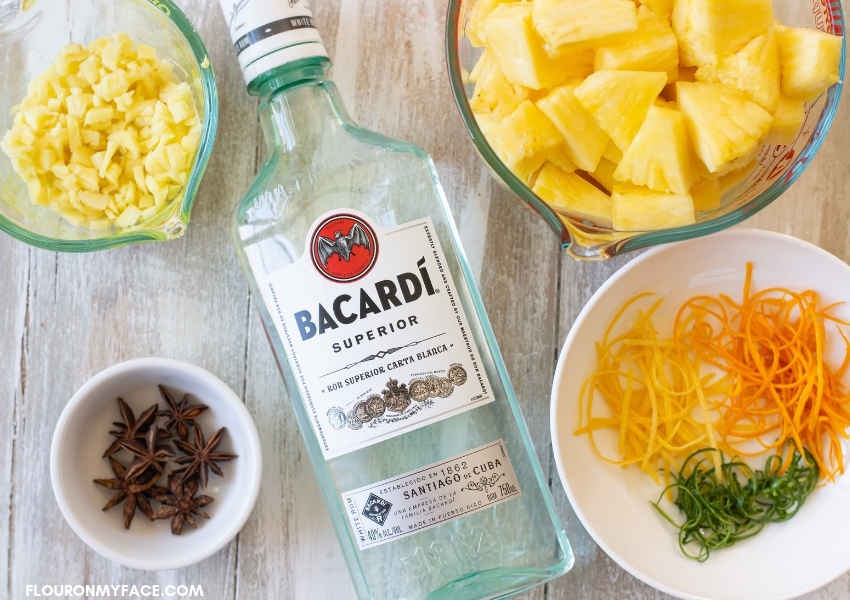 750 ml bottle of Barcardi Superior White Rum
one fresh pineapple
fresh ginger root
whole star anise
orange zest
lime zest
lemon zest
How To Make Pineapple Ginger Rum
It is very easy to make pineapple ginger rum at home. All you need to do is put all of the ingredients into a jar and wait.
The waiting is the hardest part. You will need to infuse the rum, pineapple, ginger, star anise, and citrus zest for at least two weeks before you can use it as a cocktail mixer.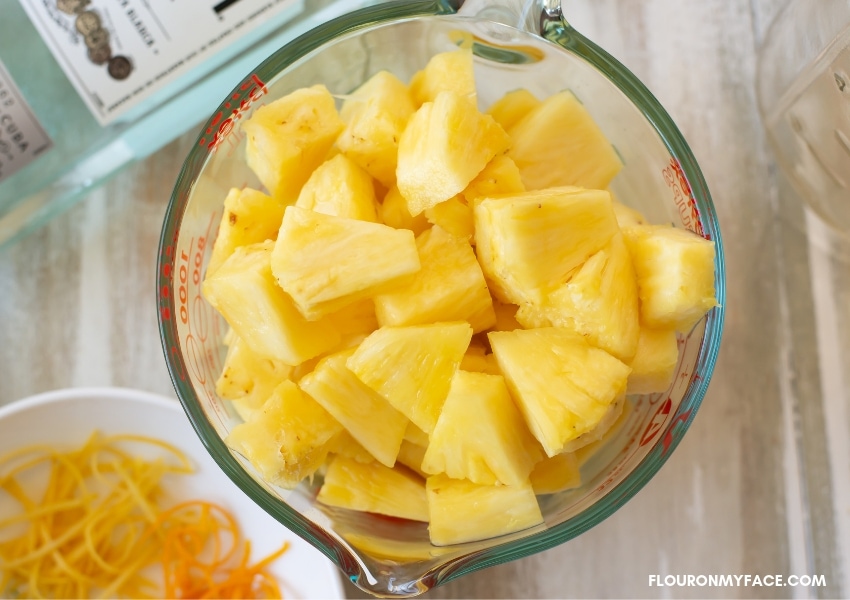 Fresh Pineapple
You will need one fresh ripe pineapple to make pineapple ginger rum.
Pick a pineapple that is at its peak of freshness. A sweet fresh pineapple will allow the rum to become infused with the sweetest pineapple flavor.
Think about how disappointing it is to bite into a piece of unripened pineapple. An unripe pineapple does not have a very sweet flavor. Therefore unripened pineapple will not impart the best pineapple flavor when steeping in rum.
How To Cut Fresh Pineapple Chunks
To prepare the pineapple start by cutting off the bottom and top of the pineapple. Lay the pineapple down on its side on a cutting board and cut it in half.
This makes the pineapple much less awkward to handle as you are slicing off the pineapple rind.
Carefully use a sharp knife to cut the rind off following the curve of the pineapple piece.
Remove the tough eyes from pineapple now before you slice it. This makes removing the pineapple eyes, where the seeds are so much easier than when you have thin pineapple slices to handle.
Slice each section of the peeled pineapple in 1-inch thick round slices. Then cut each slice into quarters.
Next, cut each point off from each quarter piece of pineapple slice to remove the tough core. Now cut each quarter into chunks.
Divide the pineapple pieces between two-quart mason jars, or fill a ½ gallon mason jar, as I have with all of the pineapple pieces.
If you don't have mason jars you can use a large bowl or a 2-quart food-grade plastic container.
Make sure the container you choose has enough room for the rest of the ingredients.
Chopped Fresh Ginger Root
Homemade Pineapple Ginger Infused Rum calls for ¾ cup of chopped ginger root.
Pick out a large aromatic knobby root of fresh ginger.
The skin should be smooth, it should feel firm and the piece of the ginger root should feel heavy for its size.
Avoid skimpy wrinkled pieces of fresh ginger. Ginger root with a rough wrinkly skin is past its prime.
The ginger root will be dry and lack most of the spicy peppery flavor we all love about fresh ginger root.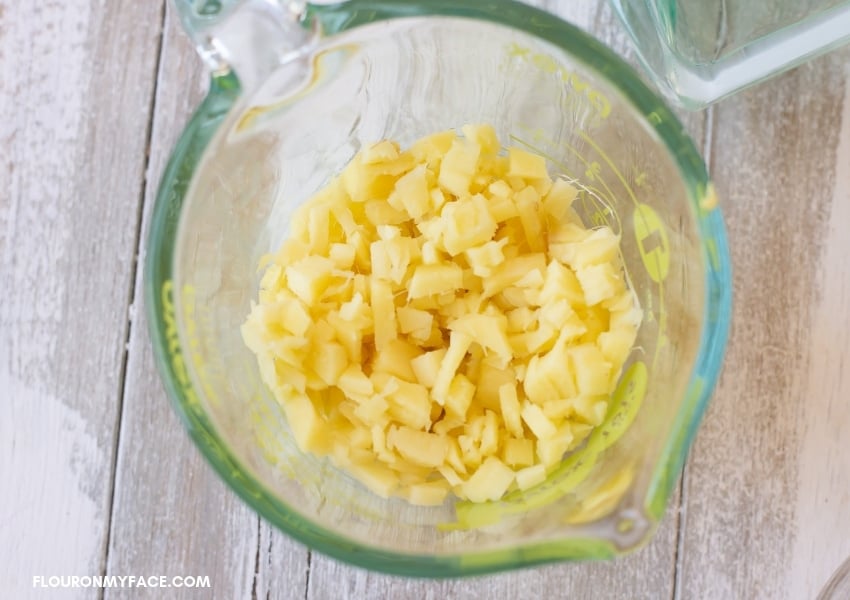 Grow Fresh Ginger Root
Save the knobs on the ginger peel as you peel the ginger root for this infused rum recipe.
Plant the ginger root peels with knobs in a pot of moist soil. Keep the pot moist and in the shade. Soon you will have a pot full of fresh ginger root you can cook with. The flavor of freshly grown ginger is amazing.
Citrus Zest
This Pineapple Ginger Rum recipe uses a combination of citrus zest. You will need thin strips of orange, lemon and lime zest.
The only reliable zester I have ever used that will make long thin strips of citrus zest in one like this OXO Good Grips Lemon Zester .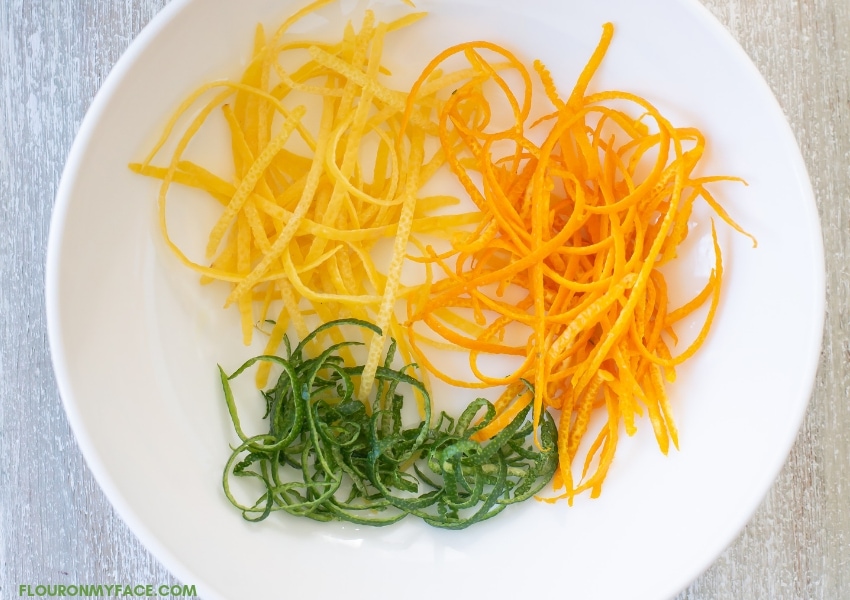 It takes a little practice but once you get the hang of it you can drag it right through the citrus peel and the citrus peel will come off in long thin strips.
Infusing Rum with Fruit & Spices
Once you have the pineapple cut up into chunks, the fresh ginger roughly chopped and the citrus peel zested you are ready to put all of the ingredients into a container to steep with the rum.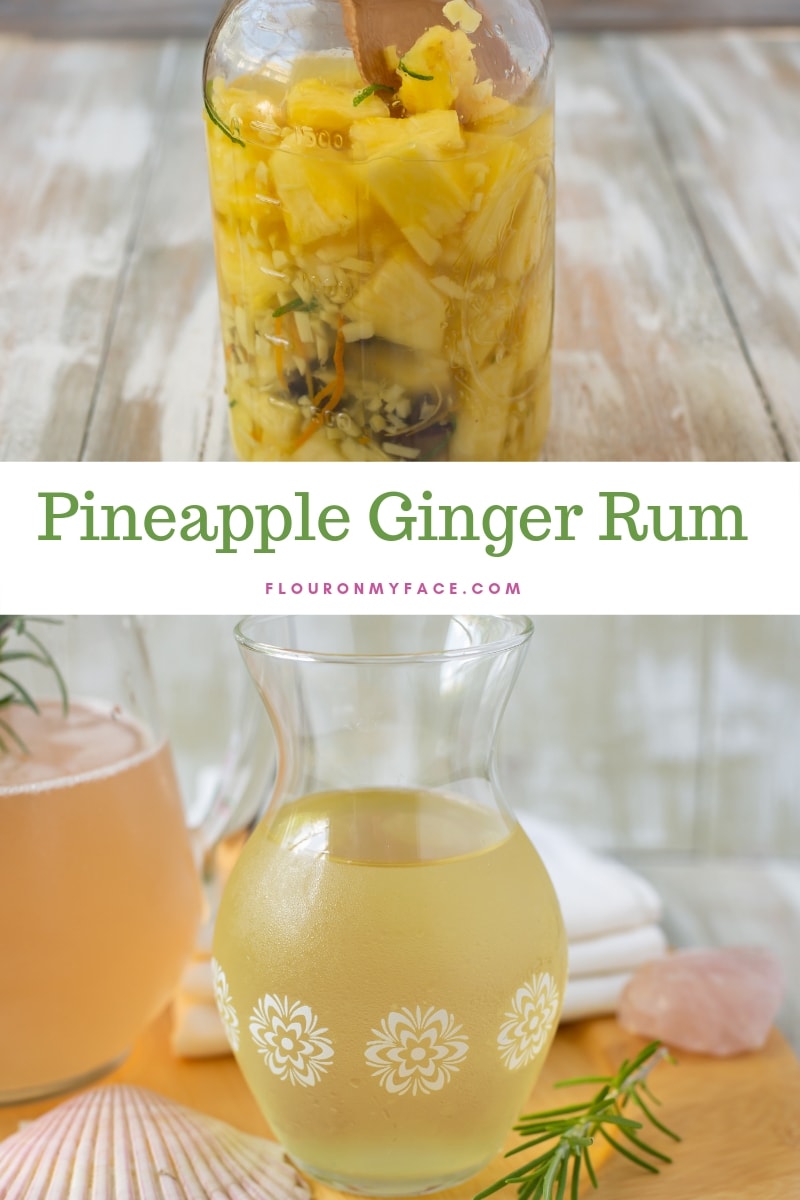 How long to steep fruit with rum
The longer you allow the fruit and spices to steep in the rum the stronger the flavor will be. After a couple of days of steeping, you will notice that the rum starts to take on the color of the fruit.
The rum will also have started taking on the flavors of the pineapple, ginger, citrus and star anise. The flavors will be weak at this point. The longer you leave the rum to steep the stronger the flavors will be.
After two weeks of infusing the rum pour the contents of the jar through a fine-mesh strainer that has been placed over a large bowl to separate the solids from the liquids.
Pour the infused rum into quart size mason jars or another glass container. Keep the infused rum refrigerated until needed.
The fruit-infused rum will keep for a few weeks if kept refrigerated.
What kind of cocktails can you make with Pineapple Ginger Rum?
I used this pineapple ginger rum to make a fun beach theme inspired cocktail called the Shell Beach Cocktail.
You can use the homemade Pineapple Ginger Rum to make most cocktails that call for rum.
You can even create your own pineapple rum cocktail by changing up a few of the ingredients of one of your favorite rum cocktails.
Below are a couple of my own rum cocktails that would be perfect candidates to experiment with.
More recipes you'll love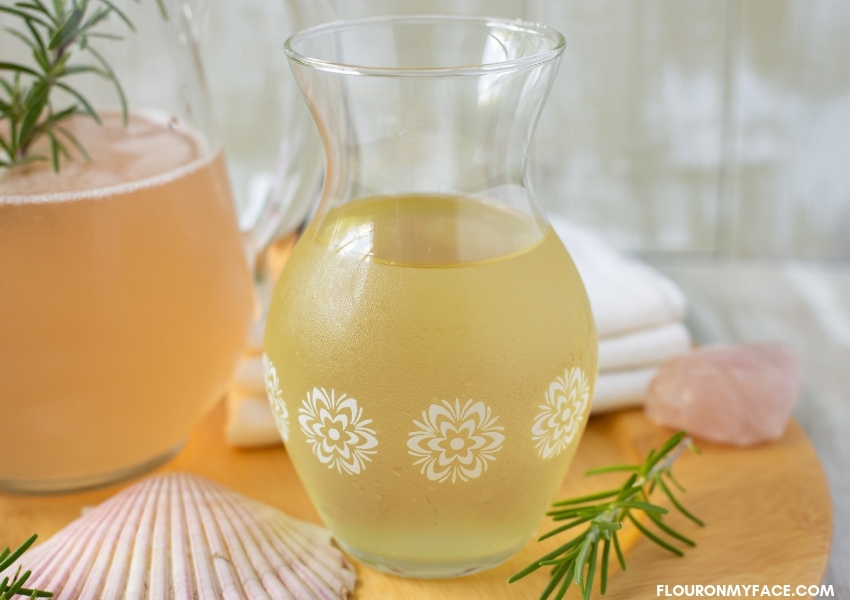 Join the Flour On My Face Newsletter
Print the instructions for how to make Pineapple Ginger Rum below.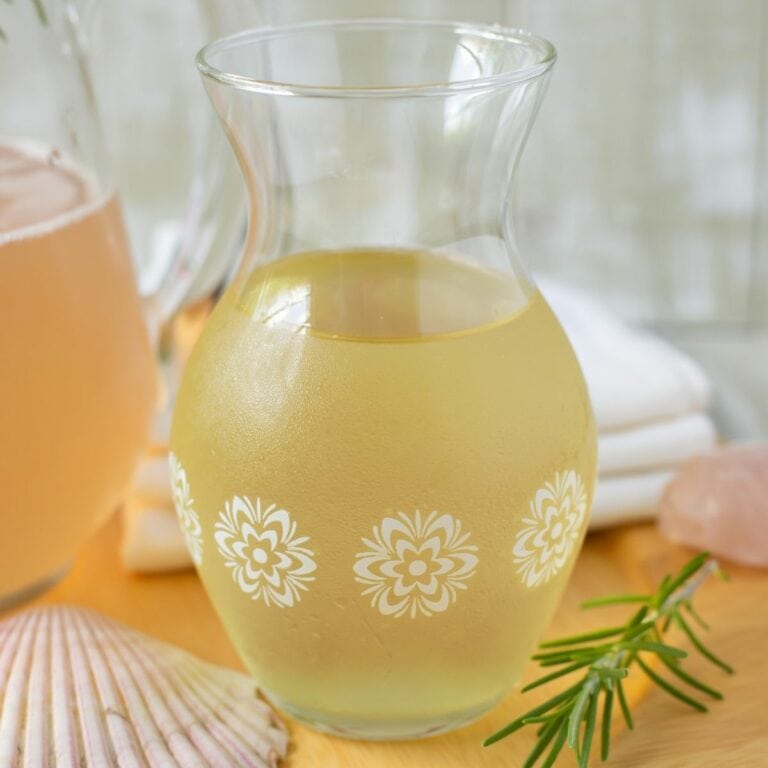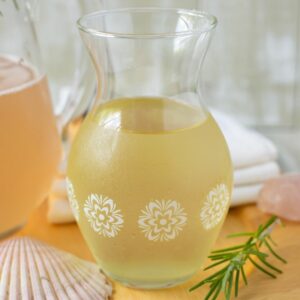 How To Make Pineapple Ginger Rum
Pineapple Ginger Rum is a homemade fruit infused rum that can be used to make the Shell Beach Cocktail or other favorite rum cocktails. 
Rate this Recipe
Ingredients
1

large

pineapple

(peeled and cut into chunks)

¾

cup

chopped fresh ginger root

1

whole

zest from one large orange

1

whole

zest from one lime

1

whole

zest from one lemon

6

whole

whole star anise

750

ml

bottle of Barcardi Superior White Rum
Follow Flour On My Face on Pinterest
Instructions
Peel and cut the pineapple into chunks.

Peel and roughly chop the fresh ginger root.

Zest an orange, lemon and lime.

First place the pineapple pieces, ginger root, citrus zest and star anise into a large jar. Or divide the ingredeints between 2 wide mouth quart mason jars.

Once you have filled your container with all of the fruit, spices and citrus zest pour the entire 750 ml bottle of rum into the jar/jars. Cover the jar with a lid and shake the jar or you can also use a wooden spoon to mix the ingredients.

Place the jar in the refrigerator. Keep refrigerated for at least two weeks.

After two weeks pour the contents of the jar through a fine mesh strainer that has been placed over a large bowl.

Pour the infused rum into clean containers. Keep the Pineapple Ginger Rum refrigerated until ready to use.

Consume within 2 to 3 weeks.
Recipe Expert Tips
recipe slightly adapted from Louisiana Cooking
calories per shot glass is an estimate.
Nutrition
Serving:
1
ounce
Calories:
35
kcal
Carbohydrates:
2
g
Protein:
1
g
Fat:
1
g
Saturated Fat:
1
g
Sodium:
1
mg
Potassium:
22
mg
Fiber:
1
g
Sugar:
1
g
Vitamin A:
9
IU
Vitamin C:
7
mg
Calcium:
3
mg
Iron:
1
mg
Tried this recipe?
Share a picture on Instagram and tag @flouronmyface2
More Cocktail Recipes
You can find all of my cocktail recipes on my Cocktail Recipe page.