Seen at the Alliance for the Arts Farmers Market, Fort Myers, Florida
Fort Myers, Florida is the host of many farmers markets. I hope you enjoying seeing what the Alliance for the Arts Fresh Market located in South Fort Myers, Florida has to offer.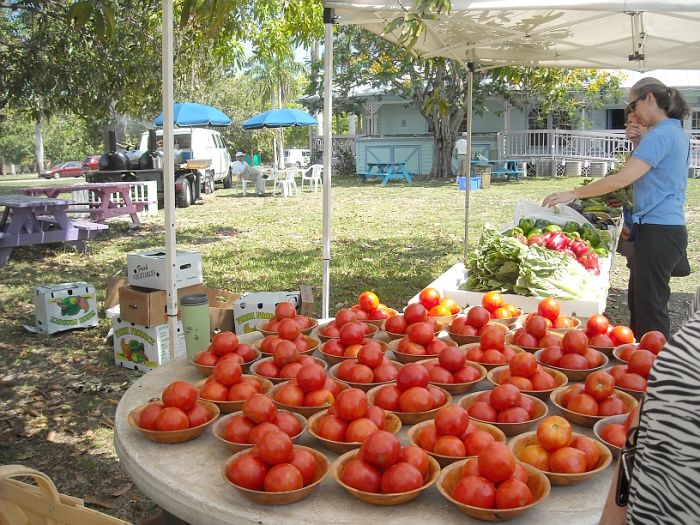 Vine ripened Florida Tomatoes
Last month my daughter had some art work in a middle school art show at the Alliance For The Art's here in town. You might be wondering what a middle school art show has to do with a Farmers market.


Well on Saturday mornings they host a Green Market in a lovely shady area of the property that houses the Alliance For The Arts gallery here in Lee County.


It is the only farmers market in my area that requires the vender's  sell items that were grown, caught or harvested in the S.W. Florida area.
Here's a little blurb from their website.
An exclusive selection of locally grown, caught and cultivated foods and other products available to sample and purchase. Enjoy live entertainment by local musicians and fun activities for kids.
Update 2016 We have had an explosion of available Farmers Markets in the Fort Myers, Bonita, Naples, and Sanibel area. For a large list of the available dates and times of South West Florida Farmer's Markets you can read my Southwest Florida Farmer's Market Guide. 
I have read about the farmers market held there for a long time now. At various times I would entertain the thought of taking a ride out there. It's really not that far from my house but I am a home body and tend to stick to a 5 mile square radius. So when we went out to see my daughters art work in the art show we  went on a Saturday not even realizing that the farmers market would be there. After we were done in the art gallery we went out and walked around the farmers market. By then it was near closing time and some of the vender's had already packed up. 


I decided the next time I went back it would be earlier in the day so I could see what I missed the first time.
Florida Grown Blueberries
One of the great things about buying locally is you never know what you will find. This vender had Florida grown blueberries. This is not something you see every day!
 I snagged a box. I also picked up some fresh lemons at this stand.


Lovely View of Farmers Market in Lee County,
Florida

Do you see that huge tree in the background that is providing some of the shade? Doesn't it look gorgeous with the spanish moss hanging from the branches? Here is a close up picture of the base of the tree I took the day we went to the art show.


Huge Banyan tree and my daughter. Don't tell her I posted her picture!


This is a Banyan Tree 

The root system is huge on a Banyan tree and will actually grow from some of the large branches and go into the ground. This tree was probably damaged during the 2005/2006 hurricane seasons when we had three major storms blow through. That's why none of the roots growing from the branches still stretch to the ground.


There were herb plants and fresh sprouts available
Lavender Plants
Fresh  sprouts cut to order.
There were stalls with fresh baked bread, Florida Honey. Local restaurants were cooking food samples. Some of the vender's that I saw the first time were not there. So I really I need to go back.


This may surprise you if you live in the North but most of our Farmers Markets are closed during the summer. Shocking isn't it. The summer is when most of the country is bursting with open Farmers Markets. But here summer is our off season. It gets so hot and there are many businesses that close during this time of the year.
I think I saved the best for last. When I saw this scene I just couldn't stop taking pictures. This is not something you see every day in Florida.
Hand Carding Wool Southwest Florida Historical Society
This is a group of people from the Southwest Florida Historical Society. The woman is hand carding some type of wool. The wool will then be spun into yard. I didn't get a chance to chat with her so I am guessing what she'll be making out of the wool. I stood and watched her for at least ten minutes. I was delighted.
Next time I go back I will have to chat with her if she is there.

Thanks for stopping by! I hope you enjoyed the tour of one of my local Farmers Market in Fort Myers, Florida!