FREE Printable
Weekly Meal Planning, Sale & Coupon Shopping List & Budget Shopping List Printable
Disclosure: Links to Coupons.com are affiliate links.
With the new year comes new goals and getting my kitchen organized is at the top of my list of things to do for the new year.
Meal Planning is very important when it comes to having dinner on the table each night but also helps with keeping the kitchen at mealtime running smoothly.
Meal Planning is getting dinner time organized!
Being able to know in advance what meal I am going to cook each night and that I have all the ingredients on hand is a time saver and really helps cut down on stress at dinner time.
Weekly Meal Planning
The easiest way to set this goal in motion is to sit down each week and write out a meal plan for every day of the week.
With a free meal planning and shopping list printable it makes it easy to plan out a week's worth of meals and all the ingredients needed to make them.
Once I am done with planning out my weekly menu plan then I can quickly check out my pantry and freezer.
Checking off the ingredients I already have on hand before I go grocery shopping.
Then all I have to do is take my menu planning shopping list to the grocery store and pick up the ingredients I still need.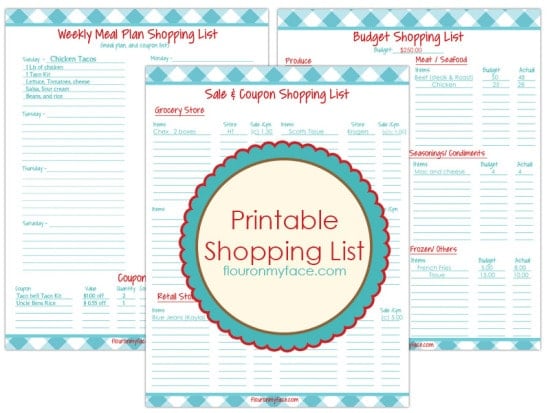 Saving Money at the Grocery Store Sales & Coupons
Shopping the weekly grocery store sales and using coupons so I can save as much money as possible at the grocery store is very important for my grocery budget also.
Keeping track of sale prices and coupon values makes shopping with coupons during my weekly grocery shopping a breeze.
This is a great way to see how much money I am saving with my budget for meal planning.
Keeping track with a printable Grocery Store Sale & Coupon Shopping List helps me keep track of the sale price and the coupon value I have.
Keeping Track of My Grocery Shopping Budget
Once you've started weekly meal planning the best way to keep track of how much you are spending and how much you are saving at the grocery store is to keep track of how much you are spending each week.
Set out with a goal in mind for how much you are going to spend for an item then keep track of how much you actually spent. An easy way to accomplish this is to use a weekly Printable Budget Shopping List.
Download the Free Printable Weekly Menu Planning & Shopping List, Free Printable Grocery Store Sales & Coupons Shopping List and the Free Printable Weekly Budget Shopping List below.
You can print each one every week or just print the ones you need.
Download the Free Weekly Menu Planning & Shopping List Printable
Download the Free Grocery Store Sales & Coupon Shopping List Printable
Download the Free Budget Shopping List Printable