25 Scrumptious Popsicle Recipes
Summer just wouldn't be the same without a few homemade popsicle recipes. Homemade Popsicles are easy to make, the kids love them and you can make them any flavor you desire. Here are 25 Scrumptious Popsicle recipes for the summer.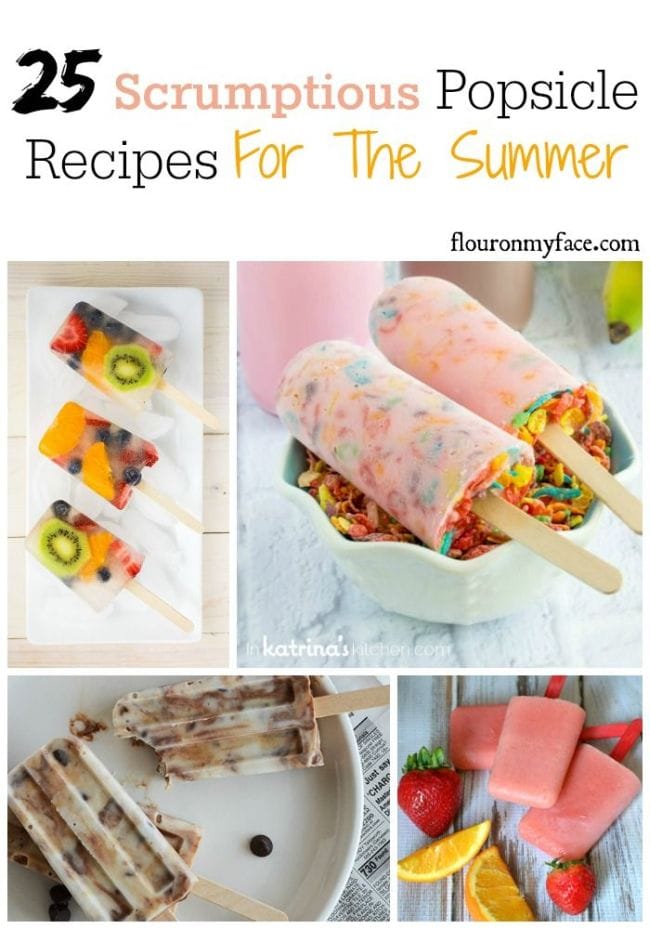 The great thing about making homemade popsicles or homemade ice pops is that you can make them completely healthy or you can make them decadent. The choice is yours.
I love the Emergency Electrolyte Replacement Pops recipe. With a house full of grandkids this recipe is going to come in handy.
1. Fresh Fruit Pops
2. Strawberry Cheesecake Protein Popsicles
3. Watermelon Kiwi Popsicles
4. Strawberry Orange Popsicles
5. Blueberry Coconut Ice Pops
6. Milk & Cereal Breakfast Popsicles
7. Jello Popsicles
8. Emergency Electrolyte Replacement Pops
9. Banana Nutella Fudge Popsicles with Chocolate Chips
10. Blueberry Yogurt Popsicles
11. Strawberry Banana Buttermilk Ice Pop
12. Dr. Pepper Float Popsicles
13. Quick & Easy Peach Pineapple Popsicles
14. Sweet And Creamy Lemonade Popsicles
15. Strawberry Yogurt Creamy Popsicles
16. Easy Chai Popsicles
17. Vanilla Pineapple Popsicles
18. Ginger Berry Popsicles
19. Homemade Tropical Ice Pops
20. Red, White & Blue Double Berry Coconut Pops
21. Peppermint Fudge Popsicles
22. Chocolate Popsicles With A Secret Ingredient
23. Low-Sugar Fat-Free Strawberry Frozen Yogurt Pops
24. 3 Ingredient Strawberry Banana Popsicles
25. Peanut Butter Swirl Frozen Yogurt Popsicles