46 No Bake Dessert Recipes
I love a good dessert recipe as much as anyone. I love them even more when they are a no bake dessert recipe. In this roundup of 46 No Bake Dessert Recipes I've found some of the best and easiest dessert recipes that will make serving dessert easy.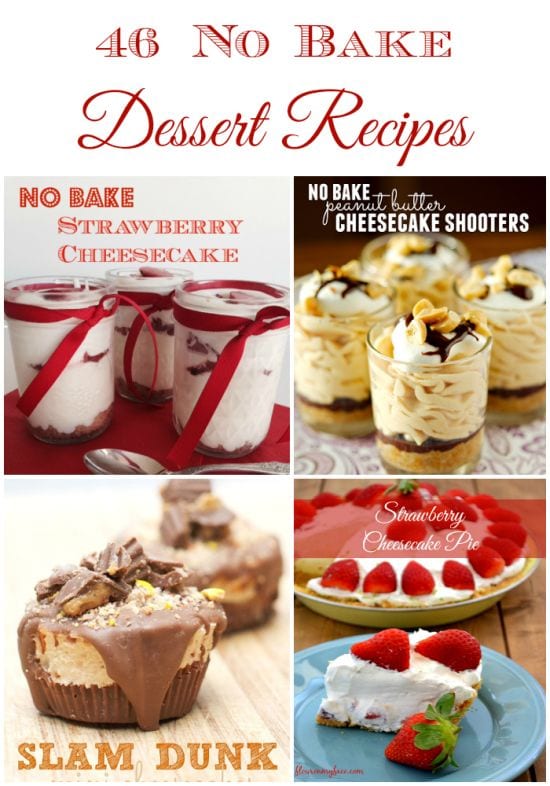 Cheesecakes are probably one of the most recognizable no bake dessert recipe but this 46 No Bake Dessert Recipes roundup has some seriously delicious looking no bake dessert recipes other than cheesecakes.
Don't get me wrong cheesecakes rule the day. I am drooling over the Reese's Slam Dunk No Bake Cheesecake recipe and can promise you I will be making them as soon as I get my hands on  a bag of Reese's peanut butter cups! 
46 No Bake Dessert Recipes
Reese's Slam Dunk No Bake Cheesecake

No-Bake Chocolate Peanut Butter Oatmeal Cookies

No Bake Skinny Pumpkin Pie

12 No Bake Paleo Recipes

No Bake  Storm Cheesecakes

No Bake Cheesecake 

No Bake Oatmeal Peanut Butter Balls

No Bake Peanut Butter Cheesecake

No Bake Pudding Pie

No Bake Granola Bites

No Bake Strawberry Cheesecake in a Jar

No Bake Cookie Smoothie

No Bake Cranberry Cheesecake

No Bake Cheesecake Shots

No Bake Caramel Apple Ice Box Cake