25 Fun Halloween Foods for Kids
Planning a Halloween Party or just looking for some creepy Halloween food to feed the kids? Here are 25 Fun Halloween Foods for Kids for your spooky Halloween celebration.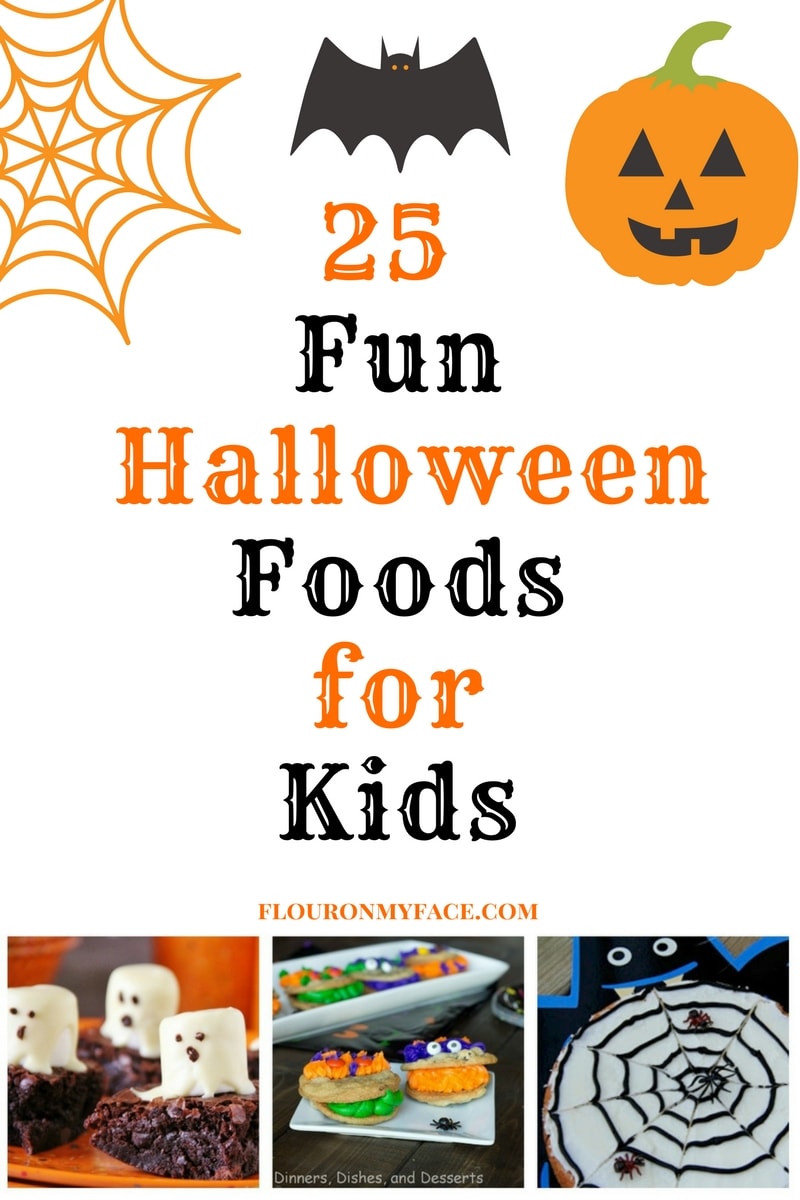 Halloween has got to be one of my favorite food holidays. There isn't another holiday  in the entire year where you can make the creepiest and most disgusting looking  food and kids will gobble it up.
I love to make creepy food for my granddaughters who are some of the biggest mini drama Queens I have ever known. So the creepier the food the better the reaction from the kids. It makes for a super fun time for both myself and the kids.
Some of these Halloween recipes are perfect Halloween party food. So if you are looking for food ideas for a Halloween Party you are hosting check out the recipes in this 25 Fun Halloween Foods for Kids round up. 
I am going to be making a few of these myself for our Halloween celebration this year. Enjoy!
1. Bloody Eyeballs Quarter Life Crisis Cuisine
2. Easy Halloween Spider Cookies Slap Dash Mom
3. Monster Munch Around My Family Table
4. Monster Cookies Dinners Dishes and Desserts
5. FREE Printable Halloween Bag Topper & Spooky Eyeball Cupcakes 
6. Gluten Free Candy Corn Pudding Flour On My Face
7. Ghastly Cupcakes The Tummy Train
8. Gluten-Free Ghost Pops Gluten Free Canteen
9. Witches Fingers Peaches and Cream
10. Mummy Cupcakes Whipped Baking
11. Panna Cotta Brains 1 Fine Cookie
12. Halloween Alien Eggs Quarter Life Crisis Cuisine
13. Ghost Pretzels Dinners Dishes and Desserts
14. Mummy Pizza Cooking By Moonlight
15. Goblin Goo Parfaits Baked By Rachel
16. Graveyard Pudding Cooking By Moonlight
17. Spooky Fried Mozzarella Eyeballs  Foodie Crush
18. Widows Nest Spooky Vegan Pasta Beard & Bonnet
19. Devils Food Whoopie Pies Heather Cristo
20. Honey Caramel Popcorn Eat The Love
21. Chocolate Caramel Pie Curly Girl Kitchen
22. Monster Eyeballs Grown to Cook
23. Spooky Spiderweb Cookies Dinners Dishes and Desserts
24. Boo-Licious Brownie Treats Around My Family Table
25. Monster Fingers Quarter Life Crisis Cuisine
More Halloween Food Roundups to help you celebrate the spooky Halloween Holiday!
30 Spectacular Halloween Cupcake Recipes Halloween Cupcakes are one of the easiest Halloween dessert recipes to make.
25 DIY Halloween Party Food Ideas to get your spooky creative juices flowing for your awesome Halloween Party.