Sauteed Asparagus and Tomatoes
Disclosure: This Sauteed  Asparagus and Tomatoes recipe is a sponsored post on behalf of the Pompeian #PantryInsiders.  As always all opinions are my own.
One of my favorite vegetables is asparagus. Even though asparagus is usually thought of as a spring vegetable I found some beautiful bunches of asparagus on sale at my local grocery store. Living in Florida does have a couple of perks. I couldn't pass up the chance to enjoy some fresh asparagus one more time before the prices go up so I decided to make this very easy but delicious Sauteed Asparagus recipe you see here.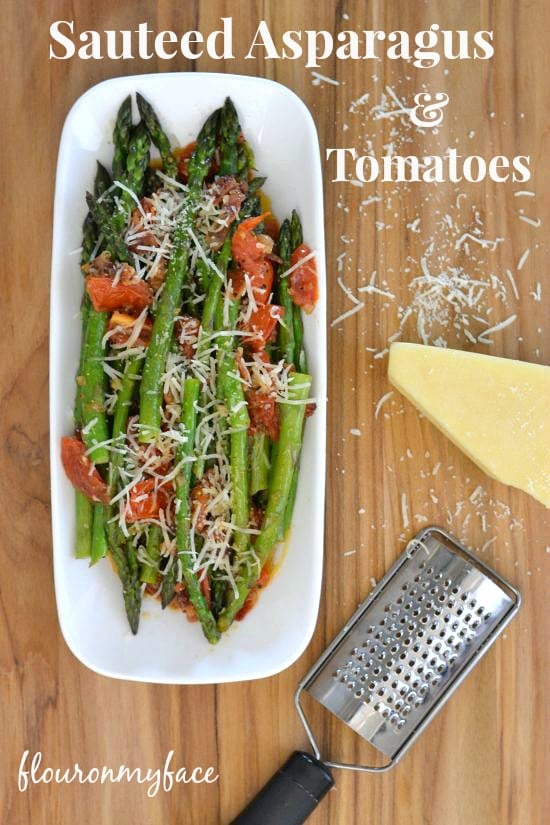 I love sauteing vegetables in olive oil. It is so much healthier for you than butter or margarine. Pompeian has a new olive oil blend  Pompeian OlivExtra® California Select. It is a blend of Safflower Oil and Extra Virgin Olive Oil. It is perfect for high heat cooking like sauteing because it has a higher smoke point than even Pompeian Extra Virgin Olive Oil (up to 500°F) .
Pompeian OlivExtra® California Select is high in Omega 9 Monounsaturated Fats, Naturally Gluten Free and Non-Allergenic, Naturally GMO Free, Good Source of Antioxidant Vitamin E,  Cholesterol Free and 0g Trans Fats.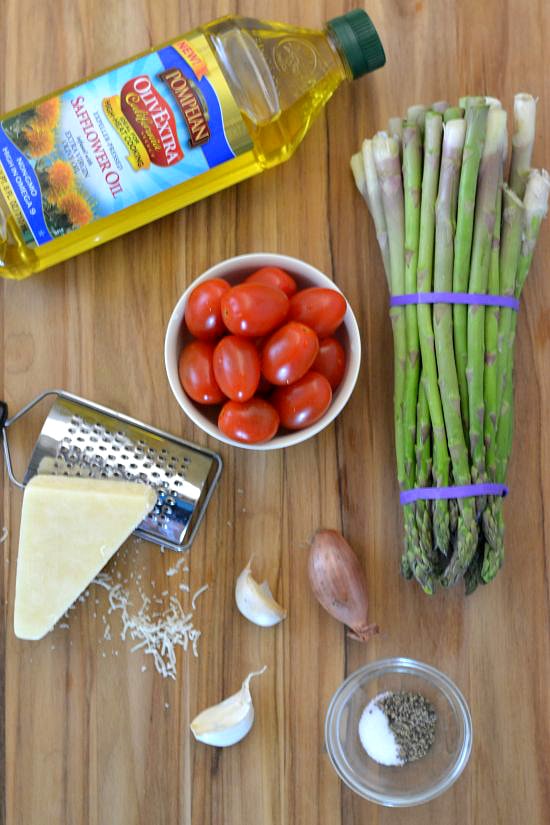 The Pompeian OlivExtra® California Select is a perfect choice for this Sauteed Asparagus and Tomatoes recipe. It's light flavor lets the flavor of the ingredients shine through.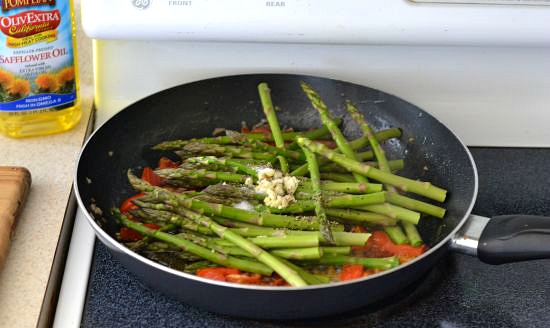 How To Make Sauteed Asparagus and Tomatoes
1 bunch fresh asparagus, cleaned and rinsed

½ cup cherry tomatoes, quartered

3-4 sliced bacon,

1 shallot, minced

1 garlic clove, minced

1 tablespoon Olive Oil

½ teaspoon pepper

¼ teaspoon salt

fresh grated Parmesan cheese
Dice the bacon and fry until crisp.

Add the shallot and tomatoes to the pan and sauté until the shallot is translucent.

Add the olive oil, asparagus, garlic, salt and pepper to the pan and toss.

Cover the pan and cook the asparagus until heated through but still crisp, about 3-4 minutes.

Thick asparagus will need to cook a few minutes longer.

Transfer the asparagus to a serving platter along with all the liquid from the pan.

Grate fresh Parmesan cheese over the top and serve immediately.

serves 2-4
PREP TIME 8 mins  COOK TIME 8 mins
Recipes made using Pompeian Olive Oils