Marinated Mozzarella
Marinated Mozzarella is one of the most delicious things in the whole world. Fresh mozzarella is delicious in it's own right. Add the flavors of fresh herbs, sun dried tomatoes, some olive oil and your tastebuds will do a happy dance I promise. 
 
 Last year my daughter Megan and I bought some fresh marinated Mozzarella balls at the Lakes Park Farmers Market. It was so good!
It was at the end of our Farmers Market season which by the way ends in April or May. Odd right? When the rest of the country is gearing up in the spring for their farmers markets to open here in Florida most of our Farmer's Markets are closing up shop.
 I think we have one Farmers Market that is open all year long. I may be wrong because I keep finding out about new Farmer's Markets all the time. At one time the only place you could buy fresh produce besides the grocery store was at a couple of Flea Markets that are not very close to where I live.
So in November when the Lakes Park Farmers Market opened Megan and I headed right there on opening day to buy some fresh mozzarella balls marinated in herbs, olive oil and dried roasted tomatoes. You have no idea the disappointment we felt when we couldn't find the fresh cheese vender.
I could kick myself for not grabbing one of her cards last year.  I've been there a couple of more times but have not found the fresh cheese vender. She could be at one of the other Farmers Markets that I don't go to.
I've been dreaming about those marinated mozzarella balls ever since.  One day while I was shopping at Sam's Club for the ingredients to make Easy Butterfly Shrimp Sliders I spotted a package of fresh marinated mozzarella balls. I put them in my cart.
As I was looking through the fresh cheese I spotted a package of fresh mozzarella. I could buy a small container of marinated mozzarella balls which was about 12 ounces in weight including the marinade for $6 or I could buy 2 pounds of fresh mozzarella for $8 and make my own.  
I decided right then and there that I would make my own Marinated Mozzarella. I had all the fresh herbs I would need in my little herb garden. I always have extra virgin olive oil on hand. The only thing I would need is a jar of sun dried tomatoes. 
So off I went with my plan in hand. I came home and put the fresh mozzarella in the refrigerator. I finally had a chance to make my fresh marinated mozzarella. I'm embarrassed to admit that I probably ate about half of it the first day I made it.
The package I bought had two little one pound mozzarella logs in it. My other daughter Audrey claimed the second pound of mozzarella for herself and she planned to make pizza with it. I knew I was in danger of eating all of the marinated mozzarella before I could take photos for this recipe! 
Off to the store I went to buy a nice fresh and crusty baguette and here we have it. The baguette is optional of course. You could stand at the counter and inhale slice after slice of this marinated mozzarella. If you're planning on sharing the baguette will come in handy.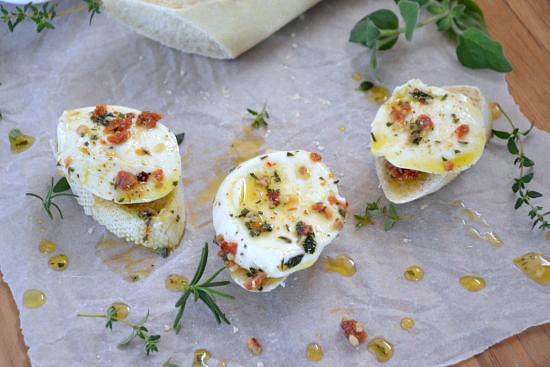 Please share some recipe love by tweeting! Thanks!
[Tweet "Need an easy appetizer recipe? Check out this Marinated Mozzarella recipe"]
 How to make Marinated Mozzarella
Marinated Mozzarella
Serve slices of marinated mozzarella on fresh baguette slices. Make a perfect appetizer.
Ingredients
1 pound fresh mozzarella cheese, sliced
5 tablespoons Pompeian extra virgin Olive Oil
2 pieces sun dried tomato in olive oil, finely minced
1 teaspoon chopped garlic
1 teaspoon finely chopped fresh thyme
1 teaspoon finely chopped fresh rosemary
¼ - ½ teaspoon finely chopped fresh basil
¼ teaspoon red pepper flakes, roughly minced
salt and pepper to taste
Directions
Place all the ingredients into a container and marinate at least an hour before serving.
Serve with slices of a crusty baguette.
Notes
I've used fresh herbs but dry herbs could be substituted. Fresh is best when available. Just allow the marinated mozzarella more time to marinate. You may also need to slightly increase the amount of olive oil as the dry herbs with absorb some of it.