Baked Beans Recipe
This baked beans recipe is the one recipe in my family recipes stash that is my families all time favorite recipe. It is so easy to make because it calls for canned VanCamps Pork & Beans. I have been making this baked beans recipe for over twenty years since a family friend shared her recipe with me.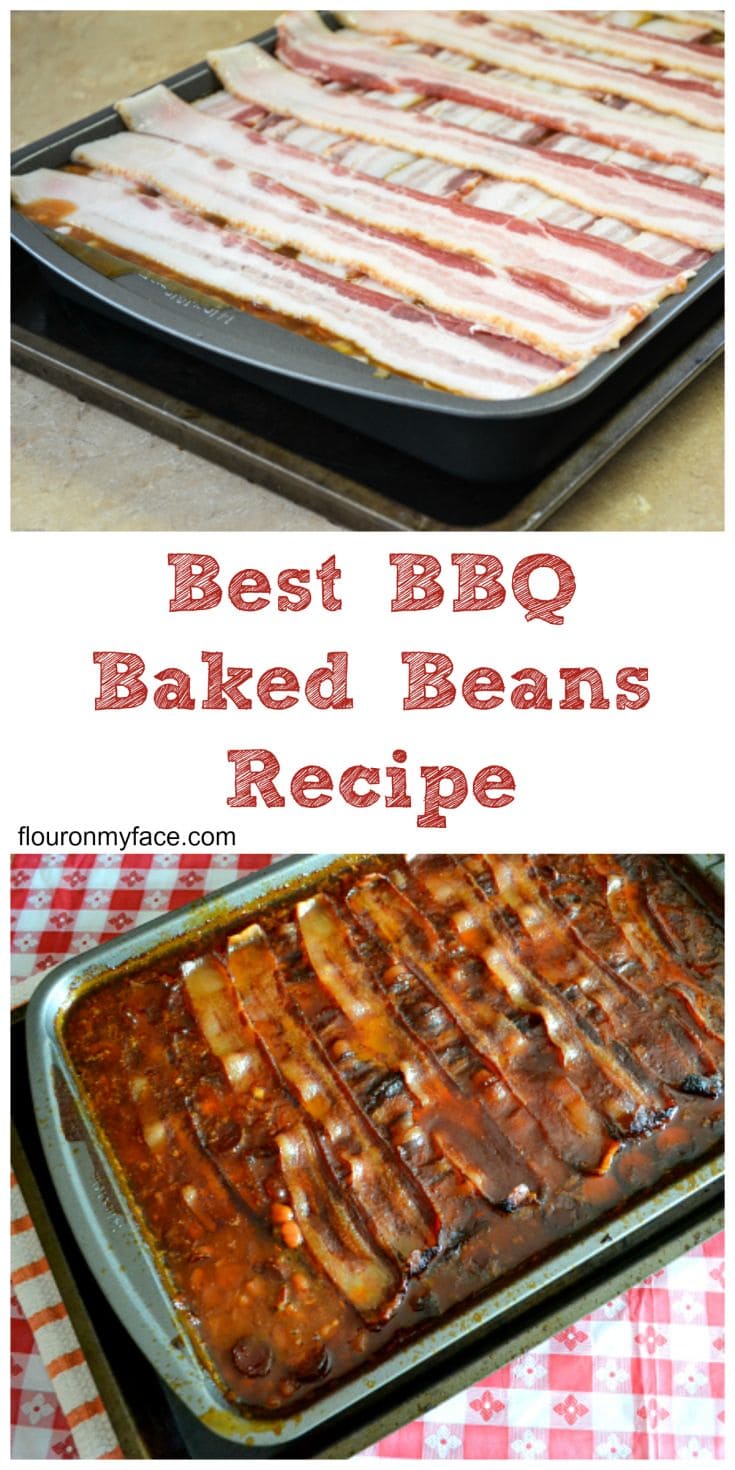 Over the years, I have adjusted the recipe to suit my tastes. Now it is known as my baked beans recipe. It is the best bbq side dish recipe there is. I make it most over the summer months when we have  big backyard family bbq's but it tastes great any time of the year.
I mentioned that this recipe calls for VannCamps beans. You can use whatever brand of beans that you like best but I have found over the years that VannCamp's beans are the best for this recipe. Plus it is the only brand of canned pork and beans that is available in such a large size can around here.
A word about bacon
Bacon brands can vary in quality. The problem with using a cheap brand of bacon is that a lower cost bacon is made with a lower cost cut of pork. There is more fat on the cheaper bacon.
The fat can clearly be seen through the packaging. I mention this because there will be a lot of bacon grease floating on the top of your pan of baked beans if you use a fatty package of bacon. Buy the best bacon you can afford to avoid this bacon pitfall. Or use a spoon to scoop off the grease that rises to the top of the pan before serving it.
A word about cooking with onions
Please do not be tempted to leave out the onions in this recipe because someone in the family hates onions. Make it once with the onions (cut them up very finely) and don't tell the family if you have a picky eater.
I have family members who would never eat anything with raw onions in it but gobble these baked beans up like there is no tomorrow.
The onions cook down so much that you can't tell there is onions in it. If you leave the onions out then the baked beans recipe will suffer for it. They add a very important layer of flavor. 
This baked beans recipe is so easy to make, has only 7 ingredients and two of them are condiments AND you only need to dirty the baking dish you will be baking the baked beans in.  Besides the great taste of these baked beans this is the kind of recipe I like. One that doesn't make a pile of  dirty dishes!
Assemble all your Baked Beans Ingredients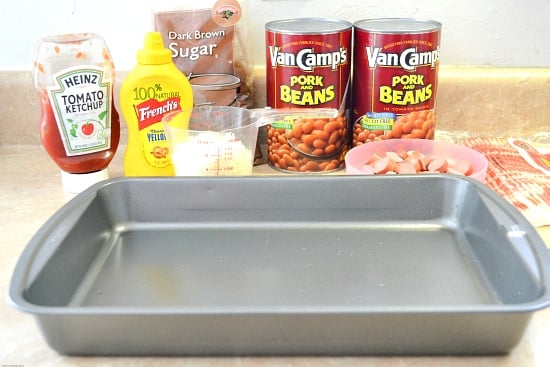 Add all the Baked Beans ingredients to a 9 x 13 baking pan, except the bacon.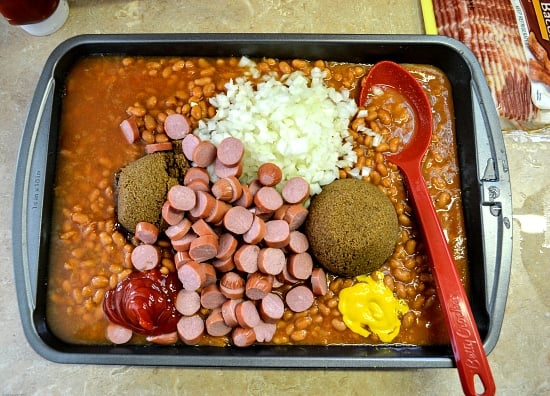 Stir all the Baked Beans ingredients well.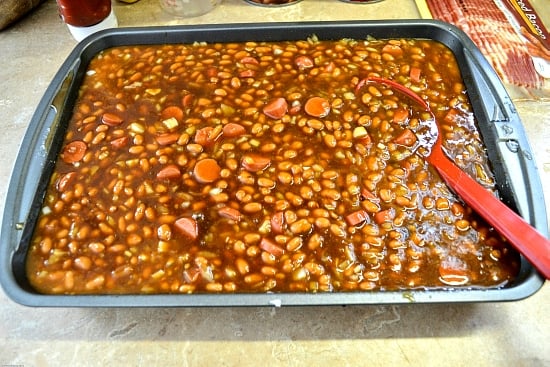 Arrange the bacon over the Baked Beans ingredients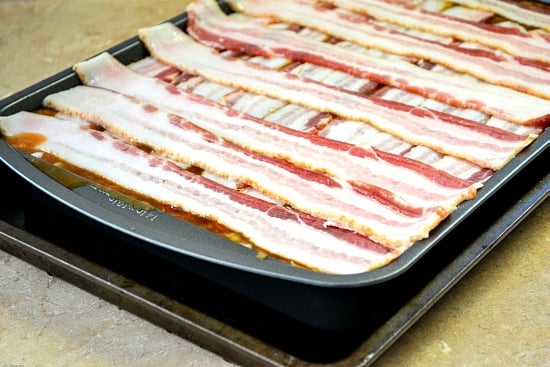 Bake the Baked Beans in a 350F oven
The best baked beans recipes always cook low and slow. Depending on your oven of course, check frequently. I like to cook my baked beans for about 2 1/2 to 3 hours but I have cooked them even longer than that at 325F.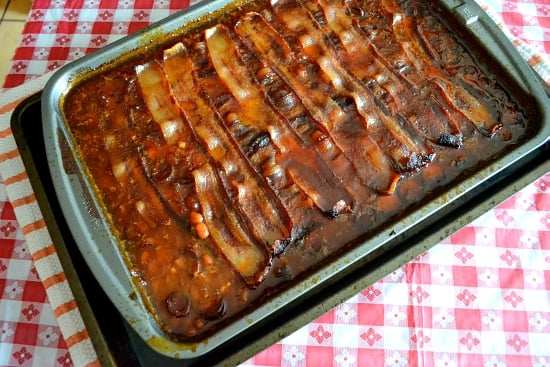 See below for this Baked Beans recipe in Ziplist format for easy saving and printing.
Family Recipes | Best Baked Beans Recipe
A family favorite Baked Beans recipe that will feed a crowd or just the family with plenty of left overs for the next day.. T
:
Arlene Mobley - Flour On My Face
Recipe type:
BBQ Side Dish
Ingredients
two 53 ounce cans of Van Camps Pork and Beans
2½ cups of brown sugar
5 hot dogs, sliced into circles
1 cup of onion, finely diced
4 tablespoons Heinz Ketchup
2 tablespoons yellow mustard
one 16 ounce package bacon
Directions
Add all the ingredients, except the bacon to a large 9 x 13 baking pan
Stir well to combine.
Arrange bacon slices across the top of the beans.
Bake in a 350 degree oven for 2½ hours or until the bacon is browned and slightly crispy.
Need a perfect BBQ potatoes side dish recipe? Another family favorite BBQ side dish recipe is my
skillet Garlic Potatoes recipe
.