Family History Gift Guide
Do you or someone you know have a passion for family history? Do you need Christmas Gift idea that you don't even have to leave the house for? Check out this Family History Gift Guide for the perfect Christmas gift for the genealogist of the family.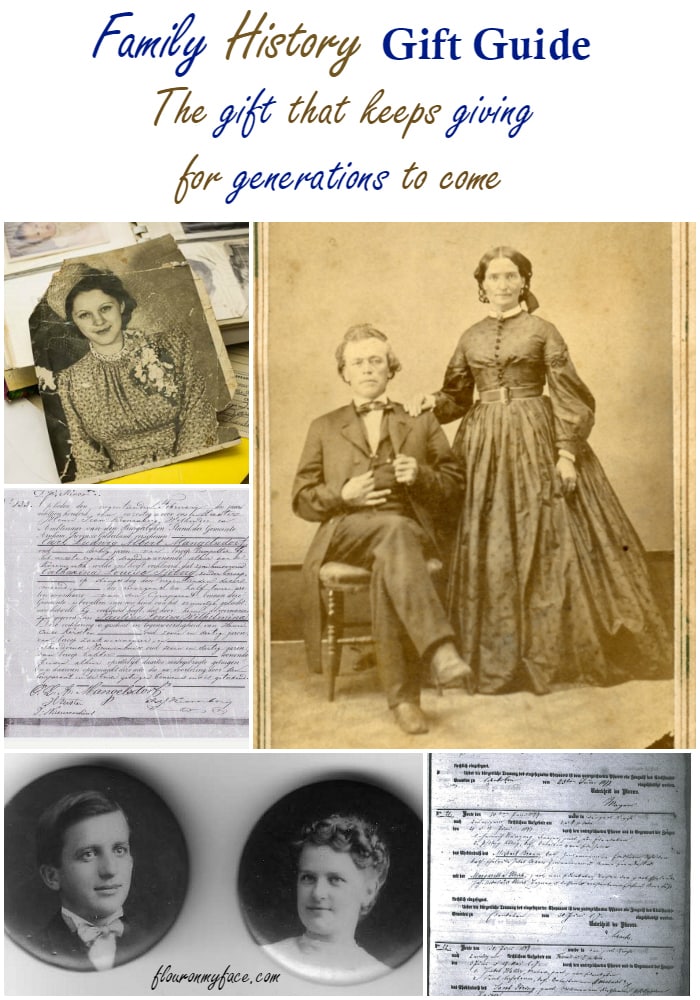 Disclosure: Links included in this post are affiliate links. I will earn a small commission if you make a purchase from one of my product recommendations.
Family History Gift Guide for the Family Genealogist
What is the perfect Christmas gift for someone in your family that will continue to grow and keep giving for generations to come? I'm sure there is a new or budding genealogist in your family.
Genealogy research is one of the most popular hobbies in the world. All ages are getting bitten by the genealogy research bug. It is very addicting. I have been doing my own family research for about 18 years now.
Ancestry.com has made it easy for anyone to search for their ancestors no matter where in the world they came from. 5 sets of great great grand parents immigrated from Germany to New York City in the early 1800's.
One set immigrated from the Netherlands. I have been able to trace them and many more generations back from the comfort of my home with an Ancesty.com subscription.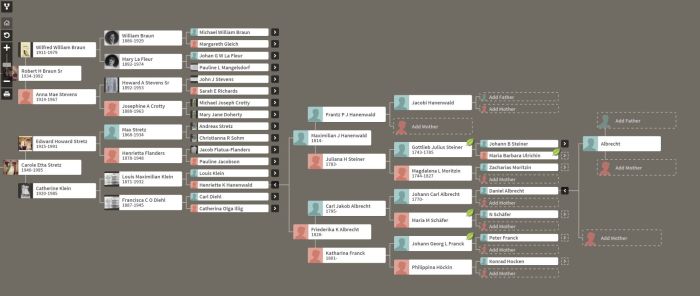 The image above is an example of what part of my family tree looks like on Ancestry.com. This shows 9 generations back on my maternal grandmothers Klein family.
On Ancestry.com it is free for anyone to start a family tree. But you will need a paid subscription to access all of the documents available on Ancestry.com. There are a limited number of records that are available for free.
What kind of Genealogy documents can you find on Ancestry?
View your family in the census records
Immigration papers
Birth, Marriage and Death records
Wills, Newspaper articles and directories.
View other family trees
Military records
And many many more.
A membership to Ancestry.com would be a great last minute Christmas gift for a special family member who is interested in their family history. The subscription cost varies depending on the subscription. There are three levels available.
U.S. Discovery  gives you access to all U.S. records on Ancestry. It is $20 a month or $99 for a six-month subscription.
World Explorer give you access all U.S. & international records on Ancestry $34.99 a month or $149 for six months.
All Access you get full membership to Ancestry, Newspapers.com, Fold3.com, and Ancestry Academy $44.99 a month or $199 for six months.
You can also join for a yearly membership with added savings.
Ancestry.com also offers DNA testing that will give you your Ethnicity Estimate and connect you with your cousins. This will tell you based on your very own DNA where your family came from and match you up with any relatives who have also taken the Ancestry DNA test.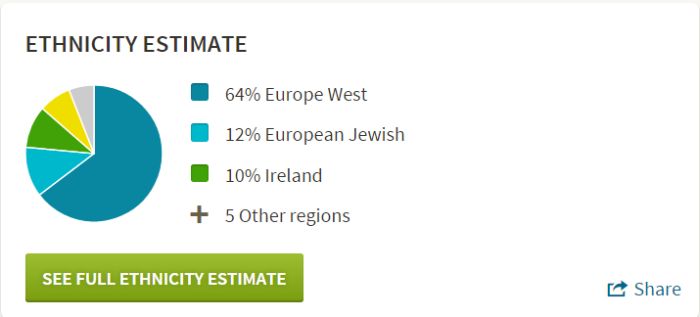 As you can see from the image above which are my results from Ancestry DNA that my DNA is 64% Europe West. I knew based on my family history research that 5 sets of my great great grand parents came from Germany, one set from the Netherlands. My 12% European Jewish results are also from one of my Jewish German great great grand parents.
So who in your family is the budding genealogist that would love to start their family tree?
Disclosure: Links included in this post are affiliate links.
Do you have a history buff in the family? Someone who would love to find that Civil War soldier or Revolutionary War Patriot in their family tree? Ancestry.com has millions of records that will help that person find them and they will easily be able to add them to their online family tree.
How to do Genealogy DNA Research
Family History Gift Guide Genealogy Books
Maybe you've heard rumors that someone in your family came over on the Mayflower. Below are some books with information on Mayflower Descendants.
Mayflower Genealogy Research
Maybe someone would love to read a little about German, Irish or Jewish genealogy? Did your family arrive on Eliss Island? Then these books on New York Genealogy will be helpful.
Genealogy Books
The early Germans of New Jersey
Helpful Genealogy Research Books
Genealogy Apps
Genealogy research is a fun hobby I have enjoyed for many years. I know someone in your family would probably love to start researching their family history also.
I've had a great time researching my husbands maternal side where there is a Revolutionary War Veteran. I've been working on getting my mother in law registered in the Daughters of the Revolution. We are one document away!
So give someone the gift that keeps giving this Christmas! Happy Holidays and have fun breaking down those genealogy brick walls! Feel free to send me an email if you have any questions about genealogy research. I'd love to help out.
Feel free to send me an email if you have any questions about genealogy research. I'd love to help out.