50 Must Have Hurricane Supplies
Hurricane Survival Kit
50 Must have Hurricane Supplies everyone should have in their Hurricane Survival Kit. In 2017 we saw the devastation a hurricane can cause in Texas and Florida. This week is the beginning of hurricane preparedness for the 2018 Hurricane Season.
If you have ever lived in an area that is prone to hurricanes and severe weather you know how important it is to be prepared during the storm and have the correct hurricane supplies on hand after the storm.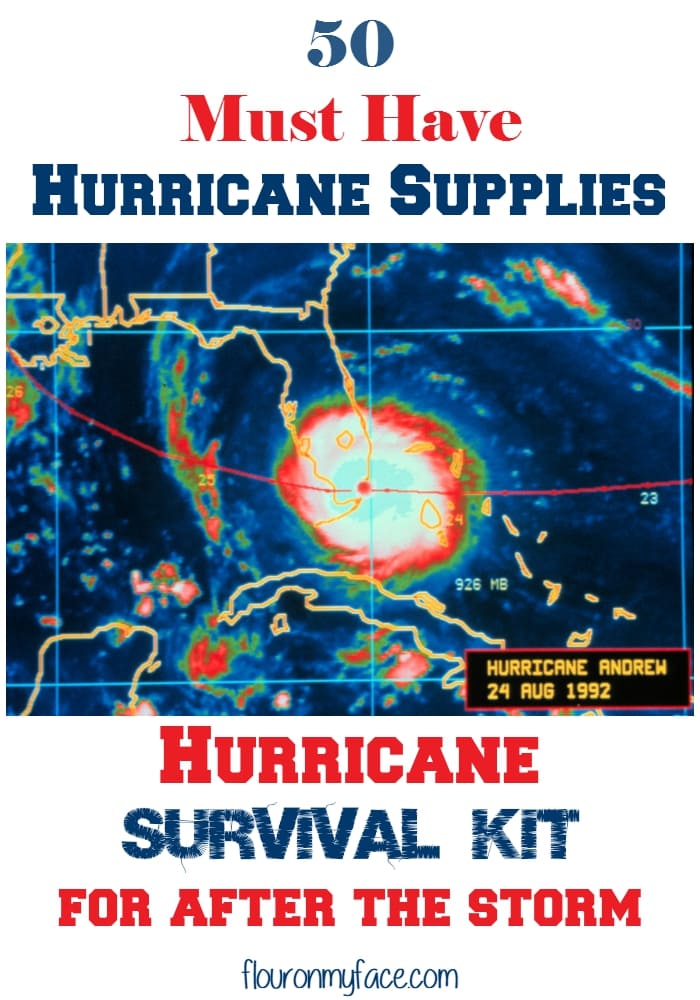 Hurricane Supply List UPDATED  after surviving  Hurricane IRMA in 2017
(affiliate links)
My new #1 hurricane supply that will helps prevent heat stroke after a summer hurricane!
Family Inflatable Pool: This exact rubber inflatable swimming pool saved my life after Hurricane Irma last year. If you live in one of the southern states you know how hot it is during the summer.
Well after a hurricane and the electricity is out many people suffer from heat exhaustion or heat stroke. I lived in my granddaughters rubber wading pool after the hurricane. We have city water so even though the electricity was out the water was on. Each day we refilled the pool with fresh cool water. My granddaughters and I played in this pool every day when the heat got too much to handle. It kept us cool enough so we didn't get heat exhaustion which can be deadly.
Florida Hurricane survival
Living in Florida most of my life has taught me a few things about severe weather conditions and how important it can be to have a Hurricane Survival Kit. In Florida, we have the potential to be hit with floods, tornadoes, fires, severe thunder storms, tropical depressions and hurricanes.
I've been through all of the above at some point in my life. The worst hurricane to hit the state of Florida was Hurricane Andrew. Having grown up in Homestead, Florida I had relatives and many friends who were directly impacted by Hurricane Andrew.
At the time, my mother and disabled aunt were both living in Homestead and lived through Hurricane Andrew.
Three days after the storm when the area was locked down by the National Guard from rubberneckers my husband and I drove down from Fort Myers, Florida and literally snuck into Homestead from the back roads to check on my family.
What we saw was the aftermath of the most devastating hurricane to hit the US at that time. It was both mind numbing and devastating.
Before Hurricane Andrew hit I had already been through a number of tropical storms, hurricane warnings and Category 1 and 2 hurricanes during my lifetime. I've lived in Florida for over 35 years.
The majority of the country doesn't have to worry about a Hurricane Survival Kit. Here in Florida hurricane season begins in June but most storm development occurs in August and September.
Like clockwork, we start seeing predictions from the National Hurricane Center long before a hurricane or tropical storm is barreling down on us.
But by that time it is almost too late to start getting a Hurricane Survival Kit together. You can still do it but once a hurricane warning is in effect and people start to panic there are slim pickings when it comes to most of those sometimes life saving supplies that you need once a storm has hit your area.
Preparing your Hurricane Survival Kit early is the best way to go. These 50 Must Have Hurricane Supplies are really just the tip of the iceberg when it comes to being prepared for a hurricane or other severe weather.
It is always better to be over prepared than not prepared at all. This list is really just the bare essentials that can make an unbearable situation a little more bearable.
After a storm strikes in your area eating, drinking and sleeping are the three areas that are the hardest to deal with.
Each individual family will need to prepare for their own individual needs which may include health issues, medications, and medical attention.
Keep your individual needs in mind when preparing your own Hurricane Survival Kit.
Plastic tubs with tight-fitting lids will protect items that can and will be damaged by rain and water. Store all your hurricane supplies in tubs to protect them.
50 Must Have Hurricane Supplies for your Hurricane Survival Kit
Hurricane Kit Food & Drink Supplies
7 day supply of water - you should have at least 1 gallon of water per person per day for the number of people in your household
7 day supply of non-perishable and easy to prepare food.
water purification tablets in case your run out of purified water - find these where most sporting goods are sold.
bottled water -  stock up on bottled water all year long to avoid empty shelves
canned food - canned soups, tuna, peanut butter and jelly, canned ravioli and canned beans are some suggested canned food to stock up on.
manual can opener -  one or two cheap manual can openers so you can easily open those canned foods.
paper plates - if your area is out of electricity and water you want to avoid a big pile of dirty dishes that will start to mold and smell.
plastic silverware -  same as above.
plastic cups -same as above.
Hurricane Kit: Medical Supplies
First aid kit - a first aid kit will allow you to clean and apply antibacterial cream to small wounds to avoid infection while you are living without water and electricity and possibly no way to get medical treatment for days or possibly weeks after a store. Buy a kit that has some butterfly stitches for deeper wounds.
peroxide and rubbing alcohol -  to clean wounds and to sterilize
7 day+ prescription refills - stock up on important medications as soon as a storm is predicted to hit your area. Don't forget about birth control pills or other birth control methods like condoms! Again medical attention and treat may not be available for days or weeks.
over the counter medications - buy a week supplies of over the counter medications like tylonal, advil, benadryl. Buy the over the counter medications that your family depends on in normal circumstances.
Hurricane Kit: When the Power goes out
Flashlights - replace old batteries with brand new batteries and make sure you have extra replacement batteries in the correct size on hand for when they die.
batteries - stock up on batteries in all sizes that you may need.
solar powered lanterns - the sun is always shinning in the south and solar powered lanterns and lights will regenerate even under cloud cover. They may not shine as bright or last as long as they would by powering up under bright sunshine but you will not need batteries and the initial cost will have you money.
candles - when using candles please use caution. House fires taking place during or after a storm can be deadly. The fire department will not be able to respond to most 911 calls during a storm and after a storm roads may be blocked by downed trees and power line preventing the fire department access to your home.
waterproof boxed matches - stock up on matches that are windproof and waterproof.
lighters - disposable lighter are relatively cheap. Keep a few on hand and keep them with your candles.
Hurricane Kit: Toiletries
toilet paper -  obviously even without electricity and water you will still need to use the restroom.
paper towels -   When the power is out you will not be able to wash your clothing and towels. Paper towels can be used to clean up spills and to wash your face, hands and body in a pinch.
travel size shampoo - easier to store in your hurricane kit.
shower gel - same as above.
tooth paste - same as above.
tooth brush -one for each family member
baby wipes - baby wipes will be needed not only to clean up babies butt but you will be able to use them in place of soap and water. No power equalls sweaty face and bodies. A baby wipe will allow you to wash yourself up with out water.
Sunscreen - you are going to be cleaning up your yard after the storm. Protect your face and skin from sunburns. Remember you may not be able to shower to cool off, have access to sunburn relief products.
Hurricane Kit: Sleeping
blankets - blankets can be used for sleeping and for cushioning the head and body. Store an extra set in a plastic tub because if your roof is damaged everything you own may be saturated with rain and begin to mold in the heat.
sheets - same as above
sleeping bags - same as above.
tents -  no one wants to think about camping after a store but if your home is damaged you will need a safe place to sleep.
bug spray - the bugs are going to be horrendous. The mosquito population is going to triple in all the standing water. Windows may be out allowing entry into your home. Sometimes you will feel like on top of everything else that one buzzing mosquito is going to send you over the deep end. Prevent extra discomfort and stress by spray bugs spray.
Hurricane Kit: Other Items
copies of important documents - store all important documents in ziplock bags, seal them in a food saver bag if possible. Then store these bags in a plastic tub with a tight fitting lid. Seal lids up with duct tape if necessary.
emergency contact list - same as above.
important family contact list - same as above.
duct tape - same as above - can be used seal up leaks, patch a broken window and seal up plastic tubs.
tarps - cover broken windows, protect important items and cover holes in the roof.
Ziplock bags- all sizes to protect perishable food items,  important papers, photos and other items.
generator - most families can afford the expense of a generator. If you own one and use one after the store besure to set up away from your home and windows. Never use a generator in an enclosed space like a garage! Follow the manufacturers instructions on how far away from your home to place the generator for the safety of your family!
gas - for the generator and power tools need to clean up fallen trees. Follow all safety rules when storing gas!
gas grill with extra propane tanks - follow all safety rules as for a generator!
charcoal grill - as long as you have a charcoal grill and charcoal you can eat. You will be able to cook those perishable food items that are in your refrigerator and freezer before they go bad.
bags of charcoal - see above.
charcoal lighter fluid - makes lighting the grill easier but charcoal can be lite without it if necessary. Make sure you have a few disposable lighters on hand.
solar powered chargers - so you can charge cells phones and devices to keep the kids entertained during and after the store.
a whistle - can alert neighbors and rescuers that you are in the area and need help.
garbage bags - to clean up and keep your space sanitary.
bleach - to clean up and disinfect. Can be used in small amount to purify water.
battery powered radio - Internet will probably be out. You can stay up to date on the store, news and rescue efforts in your area.
NOAA Weather Radio - same as above.
What do you pack in your Hurricane Kits? Did I miss something on my 50 Must Have Hurricane Supplies list?
Let me know what you pack when you're getting ready for a storm so I can add it to the 50 Must Have Hurricane Supplies I have on hand during hurricane season.