30 Cranberry Recipes
Every Fall I look forward to buying fresh cranberries. I love them so much I decided to find these 30 Cranberry Recipes and share them with you. These recipes come from some of my favorite bloggers who were kind enough to let me share their cranberry recipes today in this great round up.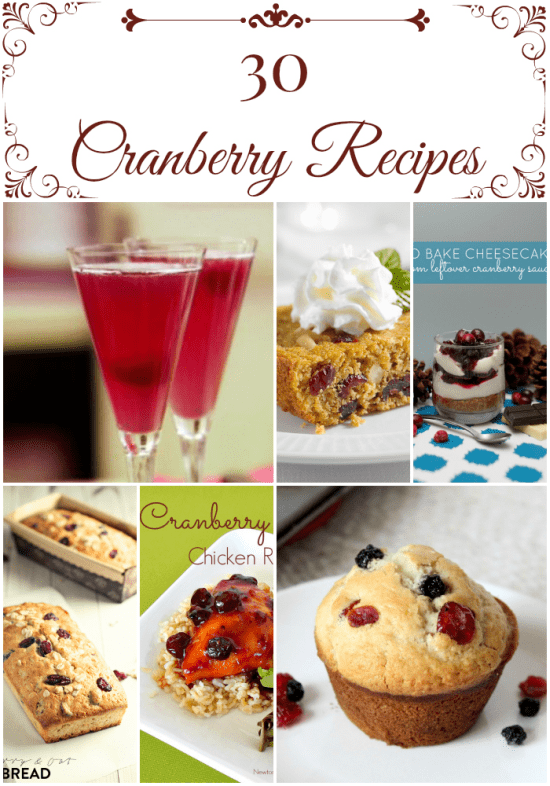 My all time favorite way to use cranberries is to make cranberry bread. My husband loves my cranberry bread recipe so much that I have to buy at least 4 extra bags of fresh cranberries so that I can make this recipe after the fresh cranberries are no longer available.
 I pack my freezer full of fresh cranberries so I can make our favorite cranberry bread recipe all year long.
Flour On My Face Cranberry Apple Cheesecake Bites
Nicki's Random Musings Cranberry Bliss Bars
Feeding Big Cranberry Scones
A Day in Candi Land Copycat Starbucks Cranberry Orange Scones
CrystalandComp Tenderloin Cranberry and Pear Salad
3 Boys and a Dog Wild Rice and Cranberry Bread Loaf Recipe
Dear Creatives Cranberry Almond Anytime Bars
REAL The Kitchen & Beyond White Chocolate Cranberry Cheesecake
The Sunny Patch Cranberry Raisin Bread Stuffing
Nicki's Random Musings White Chocolate Chips & Cranberry Cookies
Dear Creatives Raspberry Orange Cranberry Sauce 
Mom's Confession Cranberry White Chocolate Chip Oatmeal Cookies
Flour On My Face Easy Crock Pot Cranberry & Apple Compote
Mess For Less Cranberry Banana Bread
A Life in Balance Roasted Sweet Potato with Dried Cranberries
Flour On My Face Apple & Cranberry Turnovers
Spaceships & Laser Beams No Bake Cranberry Cheesecake
Momma Young at Home Easy Pear & Cranberry Danish
A Simple Pantry Cranberry Oat Quick Bread
Flour On My Face Cranberry Orange Muffins
True Aim Education Cranberry Gluten Free Breakfast Cookies
Natural Chow  Whole Wheat Cranberry Orange Scones
3 Boys & a Dog Cranberry Kiss Mocktail Recipe
Flour On My Face Best Cranberry Bread
Busy at Home Apple Cranberry Salad
Spaceships & Laser Beams Cranberry & Sage Appetizer
Natural Chow Healthy Blueberry Cranberry Muffins
Newton Custom Interiors Cranberry Chicken Recipe
Flour On My Face Cranberry Scones
REAL The Kitchen & Beyond Clementine Cranberry Baked Oatmeal