25 Ground Beef Freezer Meals
If you are working hard to get meal planning under control one of the best ways to get your dinner menu in check is to start making freezer meals.
To help get you started here are 25 Ground Beef Freezer Meals that you can make and freeze for meals during the upcoming weeks.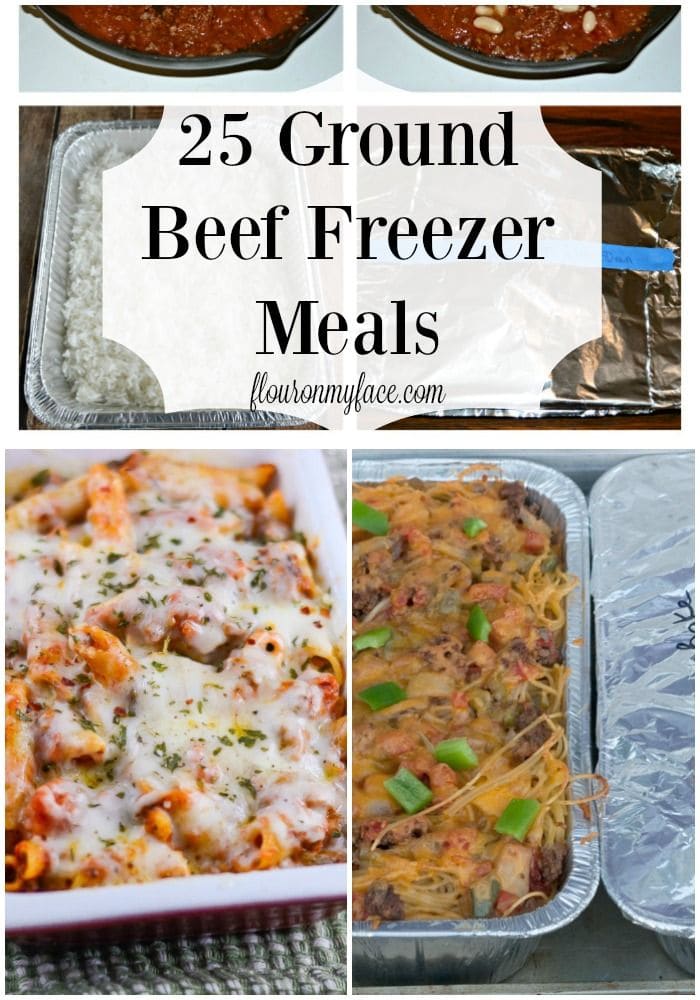 Disclosure: Some links in this post are affiliate links.
I am amazed when I read about freezer meal planning. It can be a lot of work but once you get a plan in place for the day you are cooking all that work really pays off in the long run.
I can manage to get a few things into the freezer for another meal like when I freeze lasagna or stuffed shells that I have as leftovers.
Or if I make a crock pot soup recipe I like to divide it up into portion size containers and reheat it another day for lunch or an easy dinner.
I also love to buy fresh squash, zucchini, bell peppers, tomatoes and onions at my local farmers market.
If you love easy & amazing recipes join the Flour On My Face Newsletter and get each of my new recipes delivered right to your inbox.
I'll slice the fresh veggies up mix them together and freeze them in quart-size freezer bags for when I make sauteed vegetables for a side dish or I'm cooking Mexican food and I need sliced bell peppers.
I guess I do a bit of freezer meal making but I have never dedicated a day of cooking just for the freezer.
It's something I have always wanted to do.
I'll be picking out a few of these 25 Ground Beef Freezer Meals to get started.
Have you always wanted to start making freezer meals but you just don't know where to start? Take a look at all the tips in How to Prepare for a Day of Freezer Meal Making.
When you're done drooling over the 25 Ground Beef Freezer Meals check out my list of must-have freezer meals making supplies.
That way you can start packing your freezer with some of these delicious ground beef freezer meals.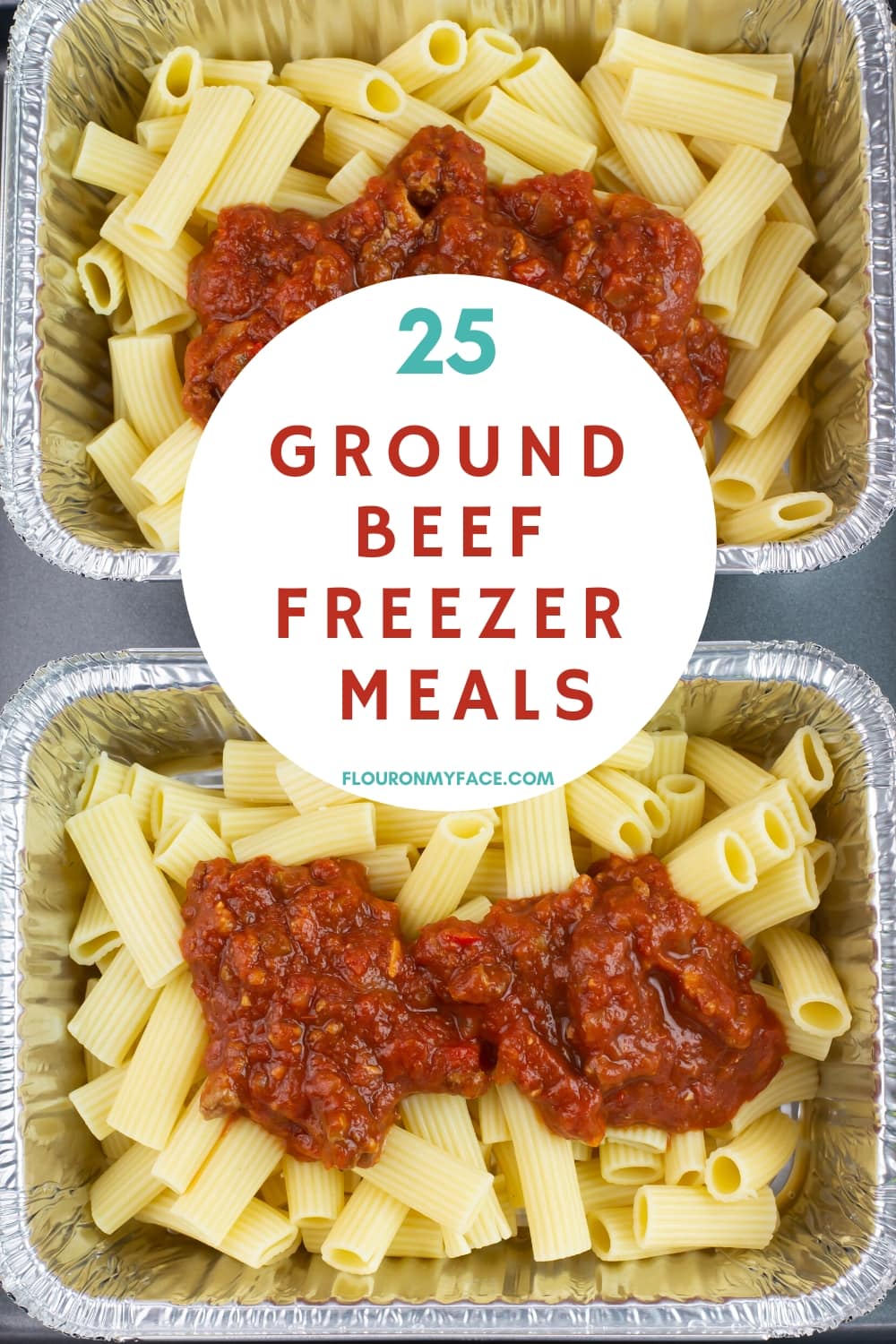 25 Ground Beef Freezer Meals
1. Chili and Rice Casserole
2. Baked Spaghetti with Meatballs
3. Baked Ziti
4. Beef Eggplant Lasagna
5. Make Ahead Italian Meatballs
6. Crock Pot Tater Tot Casserole
7. Bolognese Sauce
8. Taco Tacquitos
9. Layered Taco Bake
10. Pizza Casserole
11. Swedish Meatballs
12. Ranch Cheddar Burgers
13. Homemade Shepherds Pie
14. Freezer Beef and Bean Burritos
15. Grain Free Pizza Pockets
16. Taco Chili
17. Bacon Cheeseburger Meatloaf
18. Beef and Corn Casserole (Gluten Free)
19. Baked Beef Chimichangas
20. Lawnmower Taco Casserole
21. Sour Cream Noodle Bake
22. Beef Enchiladas
23. Easy Meatballs
24. Gourmet Spinach Blue Cheese Burgers
25. Ground Beef Pot Pies
Flour On My Face Ground Beef Freezer Meals you may not have seen!
You can find all of my freezer meals on the Freezer Meals Page.
25 Boneless Chicken Breast Freezer Meals
Freezer Meal Crock Pot Southwestern Hamburger Soup
Disclosure: Affiliate product recommendation links ahead. If you should make a purchase based on my recommendation I will receive a small commission at no added cost to you. Thank you for your support!
Must have freezer meals making supplies
For more easy Freezer Meals for Busy Moms check out my Freezer Meals Recipes.