My Baked Spaghetti recipe is one of my all time most requested family recipes.
Baked Spaghetti with Meatballs is easy to make and when you need to feed a crowd on a food budget this recipe fits the bill.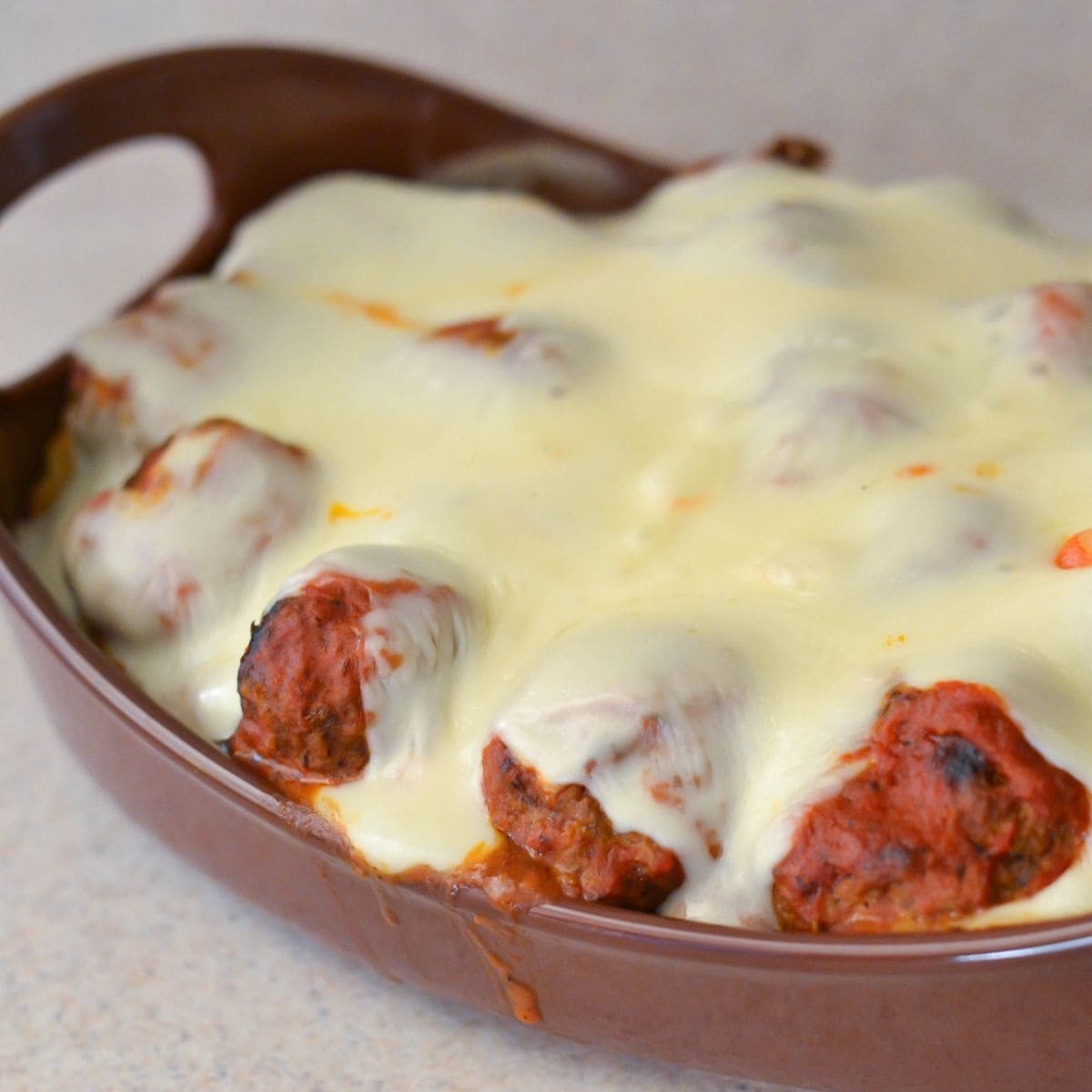 But you can easily feed a smaller family twice with this recipe by serving half for dinner and freezing the other half to save for another night. Pasta recipes make a great freezer meal.
Most of the time I just make this recipe with a meat sauce and bake it in the oven. This time I decided to change it up a bit by making some homemade meatballs and layering them over the pasta before I baked it.
I am not going to admit to how many meatballs I ate! It turned out so good.
My husband and I were so stuffed we could hardly move after eating dinner that night and he claimed the leftovers for the next day.
It is really amazing how easy it is to change up a recipe that you have made for years just by making a little change and it turns into a new favorite family recipe.
Head to the bottom of this post to print and save this Baked Spaghetti with Meatballs recipe.
How to make homemade meatballs
The first thing we need to do to get this recipe going is to make the homemade meatballs.
You will need 2 ½ - 3 pounds of ground beef, Italian flavored bread crumbs, Italian seasoning, garlic powder, an egg and salt and pepper.
In a large mixing bowl combine all the ingredients. Dig your clean hands in to mix it up.
Make sure the bread crumbs are mixed in well. You don't want any pockets of bread crumbs in the middle of a meatball.
Brown the meatballs on all sides in a large skillet until they are mostly cooked through, about 30 minutes depending on the number and size of the meatballs.
Carefully pour off the accumulated grease. Pour half the jar of spaghetti sauce over the meatballs.
Reduce the heat to low and simmer for 20-30 minutes until the meatballs are cooked through.
Bring a large pot of water to a boil and cooked the spaghetti noodles till el dente. Preheat the oven to 375 F. while the pasta is cooking.
If you bought a block of mozzarella cheese slice it into thin slices and set aside.
Once the spaghetti noodles are cooked drain them well. I am using thin spaghetti noodles for this recipe but you can use regular spaghetti noodles if you like.
But there are a couple of reasons why I like the thin spaghetti versus regular spaghetti noodles.
The thin spaghetti really stretches this meal. I can feed at least 2 more adults when using thin spaghetti and the thin spaghetti noodles cook faster than regular spaghetti noodles.
It is a personal preference so use which ever type of spaghetti you like.
Pour the cooked and drain noodles back in the pot you cooked them in and pour the remaining half a jar of spaghetti sauce over them and mix well.
Make sure the pasta is covered evenly with sauce.
It looks like there isn't enough sauce but don't worry about that because we are going to pour the sauce the meatballs were cooked in over the entire baking dish.
Carefully pour all the spaghetti into a large 13 by 9 baking pan and spread it evenly in the pan.
One at a time neatly place a meatball on top of the pasta until all the meatballs are covering the pasta in a single layer.
Carefully pour the spaghetti sauce the meatballs cooked in over the meatballs.
Now sprinkle or layer the mozzarella cheese over all the meatballs. Keep the cheese away from the edges.
We don't want a big mess of melted cheese to drip on the bottom of the oven when it starts to melt. I hate when that happens. 
Bake the spaghetti and meatballs in the preheated oven for 20-30 minutes or until the cheese has melted.
This meal will easily serve 6-8 people. Serve with garlic bread and a salad.
How to make Baked Spaghetti with Meatballs
Meatball Ingredients
2½ to 3 pounds ground beef
¾ cup Italian Bread Crumbs
1 teaspoon garlic powder
1 teaspoon Italian seasoning
½ teaspoon salt
¼ teaspoon pepper
1 large egg
Baked Spaghetti Ingredients
1 pound box thin spaghetti
1 45 ounce jar Spaghetti sauce
1 pound block mozzarella cheese or 1 pound shredded mozzarella cheese
Directions To make the meatballs
Mix the first 7 ingredients in a large bowl until combined well.
Roll about 28 medium meatballs.
Brown the meatballs on all sides in a skillet.
Pour off excess grease and pour half the jar of spaghetti sauce over the meatballs.
Turn the meatballs down to low to simmer.
Simmer until cooked through, about 30 minutes.
Cook the Pasta
Bring a large pot to of salted water to a boil. Slice the mozzarella cheese if you are using a block of cheese instead of shredded.
Add spaghetti noodles to boiling water and cook till el dente.
Drain spaghetti well and return to the large pot.
To Assemble the Baked Spaghetti and Meatballs
Pour the remaining spaghetti sauce from the jar into the pot of pasta and mix well.
Preheat oven to 375 F.
Thinly slice the cheese if you are using a block of mozzarella cheese.
Pour the spaghetti into a large baking pan.
Arrange meatballs over the top of pasta.
Pour the spaghetti sauce the meatballs cooked in over the meatballs in the baking dish.
Arrange the sliced mozzarella in a single layer over the meatballs or sprinkle the shredded mozzarella over the meatballs.
Bake in the preheated oven until cheese is melted, 20-30 minutes.
Serves 6-8
Recipe Expert Tips
Cook time is an approximate combined time for the meatballs, pasta and baked spaghetti. Time will vary for each home cook.
Frozen meatballs can be used. Heat them according to the directions on the package.
More recipes you'll love
Print the Baked Spaghetti and Meatballs recipe below
Email questions or recipe requests to flouronmyface@gmail.com. Follow me on Pinterest, YouTube, Instagram and Facebook.
Homemade Meatball Recipes are always a big hit with the family!
Feeling lazy? You might want to check out my Crock Pot Meatball recipe. Yum! If you want to make easy Crock Pot Meatball Subs instead of spaghetti I have a meatball recipe for that also! Check out my Easy Crock Pot Meatball Sub Sandwich recipe.