If you love carrot cake you are going to go crazy over this weeks 25 Fantastic Carrot Cake Recipes. This week's recipe roundup is jam packed with carrot cake recipes that will have you drooling.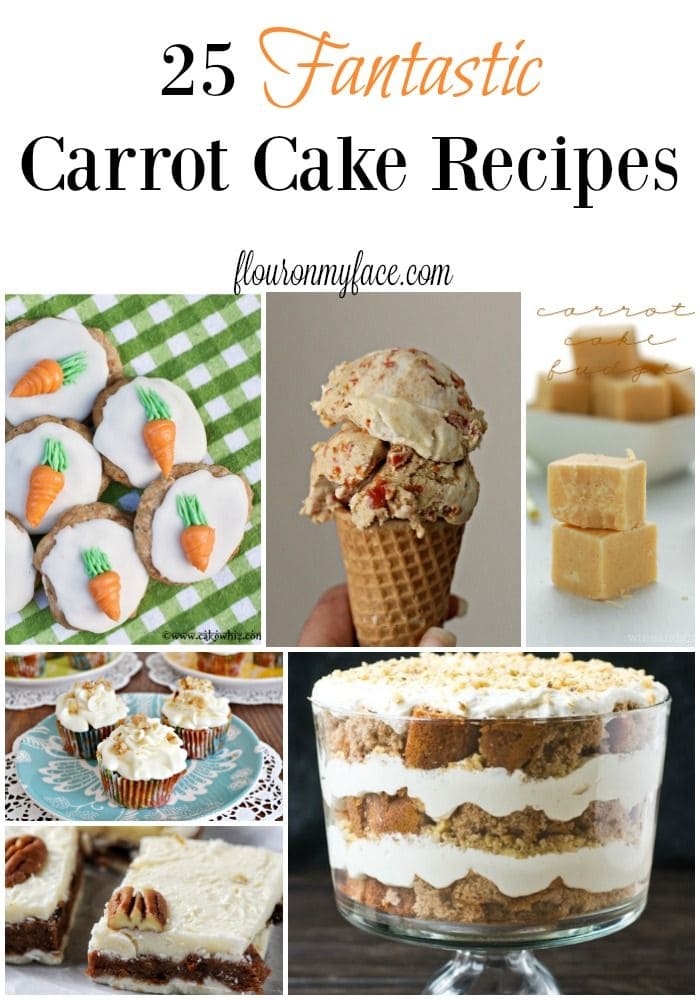 It is amazing all the different recipes that can be carrot cake flavored.
What is your favorite part of your Easter celebration? Is it coloring Easter eggs with the kids? Is it filling up those Easter baskets with goodies? Maybe snitching a few of those Cadbury Eggs?
What is you favorite Easter recipe? Carrot Cake is my very favorite Easter recipe. I love carrot cake cupcakes with the best cream cheese frosting. Or I love an old fashioned Carrot Cake Sheet Cake.
But I can't wait to try this Carrot Cake Ice Cream recipe from Nutmeg Nanny. First thing in the morning I am looking for my ice cream maker. I know it's here somewhere!
25 Carrot Cake Recipes
1. Carrot Cake Waffles
2. Carrot Cake Fudge
3. Carrot Cake Bread
4. Browned Butter Carrot Cake Blondies
5. Cream Cheese Carrot Cake Trifle
6. Fresh Carrot Cake with Ginger Snap Crumbles
7. Loaded Carrot Cake Dip
8. Gooey Cinnamon Carrot Poke Cake
9. Old Fashioned Carrot Cake
10. Carrot Cream Cheese Coffee Cake
11. Baked Carrot Cake Oatmeal
12. Carrot Cake Cookies
13. Carrot Cake Pops
14. Paleo Spiced Carrot Cake
15. Carrot Cake Quinoa Flakes
16. Carrot Walnut Cake
17. Cream Cheese Frosting With Carrot Cake Cupcakes
18. Carrot Cake Marshmallows
19. Carrot Cake Truffle Bark Bars
20. Carrot Cake Cinnamon Rolls
21. Carrot Cake Cookie Cups
22. No Bake Carrot Cake Protein Bars
23. Carrot Cake Cookie Bars
24. Gluten Free Carrot Pound Cake with Coconut Milk Icing
25. Carrot Cake Ice Cream
Need a few more ideas for Easter recipes? I've shared many over the years. Check out a couple I have highlighted below or type Easter into the search bar to find all the Easter recipes on my website.