Toasted Coconut Ice Cream
When the temperatures start to rise a bowl of Toasted Coconut Ice Cream will cool you off. Break out the ice cream maker (affiliate link) and make a batch of this Toasted Coconut ice cream.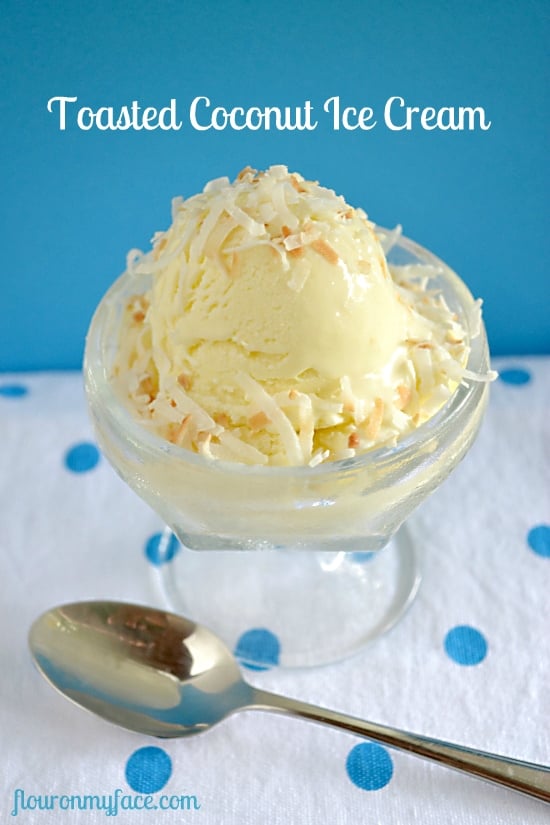 Do you eat ice cream all year long like my family or do you only enjoy it as  a summer treat?
One of the reasons we enjoy it so much in the summer time is obviously because it is hot outside and a cold creamy bowl of the good stuff tastes so good and cools us off for a minute or two.
 Every summer I tell myself I am going to create my ice cream and ice pop recipes during the winter when it's possible to take pictures without scampering around trying to get a great photo before the ice cream starts melting. It's almost too hot here already.  If you've ever attempted to eat a bowl of ice cream or an ice pop in temps over 90 you know it starts to melt immediately.
This recipe turned out so good. Every time I make a batch of homemade ice cream I think I have found my favorite flavor. I've come to the conclusion there is no bad homemade ice cream out there.
Each recipe is my favorite!
The only thing I might change the next time I make it, and there will be a next time I promise you is that I will add another 1/4 of toasted coconut to the ice cream. I didn't want to over do it the first time so if you really like toasted coconut bump up the amount you add to the ice cream maker in the last five minutes of churning.
If you only want a little chewiness to your ice cream then make it as it is.
Storing & freezing your ice cream after churning:
Scoop the ice cream into a container with a tight fitting lid. Use the smallest container you can fit the ice cream into to avoid ice crystals from forming.
You can also put a piece of plastic wrap directly on the top of the ice cream, slightly tucking it along the edges of the container. Snap the lid in place over the plastic wrap and freeze overnight.
If you do not own an ice cream maker (affiliate link) pour the custard into a bowl with a tight fitting lid. Add the toasted coconut and fold in. Place in the freezer and freeze overnight.
Although your ice cream will not have the same texture as it would have if you had churned it in an ice cream maker you will still have a delicious batch of homemade ice cream to enjoy.
Homemade Toasted Coconut Ice Cream
Arlene Mobley - Flour On My Face:
Arlene Mobley - Flour On My Face
Ingredients
One 13.5 ounce can of coconut milk about 1⅔ cups
½ cup milk
⅓ cup granulated sugar
2 cups heavy cream
1¼ cups sweetened shredded coconut, separated
5 egg yolks
Directions
Toast ¼ cup of the sweetened coconut in a dry frying pan, until golden brown.
Heat the milk, coconut milk, heavy cream and remaining cup of shredded coconut until bubbles form around the edges of the pot.
While the milks are heating beat the egg yolks and sugar until pale yellow.
Once the milks have formed a line of bubbles around the inside edge of the pot remove it from the heat and strain the shredded coconut out. Discard the coconut.
Temper the egg yolks by drizzling ¼ cup of the hot milk mixture into the yolks while whisking. Repeat with another ¼ cup of hot milk mixture. Now it is safe to pour the remaining hot milk mixture into the bowl of yolks with out the yolks cooking.
Whisk for about 1 minute and strain through a fine mesh strainer into the pot you cooked the milks and whipping cream in.
Return the pot to the heat and cook the custard base until it thickens enough to coat the back of a spoon. Test for doneness by running your finger through the custard. If a trail remains your custard is done. If not continue cooking and check again after 5 minutes.
When your custard is done remove the pot from the heat and pour the custard into a bowl, preferably one with a pouring spout. If using an ice cream maker it will make pouring the ice cream base into it much easier.
Allow your ice cream base to cool on the counter to room temperture. Once cool cover with plastic wrap and chill in the refrigerator for at least 1 - 2 hours.
When the ice cream base has chilled completly churn in an ice cream maker per manufatureres instructions.
Five minutes before your ice cream is finished add the ¼ of toasted coconut and continue churning.
Love making Homemade Ice Cream?