Vanilla Bean Chai Tea Gelato Recipe
This Vanilla Bean Chai Tea Gelato recipe is a combination of my favorite flavors all wrapped up into a creamy gelato.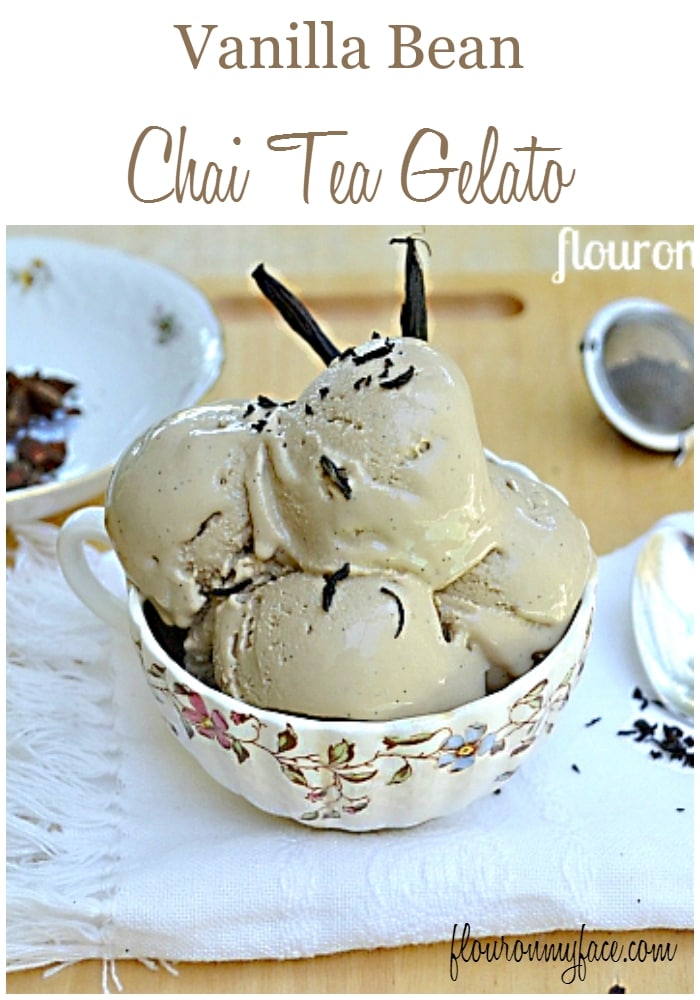 A few weeks ago when I saw Garden Betty's recipe post for Chai Tea Ice Cream I immediately saved the recipe  because I knew I was going to have to make it asap.
I've had an ice cream maker for a few years and periodically pull it out to make something creamy and delicious.
The first recipe I made when I got my ice cream makers was a Double Chocolate Gelato. It is the ultimate chocolate-lovers ice cream recipe.
With the next recipe I went all out and came up with something that was a bit farfetched but tasted so refreshing and good I couldn't believe it.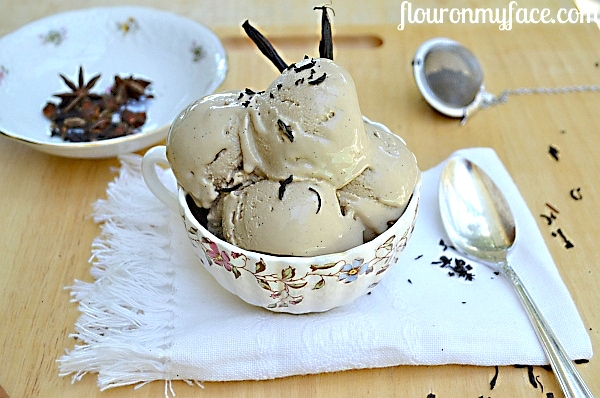 That was this Blackberry and Lemon Basil gelato recipe.
Not only did it taste good but the color was a vibrant purple from the blackberries. It is one of my favorite food photos to this day.
I like to experiment. It makes me feel like a mad scientist of the kitchen sometimes, but it is so much fun and can yield some truly delicious recipes.
I think up until now my favorite ice cream experiment was my Crème Fraiche Ice Cream I made last year for National Ice Cream month.
The Crème Fraiche ice cream was so creamy and decadent I didn't think I would ever find another homemade ice cream recipe that could knock it out off my #1 ice cream flavor list.
This vanilla chai tea gelato is running neck and neck with it. I haven't had a bowl just yet. I did lick the spoon and savor what was left in the ice cream maker barrel. I will have to be patient and wait until tomorrow when I finally get to churn it.
Very yummy!
I like to let my gelato base chill for a long time. The colder it is when it goes into the ice cream maker the less time it needs to churn.
I ended up leaving the custard base chilling overnight.  With my schedule the day I made it I just knew it would be too late for me to photograph it by the time it was chilled enough to go into the ice cream maker.  It worked out pretty good this way because it took all of ten minutes for it to  churn into the frozen delight I knew it would be.
Gather and prepare your chai tea spices
Print
Vanilla Bean Chai Tea Gelato Recipe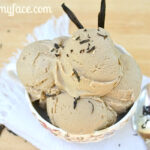 Author:

Arlene Mobley - Flour On My Face

Category:

Ice Cream
Ingredients
1 cup half & half (may substitute milk)
3 cups milk
8 black tea bags
2 large cinnamon sticks, broken in half
1 piece of fresh ginger about 1 inch long, sliced into very thin coins
3-4 star anise
1 teaspoon Cardamom seeds, crushed
1 teaspoon whole cloves
½ cup sugar
2 vanilla beans, split and scraped
Pinch of salt
5 egg yolks
Instructions
Put all of the spices, 1 cup of half and half, 2 cups of milk, 1 vanilla bean, the sugar and the tea bags into a heavy sauce pot.
Heat the ingredients until almost to the boiling point, occasionally whisking. You should see bubbles forming around the edges of the pot. You want it to get hot enough for the tea to release but not hot enough so the milk scalds.
While your pot is heating separate the egg yolks and reserve the whites for another recipe. Whisk the egg yolks and set aside.
Once the milk has formed bubbles and you see that the tea is starting to color the milk remove the pot from the hot burner and allow to steep for ten minutes.
Pour the remaining cup of milk into a large bowl and place a fine mesh strainer over the top. Pour the tea and spices into the strainer. Discard the spices.
Temper your egg yolks by pouring about a ¼ of a cup of the warm tea mixture into the bowl of yolks and whisking. Do this three times. By the third time it is safe to whisk the yolks into the chai tea mixture without worrying that the yolks will be cooked. Add the yolk and tea mixture back into the pot with the rest of the milk and whisk well.
Rinse out the pot and pour the custard base back into the pot. Add the remaining vanilla bean;split and scraped to the pot.
Return it to the burner on a medium high heat and cook until thickened. At first whisking occasionally; as the custard base begins to heat up whisk constantly to keep it from scalding.
Your custard base is done when it will coat the back of a spoon and when you run your finger through the custard a trail remains. This can take anywhere from 10 to 20 minutes depending on the heat.
For me it has always been closer to the twenty minute mark.
Remove the pot from the heat. Strain it once again over a fine mesh strainer to remove any lumps and the vanilla bean.
Allow custard to cool to room temperature then refrigerate for at least 3 hours. Overnight is best.
Once completely chilled; process in your ice cream maker per manufacturer's directions.
This is what the chilled custard will look like after it has been chilling over night. It is very thick.
I just poured the gelato custard into the ice cream maker.