Onion Cheddar Cheese Focaccia
 Happy 2nd Birthday #SundaySupper
I am excited to be joining our host Liz of That Skinny Chick Can Bake for this weekends Sunday Supper Celebration. It's a special one as the Sunday Supper movement, started by Isabel of Family Foodie is celebrating it's 2nd birthday. 
I "met" Isabel on the now defunct  FoodBuzz where foodies and food bloggers would collect and share recipes. From there we followed each other on Twitter. 
On Sundays I noticed Isabel tweeting about what she was cooking or eating for Sunday Supper. At that time she hadn't yet started hosting  these weekly #SundaySupper events. I'm not sure how long it was before she banded a bunch of food bloggers together to celebrate Sunday Suppers all over the world each weekend but I knew I had to get involved. Besides being able to hang out with some of my favorite food bloggers on Sundays I am a big fan of enjoying Sunday Suppers with my family.
These days getting all of the family together to actually sit down for a meal together can be a daunting task. Coming together around the dinner table with those that you love to reconnect after a hectic week of school, work and other commitments is very important even if it is for one day a week.  I loved that Isabel took it upon herself to spread the word online and actually do something about it by spreading the word about the Sunday Supper movement. And I am so happy to be a part of it whenever I can join in.
Scroll down to find the recipes for this weeks Sunday Supper Birthday Party. You will also find my Onion Cheddar Cheese Focaccia Recipe in Ziplist format where you will be able to save it to your recipe box or print it.
This Onion Cheddar Cheese Focaccia recipe has been waiting in a folder on my hard drive for a year now. It's funny how I never got around to posting it for one reason or another.  It almost seems like I (it) had been waiting for a special Sunday Supper celebration just like this birthday bash to be shared. Could it be fate?
You see the Onion Cheddar topping recipe comes from Isabel herself. I saw her Onion Cheddar Cheese Ciabatta Appetizer  post way back last January and I knew I had to make it as a topping for my favorite Sourdough Focaccia.
I gathered the ingredients and made my favorite Sourdough Focaccia dough to use as the canvas for the Onion Cheddar topping Isabel uses in her recipe. Her recipe was for a fast Super Bowl Sunday Appetizer so she used a store bought ciabatta bread as her canvas. 
To make my version of Isabels Onion Cheddar Cheese Appetizer first you will need to make the sourdough focaccia. You can find that recipe here on my Step By Step How to Make Sourdough Focaccia post. 
While you are waiting for the focaccia dough to rise for the final time mix the onion and cheddar cheese topping. Place in the refrigerator until the focaccia dough is ready.
Once the dough has doubled in size spread the cheddar cheese mixture over the top of the dough.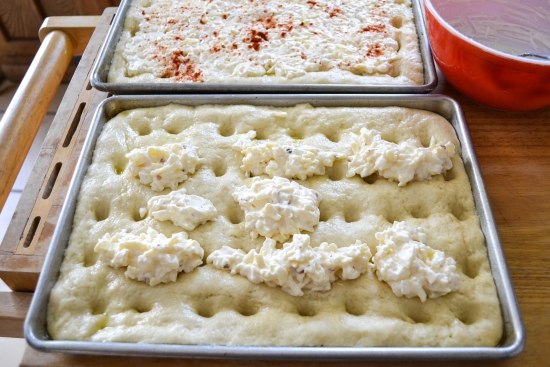 My Sourdough Focaccia recipe will make one large 9 x 17 inch baking tray or two smaller baking trays. I love the way it bakes up in these 9 x 15 inch stainless baking trays I have so I divided the dough in half and split it between the smaller pans. You can use whichever size pans you have available.
Bake the Focaccia 20-30 minutes in a 400 degree oven. You want the cheese to be melted and the edges to be a golden brown. Oven temps vary adjust time accordingly.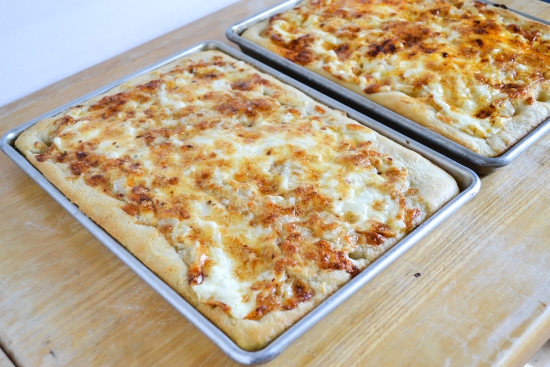 Allow the cheese to set for 5-10 minutes before cutting. Cut into individual pieces. Serve warm and store leftovers in an airtight container.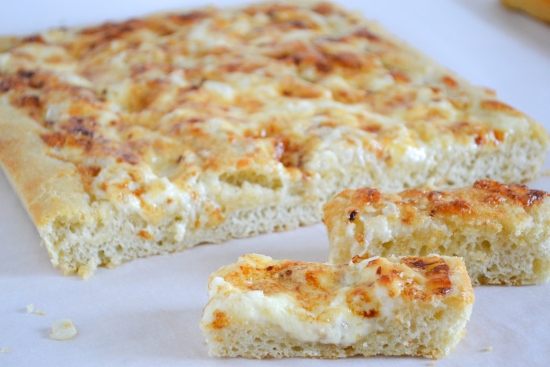 The Sunday Supper Birthday Bash Recipe Roundup
Brilliant Breads and Breakfast Fare:
Amazing Appetizers and Cocktails:
Spectacular Soups and Salads:
Enticing Entrees:
Decadent Desserts:
Join the #SundaySupper conversation on twitter on Sunday! We tweet throughout the day and share recipes from all over the world. Our weekly chat starts at 7:00 pm ET. Follow the #SundaySupper hashtag and remember to include it in your tweets to join in the chat. Check out our #SundaySupper Pinterest board for more fabulous recipes and food photos.

Onion Cheddar Cheese Focaccia
:
Arlene Mobley - Flour On My Face
Ingredients
Onion Cheddar Cheese Spread Ingredients
1 large sweet onion
1½ cups of of Hellman's Mayonnaise
3 cups of sharp white cheddar cheese
1 batch of Sourdough Focaccia
smoked paprika
Directions
Chop the onion very fine.
Mix the onion, Hellman's Mayonnaise and the Cheddar Cheese in a bowl.
Evenly spread the mixture over the prepared focaccia dough
Sprinkle the paprika over the top of the onion and cheese mixture.
Bake at 400 degrees for about 20-30 minutes or until the cheese is bubbly and melted.
Would you like to join the Sunday Supper Movement? It's easy! You can sign up by clicking here: Sunday Supper Movement.