How to make Cold Brewed Iced Coffee with Dunkin Donuts Coffee
Disclosure: I participated in a campaign on behalf of Mom Central Consulting for Dunkin' Donuts. I received a Dunkin' Donuts Party Kit to facilitate my review and a promotional item as a thank you for participating. All opinions and photograph are my own.
How to Make Cold-Brewed Iced Coffee concentrate for homemade Cold Brewed Iced Coffee at home. You can use flavored coffee grounds or your favorite ground coffee brand.
This past weekend I had a great time hosting a Mother's Day Brunch. We celebrated by cooking good food and sampling Dunkin Donuts seasonal flavors by making cold brewed iced coffee.
For a limited time Dunkin Donuts has three new flavors that are perfect springtime flavors but you can use any flavor coffee to make your own homemade iced coffee concentrate.
Strawberry Shortcake

Coconut
Triple Berry
Love making your own iced coffee drinks at home? Then check out my Coffee Recipes Pinterest Board.
Follow Arlene | Flour On My Face's board COFFEE Recipes on Pinterest.
Everyone in my family are big Dunkin Donuts fans. We are lucky enough to have a Dunkin Donut located less than 5 minutes away.  On the weekends we will pick up donuts or bagels for breakfast.  Any time we feel like it we stop in for an iced coffee or frappuccino.
Dunkin Donuts sent me a party kit to help introduce the new seasonal flavors. Each guest left with a tote bag that had a full size bag of  one seasonal coffee flavor, a tumbler and coupons good for $2 off a purchase of Dunkin Donut coffee.
There was also a recipe card for making iced coffee. To be honest I didn't even read the recipe card because I have my own favorite method of brewing coffee for an iced coffee drink. For a couple of years now I have been brewing one quart of cold brew coffee concentrate each week so I can enjoy a great tasting iced coffee without ever leaving the house.
The cold brewing method makes the smoothest tasting glass of ice coffee. You do not get any of the bitterness that you get when coffee is brewed hot and then poured over ice.
It takes a little planning but is so worth it. Once you get a taste of an iced coffee made at home with the cold brew method you will never brew a hot cup of coffee for an iced coffee again.
To make cold brew coffee you very simply add your coffee grounds to a jar and fill the jar with water. Set it on the counter for 24 hours. After 24 hours strain the coffee concentrate through a fine mesh strainer lined with a coffee filter. 
You can find a more detailed recipe below in the Ziplist recipe format below.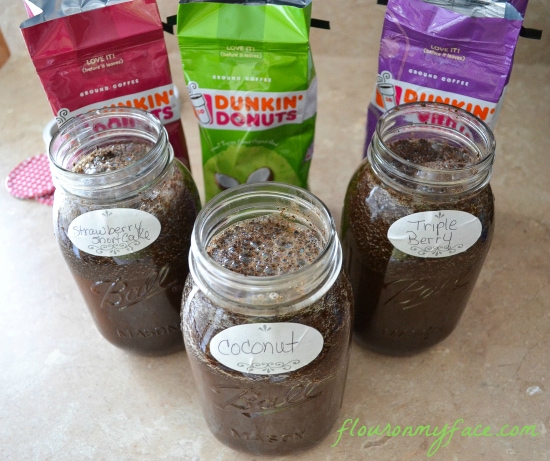 Rinse the jar and return the coffee concentrate to the clean jar.  Store in the refrigerator. To make a glass of iced coffee pour some of the coffee concentrate into a glass filled with ice. Top off with your choice of dairy. I use milk or coffee creamer. Sweeten with your choice of sweetener.
I've never actually measured the amount of coffee concentrate I add to a glass. I usually drink it out of a pint size mason jar. I fill my jar with ice then pour the coffee concentrate in till the glass is about a 1/3 full. Then I pour milk in, add sugar and stir. I learned by trial and error what made the perfect glass of iced coffee for me.
My daughter likes hers much stronger and will fill her glass almost 2/3 full before adding creamer. You just have to make it a few times to figure out where you're perfect iced coffee needs to be.
Everyone sampled each of the flavors and the Coconut flavor won hands down. But my oldest daughter loved the Strawberry Shortcake flavor. I was a little leery of how the Triple Berry flavor would taste and was very surprised that it actually tasted very good in my iced coffee. All three flavors tasted very good as an iced coffee.
The seasonal flavors are only available for a short time so if you see them you better grab a bag before they are gone.
You can search with your zip code on the Dunkin Donuts website to see where they are being sold in your area.
How to make Cold Brew Iced Coffee
You of course can use what ever dairy or nondairy product you prefer. I have enjoyed iced coffee with coconut milk and it is very good.
:
Arlene Mobley - Flour On My Face
Recipe type:
Cold Brewed Iced Coffee
Ingredients
1 cup of coffee grounds
1 quart mason jar
water to fill
Directions
To Make a Cold Brew Iced Coffee Concentrate
Measure 1 cup of coffee grounds into a quart size mason jar
Cover the coffee grounds with cold water.
Shake the jar so all of the grounds are saturated.
When the coffee grounds settle top off the jar with more water.
Allow to steep for 24 hours.
Strain Coffee Grounds
Place a plastic fine mesh strainer over a bowl. Line the strainer with a coffee filter.
Pour half of the jar contents into the strainer. Allow all the liquid to drain.
Pour the remaining coffee concentrate and grounds into the strainer. Allow to drain completely.
Swish about a ¼ of a cup of water in the jar to get the last bits of coffee grounds out of the jar. Pour into the strainer.
Press the grounds with the back of a spoon to push all the liquid out of the coffee grounds.
Wash and rinse the jar.
Pour the coffee concentrate back into the clean jar.
Keep refrigerated until ready to make a glass of cold brewed iced coffee.
To Make a glass of iced coffee
Fill a glass with ice.
Add enough coffee concentrate to fill the glass about ⅓ full.
Add sweetner of choice.
Fill glass with milk and stir.
Notes
I first learned of the cold brew method of iced coffee from the Pioneer Woman's blog. She makes a much larger amount of cold brewed coffee concentrate. I've adjusted her directions for my own use making a smaller amount of coffee concentrate that lasts me about a week.
Nutrition Information
Serving size:
1 pint glass
Along with the Dunkin Donuts seasonal flavor coffee, donuts, bagels  & cream cheese, we enjoyed my favorite Mother's Day brunch recipe of Nutella Double Stuffed French Toast, pancakes, sausage, hash browns and a very delicious breakfast casserole my MIL Bonnie made that I did not get a photo of.  I will be getting the recipe from her and posting it soon.
Our Mother's Day  brunch celebration was hit.  I couldn't have asked for more.  We had great coffee, delicious food and spent the morning with the people we love most. 
Did you enjoy the How to Make Cold-Brewed Iced Coffee post? You may also like these other coffee recipes: