Shepherd's Pie Casserole
#QuickFixCasseroles from Country Crock
Disclosure: This Shepherd's Pie Casserole recipe has been sponsored by Country Crock.
Shepherd's Pie Casserole is one of my families favorite recipes. I have been making it as long as I have been married and it was a recipe my husband's mother made for him when he was a kid. I was making this recipe for about 20 years before I knew  it was called Shepherd's Pie.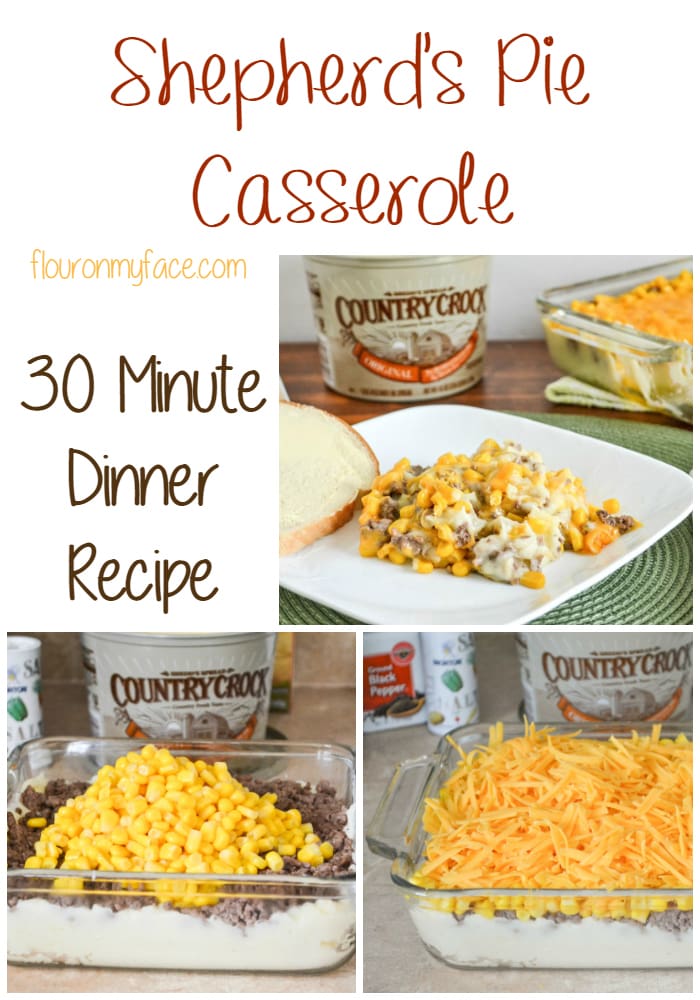 For years, this recipe was called Matamooscaboosca in my house. I'm not even sure if that is how it is spelled because I am pretty sure my mother-in-law made up that name when she was cooking this quick and easy casserole recipe for my husband and his siblings.
Let  me break it down phonetically for you Mata-moos-ca-ba-boosca. Did you get that? Because I felt ridiculous saying that name for many, many years. Matter of fact once I found out it was actually a Shepherds Pie recipe I never again referred to it as Matamooscaboosca. But anytime I told my husband I was making Shepherds Pie for dinner he would say, "You mean you're making Matamooscaboosca."  Yeah, well you know what they say.You can't teach an old dog new tricks…..
And yes I have been using Country Crock just as long as I have been making this recipe.
This easy casserole recipe comes together in the amount of time it takes to brown a pound of ground beef. Then you can heat it in the microwave or if making a larger casserole in the oven.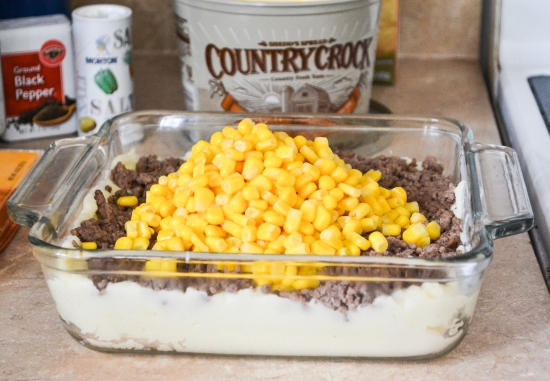 Using instant mashed potatoes is the trick to getting this casserole on the table in just under 30 minutes.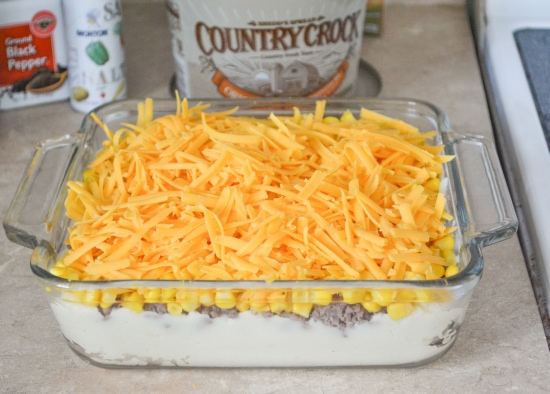 How to make Shepherd's Pie
Brown one pound of ground beef to make this 8×8 casserole. While browning the meat make the mashed potatoes following the instructions on the back for 6 servings.
Once the potatoes are done spread them in the bottom of the baking dish.
When the ground beef is cooked drain it well then spread it over the layer of potatoes.
Open up a can of corn and spread that over the top of the meat.
Spread 8 ounces of grated medium cheddar cheese over the top of the corn.
Cook in the microwave for 15 minutes or until the cheese is melted.
This size pan will serve 4-6.
Easy Family Meals | Shepherd's Pie Casserole #QuickFixCasseroles
:
Arlene Mobley - Flour On My Face
Recipe type:
Casserole recipe
Ingredients
1 pound ground beef
6 servings instant mashed potatoes
1 can corn, drained
8 oz medium cheddar cheese, grated
Directions
Brown the ground beef. add some spices. I like to use garlic salt and everglades seasoning. While cooking the ground beef cook the instant mashed potatoes following the directions on the box.
When the potatoes are done speread them evenly in the bottom of an 8x8 baking dish.
Drain the ground beef well.
Spread the seasoned ground beef over the mashed potatoes.
evenly spread the can of corn over the beef.
Sprinkle the shredded cheese over the top of the corn.
Bake on 375 until the cheese is melted or in the microwave for 15 minutes until the cheese is melted.
I was selected for this opportunity as a member of Clever Girls Collective and the content and opinions expressed here are all my own.