Easter Cupcakes
Funfetti Surprise
Disclosure: This is NOT a sponsored post. I have not been compensated in any way by Pillsbury.
I made these Easter Cupcakes with the new Pillsbury Neon Yellow Funfetti cake mix. Have you seen the new Funfetti Cake Mix and Frostings yet? You may have missed them in the grocery store like I did. I was looking for a box mix but the new Funfetti mix is in a bag type packaging and makes one layer cake or 12 cupcakes.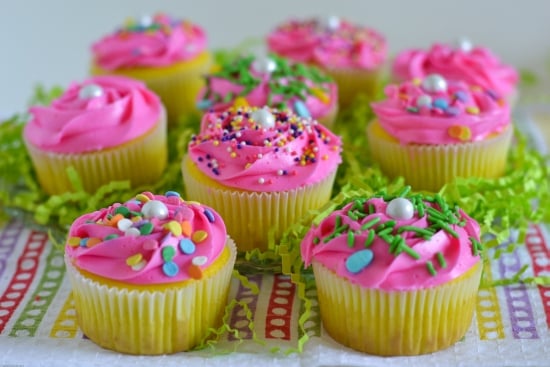 I saw these awesome bold aqua blue Funfetti Ooey Gooey Bars that Tonia of The Gunny Sack posted back in March. When I saw them I was like……WHAT, WHERE and HOW can I get my hands on that cake mix. I searched high and low and never saw them until one day I was in Walmart and finally there they were on a shelf at eye level.
There are four gloriously bold and beautiful colors. Yellow, Green, Blue and Orange.  But wait the frostings come in Pink, Purple, Blue and Orange. Where is the pink and purple cake mix? Well I am hoping that we'll be seeing pink and purple Funfetti cake mix in the near future.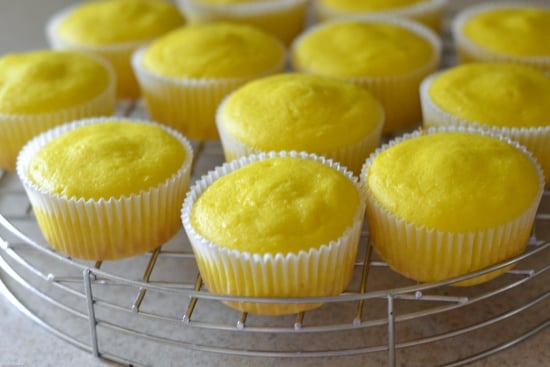 Look how bright and sunny the neon yellow funfetti cake mix is. I decided it would make a perfect Easter Cupcake flavored with lemon extract. And that it would also be a perfect cupcake to try out a little idea I had been thinking about that would work perfect with these Easter Cupcakes. 
Easter Cupcakes Funfetti Surprise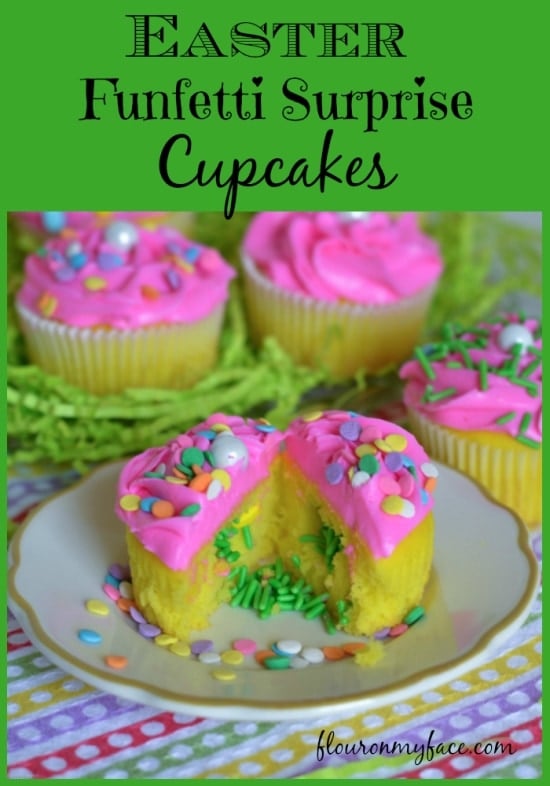 I had a few different kinds of Easter sprinkles on hand, Once I had the Easter cupcakes made I decided it would be so much fun to fill them with some Easter sprinkles.
Warning! The Easter green sprinkles I used had tiny little hard candy Easter eggs in it. Towards the last few cupcakes I filled I started removing the hard candy eggs from the green sprinkles. I was worried someone in my family would pick one up and take a big bite not expecting anything hard inside and chip a tooth. I did tell everyone as they took a cupcake that they were filled with a surprize and might have some hard candies inside.
Next time I do this I will use plain sprinkles to be on the safe side. If you are serving these to guests it might be a good idea to add a little sign to your display warning they they contain a hard candy surprise inside.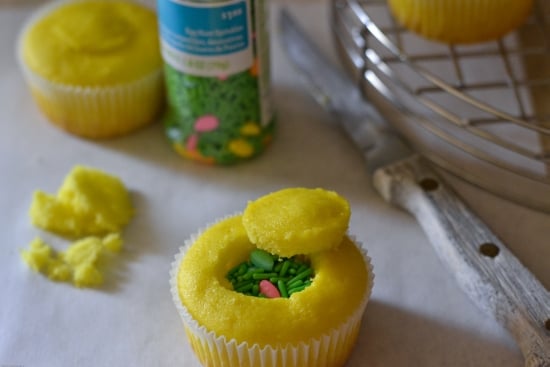 It is very easy to fill cupcakes. You don't need any special tools. A sharp knife and a steady hand is all you need.  Simply cut a circle out of the center, trim and fill with sprinkles or even strawberry sauce if the sprinkles don't appeal to you. I have step by step pictures showing exactly how to remove the center of a cupcake and fill it on my How to Fill Cupcakes with Strawberry Sauce.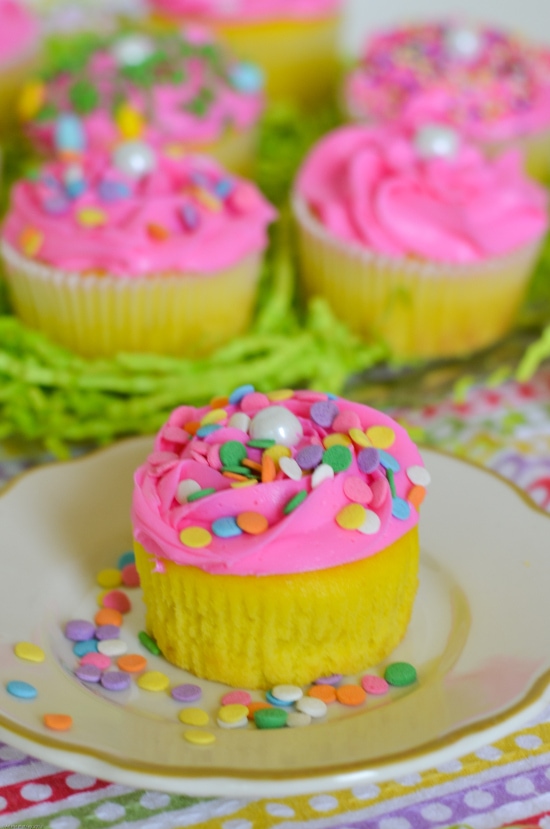 Easter Cupcakes Funfetti Surprise
Pretty Easter Cupcakes with a sweet surprise in the center.
Ingredients
1 package Neon Yellow Funfetti Cake & Cupcake Mix
⅔ cup water
¼ cup oil
2 eggs
½ teaspoon pure lemon extract
1 can Neon Pink Funfetti Frosting
Sprinkles of choice for filling
Sprinkles for decorating the top.
Directions
Prepare the Funfetti Cake & Cupcake mix as directed on the package adding the ½ teaspoon to the bowl with the rest of the ingredients.
Fill cupcake papers ¾ full.
Bake in a preheated 350F oven for 19-23 minutes.
Cool completely.
With a sharp knife cut a hole in the center and fill with sprinkles.
Replace the piece of cupcake you removed, first trimming a bit off the bottom.
Fill the center of the cupcake with sprinkles of choice.
Frost with frosting and decorate with sprinkles or non pareils.