Crock Pot London Broil
I think I found my favorite way to cook steak in the crock pot today. I decided to make our favorite London Broil Roast in a Crock Pot. Crock Pot London Broil turns out so moist and tender cooked in the slow cooker.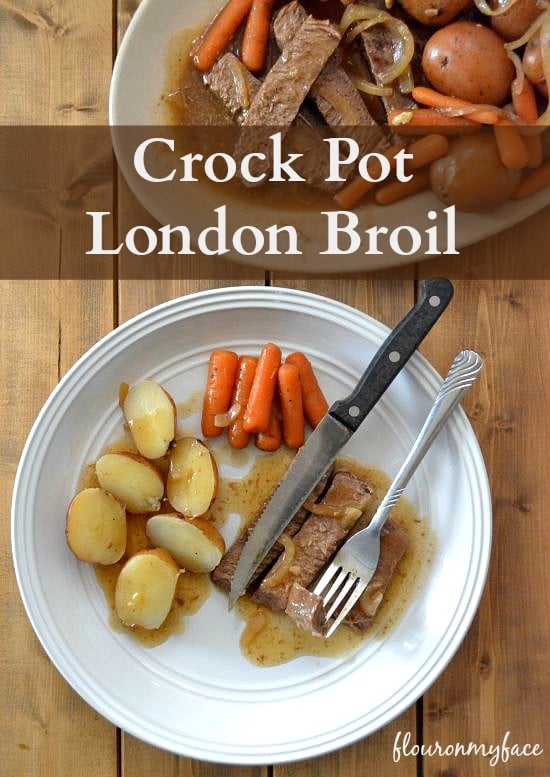 My old favorite recipe for London Broil is to roast it with potatoes and carrots in a roasting pan that has been tightly wrapped in aluminum foil . It was the best way to cook London broil.  I make a pork loin this way. I even roast a Thanksgiving Turkey breast this way.
The aluminum foil traps all the moisture in the pan and the meat turns out fall apart tender. Now I am not so sure I will ever roast meat that way again. I have become obsessed with my crock pot. I keep trying to find new crock pot recipes to cook. I converted my mother's meatloaf recipe into a Crock Pot Meatloaf recipe. 
Dinner time has become so much easier since I have started cooking in a crock pot each week.  Enough of my crock pot obsession. Let's get to the Crock Pot London Broil recipe. That's what you're here for, right?
How to make Crock Pot London Broil
Like most crock pot recipes this is a dump it and forget it is recipe. You will need a nice piece of London Broil, baby red potatoes, baby carrots, beef broth, an onion, garlic , a couple of bay leaves and a (affiliate link) 6 quart crock pot.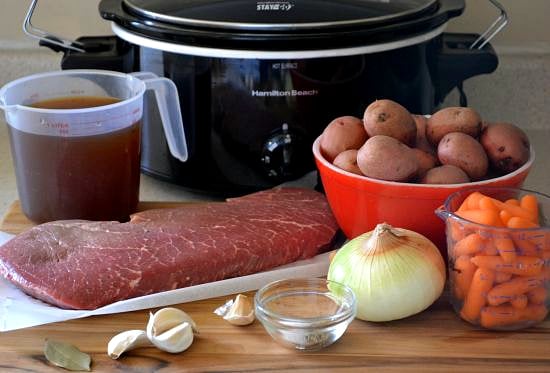 I like to brown beef before I add it to the crock pot but this step can be skipped if you don't feel like doing it. But it does give the meat a nice color.  Add 1 tablespoon of butter to a skillet on high. Place the london broil in and brown the first side. Flip it over to brown the other side.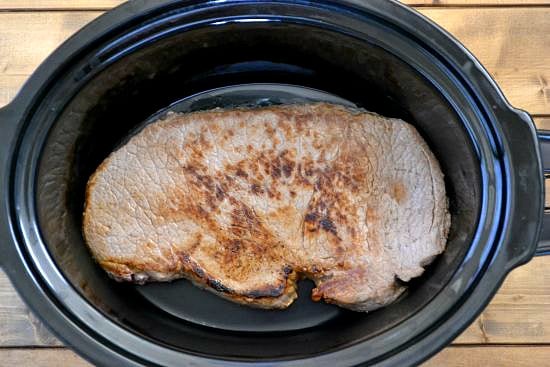 Place the London Broil into the bottom of a (affiliate link)  6 quart crock pot and lay the sliced onion and garlic cloves on top of the roast.  Salt and pepper the top of the meat and onion slices.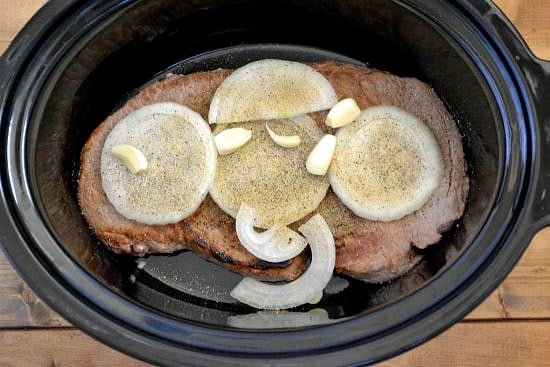 Next add the baby red potatoes , baby carrots, bay leaves, salt and pepper. Pour the beef broth in around the london broil.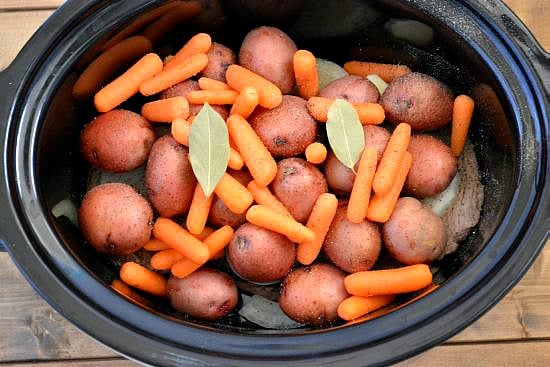 Put the lid on the crock pot and cook for 4 hours on high or 8 hours on low.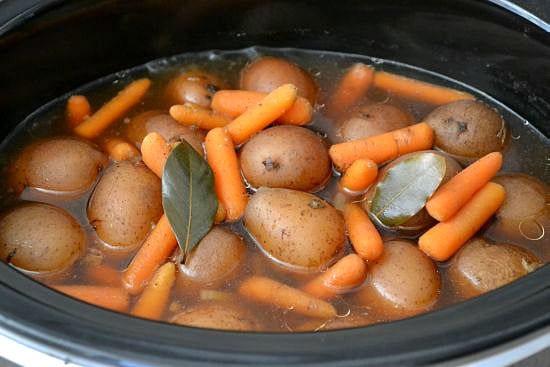 Check the potatoes for doneness by piercing with a fork. If they are still a little firm cook another 30 minutes.
To make a gravy mix the water and cornstarch. Pour it into the crock pot and return the lid. Cook another 15-30 minutes on high to thicken the gravy. You could also remove the london broil and vegetables and ladle the liquid into a small sauce pan and bring to a boil until thickened.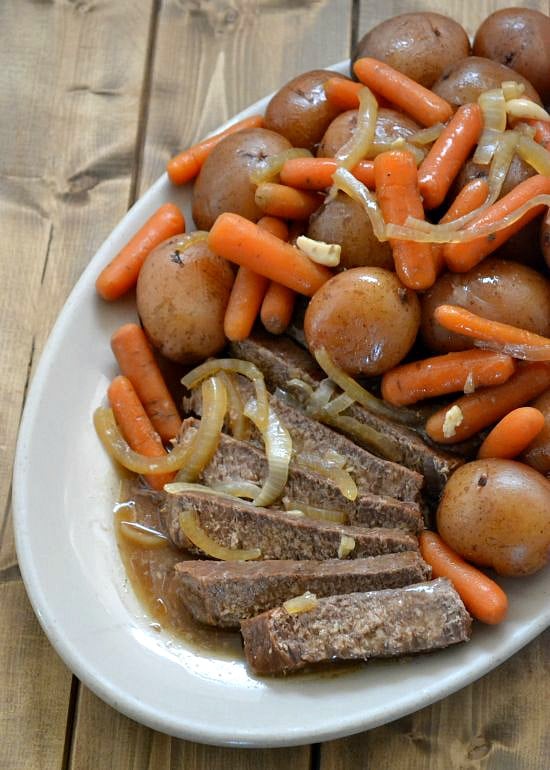 Place the London Broil on a serving platter and carve. Nestle the potatoes and carrots around the roast.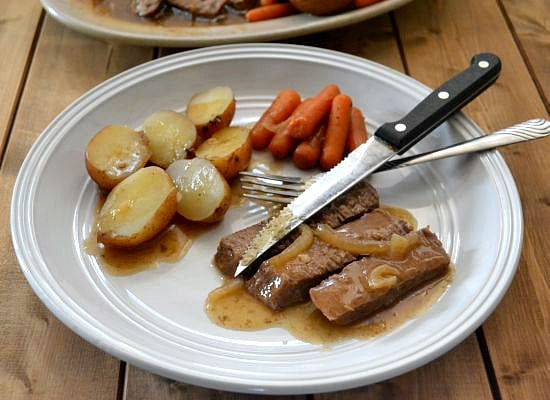 Crock Pot London Broil
Cooking a London Broil in the crock pot will guarantee a tender roast and vegetables for dinner. This is a favortie meat and potatoes meal in my family.
Recipe type:
Crock Pot Beef Recipe
Ingredients
2-3 pound London Broil
3-4 cups beef broth
2 pounds baby red potatoes
1½ cups baby carrots
1 onion, sliced
3 cloves garlic
salt and pepper
2 bay leaves
1 tablespoon cornstarch + 2 tablespoons cool water
Directions
In a skillet with 1 tablespoon butter brown the London broil.
Place the London broil in a 6-quart crock pot.
Layer the onions, garlic, salt, pepper, potatoes and carrots in this order on top of the London Broil.
Add more salt and pepper on top of the vegetables.
Add 3 cups beef broth.
Cook on high 4 hours.
Add cornstarch and water. and gently stir.
Continue to cook on high for 15 minutes to thicken the gravy.
Carve London broil and serve immediately.
Sign up for the
Flour On My Face newsletter
and get a new crock pot recipe every Friday straight to your inbox.
For more Flour On My Face crock pot recipes head over to my crock pot page where you will find 90+ crock pot slow cooker recipes!