Coconut Pumpkin Cranberry Bread
Disclosure: This Coconut Pumpkin Cranberry Bread recipe and giveaway  is sponsored by Nutiva.
I am sad to say that this Coconut Pumpkin Cranberry Bread recipe is the last recipe for the 2014 Progressive Dinner. I've had a great time bringing to you all these wonderful holiday recipes to make your holiday menu planning easier. I hope you have found a recipe or two that becomes one of your family favorite holiday recipes.
After reading about the Coconut Pumpkin Cranberry Bread recipe head over and check out the other recipes for this week's Progressive Dinner recipe roundup. Then enter the rafflecopter form to enter to win $75 worth of Nutiva products.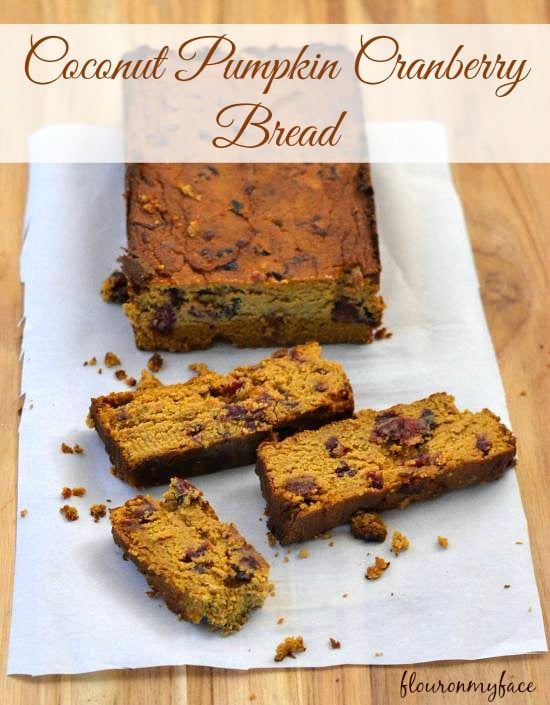 This final Progressive Dinner is all about bread recipes made with Nutiva Organic Coconut products. Nutiva carries many products like organic coconut flour, organic coconut oil and organic coconut sugar to name a few. 
I don't have much experience baking with coconut flour but I decided to try my hand at making a coconut flour pumpkin bread recipe any way. If you are not familiar with using coconut flour then you may not know that coconut flour can not be exchanged for equal amounts of all purpose flour in a recipe.
Since I am so inexperienced in baking with coconut flour I decided it would be best for me to adapt a recipe instead of trying to come up with one from scratch.
 I headed over to the recipe section of the Nutiva website for some inspiration. I found this Dark Chocolate Raspberry and Chia Banana Bread recipe that looked so good. I had all of the Nutiva products called for but I wanted to make a Pumpkin bread recipe instead of a banana bread recipe. I also wanted to use some of the Nutiva Organic Coconut Manna that I also had even though that ingredient was not included in the banana bread recipe.  
I was just going to make the changes to the Banana bread recipe to suit my tastes and convert it to a pumpkin bread recipe and hope for the best.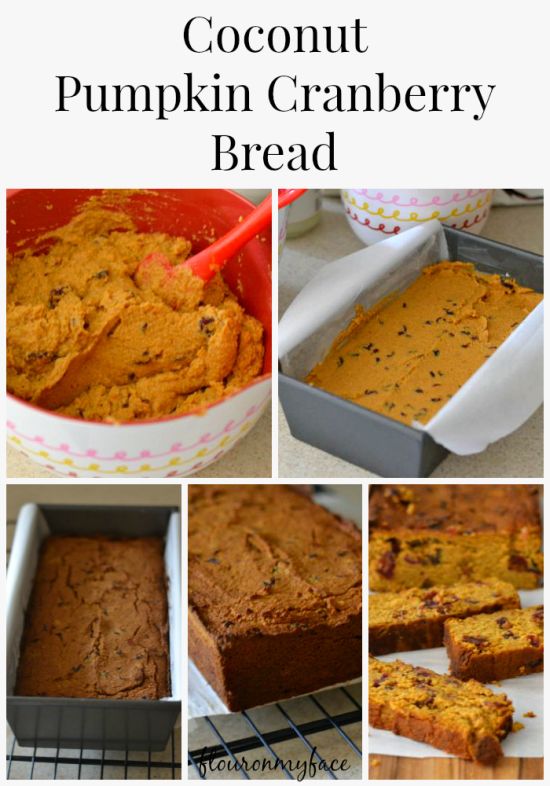 For this Coconut Pumpkin Cranberry Bread recipe I used Nutiva Coconut Flour, Coconut Sugar, Coconut Oil and Coconut Manna.
Now you might be wondering what Coconut Manna is. Well Coconut Manna is pureed coconut butter that tastes so good and can be used in so many ways. The texture reminds me of tahini but the flavor is coconut.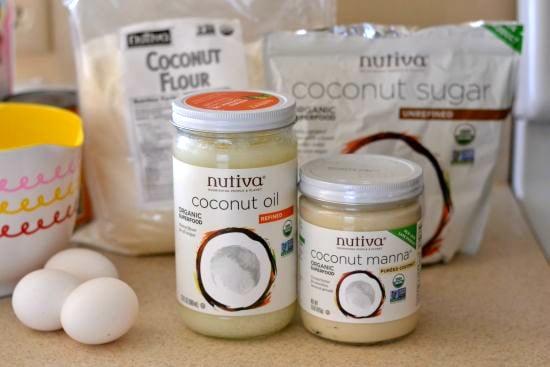 One of  the issues that can arise when baking with coconut flour is that your baked goods can be very dry. That was not an issue with this Coconut Pumpkin Cranberry Bread recipe. It turned out so moist. Possibly too moist for some people tastes. This Pumpkin bread recipe tastes so good that I ate three pieces when I sliced it.  The next time I make it I may add another tablespoon of coconut flour to it but honestly the flavor is so good that I am afraid that might ruin it. There is no overpowering flavor of coconut that I have had when making a recipe with coconut flour. I've tried a few different coconut flours in the past that I did not like the flavor of. Not the case with the Nutiva coconut flour. 
Try the recipe as is before you start making any changes. And if like me you think the flavor and texture is perfect the way it is enjoy it. Otherwise add a tiny bit more coconut flour and see how it goes.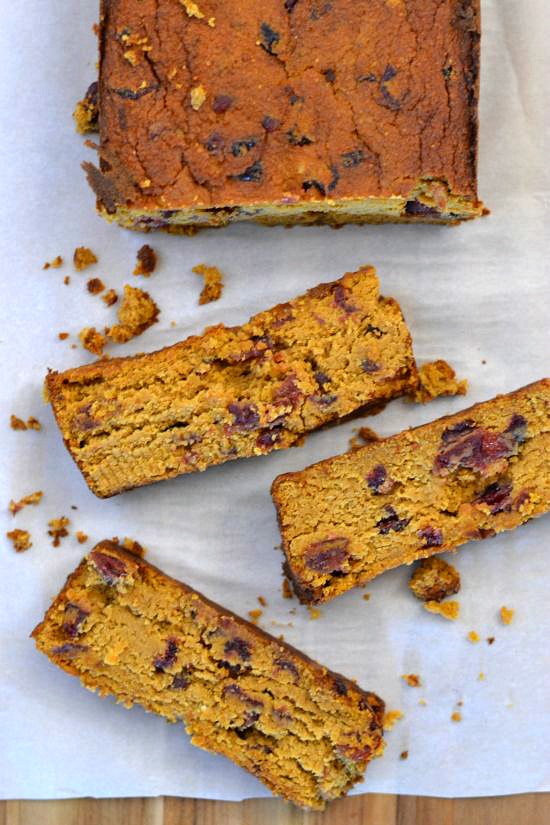 Connect with Nutiva on Facebook, Twitter and Pinterest. Head over to the website to check out their products. 
Check out the rest of the Progressive Dinner Bread recipes below. Then enter the Nutiva giveaway!
Have a safe and Happy Holiday!
Coconut Pumpkin Cranberry Bread
Ingredients
½ cup Nutiva Organic Coconut Flour
¾ teaspoon baking soda
½ teaspoon salt
1 cup Nutiva Organic Coconut Sugar
4 tablespoons Nutiva Organic coconut oil, melted
¼ cup Nutiva Organic Coconut Manna
2 teaspoons vanilla extract
3 eggs
1½ cups pumpkin puree
½ cup coconut milk
1 cup dried cranberries
1 tablespoon Nutiva Organic Coconut Flour
Directions
Preheat oven to 350 F. degrees.
Prepare a bread pan by greasing with coconut oil and lining with parchment paper.
Sift the coconut flour, baking soda and salt into a small bowl and set aside.
In a large bowl beat the coconut sugar, melted coconut oil, coconut manna and vanilla extract together.
Add one egg at a time, beating well until each egg is fully incorporated.
Add the pumpkin puree and beat well for about 1 minute.
In a separate bowl toss the dried cranberries with 1 tablespoon of coconut flour to coat well.
Fold the cranberries into the batter.
Spread into bread pan.
Bake 50-60 minutes or until a toothpick inserted into the middle comes out clean.