25 Fall Muffin Recipes
Fall is in the air? Well, for many of you that may be true. Here are 25 Fall Muffin recipes I can make and enjoy as I dream about the cool fall weather that will eventually make its way down here to Florida.  
Until then I will still be sweating in the 90 degree temperatures. 
I love the flavors of fall. Apple, pumpkin, cinnamon and cloves. Just smelling the scent of fall spices makes me long for cooler weather. Although I don't miss the winters of my childhood (Brentwood, Long Island)  where we spent many a day snowbound trapped in the house by snowdrifts blocking the front door as we waited for someone to come shovel us out.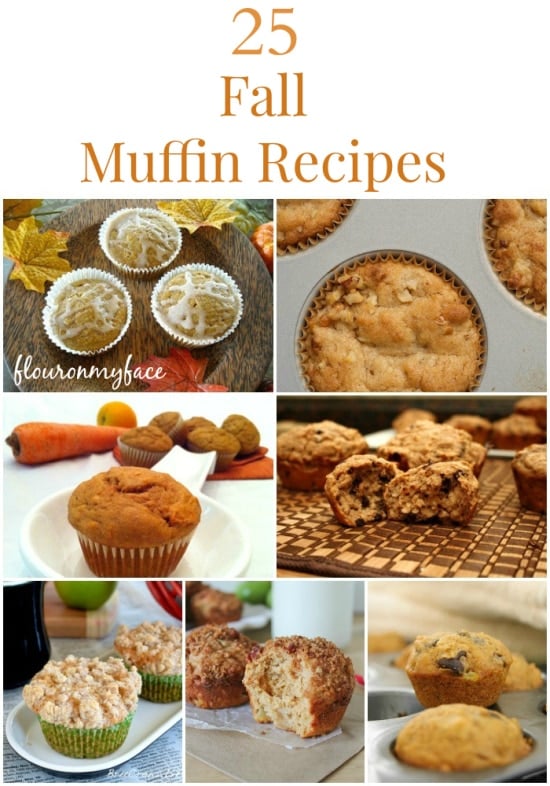 I do miss the fun Fall Festivals of Halloween where there was always a big galvanized bucket full of ice cold water that we would bob for apples in.  I was only 11 when we moved down south to Florida and not once did anyone I know bob for apples during the fall festivities in Florida.
 It must be because apples don't grow in Florida. I don't think bobbing for oranges would be as fun with a mouth full of bitter orange peel. 
So as I await the cooler temperatures you and I can enjoy these 25 Fall Muffin Recipes. 
25 Fall Muffin Recipes
1. Orange and Carrot Muffins by Overtime Cook
2. Apple Muffins by Inside BruCrew Life
3. Caramel Apple Muffins by Julies Eats & Treats
4. Mini Pumpkin Muffins by 52 Kitchen Adventures
5. Oatmeal Peanut Butter Muffins by Slap Dash Mom
6. Spiced Carrot Kale Muffins by Hezzi-D's Books & Cooks
7. Apple Muffins with Nut Crumble Topping by Yummy Healthy Easy
8. Pear and Pecan Muffins by Bake or Break
9. Chocolate Chip Pumpkin Muffins by The Kitchen is My Playground
10. Nutella Filled Pumpkin Spice Muffins by I heart Eating
11. Vegan Pumpkin Muffins by Nosh & Nourish
12. Vintage Recipe: Pumpkin Muffins by Flour On My Face
13. Butterscotch Banana Muffins by Inside BruCrew Life
14. Banana Foster Muffins by Hezzi-D's Books & Cooks
15. Pumpkin Apple Streusel Muffins by The Kitchen is My Playground
16. Apple Fritter Muffins by I heart Eating
17. Pear Ginger Walnut Muffins by Crumb Blog
18. Pumpkin Cappuccino Chip Muffins by Inside BruCrew Life
19. Healthy Morning Muffins by Hezzi-D's Books & Cooks
20. Blueberry Gingerbread Streusel Muffins by The Kitchen is My Playground
21. Pumpkin Raisinets Muffin Tops by Inside BruCrew Life
22. Pumpkin Banana Muffins by Ari's Menu
23. Oatmeal Honey Apple Muffins by Knead to Cook
24. Autumn Morning Glory Muffins by Serenity in the Storm
25. Pear Crumble Muffins by Peanut Butter & Peppers