Valentines Day OREO Cookie Pops
These Valentines Day OREO Cookie Pops are easy to make and the kids will love them. They are so easy to make you could  even let the kids help make them.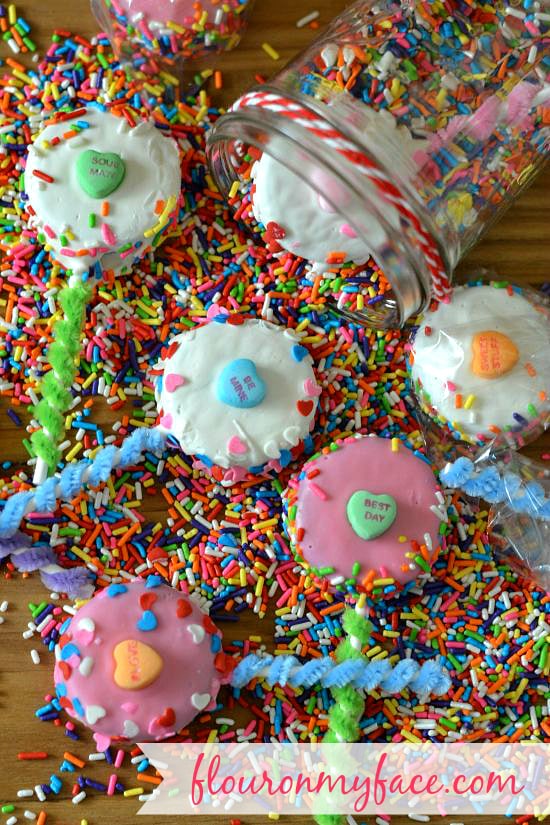 I love dipping things in Wilton Candy Melts. When I first started making cake pops I tried using chocolate chips but they are so much harder to work with. After only a couple of tries I learned the candy melts are much much easier to melt. Chocolate chips will seize up on you in a heartbeat if your not very very careful. Once you heat them hem too much there isn't anything you can do to save them.
 I keep a huge stash of  Wilton Candy Melts on hand in some of my favorite colors for when the urge to dip something in  a candy coating overcomes me.
You can use Wilton Candy Melts to dip cake pops, OREO Cookie Balls and Christmas OREO Cookie Pops.  You can even use them to drizzle on candy bark or even use them to make fun colored candy bark to celebrate any holiday.
By the way candy bark isn't just for Christmas. My Pistachio & Cranberry Bark recipe could and should be made any time of year. 
Since Valentines Day is right around the corner I decided to decorate these OREO Cookie Pops to help celebrate the day of love.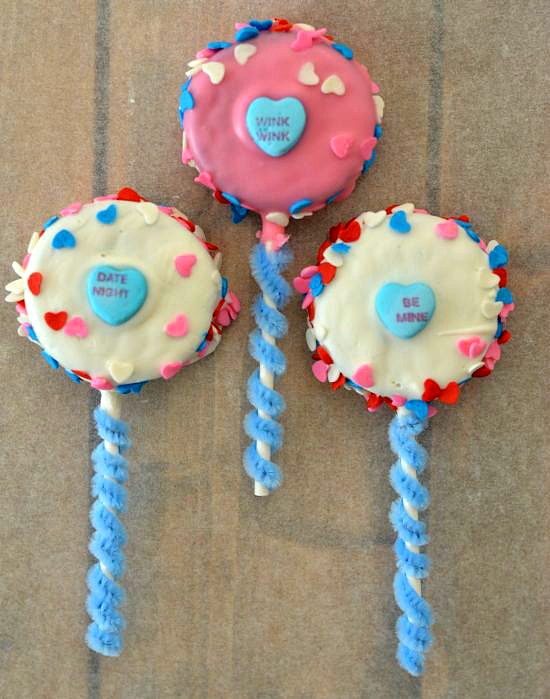 Now that I look at this set of Valentine OREO Cookie Pops they would also make great baby shower favors. Just by changing the sprinkles and using a baby shower candy in the center instead of a conversation heart they would make a perfect baby shower party favor.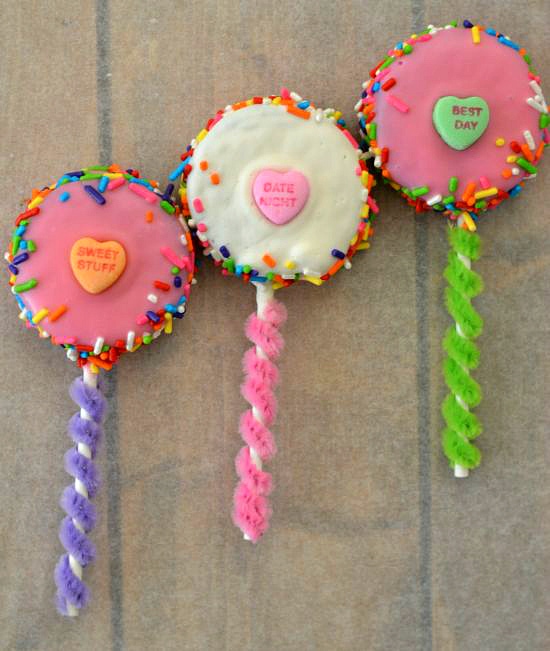 Are you feeling Spring Showers? These OREO Cookie Pops would also work great for Spring or Easter.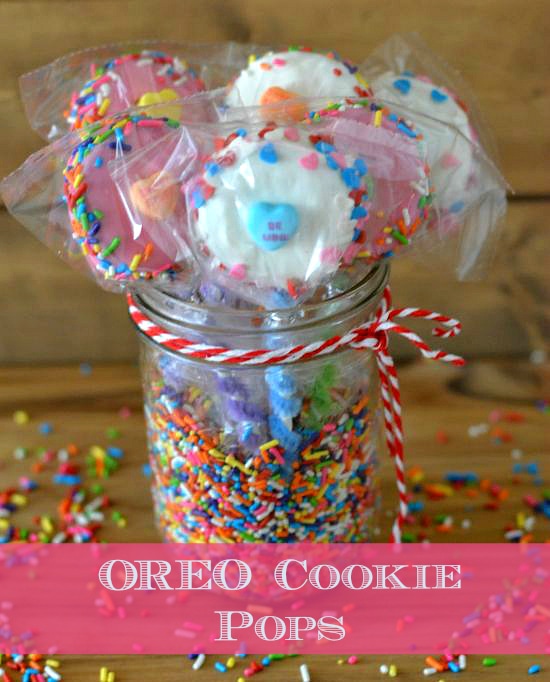 How to make Valentine OREO Cookie Pops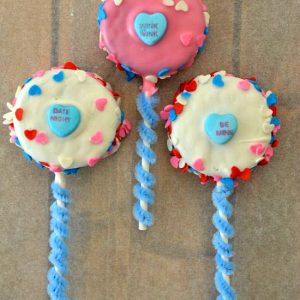 Valentines Day OREO Cookie Pops
OREO Cookie Pops can be decorated for any holiday theme. They work great for Valentines Day, a Baby Shower or to celebrate Spring. Links in the recipe below are affiliate links
Rate this Recipe
Follow Flour On My Face on Pinterest
Instructions
Carefully open each cookie and embed a lollipop stick half way up the cream filling. Set the cookie half without cream aside. Do all the cookies at once.

In a sandwich bag melt about ¼ cup of Wilton candy melts.

Snip a corner off and squeeze out a dime size circle of melted candy coating over the lollipop stick and in the center of the cream filling.

Place the reserved cookie on top of the melted candy coating and sandwich the two OREO Cookies over the lollipop stick.

Set aside and repeat until all cookies are sandwiched over a lollipop stick.

Allow to harden about 15 minutes.

In a narrow plastic cup (like a sippy cup) melt the remaining candy melts with enough solid shortening to thin the candy melts.

Dip each OREO cookie pop into the melted candy coating until the entire cookie is covered.

Allow excess candy coating to drip back into the cup.

Immediately sprinkle Valentine color sprinkles along the edge of the cookie. Place the cookie pop on a cookie sheet that has been lined with wax or parchment paper.

Embed a conversation heart in the center of the OREO cookie.

Repeat with remaining cookie pops.

Reheat candy melts if needed.

Allow candy coating to completely harden before serving, about an hour depending on the temperature in your home.

Wrap a coordinating pipe cleaner around the lollipop stick, trimming the extra length as needed. Wrap in a treat bag if desired.
Nutrition
Calories:
230
kcal
Carbohydrates:
30
g
Protein:
1
g
Fat:
11
g
Saturated Fat:
8
g
Polyunsaturated Fat:
1
g
Monounsaturated Fat:
2
g
Trans Fat:
1
g
Sodium:
94
mg
Potassium:
41
mg
Fiber:
1
g
Sugar:
25
g
Vitamin A:
1
IU
Calcium:
4
mg
Iron:
2
mg
Tried this recipe?
Share a picture on Instagram and tag @flouronmyface2