Quick & Easy DIY Spring Canning Jar Toppers using Cupcake Liners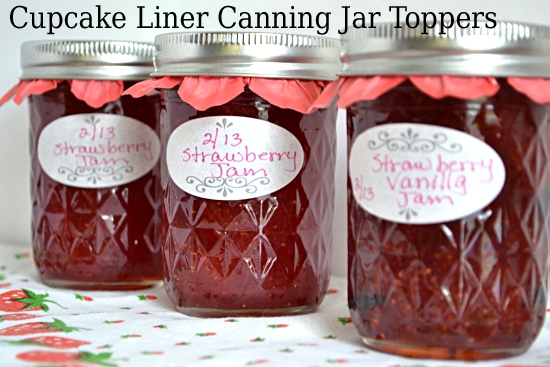 The strawberries are fresh, plump and ripe here in Florida this month.
I mentioned in my strawberry filled cupcake post that Florida is the Winter Strawberry Capital and that I couldn't wait for the strawberries to start hitting the produce section for a great price. This week I have seen the prices on the ripe plump berries start to drop. This week you can get three pounds for $5 . Not a bad price but they will come down a bit more depending on how well the Florida strawberry crop has been this year.
I've taken to indulging this past week in a small bowl of sliced strawberries with a dollop or two of sweetened homemade creme fraiche for dessert.
I also made two small batches of strawberry jam. The first batch I made was plain Strawberry Jam. The second batch was Strawberry Vanilla Jam.
I made both batches in the Ball Jam & Jelly Maker. Back in January I shared a post where I made Pina Colada Jam in the Jam & Jelly Maker. There are step by step photos of how easy it is to make jam in it.
I love that machine. Honestly I don't know if I will ever make another batch of jam on the stove again.
So I made my strawberry jam and I was getting ready to take some pictures and I thought to myself. I need some pretty canning lid toppers for my jars.
And I remembered those pretty flower petal shaped cupcake liners I used in my Easter Baking with World Market post. I still had a bunch left and I knew the red ones would look perfect on top of the jars of Strawberry Jam. They actually remind me of a strawberry.
This is a perfect DIY Canning Jar Topper.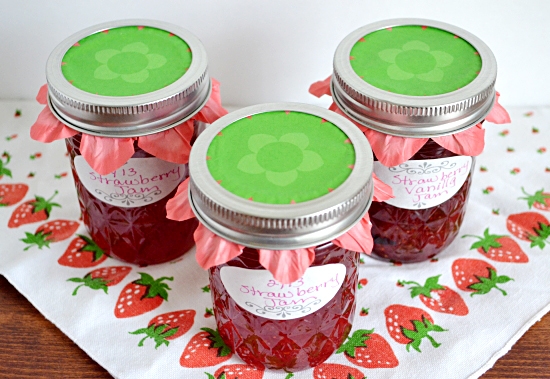 What do you think? Don't they remind you of a strawberry?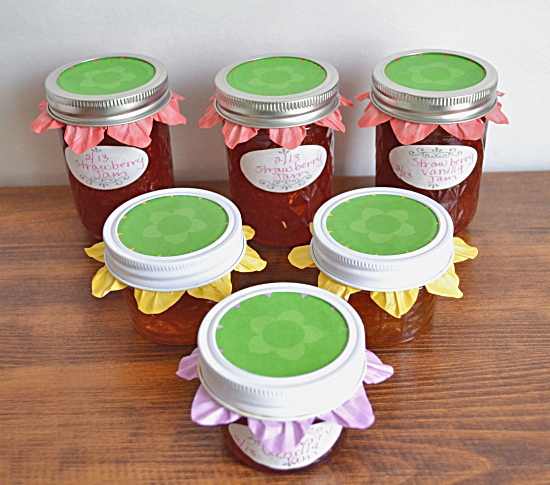 The cupcake liners come in three colors, purple, yellow and red.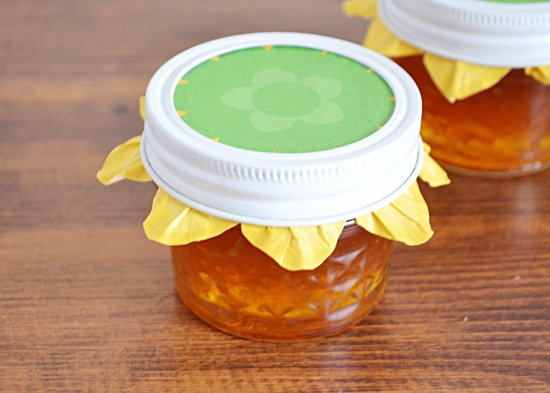 The yellow ones look perfect on jars filled with citrus marmalade.
This is an easy and pretty way to make your canning jars pretty and way cheaper then using material.