Creme Fraiche Cream Cheese Frosting
This homemade Creme Fraiche Cream Cheese Frosting is the perfect frosting for this Vegan Dark Chocolate Triple Layer Cake. 
 I've been on a creme fraiche kick lately.
Having never eaten creme fraiche before and not knowing what yummy goodness I had been missing. I came across instructions on making homemade creme fraiche.
Even though I had no idea how creme fraiche tasted the kitchen scientist in me had to try it.  You see I have made homemade yogurt, homemade butter and homemade buttermilk. I can't help myself I have to try things like this.
By the way it tastes divine. Some people compare it to sour cream but creme fraiche has so many other tangy flavor notes I really don't think it tastes anything at all like sour cream.
So once I made the homemade creme fraiche I had to come up with ways to use it so I could make more because once I tasted it I just couldn't get enough. I sampled quite a bit on a spoon. The first thing I made was this creme fraiche cream cheese frosting for this delicious Vegan Dark Chocolate Triple Layer Cake. I'll give directions for making your own creme fraiche after the recipe.
Crème Fraiche Cream Cheese Frosting
 Ingredients
1 stick butter, softened
1- 8 oz block of cream cheese, softened
16 oz powdered sugar, sifted
2 tbs crème fraiche or buttermilk
Beat the butter and cream cheese until smooth and creamy.
Slowly add ½ cup of powdered sugar at a time to the bowl and beat until mixed in well.
Repeat with remaining sugar until all the sugar has been mixed into the butter and cream cheese.
When the mixture gets too thick add the creme fraiche slowly and beat in.
 Beat for about a minute and add any remaining powdered sugar.
Once the last of the sugar is completely mixed in turn the mixer up on medium high and beat for two minutes.
Frost cooled cake immediately and refrigerate until ready to serve.
This recipe will frost a triple layer cake.
Print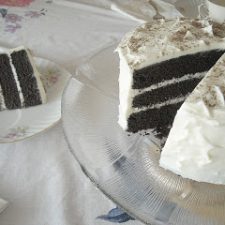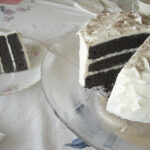 Creme Fraiche
Author:

Arlene Mobley

Prep Time:

1 min

Cook Time:

24 hours

Total Time:

24 hours 1 minutes
---
Description
Culture your own creme fraiche at home.
---
2 cups

heavy whipping cream

2 tablespoons

buttermilk
---
Instructions
Place the whipping cream and buttermilk into a mason.
Shake well.
Cover with a lid and place in a warm area of the kitchen. On the counter is fine but not in a draft.
Allow to culture for 24-36 hours, occasionally shaking the jar.
After 24 hours check to see if the creme fraiche has thickened.
It should be as thick as sour cream or thicker.
If not allow to culture for longer.
Once cultured and thickened refrigerate.
To make another batch reserve ⅓ cup of creme fraiche.
Place it in a jar and add 2-3 cups of whipping cream.
Repeat the previous culturing directions.
The second batch will culture faster and thicker.
---
Recipe Card powered by
How To Make Homemade Creme Fraiche
Now if you would like to make your own creme fraiche this is what you do. Fill a pint jar ¾th full with heavy whipping cream. Add two tablespoons of buttermilk to the jar and mix. Cover with a lid and place in a draft free place on your kitchen counter. Occasionally shake it up a bit. Let the heavy cream and buttermilk culture for 24 hours. After 24 hours you will have creme fraiche. This first batch will be a bit thinner then your second batch will be. Yes you will want to make a second batch take my word for it.
After 24 hours place the creme fraiche in the refrigerator. It will thicken up a bit more.
Now I have read that you can not make creme fraiche with ultra pasteurized heavy cream. That is the only type of heavy cream I could find in any of my local grocery stores. I tried it any way and I am happy to report the second batch turned out so thick I couldn't believe it. You could stand a fork up in it.
So don't always believe what you read!
For your second and any other future batches of creme fraiche you will reserve about ⅓ of a cup of your batch of creme fraiche. Add the third of a cup of creme fraiche to a pint jar and fill the pint jar full of heavy cream. Leave enough head space so you can shake it up a bit while it is culturing.  Leave for 24 hours and the refrigerate.