Pina Colada Jam tastes like a tropical heaven. If you love the flavors of pineapple and coconut you will love this jam recipe.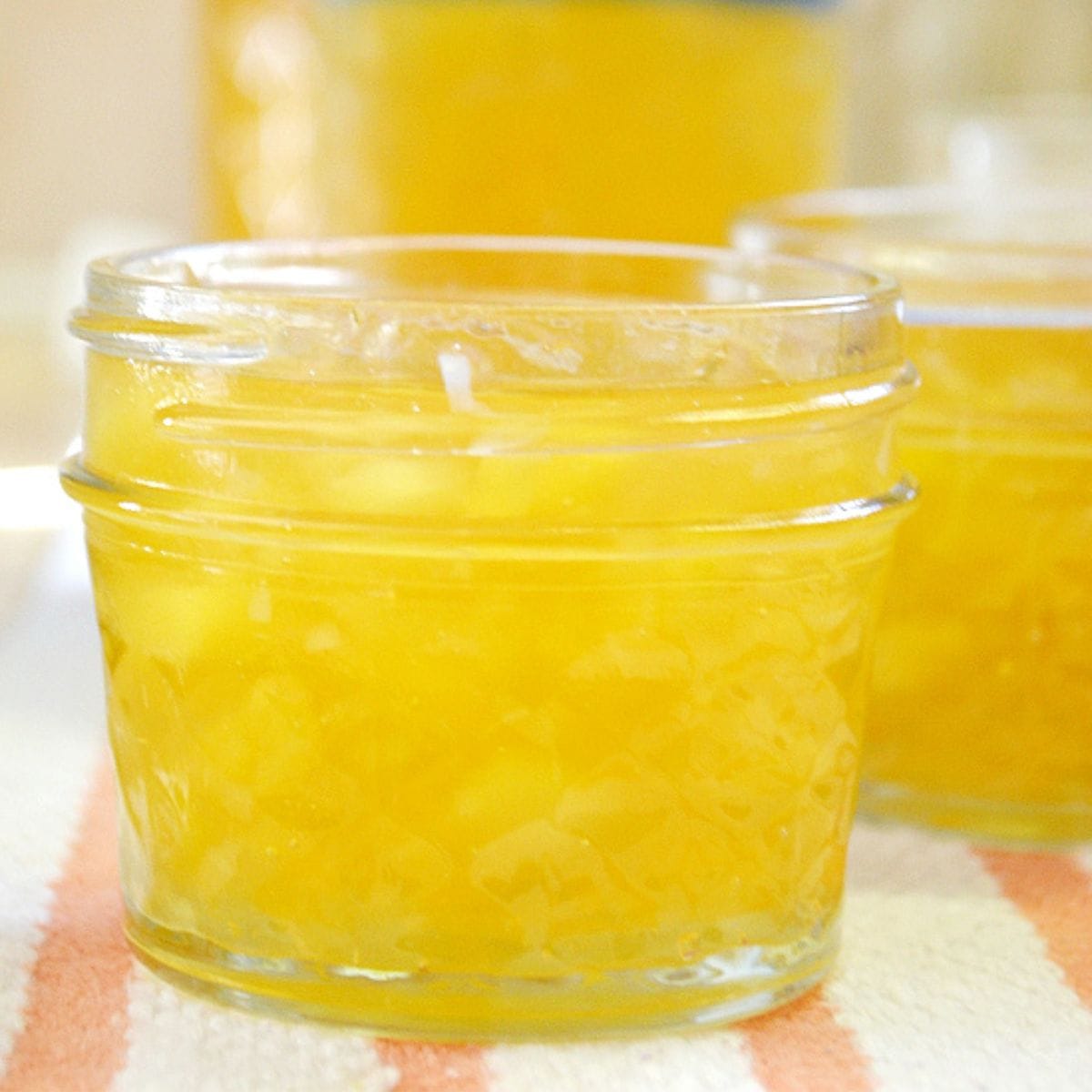 Disclosure: I received a Ball Automatic Jam & Jelly Maker along with some other canning supplies to help me write this review.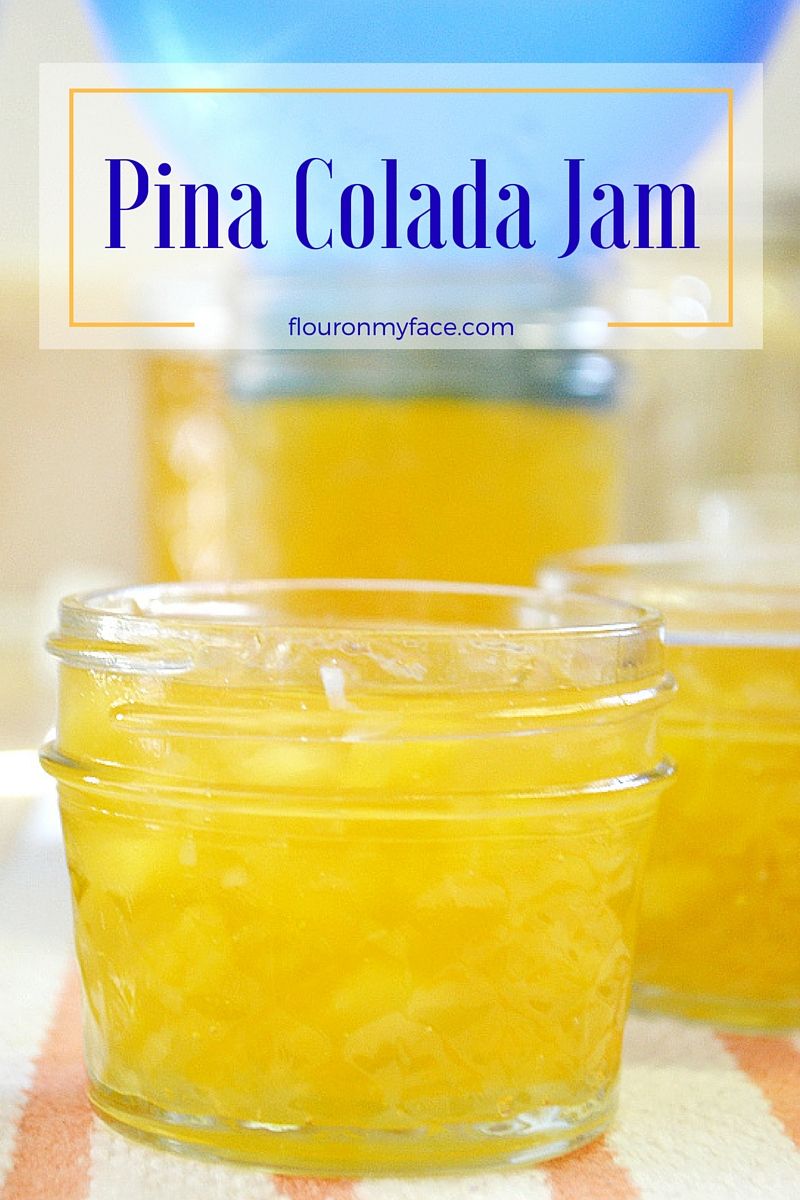 Have you tried the Ball Jam and Jelly Maker yet? It is perfect for easy small batch jam and jelly making.
If you already have the Ball Jam and Jelly Maker and are looking for Ball Jam and Jelly Maker recipes I have added a few at the bottom of this post.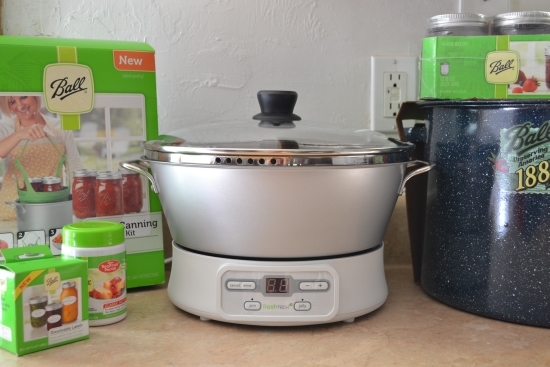 I know it is the dead of winter where you live. It's freezing cold outside and the last thing you have on your mind is making jam or jelly. Jam or jelly making is for the summer months right?
So why am I posting a Jam recipe this time of year. Or maybe your not wondering why at all. Maybe you're like me and you make jam in the winter.
Or all year long whenever the urge strike.
A few weeks ago I noticed on the Fresh Preserving website that there were some new recipes just for the new Ball Automatic Jam and Jelly Maker (affiliate link).
Today I will sharing my experience using the Ball jam & jelly maker.
I decided to make the Pina Colada Jam for my first recipe using this canning appliance.
Pina Colada Jam Ingredients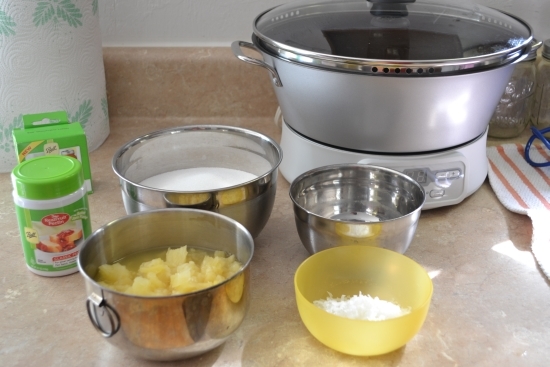 Directions
Step 1: Measured out all the ingredients into bowls except for the pectin.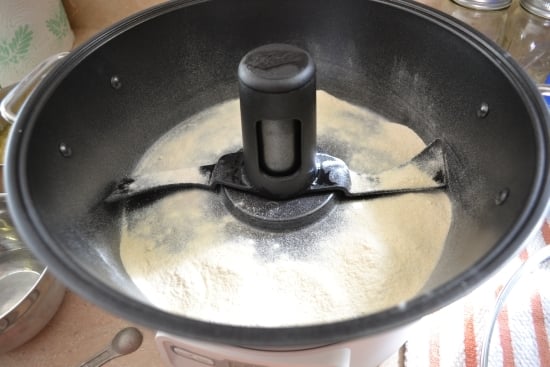 Step 2: Sprinkled the pectin in the bottom of the jam maker.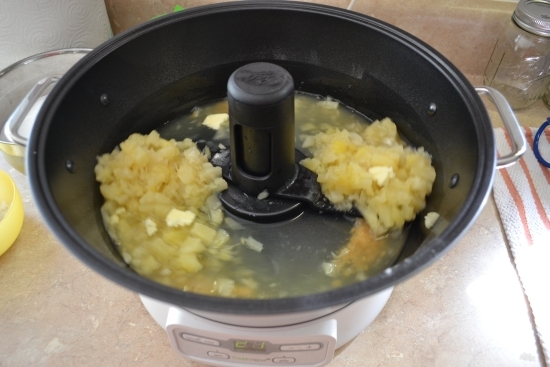 Step 3: Add the pineapple, the coconut water and the butter to the jam maker with the powdered pectin.
Step 4: After adding all of the ingredients in the exact order specified I turned the Automatic Jam & Jelly Maker on.
The automatic stirrer begins to turn, scraping and mixing the ingredients.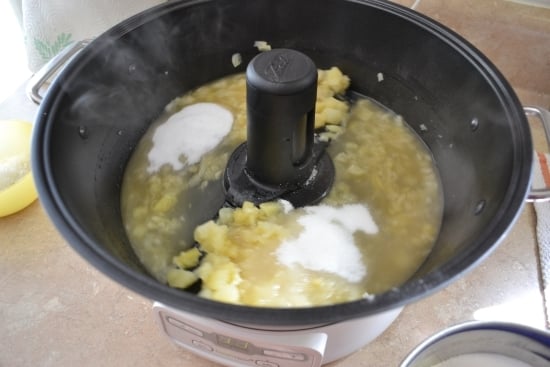 After four minutes the jam maker beeps and you add the sugar slowly, sprinkling it over the top of the rest of the ingredients.
Step 5: Once all the sugar was added sprinkled the coarsely chopped coconut flakes on top of the sugar.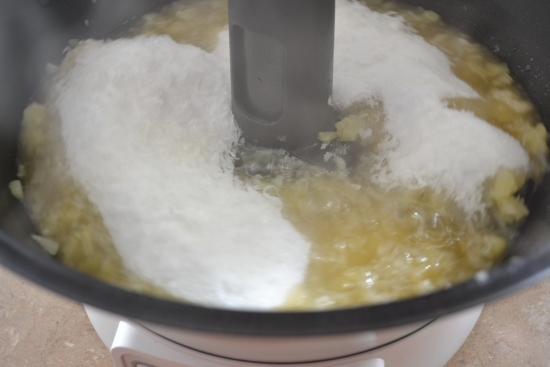 Almost immediately the ingredients start to bubble and heat up. 
Step 6: Once you finished adding all the sugar the immediately put the lid on the jam maker.
Important Note: For demonstration purposes I did not put the lid on so I could take these pictures. Please follow all instructions and safety precautions when using the jam maker. It gets very hot very fast.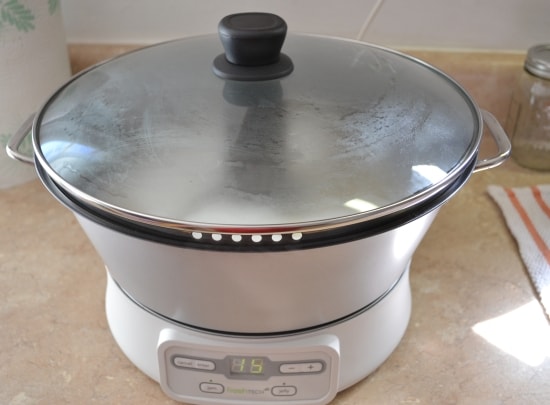 If you look closely at the timer on the jam maker you see that there is 15 minutes left to go.
During this time I took my canning jars out of the hot water and set them next to the jam maker on a dish towel.
Everything was ready to go when the timer went off. Be sure to set up all of your canning supplies.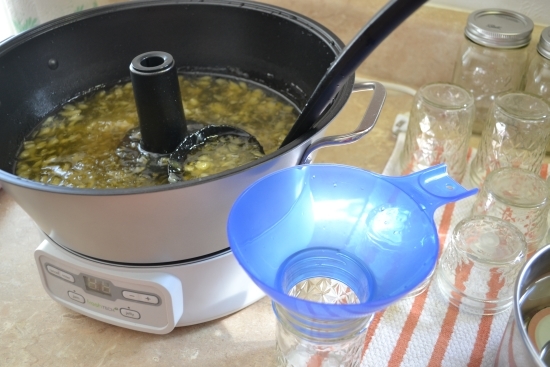 From start to finish it took 25 minutes to make a batch of jam.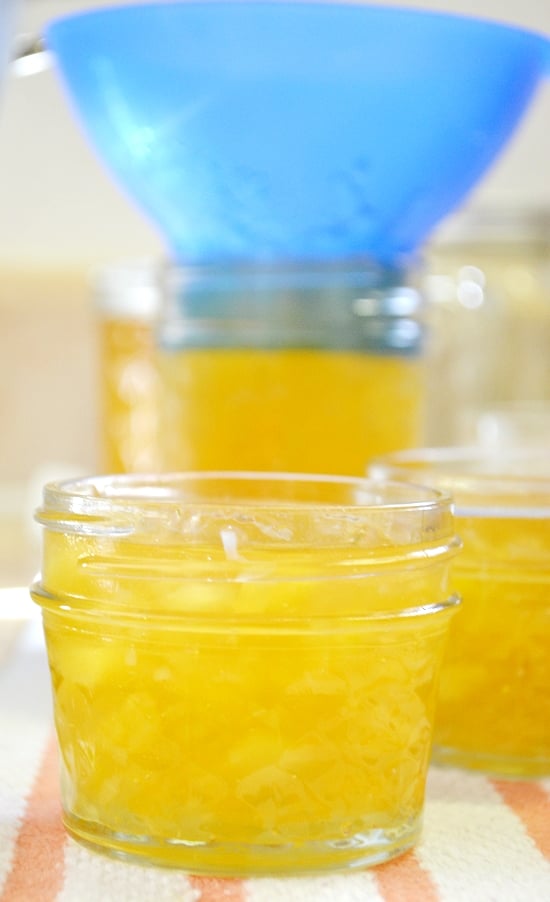 My thoughts on the Ball Automatic Jam & Jelly Make
When using the jam maker there is a big difference in the amount of jam or jelly you will can or put up.
The amount of ingredients you are using is much smaller then a standard batch of jam made using water bath canning.
In comparing the recipes available for the jam maker all recipes will yield either 2 or 4 half pints of jam or jelly.
This is perfect for someone who does not want to make a large amount of jam or jelly.
If your canning goals are to put up a huge amount of jam or jelly this jam maker is probably not for you.
But if you are like me and you like to make flavors that not everyone in your family will be interested in eating then this will not be an issue.
Or you do not have accesses to large amounts of fruit or vegetables at at cheap price.
There are some benefits of making small batch jam.
Less ingredients are needed to make a batch
Smaller batches mean less jam to store
Less waste when experimenting with flavors
There are some limitations to using this appliance but I think they out weight the benefits.
There are only 23 recipes available for the Jam Maker. I am sure Ball will be adding more soon. As I mentioned earlier they just added a bunch of new ones and I am sure before Spring rolls around they will probably be adding more.
Smaller batches are yielded  But if you are canning for yourself or a small family 4 - ½ pints of jelly from each batch is plenty. And if not then you can make a second batch using the jam maker.
Most of the recipes available are for jams or jellies. There are a few for Pizza Sauce and Salsa.
Since I am the adventurous type I will probably create a few recipes of my own.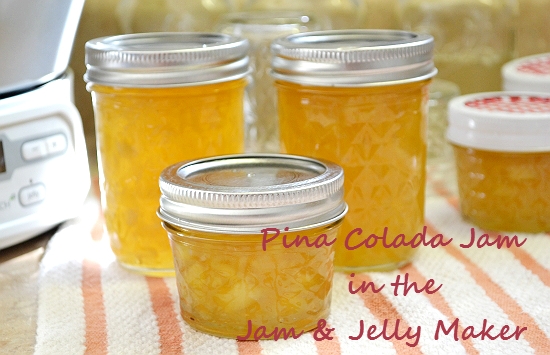 I loved the ease of using the Ball Jam and Jelly Maker. The process went by so quickly from making a batch of jam to filling the jars and processing in a hot water bath that I made a second recipe.
I'll save that recipe for another post. But I can tell you it is so good that I have eaten almost a jar already as a yogurt and cheese cake topping.
Email questions or recipe requests to flouronmyface@gmail.com. Follow me on Pinterest, YouTube, Instagram and Facebook.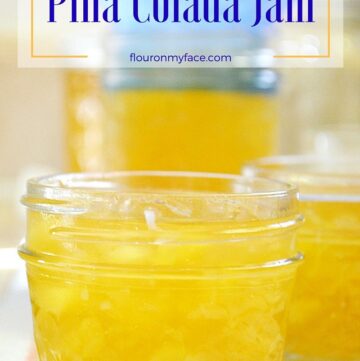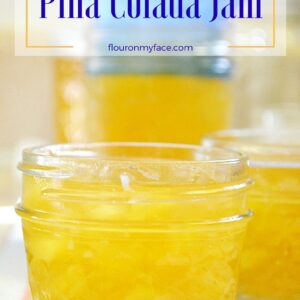 Pina Colada Jam
This jam recipe comes from the Ball website and uses the Ball Automatic Jam and Jelly Maker Pina Colada Jam
Rate this Recipe
Ingredients
3-½

cups

crushed fresh pineapple

(or use canned like I did)

½

cup

coconut water

4-½

tablespoon

Ball® brand RealFruit™ Classic Pectin

½

teaspoon

butter or margarine

(optional)

5

cups

granulated sugar

⅓

cup

shredded coconut

(coarsely chopped)
Follow Flour On My Face on Pinterest
Instructions
Peel and core pineapple or used canned. Coarsely chop and then crush with a potato masher. Measure required quantity of crushed pineapple and remaining ingredients for your recipe; set aside.

Combine the crushed pineapple and coconut water in an 8-quart saucepan. Gradually stir in Pectin. Add butter, if using. Bring mixture to a full rolling boil that cannot be stirred down, over high heat, stirring constantly.

Add chopped coconut and the sugar, stirring constantly to dissolve. Bring to a full rolling boil. Boil hard 1 minute, stirring constantly. Remove from heat. Skim foam, if necessary, from top of jam.
Recipe Expert Tips
This jam recipe comes from the

Ball website

and uses the Ball Automatic Jam and Jelly Maker Pina Colada Jam
Nutrition
Serving:
1
tablespoon
Calories:
46
kcal
Carbohydrates:
11
g
Protein:
1
g
Fat:
1
g
Saturated Fat:
1
g
Polyunsaturated Fat:
1
g
Monounsaturated Fat:
1
g
Trans Fat:
1
g
Cholesterol:
1
mg
Sodium:
3
mg
Potassium:
9
mg
Fiber:
1
g
Sugar:
11
g
Vitamin A:
3
IU
Vitamin C:
1
mg
Calcium:
1
mg
Iron:
1
mg
Tried this recipe?
Share a picture on Instagram and tag @flouronmyface2
Are you looking for more jam recipes like this Pina Cola Jam recipe? Check out my canning recipe page for more canning and food preserving recipes.