How to dehydrate strawberries in a food dehydrator to enjoy the dried strawberries as a snack.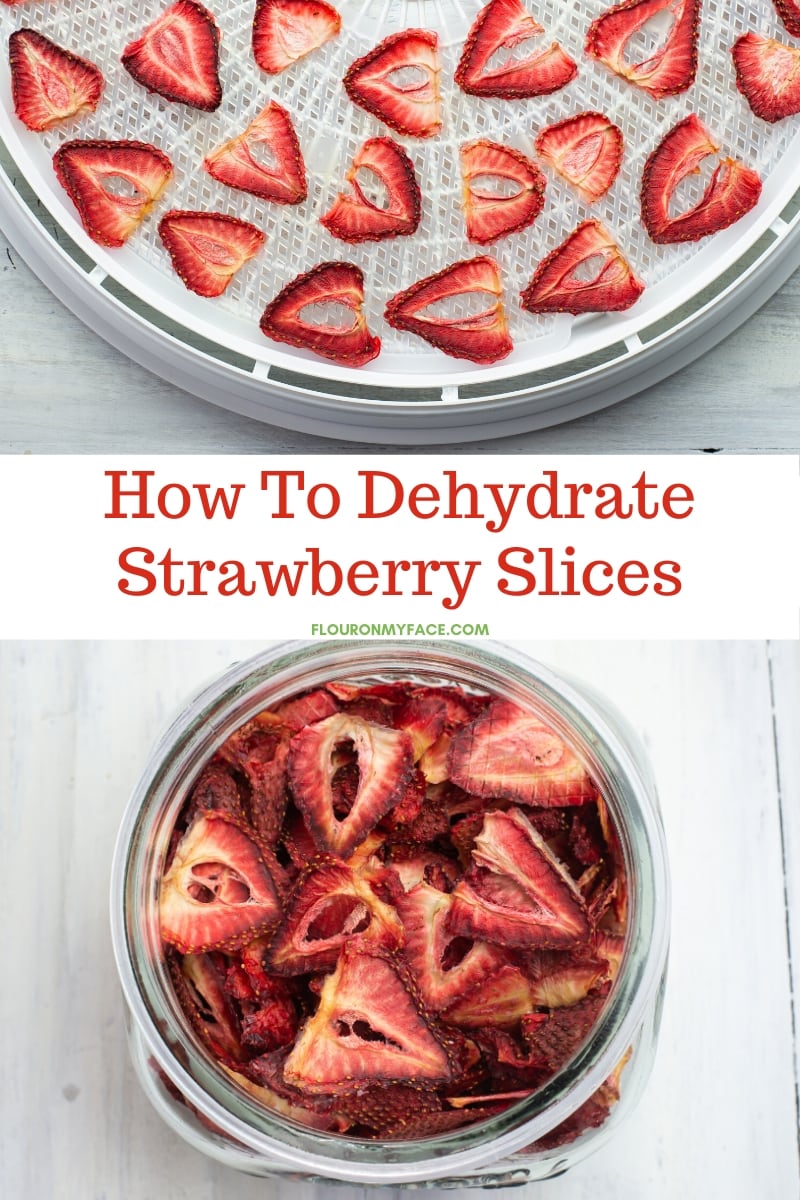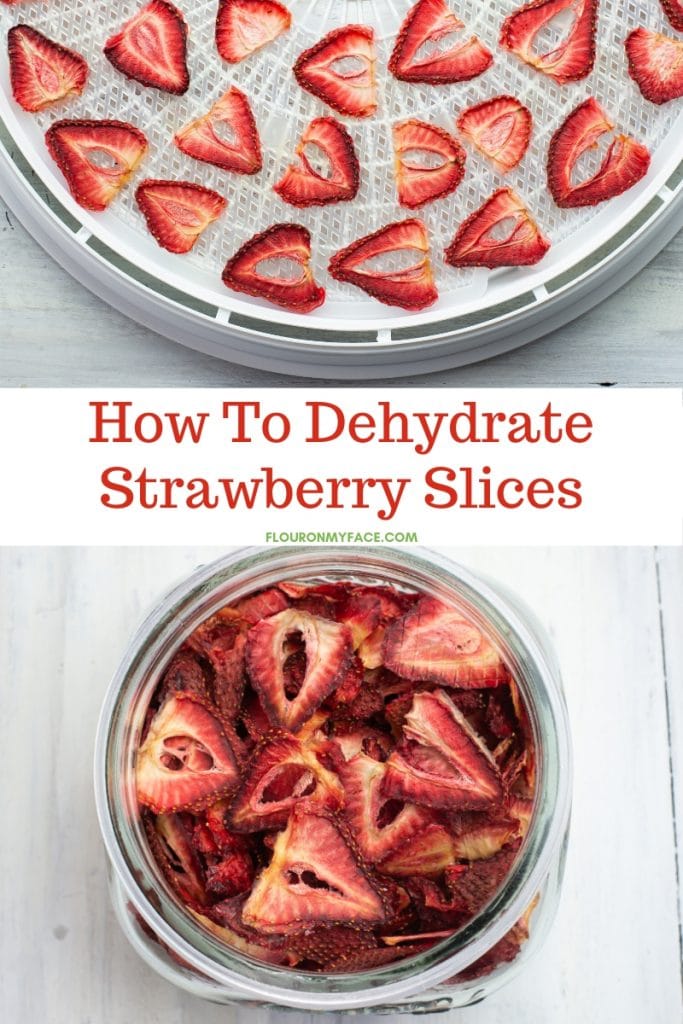 The sweet and tart flavor of dried strawberries is perfect to liven up a healthy bowl of cereal, yogurt or a morning smoothie.
This time of the year is the Florida strawberry season. Fresh strawberries are plump and sweet.
You can take advantage of the low prices and preserve strawberries by drying them so you can enjoy the sweet and tart flavor of fresh strawberries all year long.
How to Dehydrate Strawberry Slices
Dehydrating strawberries in a food dehydrator is an easy way to preserve fresh strawberries when they are at their peak during strawberry season. Dried fruit makes a delicious and healthy snack but can also be used to flavor many other recipes.
What Can You Use Dehydrated Strawberry Slices For?
Eat them as a healthy snack.
Top a bowl of cereal, oatmeal or yogurt with dried strawberry slices.
Add the dry strawberries to a morning smoothie.
Grind some into a powder and use it to turn homemade vanilla cupcakes into strawberry cupcakes by adding the powdered strawberries to the cupcake batter.
Grind them into a powder and use the strawberry powder to flavor and color homemade buttercream frosting.
Grind the dried strawberries into a powder and add to protein drinks.
How to make dried strawberries in a food dehydrator
To make dried strawberry slices in a food dehydrator you only need a couple of supplies.
The main supply you will need is a food dehydrator. I have been using the Presto Food Dehydrator for a few years now and I am very happy with it. It is very affordable.
Food Dehydrator Supplies
Food Dehydrator: an inexpensive round countertop food dehydrator works fine. I have been using the Presto Dehydro Electric Food Dehydrator for the past couple of years and have been very happy with it.
Food Dehydrator Nonstick Mesh Screens. (optional) keeps small pieces from falling through the holes in the dehydrator trays.
If you plan on preserving food by dehydrating on a regular basis it would be a good idea to invest in a more expensive food dehydrator which will allow you to control the temperature and have larger trays that will allow you to dehydrate a large amount of fruits and vegetables at one time. I've had my eye on the Excalibur 9-Tray Electric Food Dehydrator with Temperature Settings.
A sharp knife to slice the strawberries.
Once you have all your supplies ready rinse the strawberries under cold running water to remove any debris.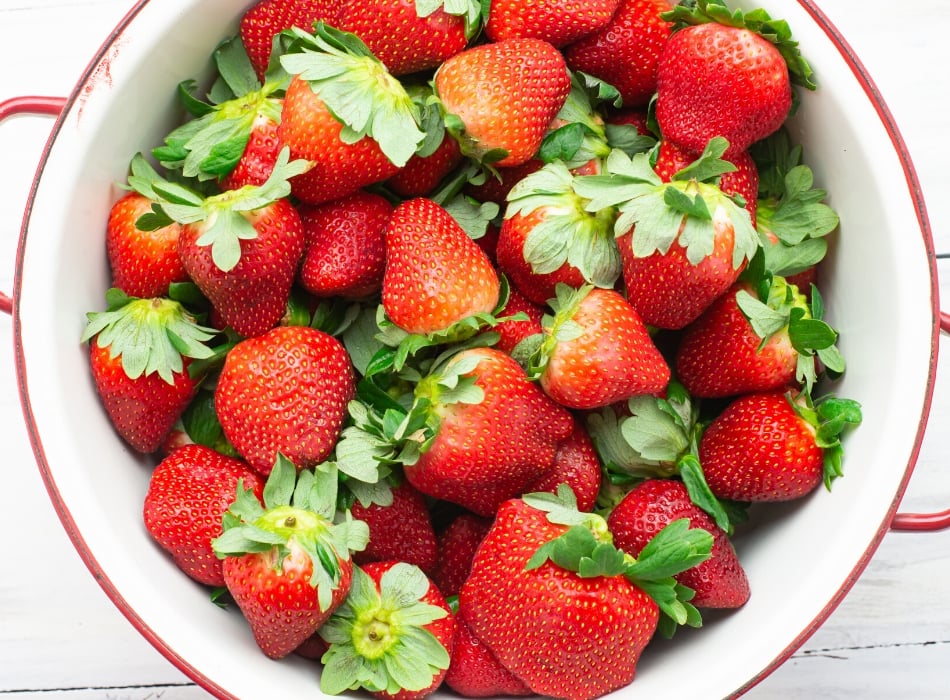 Step 1: Use a sharp knife to remove the leaves of the berry. Slice each strawberry into ¼ inch thick slices.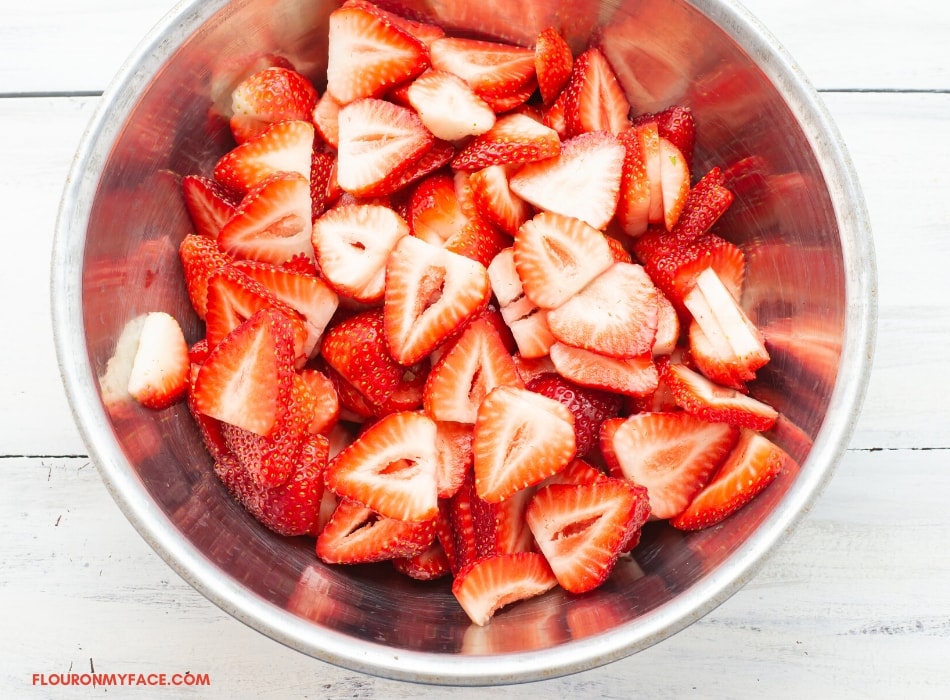 Step 2: Arrange the strawberry slices in a single layer on a dehydrator tray that has been lined with a mesh screen. Plastic mesh screens will keep the smaller pieces of fruit from falling through the dehydrator tray as they dry and shrink. You will need to buy screens that are made to fit the model of dehydrator you own.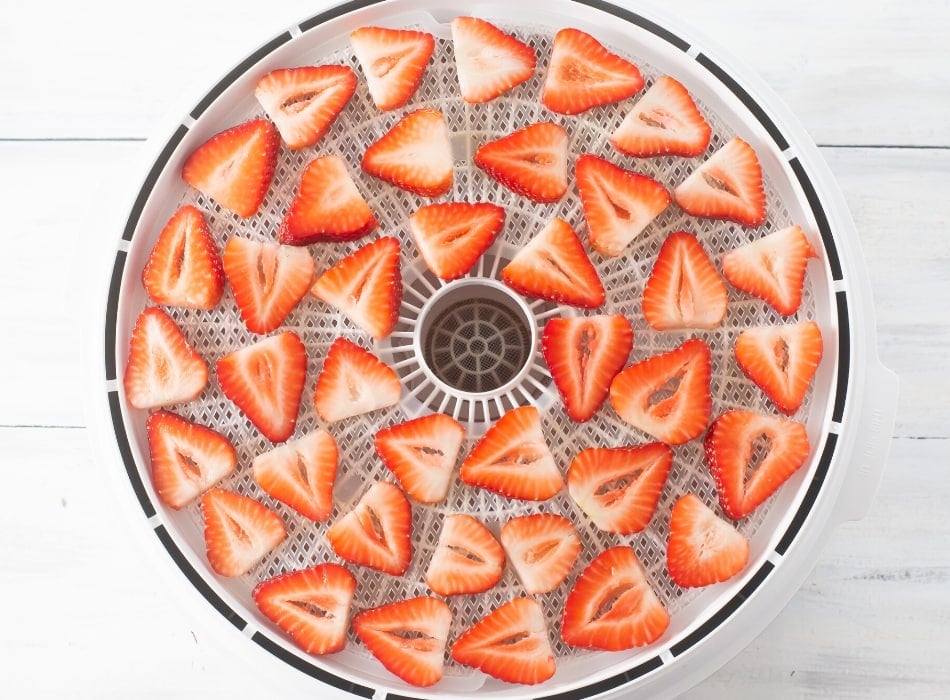 Arrange the strawberry slices so they are close together but not touching. You need some space to allow for airflow. If the strawberry pieces are touching they will stick together.
Step 3: Place the lid on the dehydrator and turn it on. Depending on the temperature of the dehydrator it will take anywhere from about 6 hours to 12 hours to completely dry the fresh strawberry slices.
How Long To Dehydrate Strawberry Slices
How long it takes to dehydrate strawberry slices in a food dehydrator will vary.
How thick you have cut the slices of strawberries and the temperature your food dehydrator is running at.
The Presto Food Dehydrator model I am using runs at a steady 165 F. degrees. Some dehydrators have a temperature control dial that will allow you to set the temperature and some dehydrators run at a lower temperature.
Because the dehydrator I am using runs at 165 degrees, I am able to dry fresh fruit and vegetables like dehydrated orange slices, dehydrated cherries, and yellow squash slices in less time.
If I start early enough in the day I can finish dehydrating a fully loaded batch of fruit or vegetables in less than 12 hours and don't need to leave the dehydrator running overnight.
I was able to dry 4 full trays of ¼ inch thick slices of strawberries in about 6 hours. I rotated the trays every few hours and flipped the strawberry slices over every once in a while and that helped the fruit dry quicker.
Drying strawberries in the oven
Dehydrated Strawberries can also be made in the oven. Drying fresh strawberry slices in the oven is a little more involved than it is to dry strawberries in a food dehydrator. It can be done.
You will need one or two large baking sheets that will fit in your oven.
You will need parchment paper or large silicone baking mat to fit.
Follow the directions to wash and slice the strawberries the same as above. Arrange the strawberry slices on the lined baking sheet or sheets. Turn your oven on the lowest temperature. Place the filled baking sheet or sheets into the oven. Allow the strawberry slices to dry completely. Cool and storage as above.
Dehydrating Fruit
Drying your favorite fruits and vegetables is a great way to preserve fresh fruit and vegetables to enjoy when fresh produce is not in season.
Properly dehydrated food can be stored in airtight containers in the pantry without relying on refrigeration, takes up less room and can last for many months if dried and stored correctly.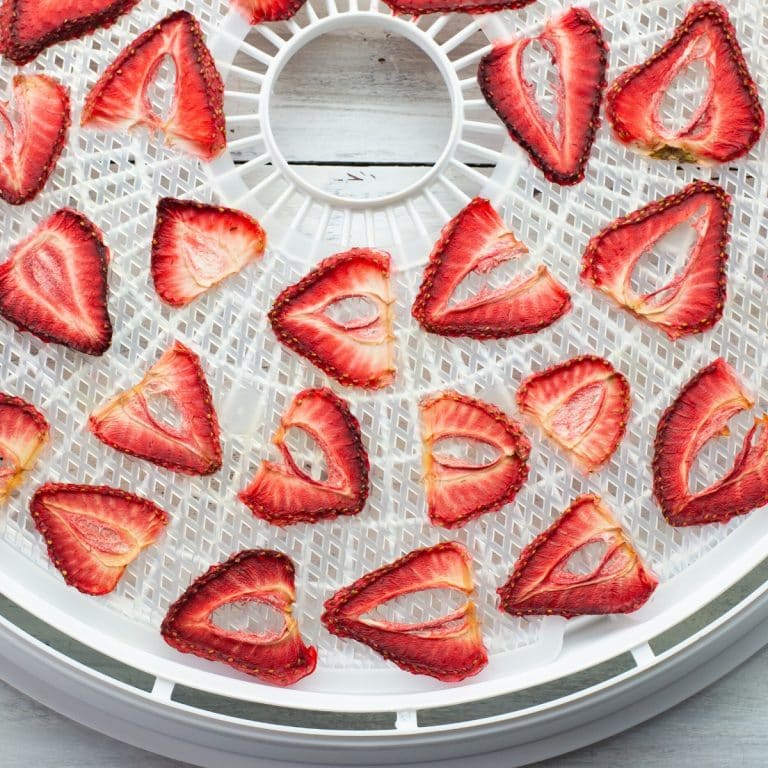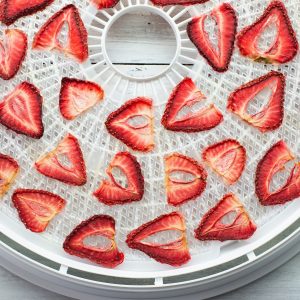 How To Dehydrate Strawberries
How to dehydrate sliced strawberries so you can enjoy them as a dried fruit snack or use the dried strawberries to flavor your favorite recipes like cupcakes, frosting, oatmeal, and smoothies.
Rate this Recipe
Ingredients
6

quarts

fresh strawberries

water
Follow Flour On My Face on Pinterest
Instructions
Wash the fresh strawberries and cut the caps off.

Cut the strawberries into ¼ inch thick slices.

Arrange the strawberry slices on the trays of a food dehydrator. Leave about ¼ inch of space between each of the strawberry slices. Do not allow the pieces of strawberry to touch.

Place the lid on the dehydrator and turn it on. My dehydrator runs at one temperture. If the model you are using has an option to set the temperture follow the manufacturers instructions.

Allow the dehydrator to run from 6 to 12 hours or until the strawberry slices are completly dry and no longer wet or sticky to the touch.

Every couple of hours switch the trays by moving the top trays to the bottom which is closer to the hot air that is circulating from the bottom.

Once the strawberry slices are completly dry turn off the dehydrator and allow the strawberry pieces to cool completely before storing in air tight containers.
Recipe Expert Tips
Dehydrating Tip: If some of the thinner strawberry slices are dry before the thicker pieces you can remove them from the dehydrator to cool while the thicker piece continue to dry in the dehydrator.
Serving size: ¼ cup of dried strawberries.
Nutrition
Serving:
1
Serving
Calories:
76
kcal
Carbohydrates:
18
g
Protein:
2
g
Fat:
1
g
Saturated Fat:
1
g
Sodium:
2
mg
Potassium:
362
mg
Fiber:
5
g
Sugar:
12
g
Vitamin A:
28
IU
Vitamin C:
139
mg
Calcium:
38
mg
Iron:
1
mg
Tried this recipe?
Share a picture on Instagram and tag @flouronmyface2
You will need to prepare the strawberries the same. Line a cookie sheet with parchment paper or a Silpat mat. Set the oven on the lowest heat setting you have. Place the tray of strawberry slices in the oven and close the door.