Have you ever tasted a rainbow? Rainbow Cupcakes that is?
No. I am not talking about skittles. I am talking pretty rainbow cupcakes. Ever since I first saw the rainbow cake that Martha Stewart demo'd on her show a few years ago I wanted to make a rainbow cake.
But the thought of dealing with all those layers in the cake kept me from even attempting it.
In the past year or so rainbow desserts have been popping up on many food blogs.
When I saw the cupcakes I knew I was going to make them. Cupcakes are so much easier to handle then a mega layered cake.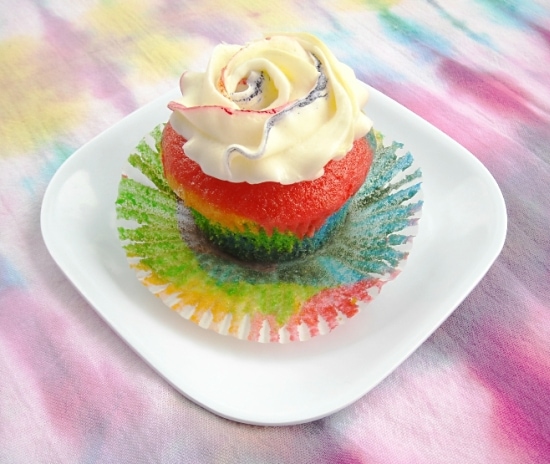 You may have read my chocolate candy cupcake picks post a few weeks ago and be thinking I made those chocolate picks to decorate the cupcakes I planned to make for my grand daughters 5th birthday party.
Well.... I changed my mind the day before the birthday party and decided to make the rainbow cupcakes instead. The chocolate candy picks are tucked away in the refrigerator and will be used another day.
All boxed cake mixes are not created equally!
I learned a few things on this multi colored adventure and thought I would pass along the tips just in case you find yourself about to embark on a very colorful day of cupcake making yourself.
There really isn't a recipe for this. It's more of a technique.
I used a boxed cake mix but you could do homemade yourself. Actually I ended up using two different brands of boxed white cake mix and this is where I learned a few things.
If you going to be using a homemade cake recipe just remember you will need to use clear vanilla extract or you will not get a white cake. Also your recipe should use only egg whites not whole eggs because again the yolk will color the batter.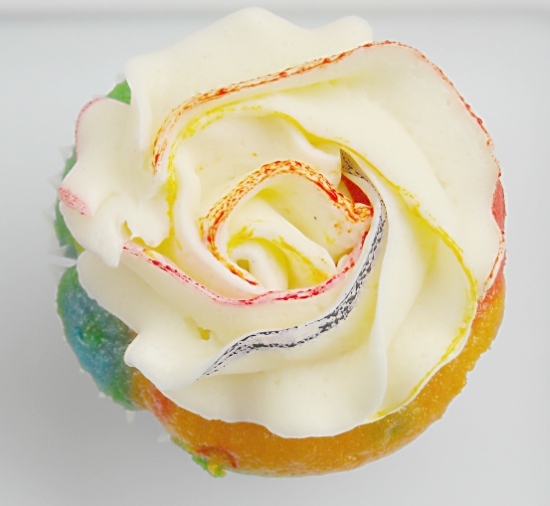 Ingredients
1 box of white cake mix without pudding added or homemade vanilla cupcake recipe
Paste or gel food coloring in red, blue, green, yellow, orange and purple
1 can of vanilla frosting, or batch of Meringue Buttercream frosting or Swiss Meringue Buttercream frosting
I did make homemade frosting.
My all time favorite frosting recipe is for Buttercream Meringue. It is the best frosting you will ever taste!
Rainbow Cupcake Fun
I found out the hard way that the brand of boxed cake mix you decide to use may turn out to be very important when planning the number of cupcakes you will need.
Now if you are just making cupcakes for the fun of it then this won't be an issue. Since we were also having cake I only planned on making the expected 24 cupcakes that you usually get out of one box of cake mix.
Turns out the cake mix with pudding in it does not give you the standard 24 cupcakes.
After mixing the cake mix per directions I noticed it was very thick. At that moment I didn't think anything of it but when I started filling the cupcake papers I realized I was only going to get about 12 cupcakes.
Coloring cupcake batter for rainbow cupcakes
Luckily I had bought a couple of extra boxes of cake mix just in case something like this happened.
The other mix I had bought did not have pudding in the mix. After everything was said and done I ended up with about 36 cupcakes. 12 from the pudding in the mix box and 24 from the cake mix with out the pudding in the mix.
So if your planning for a crowd be sure you get a cake mix without the pudding in the mix.
Another issue I had with the pudding in the mix cake is that when you over mix a cake batter when it cooks you run the risk of tunnels forming. It's from all of the air bubbles that get stirred into the thick batter.
Over mixed cake batter
It doesn't affect the taste and as you can see the colors are beautiful and vibrant but that is not a very pretty picture of a cupcake is it?
So my suggestion is if you have to use a pudding in the batter cake mix only mix it until all the dry ingredients are moistened and the lumps beat out. Most cake recipes call for you to mix until moistened and then to beat on high for two minutes. Cutting out the 2 minutes of mixing may help with this problem.
Divide it between the bowls you plan to color the batter in. Stirring the food coloring in takes a bit of mixing and will replace those 2 minutes.
The cupcakes were a hit. Everyone loved them and just taking a bite of the beautifully colored cupcake put a smile on everyone's face.
Here is the birthday girl enjoying one