Grilled Pizza Series
Post 2: Homemade Pizza Dough
This is the 2nd post in a five part series where I will take you from start to finish on your quest to make a perfect grilled pizza. In this post I will show you how to make perfect homemade pizza dough for your grilled pizza.
To get caught up in the Grilled Pizza Series you might want to read the first post 5 Tips to Perfect Grilled Pizza.
The Grilled Pizza Series: 5 Tips to make Perfect Grilled Pizza
The Grilled Pizza Series: How to make Homemade Pizza Dough
The Grilled Pizza Series: How to make Easy Homemade Pizza Sauce
The Grilled Pizza Series: How to make  Grilled Vegetables
The Grilled Pizza Series: How to make Grilled Pizza
One of the most important parts of a delicious grilled pizza or a traditional homemade pizza for that matter is the pizza crust. If the crust tastes like dry cardboard it doesn't matter how great the combination of cheese and topping are your homemade pizza isn't going to be very appetizing. The key to a great homemade pizza is a homemade pizza dough recipe.
One of my cooking passions is homemade pizza dough or homemade bread. I love combining some rather boring ingredients like flour, yeast and a liquid to turn it into something extraordinary like the perfect homemade pizza dough, garlic rosemary bread or  flat bread gordita.
I've been making homemade breads for over 20 years. To be honest and I may be giving away my age here but it's more like close to 30 years.
I've learned a few things experimenting with recipes.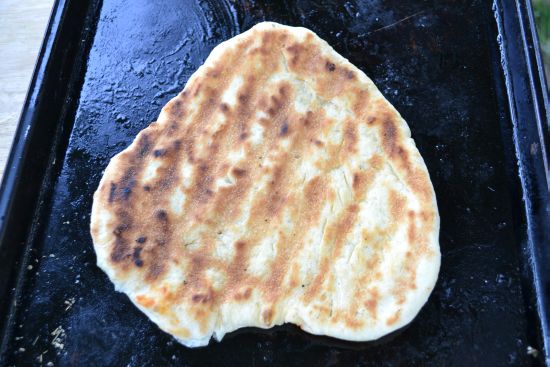 This homemade pizza dough recipe comes from a combination of recipes and of making adjustments.
I've included directions for making this homemade pizza dough recipe with a stand mixer or without a stand mixer. I know not everyone owns a stand mixer. It's a very expensive investment and if you do not bake often there isn't a reason to own one.
A stand mixer makes the kneading a little easier. But to be honest sometimes I just want to roll back my sleeves and knead the dough by hand. So even though I have a very nice Kitchenaid Artisan mixer sometimes I don't use it.
Watch for the next post in the Grilled Pizza Series: Easy Pizza Sauce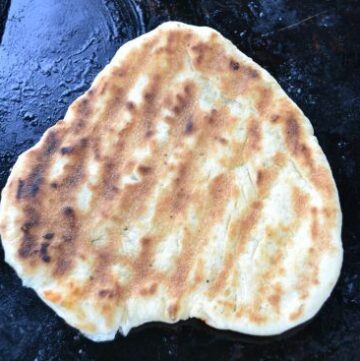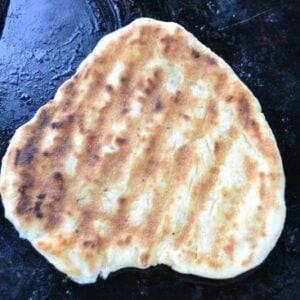 Grilled Pizza Dough: Grilled Pizza Series Part 2
How to make Grilled Pizza Series part 2. How to make perfect pizza dough to cook on a hot grill. Grilled Pizza is a fun summer dinner.
Rate this Recipe
Ingredients
2

cups

warm water

1

packet

active dry yeast

3

cups

bread flour

2

cups

unbleached all purpose flour

1

tbs

sugar

1

tsp

salt

2

tbs

olive oil
Follow Flour On My Face on Pinterest
Instructions
In a small bowl warm the water in the microwave until it is just slightly warmer then body tempurture. Stick a pinky in, if it is hot to the touch it is too hot. Let cool to a little warmer then body temperture.

If your using a stand mixer: Pour the warmed water into the bowl of the mixer. Attach the dough hook.

No Stand Mixer: Add the yeast to the warm water in a small bowl.

Both methods: Set aside and allow the yeast to get bubbly about 10 minutes.

Both methods: Put all the dry ingredients into a seperate large bowl. Whisk them together.

If you're using a stand mixer add the olive oil to the yeast water.

Turn the mixer on low. Slowly add the dry ingredients to the bowl of the mixer a cup at a time. Mix on low for 2 minutes. Turn mixer up to medium high and knead for 10 minutes. If the dough seems too sticky. Add a tablespoon of flour at a time to the mixer bowl until the dough is no longer sticky.

No Stand Mixer: Pour the yeast and water into the large bowl of whisked ingredients. Add olive oil. Stir with a wooden spoon until the dough is too hard to stir any longer and starts to form a ball.. Turn the dough out onto a floured surface and knead by hand until the dough is smooth and elastic, about 10 minutes. Add more flour as needed while kneading if the dough is sticky.

Both methods: Once you're done kneading the dough grease a large bowl with olive oil and add the dough to the bowl, turning it to coat with oil. Losely cover with a dish towel or plastic wrap and allow to rise until doubled. About one hour.

After the dough doubles punch it down. Evenly divide into six pieces. Form each piece into a ball. Set aside, cover with plastic wrap until ready to use.
Recipe Expert Tips
Makes enough dough for 6 personal pizzas.
Nutrition
Serving:
1
personal size pizza
Calories:
430
kcal
Carbohydrates:
80
g
Protein:
12
g
Fat:
6
g
Saturated Fat:
1
g
Polyunsaturated Fat:
1
g
Monounsaturated Fat:
4
g
Sodium:
394
mg
Potassium:
118
mg
Fiber:
3
g
Sugar:
2
g
Vitamin A:
2
IU
Vitamin C:
1
mg
Calcium:
19
mg
Iron:
3
mg
Tried this recipe?
Share a picture on Instagram and tag @flouronmyface2