Homemade Vanilla Extract Recipe with free labels
Easy homemade Christmas gifts from the kitchen. Homemade vanilla extract is so easy to make. I've included a free printable Homemade Vanilla extract label for you to download at the end of this post.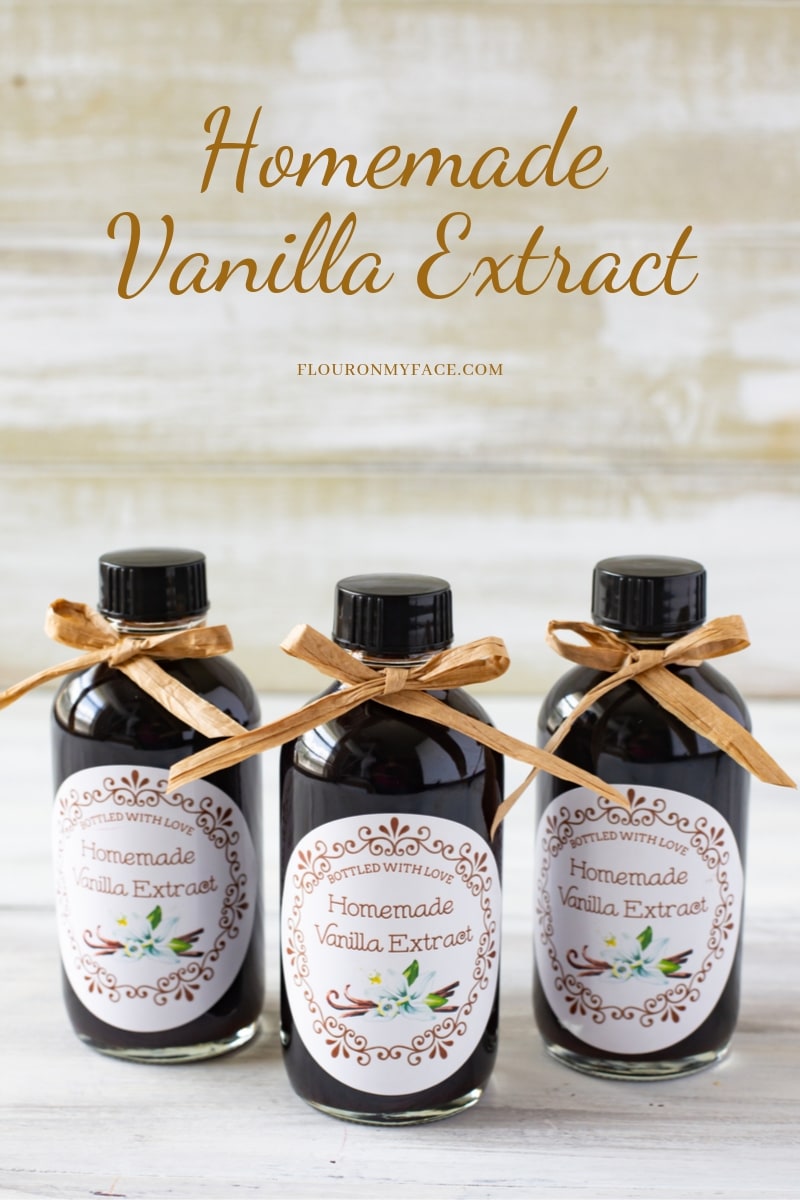 2019 This post has been updated with new and improved free vanilla extract labels and photos that will add a touch of class to your homemade Christmas gift.
Never ending jar of homemade vanilla extract
2019 Update: I have been making homemade vanilla extract since 2011. I have since stream lined my process and now have one half gallon mason jar that I keep filled with the same vanilla beans I bought back in 2012.
If you need an easy food gift for Christmas these bottles of vanilla extract decorated with the pretty printable vanilla extract label I made are perfect for the cooks and bakers of the family.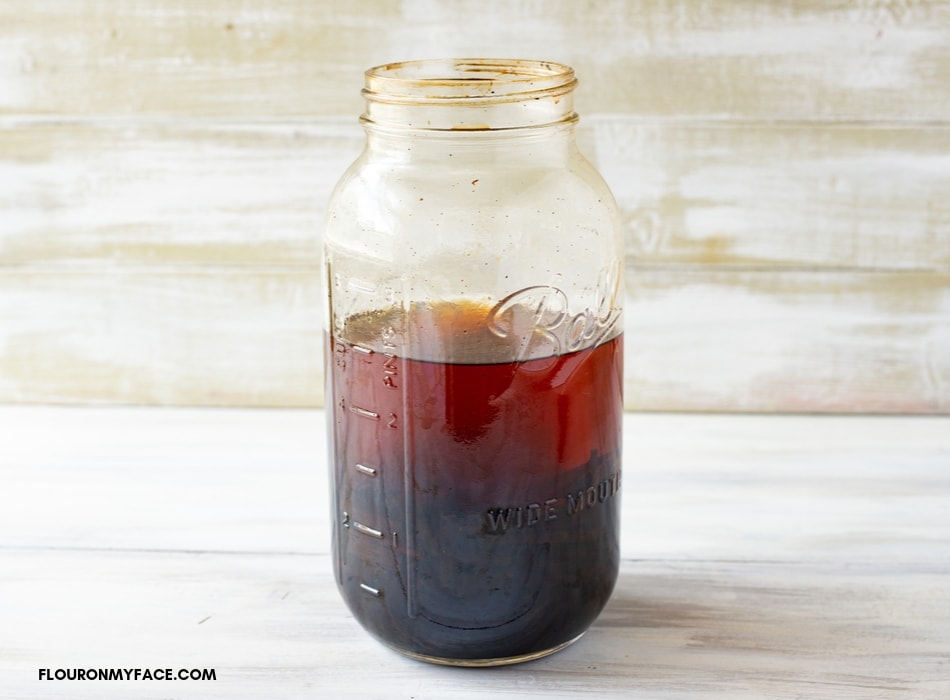 Yes, I have been using the same vanilla beans over and over to make extract for years now. It is amazing how much flavor they have. The half gallon jar above is filled with the same vanilla beans I bought back in 2012. Right before I took this photo I poured a 750ml bottle of Vodka in it.
The prices of vanilla beans and store bought vanilla extract have gone way up in the past few years so I am saving a huge amount of money by making it myself.
I haven't bought vanilla extract since 2011! And my homemade vanilla extract is so much better than any store bought extract I have ever bought.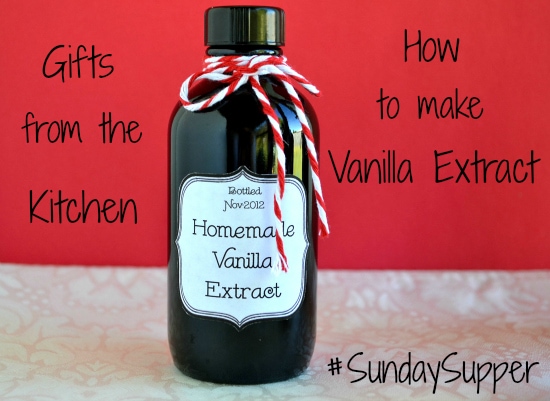 Homemade Christmas Gifts
Homemade food gifts like vanilla extract for Christmas gifts should be started at least 6 weeks before you plan to gift it.
If you get a late start you can still make it just include a "use after" date on the bottle.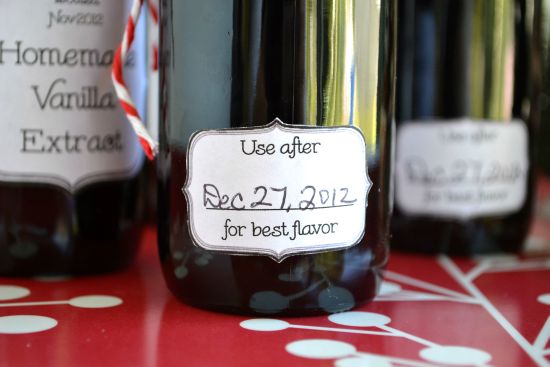 I'm a cook, baker and mad scientist when it comes to stuff like this. I love making my own homemade extracts.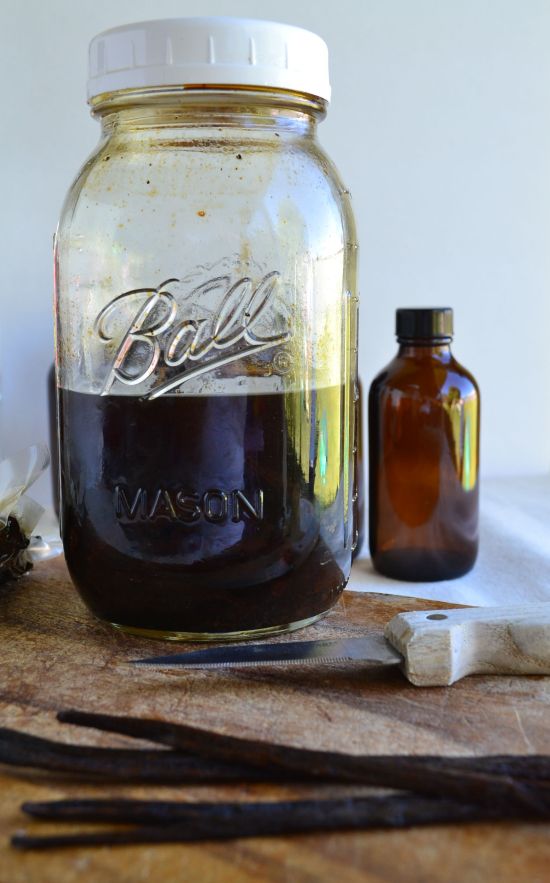 When I made homemade vanilla extract the first time I made the extract in quart mason jars and individual bottles I recycled. It ended up be more work than it needed to be.
Now I like to use large mason jars to make the homemade extract. I have use 2 large glass bottles to steep the extract in.
Then I will fill individual 4 oz Boston Round bottles that I will give as Christmas gifts. I also keep one in my cabinet because it is easier to pour the vanilla extract from a small 4 oz bottle when measuring.
You can do it either way. Whatever works for you. If you use small bottles you will need to shake each bottle as it steeps verses shaking on large bottle.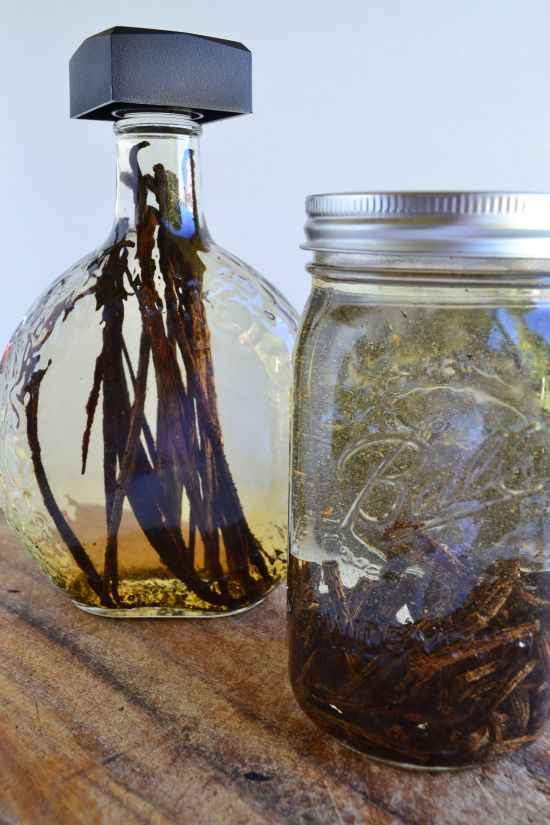 Honestly, I think using the vodka bottle itself or some other large jar like a half-gallon mason jar works out better and is easier to handle.
This way you only have one or two bottles to shake as the vanilla extract is curing.
Supplies Needed to make homemade vanilla extract
You only need four things to make homemade Vanilla Extract - Vodka, Vanilla Beans, a container and patience.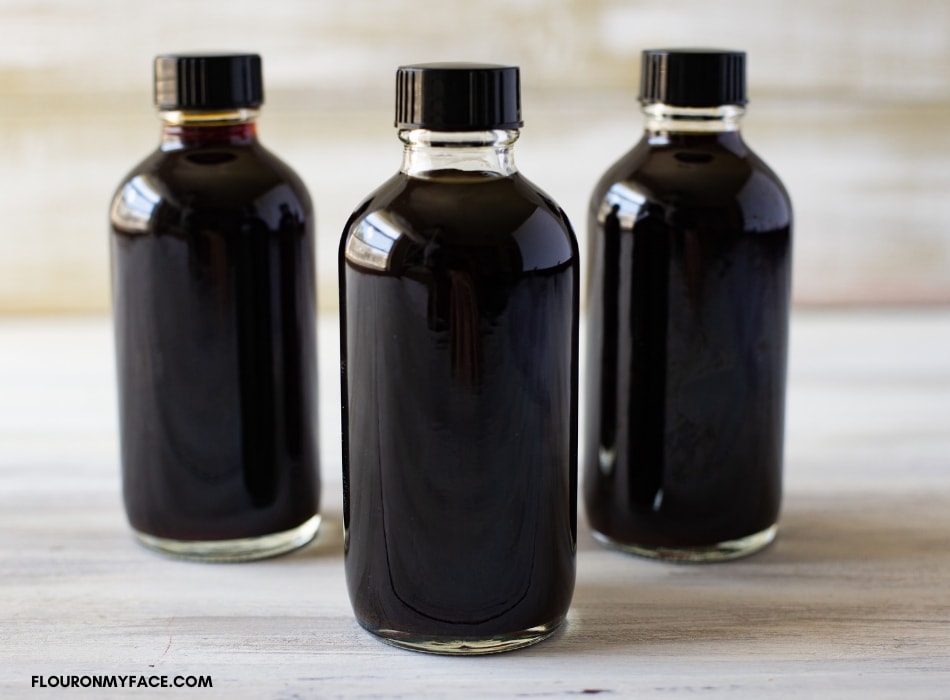 There are many online sources for Vanilla Beans. Buying them in bulk is a much better deal than buying them at the grocery store.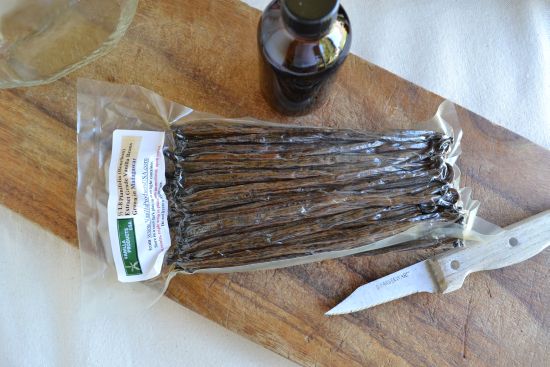 If you plan on using the vodka bottle you will need to pour some vodka out of the bottle to make room before adding the vanilla beans. You will also have to measure the vodka so you know how many vanilla beans per cup of Vodka you will need to use.
Over the years I have done a bit more testing and discovered that 5 vanilla beans per one cup of Vodka is the best ratio when making homemade vanilla extract.
Or you can just put all of the 25 Vanilla Beans in a half gallon jar and pour the entire 750 ml bottle of vodka over them.
Is homemade vanilla extract better than store bought?
Did you know that most commercial vanilla extract has added water to it to cut back on costs?
When you make homemade vanilla extract it is triple strength or more and is made with the vodka and vanilla beans only. No cheap shortcuts when making your own.
How I prep vanilla beans to make vanilla extract
You can split the beans and leave them whole or cut them up into small pieces and add them to a jar or bottle.
Either way will work but you need to split the vanilla beans so the vodka can be absorbed and be release so it can infuse the alcohol.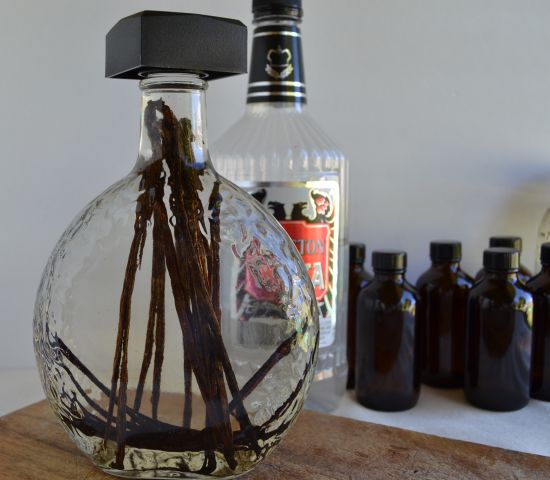 Tips for buying and storing fresh vanilla beans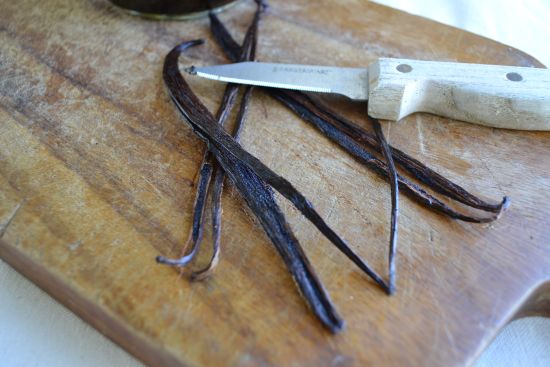 (affiliate link) Vanilla beans are very delicate and very expensive. If they are not stored properly they will get hard and brittle.
Once the vanilla beans are exposed to air they will start to dry out. If you have leftover vanilla beans be sure to triple wrap them in plastic and store them in an airtight container to preserve them.
Only buy the amount of vanilla beans you will need to make the amount of vanilla extract you need.
Usually, you will find the information about how many beans are in a ¼ or ½ pound of beans somewhere in with the information on the type of vanilla beans you are buying.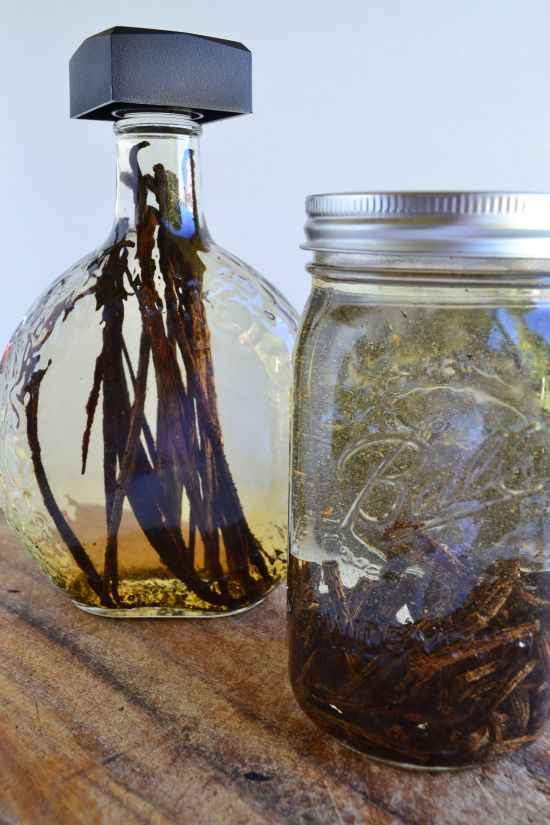 If you use small jars or bottles you will have to do the math and figure out how many beans per ounces you're jar or bottle will need.
It is so much easier to use the bigger jars and count the number of cups of Vodka per jar. The recycled Amaretto jar I used held 3 ½ cups of vodka.
Once the vanilla beans and vodka are in the jar or jars store them in a dark cool cabinet. Occasionally shake them.
Most instructions say you can use the extract after about 6 weeks but I have found the extract to be much better after at least three months of curing. The longer the better.

Bottle up the homemade Vanilla Extract and share it at Christmas.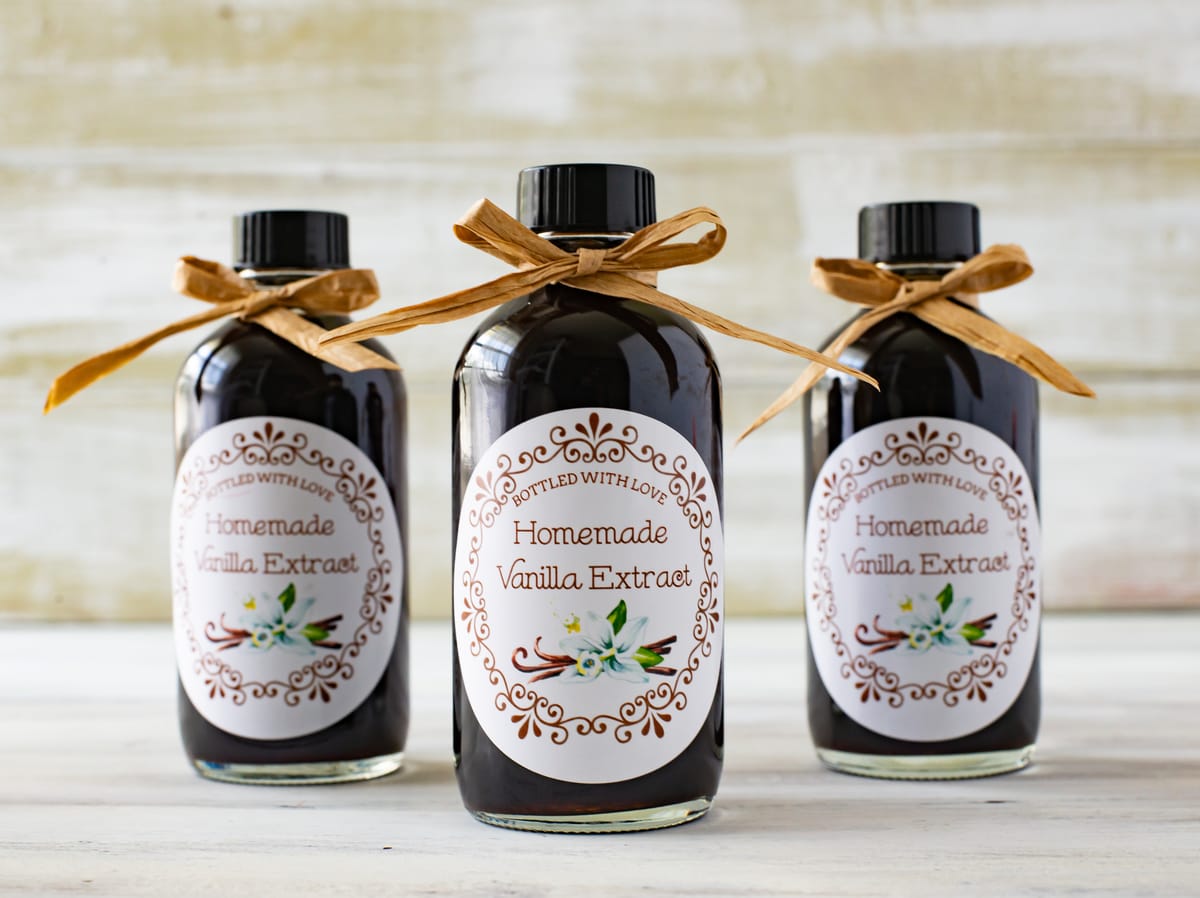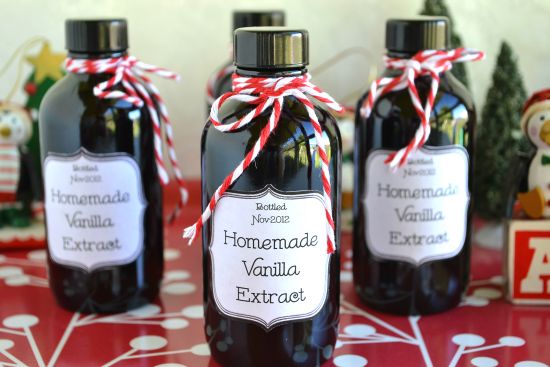 Vanilla Extract Label
For best results this custom made homemade vanilla extract label should be printed on the Avery Glossy White 22830 Print to the edge round labels. Set your printer to the highest ink setting. Download the pdf and save it to your computer. Open the pdf and print.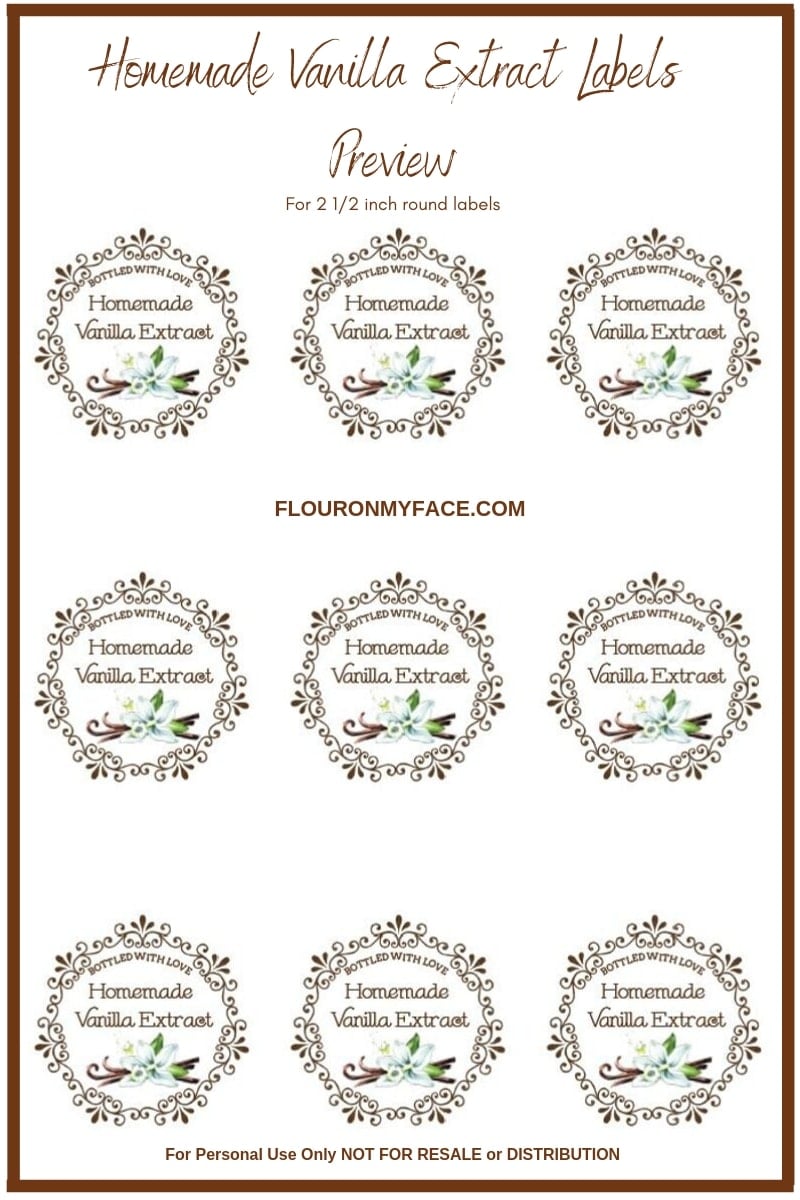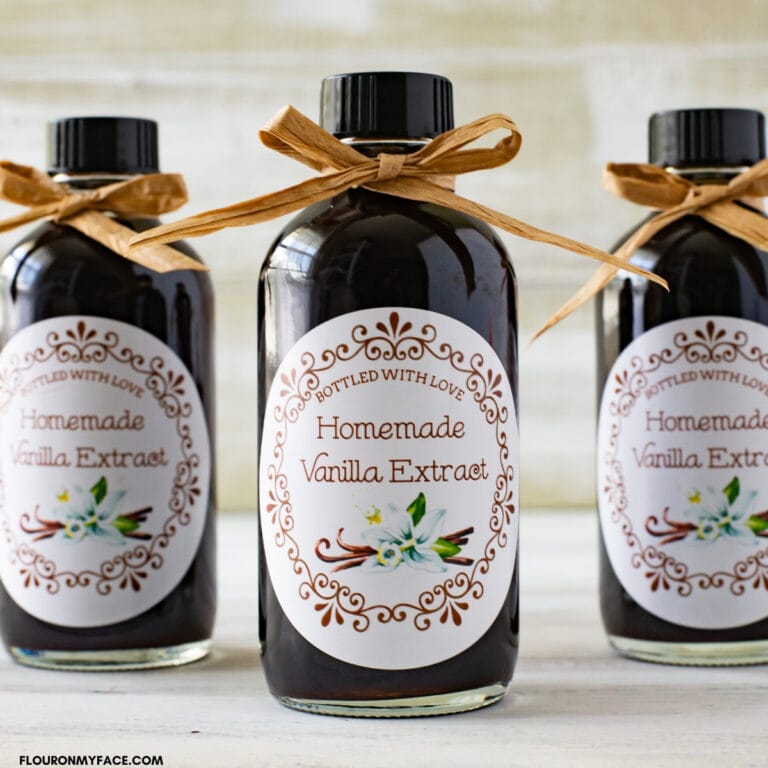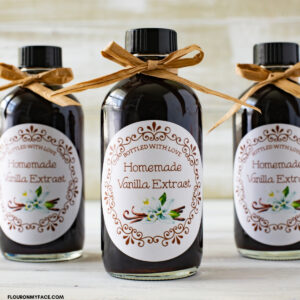 How To Make Homemade Vanilla Extract
Homemade Vanilla Extract is easy to make and is a one of a kind gift from the kitchen that is perfect for homemakers, bakers, and family who seem to have everything. I've included free printable homemade vanilla labels with this homemade vanilla recipe.
Rate this Recipe
Ingredients
4

cups

Vodka

best you can afford (4 cups per quart jar)

20

Beans

5 whole Vanilla Beans per cup of Vodka = 20 vanilla beans per quart jar
Follow Flour On My Face on Pinterest
Instructions
Measure Vodka into jars. You'll need 4 cups of Vodka per quart jar.

Add 5 split vanilla beans per cup of Vodka. (20 Split Vanilla Beans per quart jar makes the best vanilla extract. You could use less but the vanilla will be weaker.)

Steep or cure for at least 6 weeks before using.

 Bottle the vanilla extract in 4 oz. brown glass bottles. For gift giving you can add 1 vanilla bean to each.
Recipe Expert Tips
1 quart jar of Vodka and vanilla beans will yield 32 ounces of homemade vanilla extract.
32 ounces of vanilla extract will yield eight 4 oz bottles for gifting.
Don't throw away the vanilla beans after bottling your homemade vanilla extract. You can add more vodka to the bottle with the vanilla beans and start a new batch of vanilla extract.
Or rinse off the vanilla beans well and add to a jar of sugar to make homemade vanilla sugar.
Nutrition
Serving:
8
4 oz. Bottle
|
Calories:
71
kcal
|
Carbohydrates:
1
g
|
Fat:
1
g
|
Sodium:
1
mg
|
Potassium:
1
mg
|
Iron:
1
mg
Tried this recipe?
Share a picture on Instagram and tag @flouronmyface2