Easy Easter Cupcakes
Celebrate Easter with a HERSHEY'S Easter Candy 
Disclosure: This is a sponsored post. HERSHEY sent me a wonderful box full of HERSHEY'S Easter candy to help me share some of my Easter traditions with you. Monetary compensation for this sponsored post is from the Global Influence network. As usual all opinions are my own.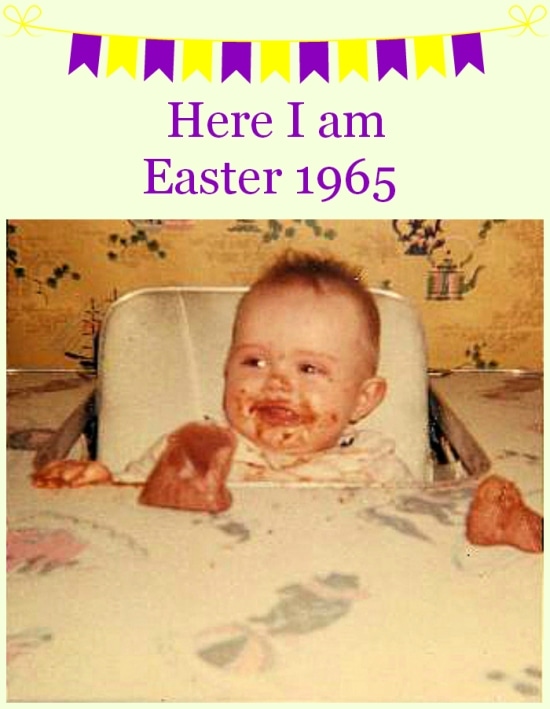 I guess you could say I've been a chocolate Easter bunny fan for a long time. The proof is in the pudding chocolate bunny......this is a somewhat blurry polaroid photo of my very first Easter. Yes, I know I am dating myself here, but I am pretty sure by now you all know I am not a spring chick. After all, I am a Grammy to 3 darling granddaughters.
Easter Traditions Then
I can remember Easter mornings as a child very well,   (I was a bit older than in this photo of course)  when  I would wake up with my brothers and sister and race out to the living room to find our Easter baskets stuffed to the brim with  Easter candy and the Easter eggs we had dyed the night before. There would always be a big chocolate Easter bunny that my brothers would always bite the ears off first thing!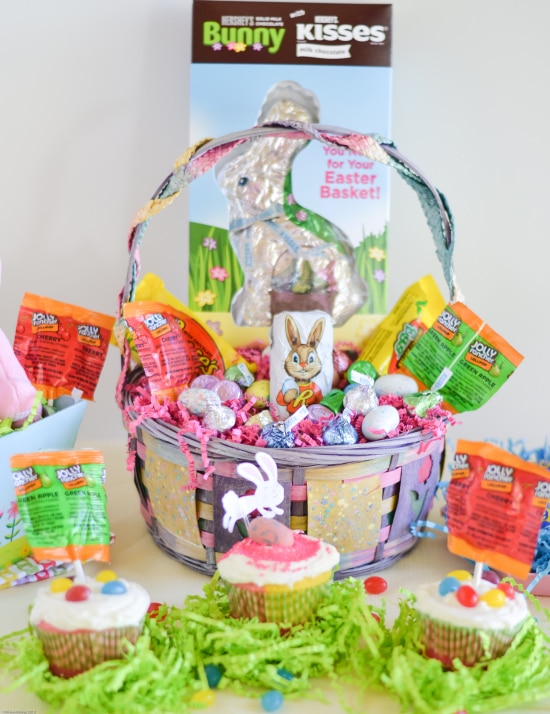 Easter Traditions Now
Of course I carried on the tradition of coloring Easter eggs the night before Easter with my own kids. Along with any of their friends who happened to be over the night before Easter. You would be amazed at how many pre-teen boys colored eggs while they were at my house. The same ones who thought they were too cool or too old for all that little kids stuff would jump right in and start coloring eggs. If they happened to be spending the night they also woke up to find that the Easter Bunny had left them an Easter basket.
Oh and I don't just color eggs because I have kids and grandchildren. I color them because I love coloring eggs. It's the artist in me. All my kids; ages 28, 23 and 16 still love to color eggs. The two oldest have their own children now but my son (23) would even color eggs with his little sister and I before he had his daughter.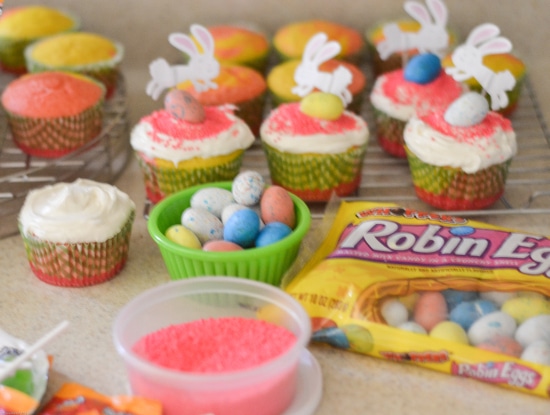 Now with my granddaughters it doesn't matter if they are coloring Easter eggs with their parents or even their other grandparents they also come over to Grammy's house to decorate eggs. I like to do something special for my granddaughters. I always bake cupcakes for them and decorate them with fun toppings for Easter. I usually decorate about half and then let the kids decorate the other half with sprinkles and candy.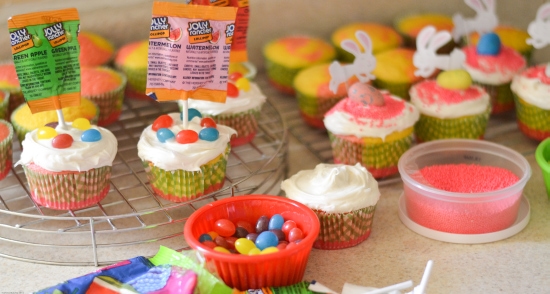 Filling our Easter baskets
HERSHEY'S has always been a part of our Easter celebration. I load up the Easter baskets with  HERSHEY'S KISSES Milk Chocolates, JOLLY RANCHER Hard Candy, TWIZZLERS Strawberry Twists, REESE'S Peanut Butter Cups and ROLO Candy.
Matter of fact we enjoy all of these candies all year long. I am addicted to  TWIZZLERS Strawberry Twists and I think there would  be an uprising my family if I left out the REESE'S Peanut Butter Cups.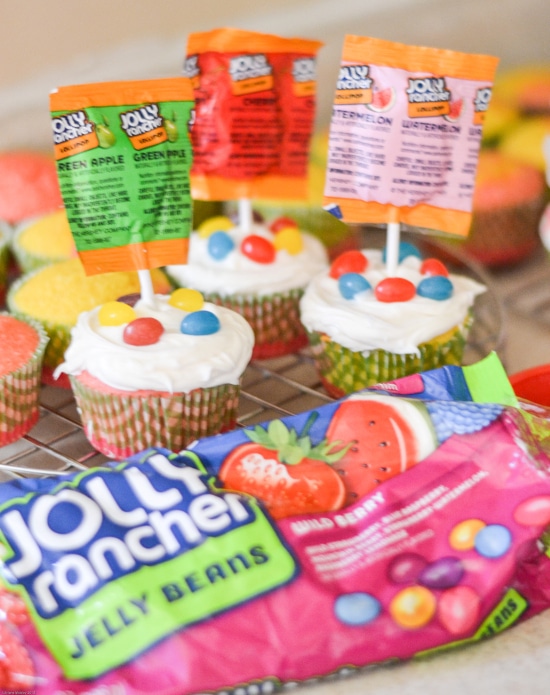 Easy Easter Cupcakes with HERSHEY'S Easter Candy
Decorating Easter Cupcakes with the HERSHEY Easter candy line up is so easy. All you need is your favorite cake mix, a can of frosting and a couple of bags of JOLLY RANCHER Easter Lollipops, WHOPPERS Robin Eggs and a bag of JOLLY RANCHER Jelly Beans. You could also use HERSHEY'S KISSES Milk Chocolates for the center of a cupcake.
  Make the cupcakes as directed on the package, swirl the frosting on with a spoon, no need for anything fancy and have fun decorating your easy Easter cupcakes with the HERSHEY'S Easter candy. Let the kids help and they will have a great time.

Head over to the CelebrateWithHersheys.com for more fun ideas on how you can celebrate Easter with Hershey's candy. This Easter Critter Cups Crafts is so cute I may have to make these for my granddaughters.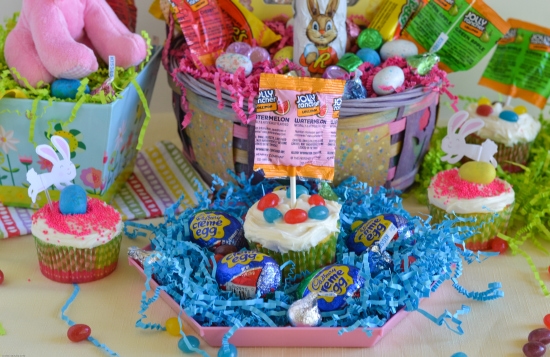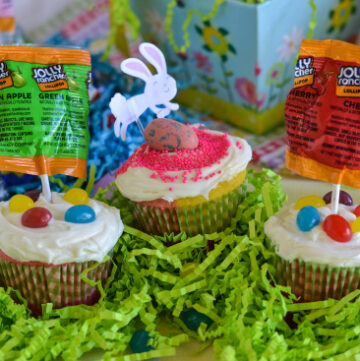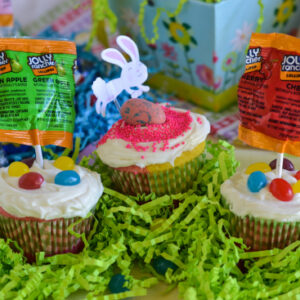 Easy Easter Cupcakes with Easter Candy
Easy Easter Cupcakes are decorated with Easter Candy. These cute Easter themes cupcakes will delight the kids when they see they are decorated with their favorite Easter candy.
Rate this Recipe
Ingredients
1

box

cake mix

((plus ingredients to make))

16

oz

frosting

1

bottle

sprinkles

1

bag

WHOPPERS Robin Eggs

1

bag

JOLLY RANCHER Jelly Beans

1

bag

JOLLY RANCHER Easter lollipops
Follow Flour On My Face on Pinterest
Instructions
Bake cupcakes as directed and let cool.

Spread frosting over the top of cupcakes.
Decorating with malted robin eggs
Decorate 12 cupcakes with pink sprinkles.

Set one HERSHEY WHOPPER Robin Egg in the center of each cupcake.

Add an Easter pick to each cupcake if desired.
Decorating with Jolly Ranchers Candy
For remaining 12 cupcakes create a circle of JOLLY RANCHER Jelly Beans.

Insert a JOLLY RANCHER Easter Lollipop in the center.
Recipe Expert Tips
HERSEY makes it easy to make fun cupcakes that will put a smile on any kids face.
Nutrition
Serving:
1
cupcake
Calories:
78
kcal
Carbohydrates:
13
g
Protein:
1
g
Fat:
3
g
Saturated Fat:
1
g
Cholesterol:
1
mg
Sodium:
149
mg
Potassium:
59
mg
Fiber:
1
g
Sugar:
7
g
Vitamin A:
1
IU
Vitamin C:
1
mg
Calcium:
27
mg
Iron:
1
mg
Tried this recipe?
Share a picture on Instagram and tag @flouronmyface2