Easy Chicken and Rice Pot Pie
Disclosure this is a sponsored post on behalf of Uncle Ben's Brand. All opinions are my own.
I am always looking for easy chicken recipes to make for my family. I especially love easy family recipes that my daughter can help make. She's quite the cook already and has mastered many of our favorite family recipes.
This easy Chicken and Rice Pot Pie is a perfect family recipe for a number of reasons. It is easy to make. It is a recipe that kids can help make, it's a great way to use up leftover chicken and it will feed a large family on the cheap. Now that is a recipe I love!   About an hour before beginning remove one piece of puff pastry from the freezer and allow to thaw on the counter.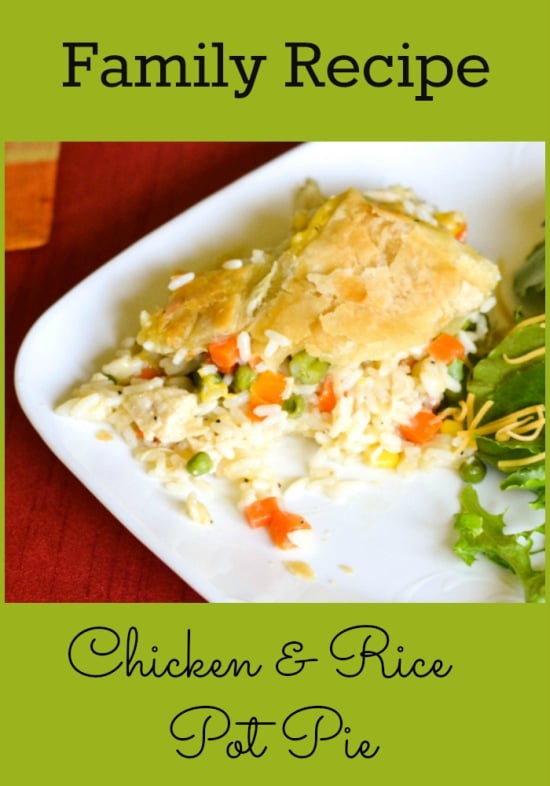 This Chicken and Rice Pot Pie is so easy to make. You can mix all the ingredients in a bowl and pour it into the baking dish or you can skip the bowl and mix it in the baking dish. 
Our baking dish is a little odd shaped with the handles so we mixed the chicken, soup, water, milk and pepper in a large spouted measuring bowl.  Next time I make this Chicken and Rice Pot Pie recipe I will make it in a rectangle 9x13 baking dish.
Our odd shaped baking dish caused a couple of issues because of the shape. The high handles prevented the puff pastry from browning evenly so I had to cook it a little longer then the directions called for.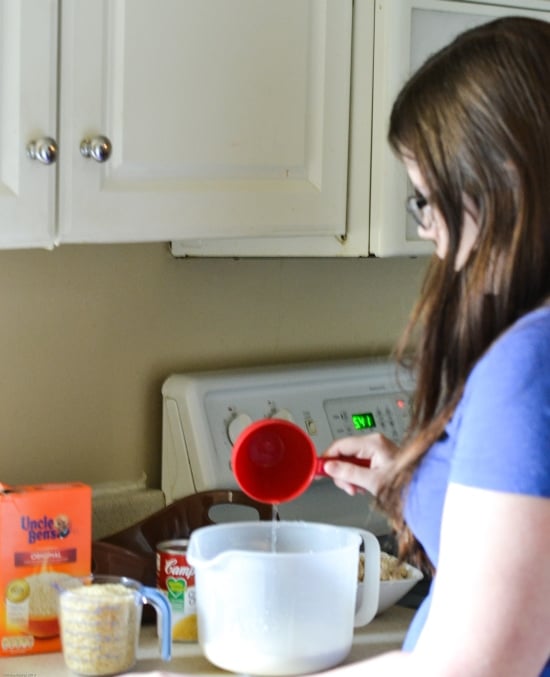 My daughter Audrey mixed the soup, vegetables, water, milk and pepper in a large measuring cup. She then added the cooked cubed chicken to the bowl and mixed everything together.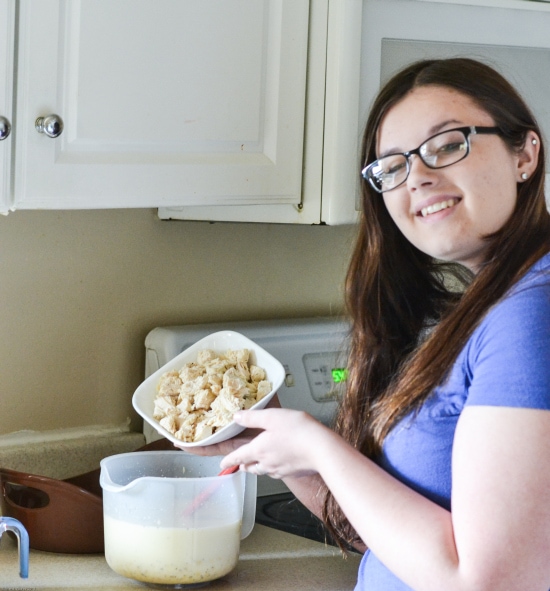 Audrey then carefully poured the pot pie filling into the baking dish. Then she added the 1 ½ cups of Uncle Ben's® Original Converted Rice to the baking dish.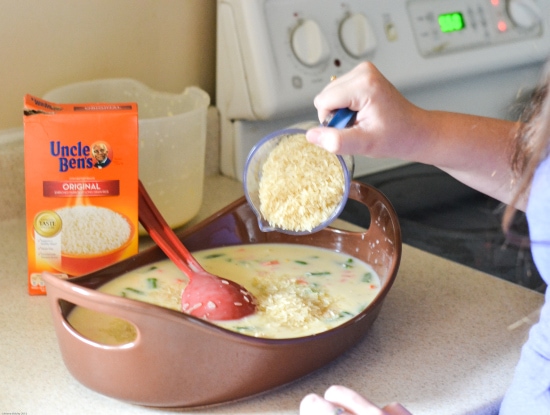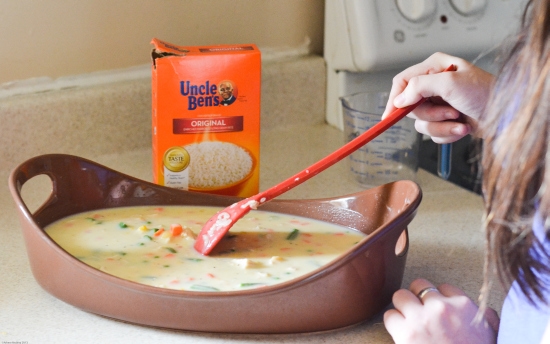 Once the rice was mixed in you cover the baking dish with aluminum foil and bake for 30 minutes until the filling is piping hot. Once the baking time was up I took the baking dish out of the oven.
Mom's even if your older children are accomplished helpers in the kitchen it's best to have an adult do this part of the recipe. The baking dish is very hot and very full and it's easy to spill the hot pot pie filling. We don't want anyone to get burned! Carefully unfold the puff pastry sheet and lay it over the top of the hot Chicken and Rice Pot Pie filling.
If you need to trim it to make it fit over the top cut it into pieces that you can place over the entire filling. Return the Chicken & Rice Pot Pie to the oven and cook for another 20 minutes or until the top is a golden brown. Serve immediately with a salad and enjoy.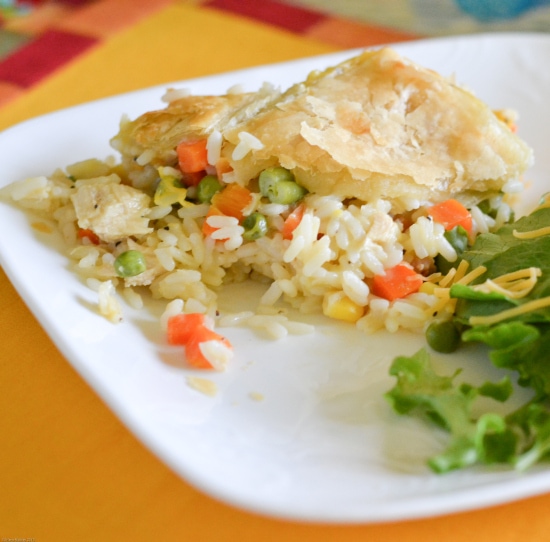 How to make Easy Chicken and Rice Pot Pie
1½ cups UNCLE BEN'S® ORIGINAL CONVERTED® Brand Rice

3½ cups frozen carrot, peas, corn blend

1 teaspoon cracked black pepper

2 cans (15 oz) cream of chicken condensed soup (heart healthy variety)

2½ cups water

1 cup whole milk

1 cup cooked chicken breast, diced

1 sheet commercially prepared puff pastry dough
Preheat oven to 375 degrees

In a large bowl mix soup, water, milk, and pepper until the soup has blended with the milk and water.

Add the cooked chicken and vegetables.

Pour into a 9 x 13 inch casserole dish.

Cover with aluminum foil and bake for 30 minutes.

Uncover and top with puff pastry dough and bake for another 20 minutes or until the puff pastry dough is golden brown.

Serve hot.