Crock Pot French Dip Sandwiches
Need an easy recipe for the weekend? Or need something you can feed a crowd during game day? This Crock Pot French Dip Sandwiches recipe is one of the easiest crock pot sandwich recipes you will ever make.
Three simple ingredients and you can be munching on one of the most tenderest steak sandwiches you have ever eaten.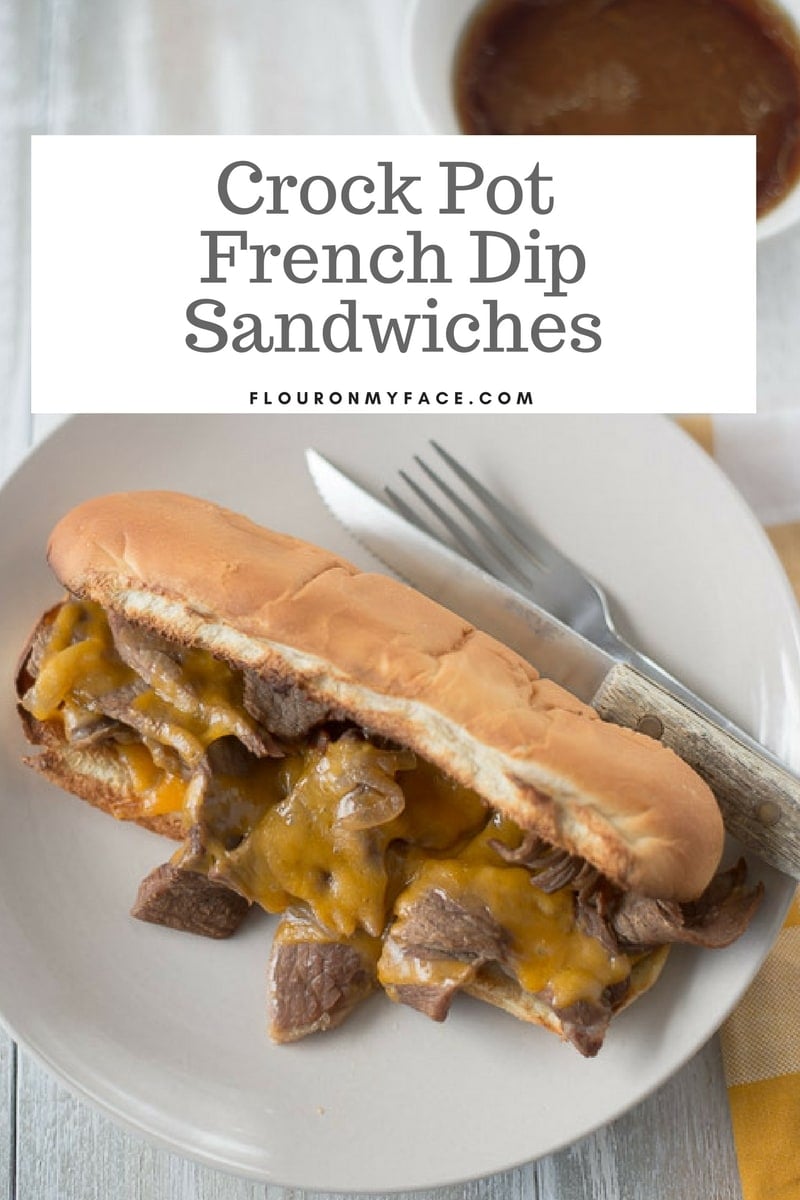 Easy Crock Pot French Dip Sandwich
When I say easy I mean easy. This Crock Pot French Dip Sandwiches recipe has 3 main ingredients. You'll need thinly sliced beef, Au Jus Gravy Mix and sandwich rolls or some type of bread to make your sandwiches on.
A thick sub roll or kaiser roll is perfect. Regular sandwich bread is too thin but if that's all you have you could make open faced french dip sandwiches by spreading the tender meat and gravy over a toasted slice of bread. You'll need a knife and fork to eat it this way but hey whatever works.
I grew up eating open faced sandwiches. My mom would make Chicken A La King and spread it over a piece of toasted white bread.
Cheese or no cheese?
Whether you top these Crock Pot French Dip Sandwiches with cheese is up to you. If you like the idea of cheese on your French Dip Sandwich go ahead and add it.
I spread a little butter on these sub rolls and lightly toasted it under the broiler. Then I loaded it up with the tender slices of beef and onions, topped the steak sandwich with some shredded cheddar cheese then melted the cheese under the broiler before serving these moist and tender Crock Pot French Dip Sandwiches.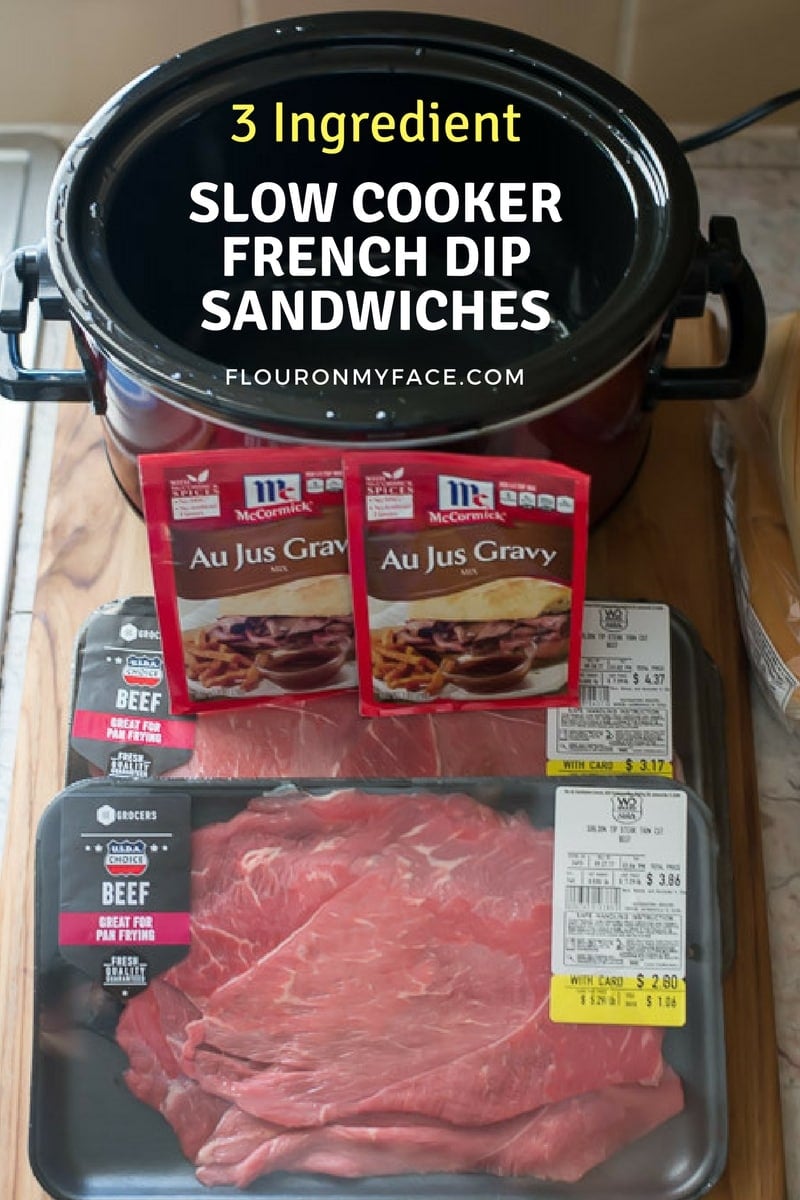 If I would have had some sliced Swiss or provolone cheese on hand I am pretty sure these French Dip Sandwiches would have tasted just like beefy Crock Pot French Onion Soup.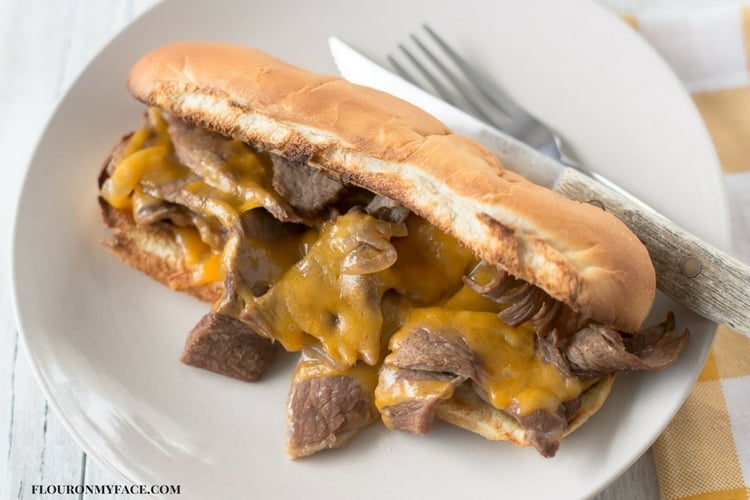 How To Make Crock Pot French Dip Sandwiches
Ingredients
2 envelopes Au Jus Gravy Mix
6 cups of water
2 1/2 to 3 lbs Thin Cut Sirloin Tip Steak
1 small onion, thinly sliced (optional)
sub rolls
cheese (optional)
Directions
Mix the two envelopes of Au Jus Gravy mix with 6 cups of water in a 4 quart crock pot slow cooker.
Cut the sirloin tip steak into strips and add to the crock pot along with the sliced onion.
Toss well.
Cover and cook on low for 4-6 hours.
When done divide the tender pieces of steak between 4 toasted sub rolls, add a slice of cheese to each sandwich if desired and melt under the broiler in your oven.
Serve with the Au Jus gravy for dipping.
Makes 4 servings.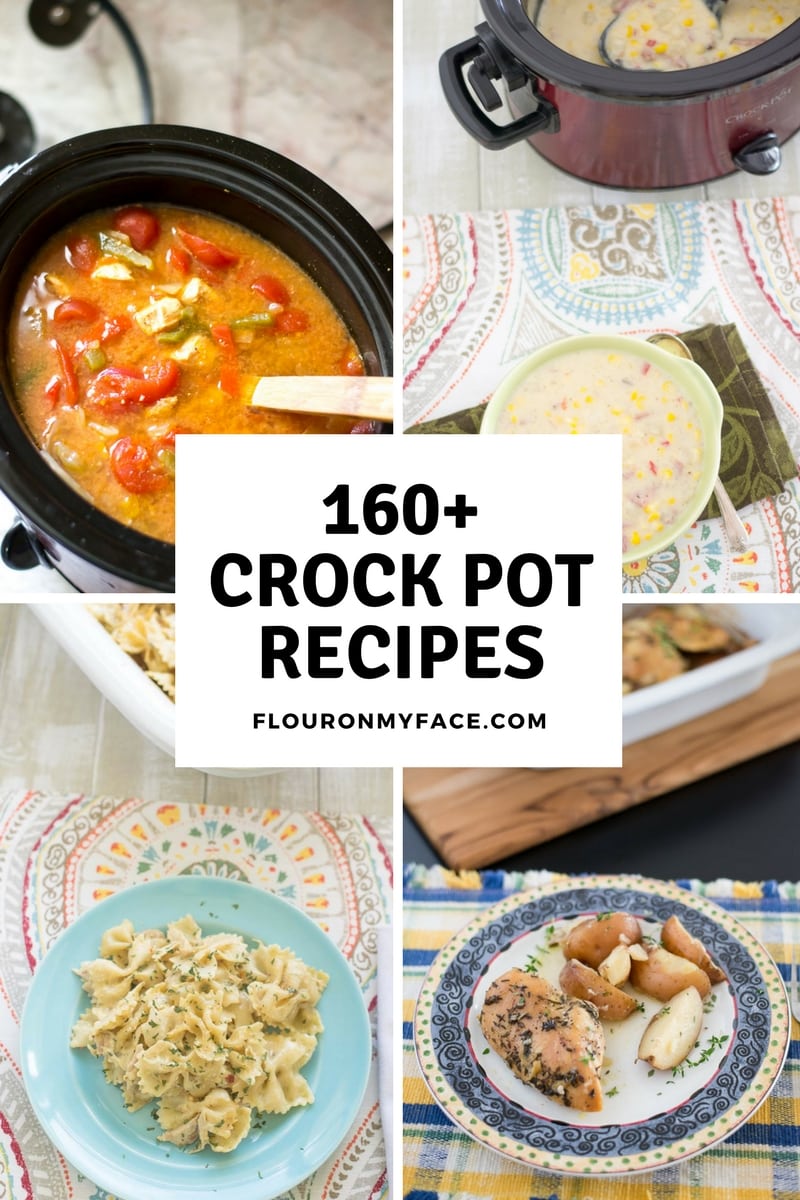 Want even more crock pot recipes? Head over to the Whatcha' Crockin Linky Party.