When gathering with family and friends to celebrate Christmas Eve, Christmas morning or Christmas Day set up a crock pot hot drink bar.
Or a Hot Chocolate Bar with a few Crock Pot Drinks for Christmas is just perfect.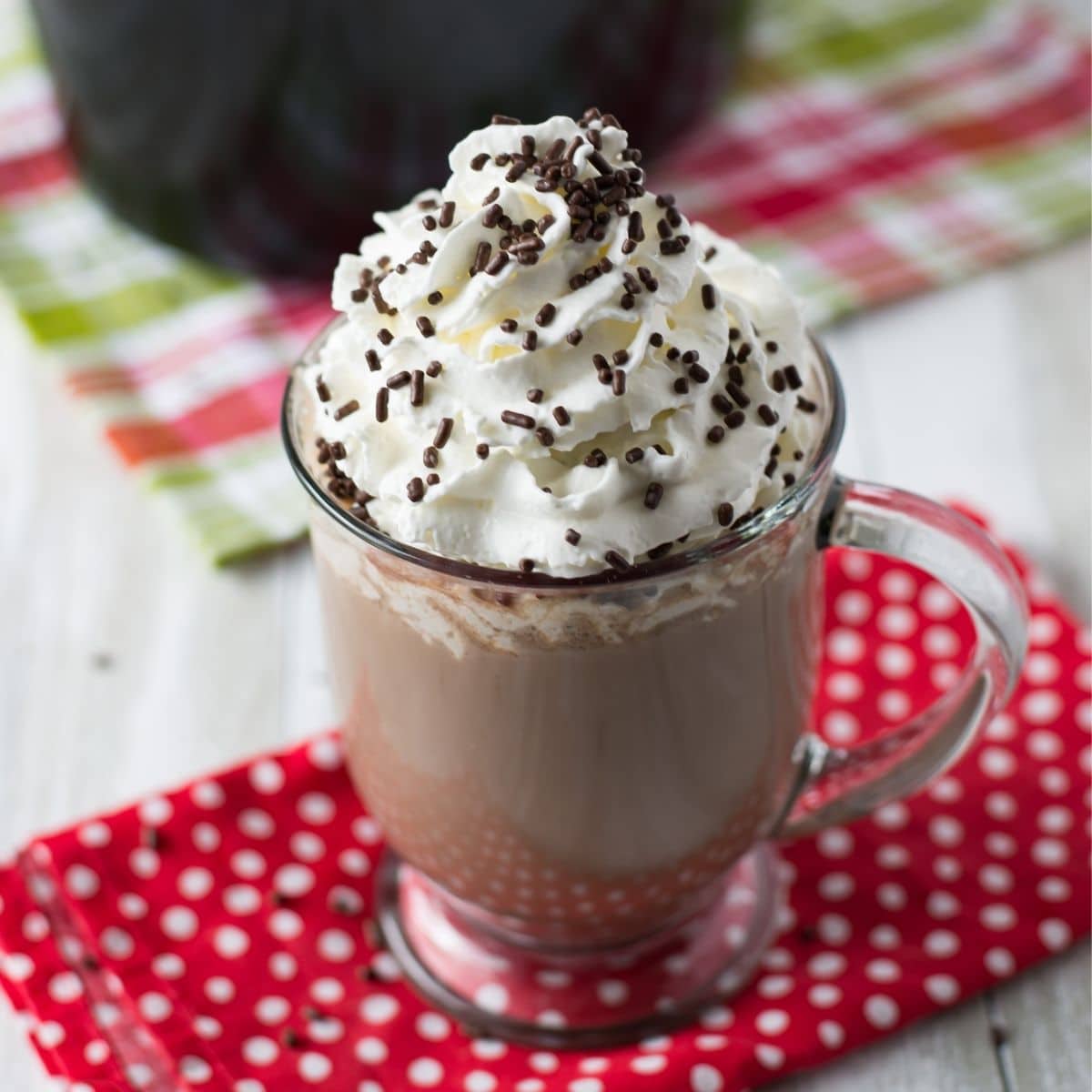 The long cold winter might find you longing for a hot drink to knock the chill off. Crock Pot hot beverage recipes will be warm and ready when you come in from the cold.
Celebrating the holidays with family and friends? A Crock Pot Hot Chocolate Bar is the perfect way to serve hot chocolate for a crowd.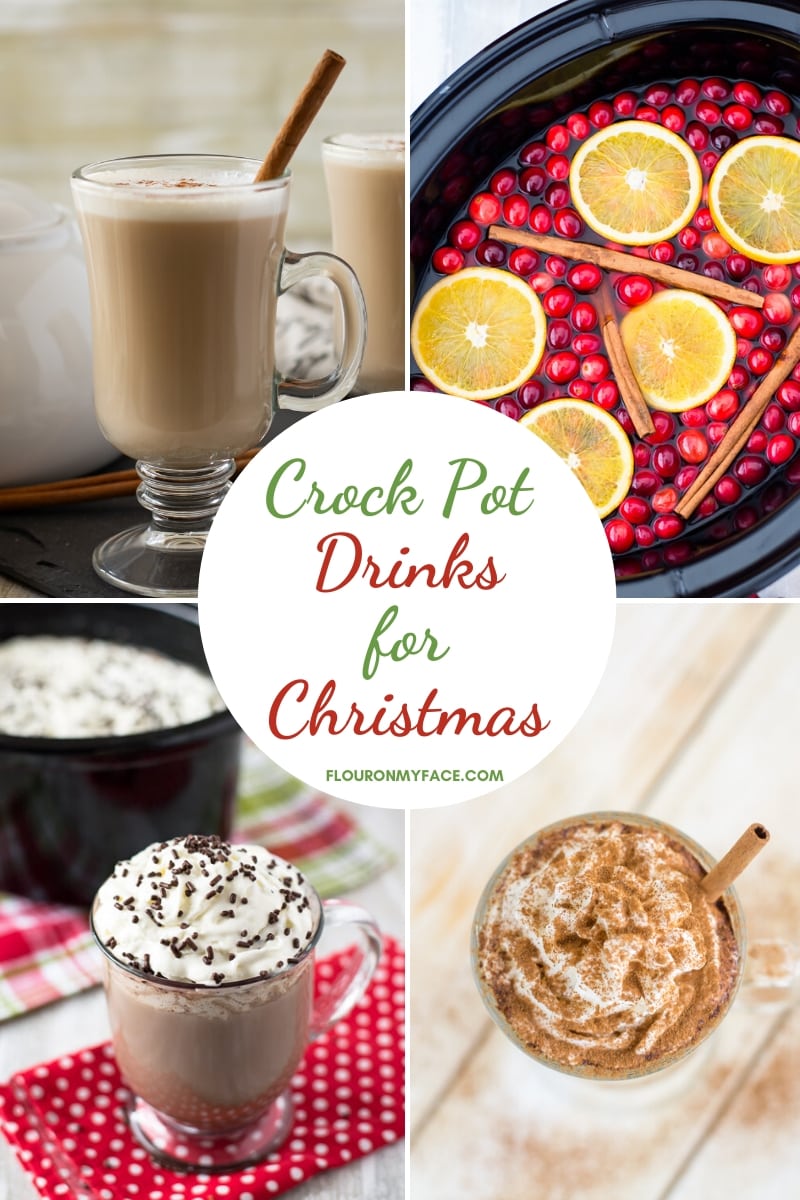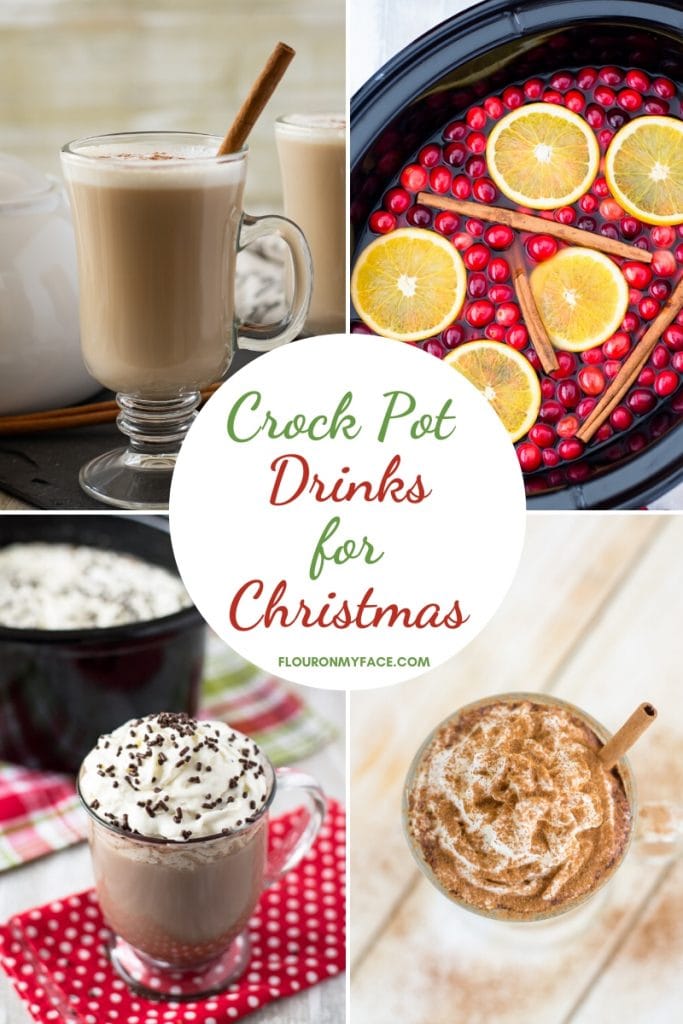 How To Set Up a Crock Pot Hot Drink Bar
Pick out a spot that is safe to place a crock pot on. That is also in a spot that is easy for your guests to serve themselves from.
A kitchen counter, coffee bar, or kitchen island could be a good placement for your Hot Drink Bar.
I used my DIY Coffee Bar.
I decorated it for the holiday season and switched out all my coffee-related décor and set it up with Christmas themed or hot chocolate themed decorations.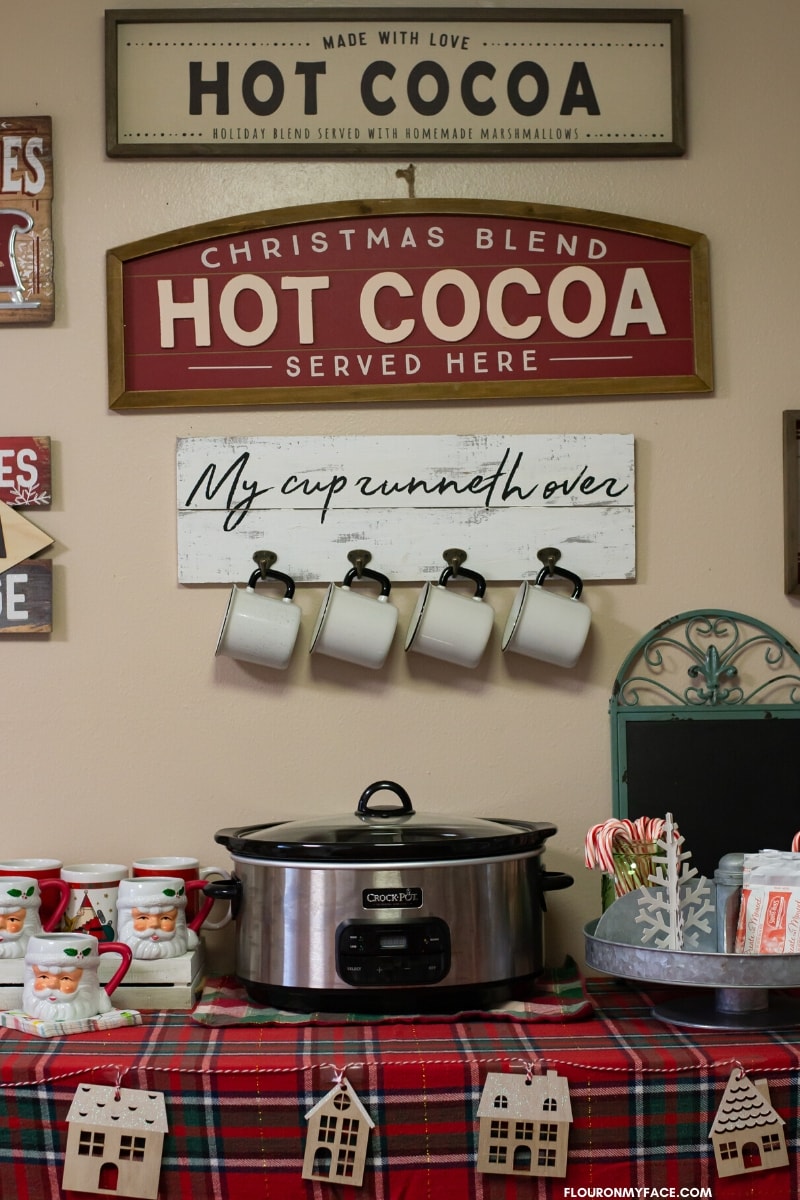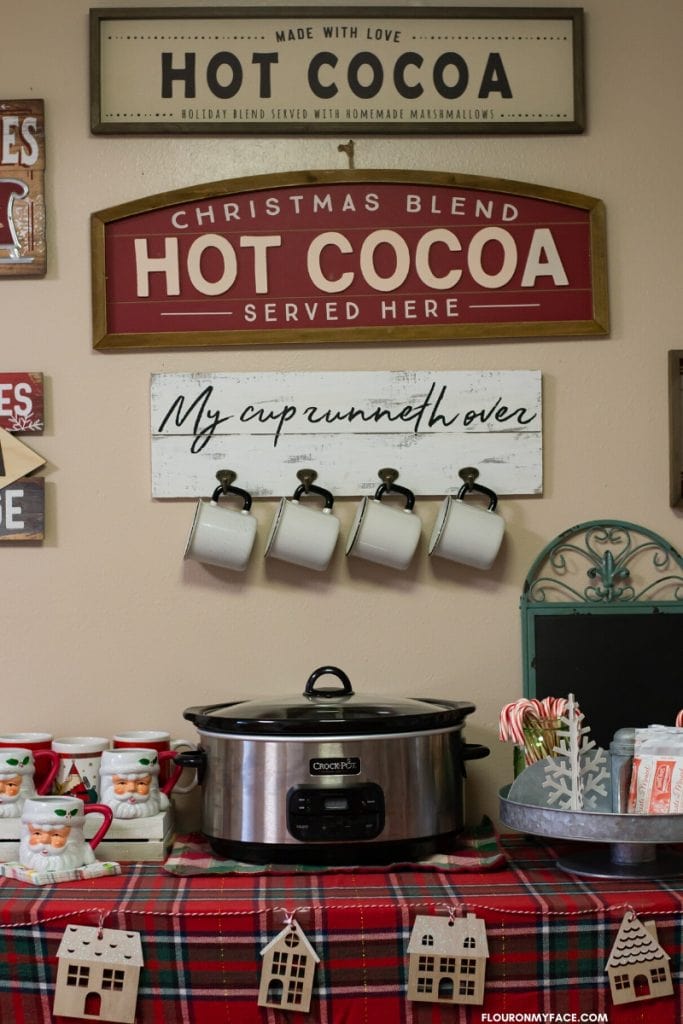 My Hot Chocolate Bar is a work in progress today. I took a few quick pictures so I could share a photo or two.
To show you the way I have set up my Hot Chocolate Bar as I prep for Christmas morning with the family.
I still need to pick up a few hot chocolate mix-ins before Christmas Eve.
Everything I used for my Hot Chocolate bar I already had on hand except for a few of the hot chocolate themed wall art pieces.
Supplies needed to set up a hot drink bar for Christmas
Below is a list of supplies that I will be including on my Crock Pot Hot Chocolate Bar for Christmas morning.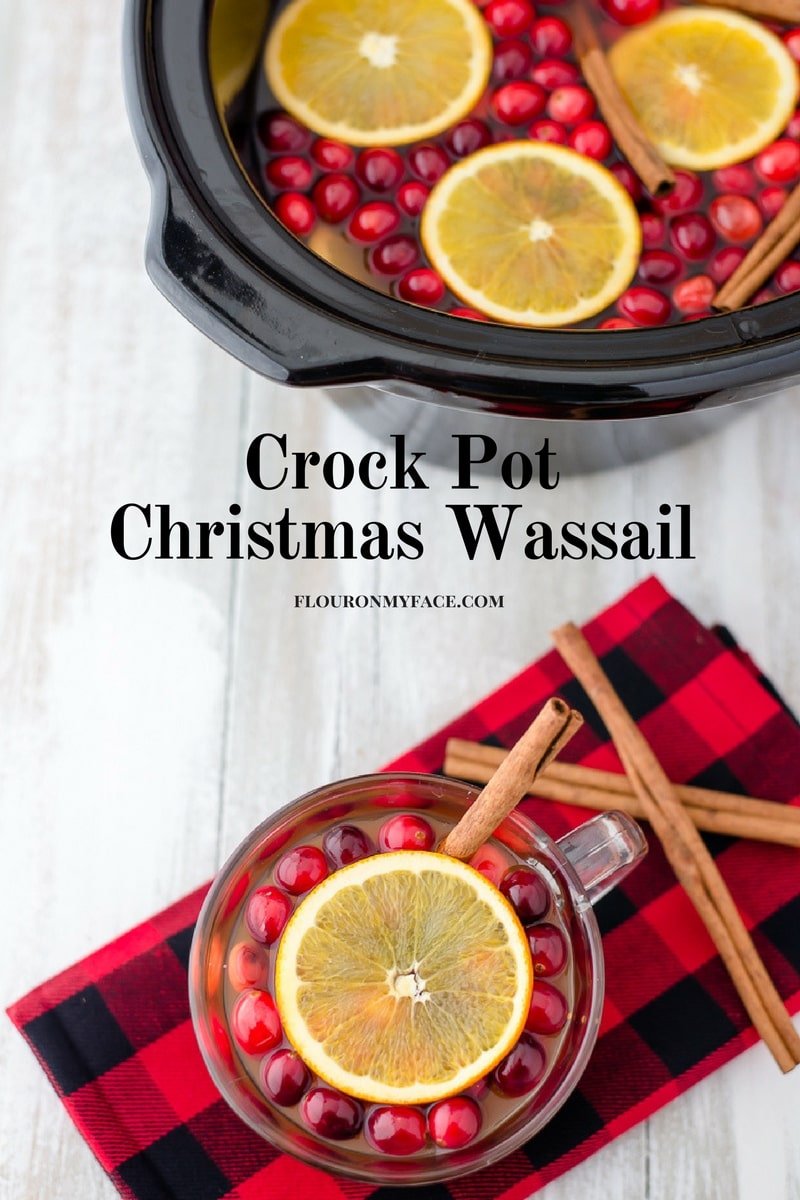 Crock Pot Hot Drink recipes
Decide which type of crock pot hot drink or drinks you would like to serve.
Thick & Creamy Hot Chocolate is always a hit with kids and adults. Read below to see how I am planning on making my crock pot hot chocolate hassle-free.
If you have enough room for more than one hot drink station and are expecting a large number of guests you could serve more than one Crock Pot Hot Drink for Christmas.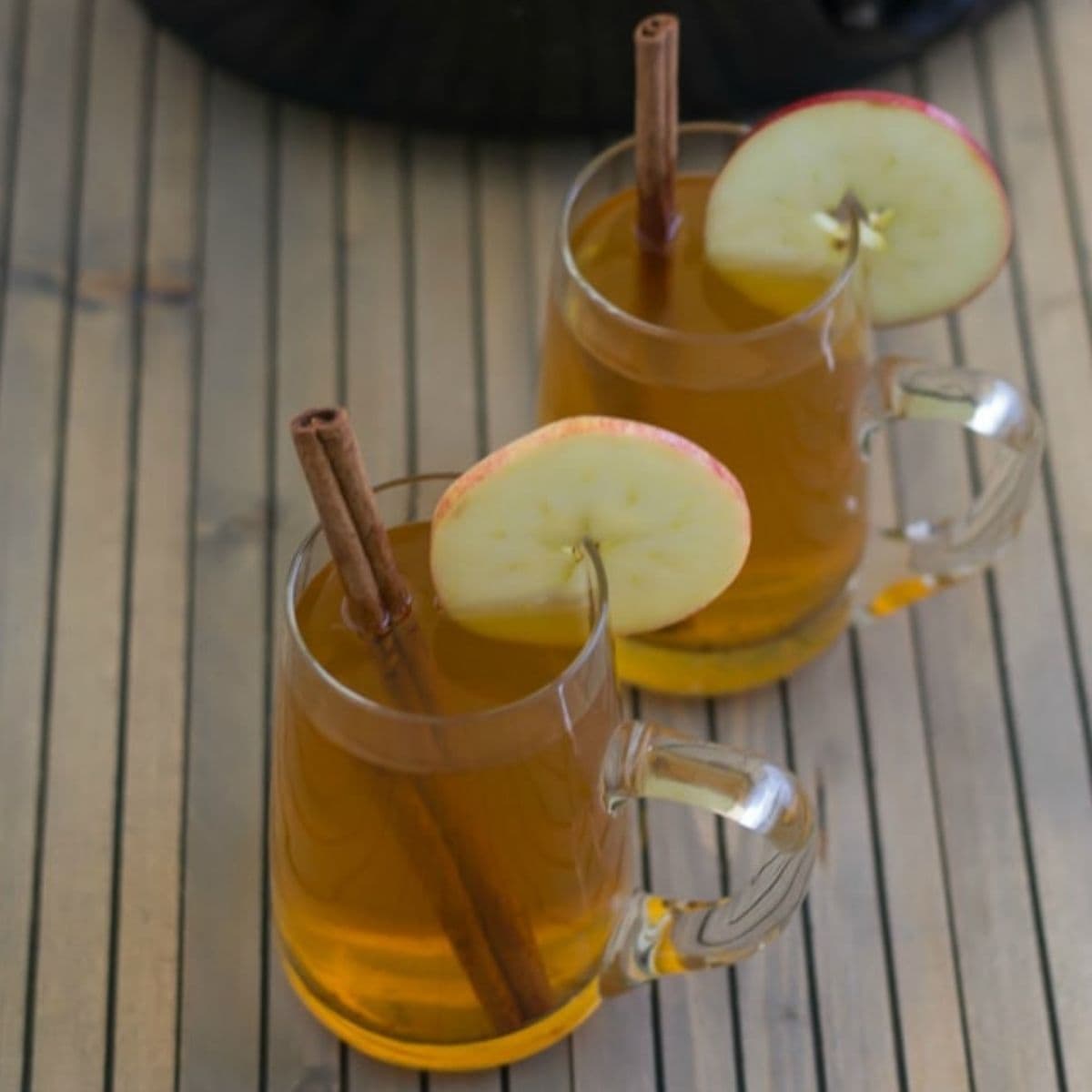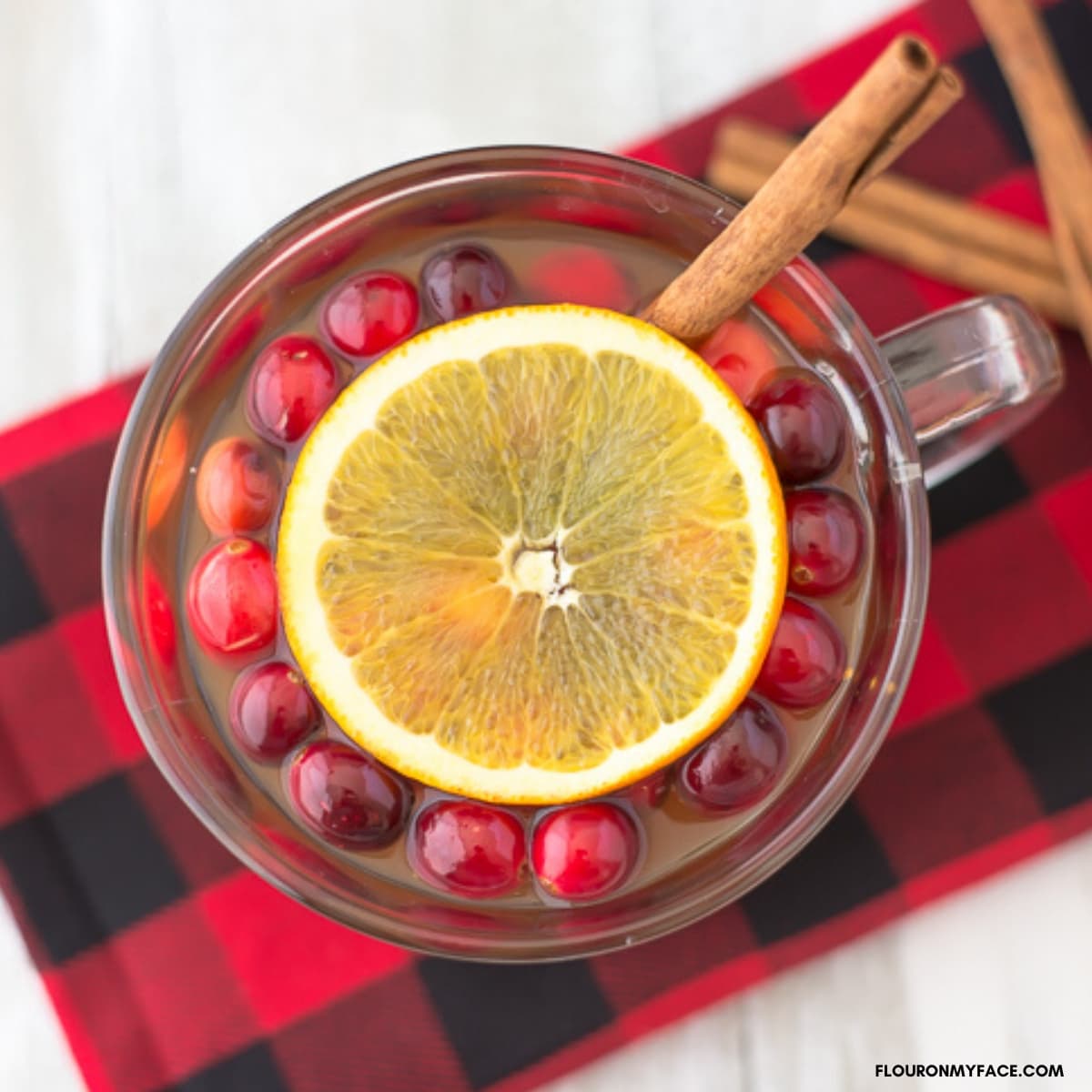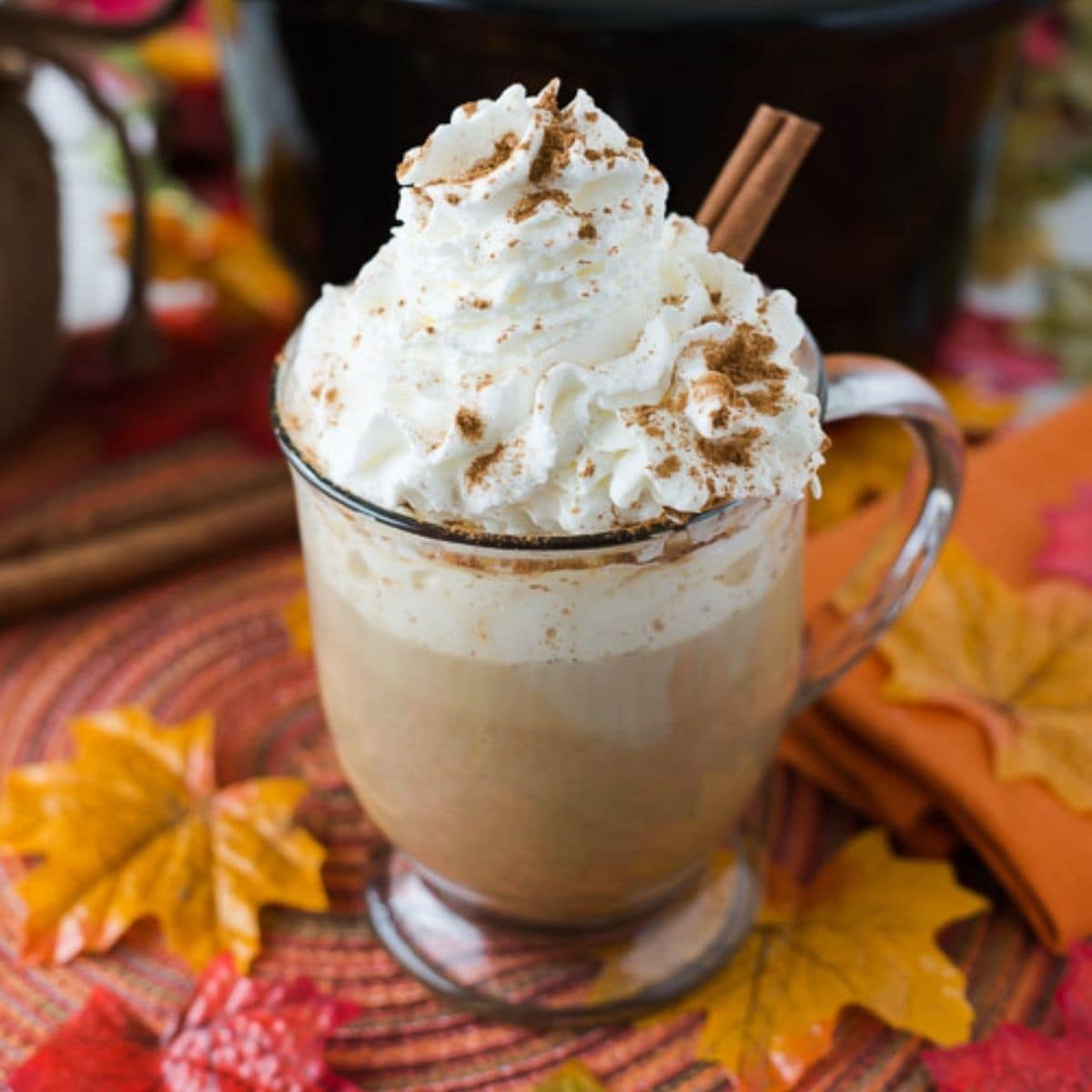 What size Crock Pot for a Hot Drink Bar?
What size crock pot will you need for your Hot Drink Bar for Christmas? The size or sizes of crock pots you will need to use will depend on how many people you will be serving from your hot drink bar.
I will be serving 5 children and 7 adults from my Hot Chocolate Bar on Christmas morning. I will be using an 8-quart crock pot. I will need to make at east 12 servings of hot chocolate.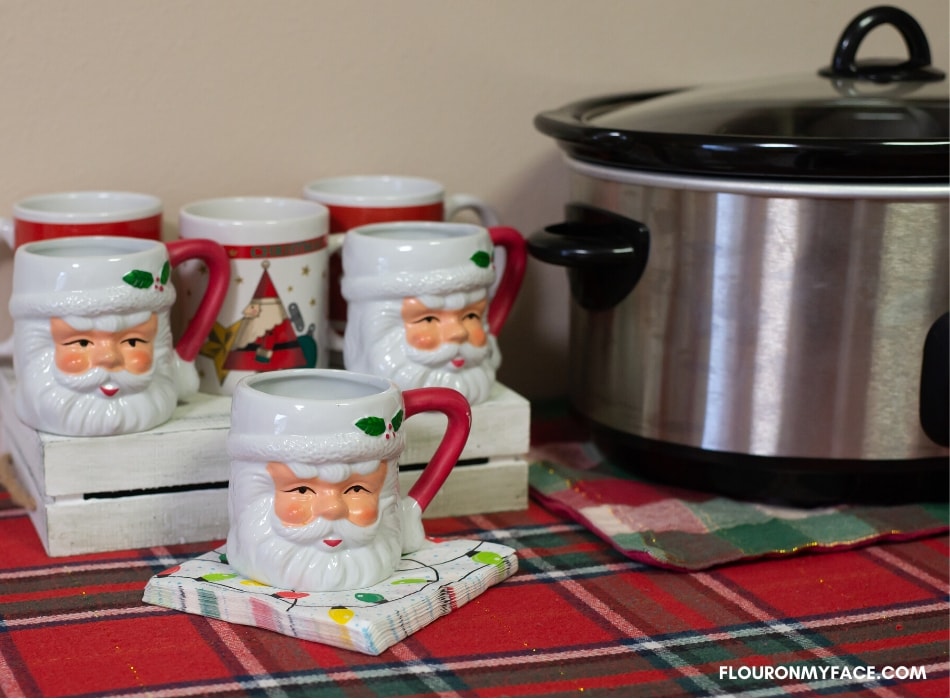 Hot Chocolate Mugs for Adults and Children
You will need to have a supply of hot chocolate mugs or coffee mugs on hand. One for each person if only serving one type of hot drink should be enough. If you are serving more than one crock pot hot drink recipe will need to have more mugs on hand.
I have a collection of Christmas mugs for adults and children. The children in my family are used to drinking hot chocolate out of glass mugs. If you will be serving very young children you will need an assortment of non-breakable kid friendly mugs on hand that are safe for young children to drink a hot beverage out of.
Hassle Free Crock Pot Hot Chocolate
Keeping the crock pot stocked with hot chocolate while your family enjoys Christmas morning shouldn't be complicated.
After all, you want to celebrate the season with the family too. For a stress-free and easy crock pot hot chocolate, I am planning on using those little envelopes of hot chocolate heaven.
Start your crock pot hot chocolate about 2 hours before you expect guests to arrive so the hot chocolate has had a chance to get hot.
I am using an 8 quart crock pot. An 8 quart crock pot will hold 18 eight ounce servings of hot chocolate with plenty of headspace left in the crock pot.
Step by Step Directions for Crock Pot Hot Chocolate for a crowd
Step 1: You will need one envelope of hot chocolate mix per 8 oz serving with more envelopes to replenish the crock pot as your guests serve themselves.
Step 2: Open the 18 envelopes of hot chocolate mix and pour them into the 8 quart crock pot.
Step 3: Measure 18 cups of water or milk and pour it into the crock pot. Milk will yield a creamier mug of hot chocolate. You could also use half milk and half water. Depends on your preference.
Step 4: Turn the crock pot on high.
Step 5: Use a long-handled spoon or a whisk to mix the powdered hot chocolate mix into the liquid until it dissolves. Once dissolved place the lid on the crock pot. The crock pot hot cocoa is ready to serve when the hot chocolate is hot, about 1 to 2 hours.
NOTE: A smaller 6 quart crock pot will hold less servings and heat faster.
A rich and creamy mug of hot chocolate is everyone's favorite Crock Pot hot drink during the cold winter.
How To Replenish Crock Pot Hot Chocolate
When you notice the Crock Pot Hot Chocolate is getting low you can easily replenish by using the same calculations.
One envelope of hot chocolate mix per one cup of milk or water.
Heat the water or milk in the microwave or in a pot on the stove before adding it to the hot chocolate in the crock pot.
Add the envelopes of hot chocolate mix and whisk until dissolved.
If you add cold water or cold milk to the hot chocolate that has already been heated in the crock pot you will need to wait for the crock pot to heat the added cold liquids.
Adding very warm liquids will cut down on the heating time and your guests will not have to wait for the hot chocolate in the crock pot to heat up again.
Hot Chocolate Add-In Ideas
mini marshmallows
candy canes
crushed peppermint
chocolate syrup
whipped cream
sprinkles
chocolate dipped spoons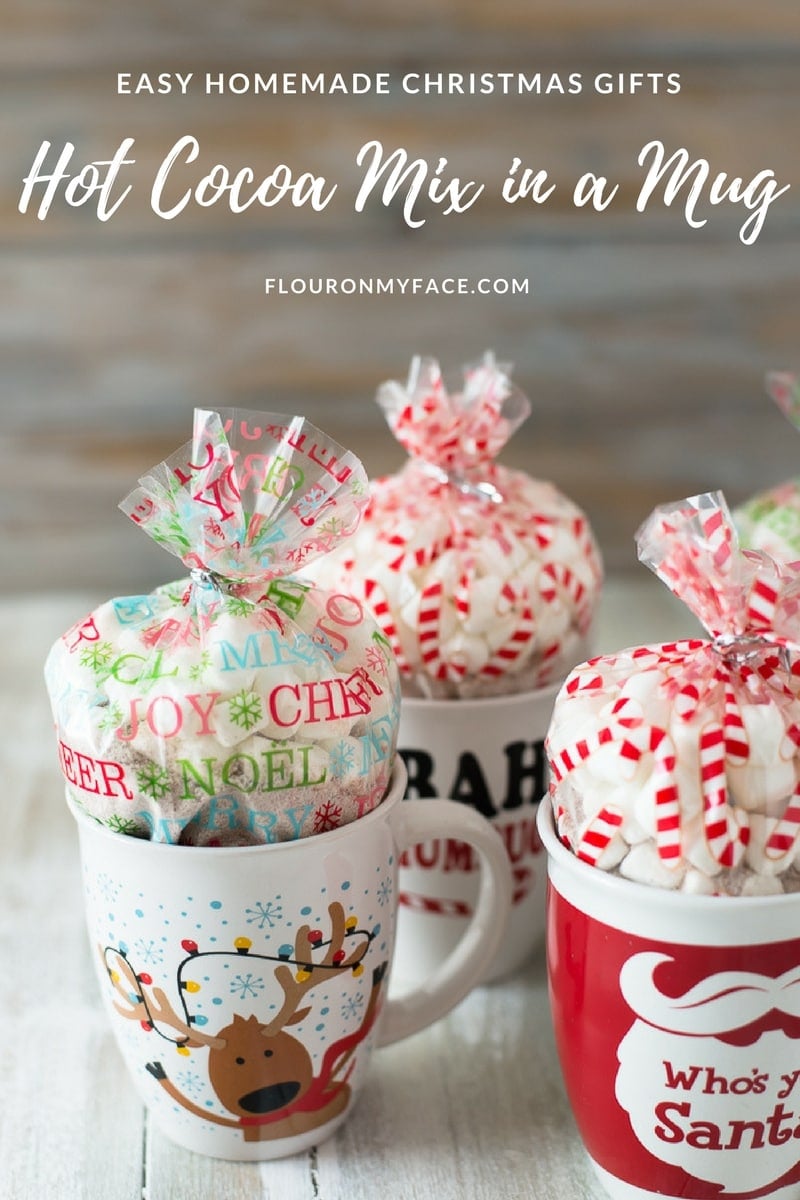 Homemade Hot Chocolate Mix Recipe
If you have the time and would like to make your own homemade Hot Chocolate Mix check out my Homemade Christmas Hot Cocoa Mix recipe.
Check out how I like to make this homemade hot chocolate mix and make Hot Cocoa in a Mug Christmas gifts.
Have a crock pot hot drink recipe you'd like to see? Send me an email with recipe request in the subject line.
Have a safe and happy holiday!