Blueberry Pepper Jam Recipe: Ball Jam Maker Recipe
I love this Blueberry Pepper Jam recipe! Blueberry jams are one of my favorite flavors of  jam. I love plain blueberry jam or a mixed blueberry jam using strawberries and blueberries. I also love blueberry jam with just a little kick of heat from poblano peppers.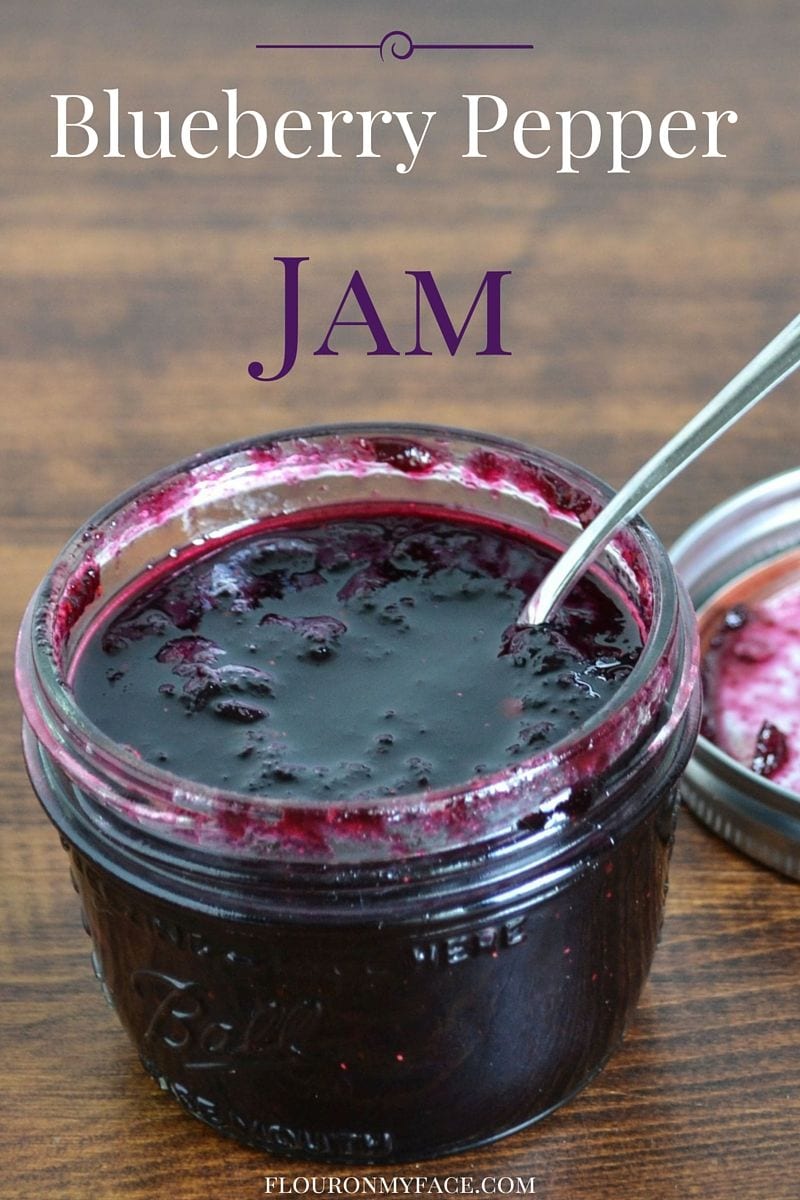 Can It Forward 2017 Live event! Hang out with Ball Canning during the Can It Forward Live event on August 5th.
Along with my love of berry jam I also have an obsession with the sweet and spicy flavor of a fruit and pepper jam. One of my all time favorite pepper jam recipes is a peach and jalapeno pepper jam recipe.
This Blueberry Pepper Jam recipe is a  Ball Jam and Jelly Maker recipe. If you are an experienced canner the recipe can be adapted for a small batch jam recipe cooking it on the stove. 
Up until recently I only used jalapeno peppers to spice up my pepper jam recipes. A couple of years ago I discovered poblano peppers. I had been so obsessed and in love with jalapeno peppers that I never tried any other peppers in my jams. What I love about poblano peppers is that they have a rich mellow pepper flavor that I fell in love with when I made a roasted pepper fajita with them. There is a depth of flavor that seems to change each time I buy poblano peppers, unlike jalapeno peppers.
I love the flavor the poblano peppers added to this jam. But it wasn't spicy enough for me so next time I make it I will be increasing the amount of poblano peppers I use. I also made a peach and poblano pepper jam during my canning session. That recipe will be coming soon.
If you are looking for more Ball Jam and Jelly Maker Recipes you might be interested in the Sweet Cherry Vanilla Jam recipe and  Pina Colada Jam Recipe I've made in the jam maker. Jam maker recipes coming soon Peach Vanilla Jam and Peach Poblano Pepper Jam.
 How to make a Blueberry Pepper Jam recipe in the Automatic Ball Jam and Jelly Maker
Print the Blueberry Pepper Jam recipe below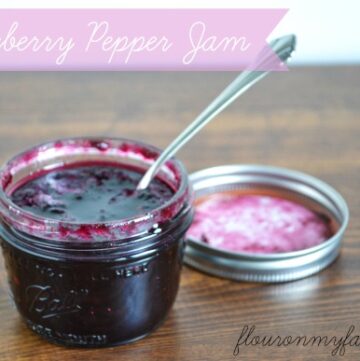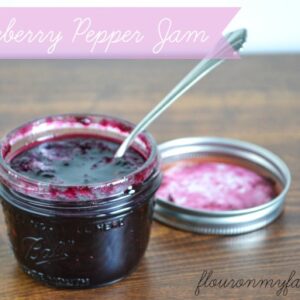 Blueberry Pepper Jam Recipe
Blueberry Pepper Jam Recipe made in the Ball Jam Maker.
Rate this Recipe
Ingredients
2 ⅔

cups

crushed blueberries

about 2 pints

3

Tbsp

Ball® RealFruit® Classic Pectin

½

tsp

butter or margarine

3 ⅓

cups

granulated sugar

1

whole

Lime

juiced

⅓

cup

finely chopped poblano pepper
Follow Flour On My Face on Pinterest
Instructions
Prepare the blueberries by washing them and removing any stems.

Crush the blueberries by using the bottom of a glass. This works much better then a potato masher for the small berries.

Measure 2 ⅔ cups of the crushed blueberries into a bowl and stir in the lime juice.

Finely chop the poblano pepper and add to the bowl with the blueberries and mix in.

Measure sugar into a bowl and set aside.

Add the pectin to the bottom of the Jam Maker with the Stirrer in place. Add the crushed blueberries and lemon juice evenly on top of the pectin.

Add the margarine to the Jam Maker.

Press the jam button on the Jam & Jelly Maker and press enter.

Allow the machine to run for 4 minutes until you hear 4 short beeps

Immediately add the sugar slowly to the Jam Maker.

Place the lid on the jam maker.

Allow the Jam Maker to run for the remaining 18 minutes on the timer undisturbed. Do not lift the lid during cooking time.

When the Jam Maker beeps again the jam is done.

Carefully remove the lid by first lifting the back end that is farthest away from you to allow the release of the built up heat and steam. Warning the glass lid will be hot. Place it on a towel out of the way.

Fill your jars with the jam leaving a ¼ inch headspace. Wipe the lip of the jar and place a flat lid and screw a band on.

Process the jam in a hot water bath for 20 minutes.

All the jars to cool for five minutes in the pot. Remove jars and place on a towel. Allow to cool for 24 hours.

Check the lids for a proper seal. Store sealed jars,
Recipe Expert Tips
This Blueberry and Poblano Pepper Jam is meant to be made in the Automatic Ball Jam & Jelly Maker.
Calorie count is per ½ pint jar.

Loosely adapted from the freshpreserving.com website Jam Maker Berry Jam.
Nutrition
Tried this recipe?
Share a picture on Instagram and tag @flouronmyface2
For more canning recipes head over to my canning recipe page.