This year I have made more jams like this Blackberry Jam recipe than I have in the past five years. It was like once I got started with that first batch of strawberry I just couldn't stop. So far I have made Strawberry, Peach, Jalapeno and now Blackberry.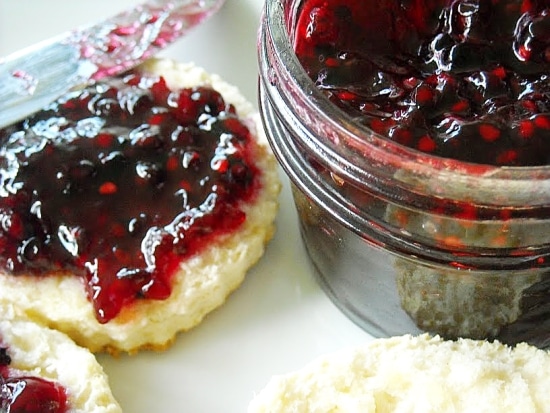 Back when I first started making jams and jellies in Georgia I really didn't know what I was doing. No one in my family had ever canned. Nope, I am sorry I take that back I remember my mother canning some tomatoes one year when I was a teenager. At that time we lived in Homestead, Florida.
Homestead is one of the biggest agricultural areas in the state of Florida. The roads are lined with vegetable fields and citrus groves. There is a huge farmers market there.
I'm not sure what made her decided to can tomatoes that year. She was probably trying to save some money and would use the tomatoes when she made spaghetti sauce. We ate a lot of spaghetti when I was a child.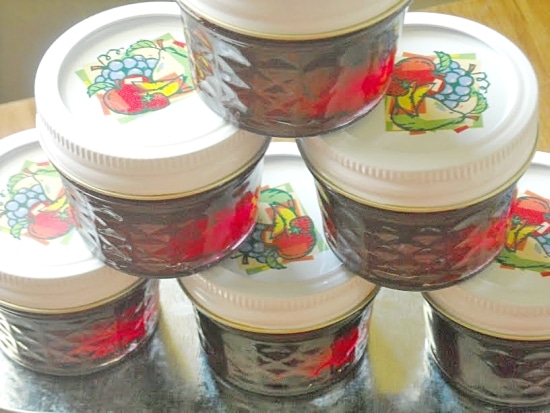 That really doesn't have anything to do with my making jams because when I first started it was all about the soft, ripe juicy peaches of Georgia. I've have never canned tomatoes.
Anyhoo........ so when I decided to start making jams most people where we lived in Georgia had gardens and put up their veggies and fruits each year. I was really out of my element because other then the canned tomatoes of my childhood I had never been witness to canning, jam or jelly making before. I am pretty sure as most teenagers tend to do I didn't pay any attention to my mother and the tomatoes.
Last week one of my favorite blog authors Katie posted an article on her Kitchen Stewardship
Organic Gardening Series: Canning Basics for Preserving Summer Produce
Although I have made jam and jelly many times I read her entire article. When I was done I wanted to share it with all of you.
It is one of the best articles I have ever read on canning.
I know there are many people out there who want to learn how to can but for some reason may be afraid to attempt their first batch of jam.
Jam and jellies are the easiest canning recipes to start with.
There is no pressure canner needed. And I think what is holding most people back from trying to can anything is the old fear of an exploding canner.
So read her article and see just how easy it is.

Last week when I found these luscious blackberries and brought them home I could have kicked myself for not buying enough to make a batch of blackberry jam. So of course I went back and bought four quarts so I could make a batch of blackberry jam.
Basic Canning Equipment Needed to make Blackberry Jam
A large pot to make the jam in
A much larger pot to boil your jars in and to use for the hot water bath
Fine mesh strainer
large bowls
timer or watch
potato masher or a heavy glass
canning funnel ( optional)
canning jars & lids
ladle
wet paper towels
More Jam Recipes
Email questions or recipe requests to flouronmyface@gmail.com. Follow me on Pinterest, YouTube, Instagram and Facebook.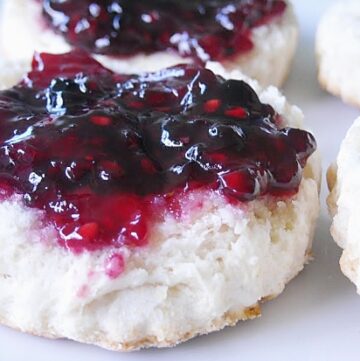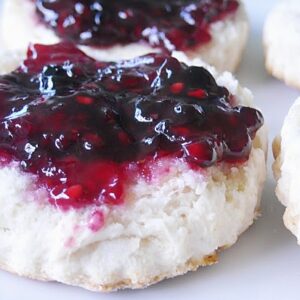 Blackberry Jam Recipe
Homemade Blackberry Jam recipe spread on a freshly baked biscuit is perfect for a Sunday morning breakfast.
Rate this Recipe
Ingredients
4

cups

crushed blackberries

7

cups

sugar

1

packet

Sure Jell Certo Liquid Pectin

1

tablespoon

butter

(or stick margarine)
Follow Flour On My Face on Pinterest
Instructions
Add the sugar to the 5 quart pot.

Rinse and drain the blackberries.

In a large bowl crush the blackberries with a potato masher or the bottom of a heavy glass. Remove some of the seeds and pulp if desired.

Strain pulp you have removed in a fine mesh strainer catching the juice to be used to top off the remaining blackberry pulp and juice if needed.

Measure the crushed blackberries and juice. Top off the crushed blackberries and juice until you have 4 cups of berry pulp and juice.

Add the berry pulp to the pot with the sugar and stir to moisten the sugar. Turn burner on medium low, stirring occasionally.

Add margarine to the pot.

Once the sugar is mostly dissolved turn the heat on medium high. Continue to stir until the mixture comes to a full boil and continues to bubble up when stirring.

Add the packet of pectin, stirring continually and allow to return to a full boil.

Set a timer for 1 minute. Keep stirring for the entire minute.

Remove from the burner after one minute.

Fill prepared jars and process in a hot water bath for 10 minutes.
Recipe Expert Tips
Calories are per ½ pint jar
Nutrition
Serving:
1
tablespoon
Calories:
45
kcal
Carbohydrates:
11
g
Protein:
1
g
Fat:
1
g
Saturated Fat:
1
g
Polyunsaturated Fat:
1
g
Monounsaturated Fat:
1
g
Trans Fat:
1
g
Cholesterol:
1
mg
Sodium:
1
mg
Potassium:
8
mg
Fiber:
1
g
Sugar:
11
g
Vitamin A:
12
IU
Vitamin C:
1
mg
Calcium:
1
mg
Iron:
1
mg
Tried this recipe?
Share a picture on Instagram and tag @flouronmyface2
Looking for more canning recipes like this blackberry jam recipes? Head over to my canning recipes page.