This post contains affiliate links. As an Amazon Associate, I earn from qualifying purchases.
 Peanut Butter and Jelly Bars
Disclosure: I participated in a campaign on behalf of Mom Central Consulting for ACH Food Companies Inc. I received a promotional item as a thank-you for participating.
Karo Corn Syrup has been around a long time. Karo Corn Syrup is the leading national brand of corn syrup and the only corn syrup that  contains 0 grams of high fructose corn syrup. It is used in many baked goods and sweet treats. You couldn't have a popcorn ball or a pecan pie without Karo Corn Syrup. 
Here is an interesting piece of food trivia. Who invented the pecan pie? Back in 1930 a Karo Corn Syrup sales executive's wife created the first pecan pie. What if her husband hadn't worked for Karo Corn Syrup?   Can you imagine Thanksgiving without pecan pie?
I took a peek at the recipes on the Karo Syrup website and found the perfect treat for the kids. My granddaughter Emma loves peanut butter and jelly sandwiches. Please cut the crust off  Grammy!  She would eat them every day for lunch and dinner if I let her.
Now she will eat her pb&j with store bought grape jelly but my girl has been a little spoiled when it comes to what gets smeared on the piece of bread opposite the peanut butter.  She loves her Grammy's homemade strawberry jam on her pb&j. So when making these Peanut Butter & Jelly Bars from the Karo website I did make a little change.  This recipe will make a big 9 x 13 pan of PB&J bars. I decided to divide it in half and use two different flavors of jam to fill it with. On one 8x8 pan I used a store bought seedless blackberry jam.
 On the other I used a jar of homemade strawberry vanilla jam.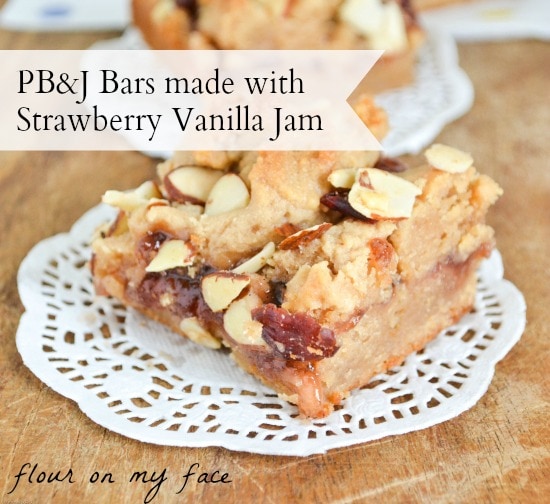 On the batch I used the homemade strawberry vanilla jam I also sprinkled some almond slivers and dried cranberries over the top before baking. Wow they were good. My favorite was the strawberry vanilla bars with almonds and cranberries! And even though my granddaughter loved my homemade strawberry vanilla jam she loved the bars made with blackberry jam. I was pretty surprised about that.
For more delish baking recipes from the makers of Karo Corn Syrup be sure to check out the Karo website. You can also connect with Karo Syrup on their Facebook page.
Print
Baking with Karo Syrup | Peanut Butter and Jelly Bars
---
Description
This recipe has been adapted from the Karo Corn Syrup Peanut Butter & Jelly bars recipe at http://www.karosyrup.com/recipe_details.asp?id=1674
---
Scale
Ingredients
CRUST
1 cup

butter OR margarine, room temperature

1

-

¼

cups sugar

¼ cup

Karo® Light Corn Syrup

2

eggs

2 cups

creamy peanut butter

3 cups

all-purpose flour

1

-

½

teaspoons salt

1 teaspoon

Baking Powder
Filling
1

-

⅓

cups strawberry vanilla jam or jam of choice
Topping (optional)
¼ cup

slivered almonds
handful of dried cranberries (optional)
---
Instructions
Preheat oven to 350°F.
Cream butter, sugar and corn syrup in a large bowl with mixer at medium speed 1 to 2 minutes. Beat in eggs and peanut butter until combined. Combine flour, salt and baking powder in a small bowl. Add to peanut butter mixture; mix on low speed until dough forms.
Divide dough in half. Divide one half between two 8x8 pans, pressing the dough into the bottom of each pan. (OR for easy removal, line pan with greased foil, leaving 2 inches foil extending over pan at ends). Spread strawberry jam over dough in one pan. Drop small pieces of remaining dough over the jam. (Dough will spread during baking and cover jam.) Sprinkle top with almond and dried cranberries.
Repeat directions from the first pan for the second pan instead using blackberry jam as the filling.
Bake 40 to 45 minutes until light golden brown. Cool in pan on wire rack at least 30 minutes. If pan is lined with foil, use foil to lift bars from pan. Cut into bars. Delicious served with a glass of cold milk!
---
Recipe Card powered by