Elmers Glue Sticks
Back to School with Elmer's Glue
The previous week and weekend have been busy busy for us as we have been getting ready to head back to school.
Back in May, at the end of school last year it felt great when school ended early and summer started. But now that the begining of the new school year is here already it feels like the summer flew by. I feel a little dazed as most of the country is just hitting the mid point of their summer vacation while we are running around buying school clothes and school supplies.
 I do love shopping for school supplies. Notice I said supplies not clothes. I'm dealing with a teenager here.
Do you know what I mean?
I checked out the Back to School eGuide before I went shopping. Elmer's products got rave reviews from these "real" mom experts. Being an Elmer's glue fanatic I already knew how great Elmer's products are.
Savvy Staples Back To School with Elmers
You can check out the other rave reviews in the Back to School eGuide by clicking on the photo above. The link will take you to the entire back to school #momsguide.
Getting my granddaughter Hailey ready, who will be starting the first grade is so much easier. She wears uniforms so buying back to school clothes is a dream compared to my teenage daughter.
We headed to Walmart for the supplies. For my granddaughter we had a school supply list. For my daughter I had her write up a list of basic school supplies because we will not be getting the teacher school supply list until open house.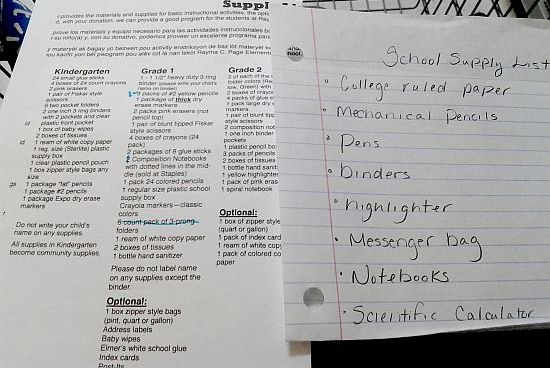 As usual I stocked up on Elmer's Glue products. You might say I go a little crazy over Elmer's glue sticks. We use them all year long for school supplies, school projects and craft projects. So when they are on sale for back to school shopping I like to buy enough to last all year long.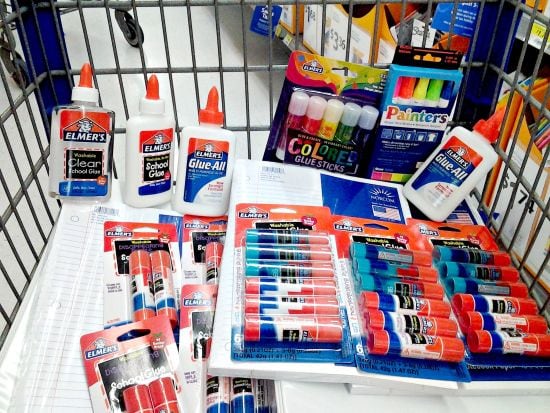 I found this great pack of Elmer's 3D Glitter Glue. I put it in my wagon and went in search of some more craft supplies. I had an idea for a back to school craft to make for my granddaughter Hailey's first day of school photo.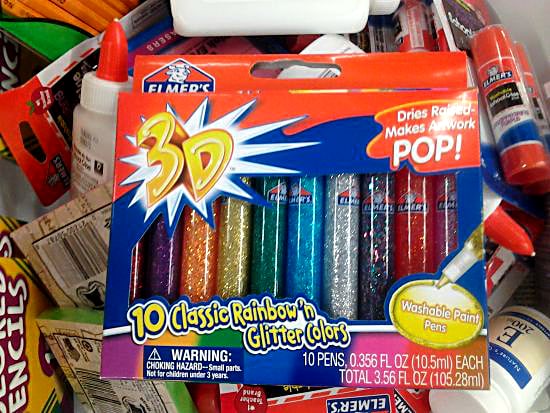 I picked up a couple of foam sheets along with all the other Elmer's products.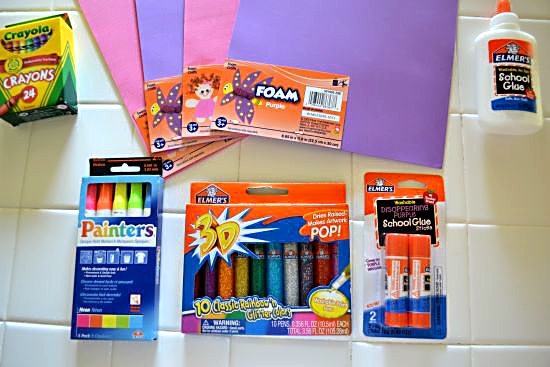 I have a first day of school tradition that I started back when my oldest daughter Megan, Hailey's mother started kindergarten many years ago. For each of my three children I have a first day of school photo for every year.
I have pictures by our front door, in our front yard, at the bus stop, getting on the bus,  in front of the class room doors, sitting at the desk and getting out of my truck in front of the school for all three of my children. The pose depends on the child, what age/grade they were in and they're tolerance embaressment level for my photo taking at the time.
  My only child still in school is my youngest daughter, Audrey and she will be in the 10th grade this year. I missed her first day of school photo this morning : (  It was dark when we left for the bus stop and we were rushing. She probably thinks she got away without getting her picture taken. But I will be ready when she gets off the bus this afternoon.
So after taking all of those first day of school pictures of my three children it's fun to look back through all those pictures and see how my kids have grown and how their features have matured over the years. How they have gone from my cute little babies kindergarteners to mature young adults in high school.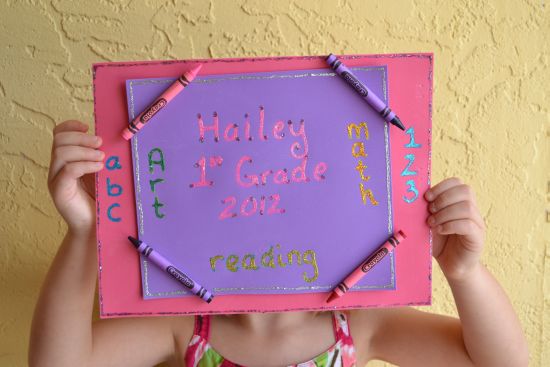 Not too long ago I was looking through some of those first day of school pictures. Guess what? As time goes by it is pretty hard to remember just what year those pictures were taken. The pictures I took in front of the class room door with the teachers name on it were easy but the random ones outside our house or the school I have not clue what grade or year they were taken.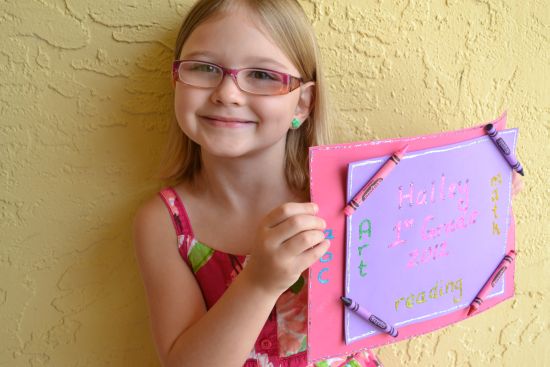 I wish I would have thought of this craft project last year when Hailey started kindergarten. I plan on making a new one each year that way we won't have any problems figuring out what grade of school she is in when we look at her first day of school photos years later.
All you need to make one of these  Back to School Memory Signs is
Elmer's Painter's Opaque Paint Markers in colors of your choice
Elmer's Glitter Glue
Elmer's White School Glue
2 8 x 11 Foam sheets in contrasting colors
Crayons for embelishments
Trim one of the foam sheets to fit in the center of the second foam sheet. I free hand cut it. Glue the smaller sheet to the center of the bigger sheet by running a bead of Elmer's white School Glue around the edges and then run a bead diagonally. Press firmly and let the glue dry.
Using the Elmer's Paint Markers write your childs name, grade and the year. Add the abc's and 123's along the edges. Add a couple of subjects or draw a school related picture to decorate around your child's name.
The Elmer's Paint Markers glide across the foam sheets. I've used other paint pens and I was really impressed with how well the Elmers Markers worked on the foam.
Let the paint dry. Once it's dry go over each letter and number with a matching or contrasting color of the 3D Elmer's Glitter Glue. Draw a border of glitter glue around each of the edges of the foam sheets. Set it aside in a safe area where tempted little fingers will NOT touch the glitter glue while it is still wet.
When the glitter glue is dry glue four crayons to each corner.
On the first day of school have your child hold the sign in front of them and snap a picture. If you scrapbook you could create a layout with this little sign and add it right into your scrapbook and then create another layout with the photos you take of your child on the first day of school.
 Disclosure: I am a member of the Collective Bias™ Social Fabric® Community. This shop has been compensated as part of a social shopper insights study for Collective Bias™ #CBias #SocialFabric