Apple Cider Vinegar Iced Tea #HeinzVinegar
If you enjoy the tangy taste of apple cider vinegar in your salads, marinades, and other recipes let me tempt your taste buds with a delightfully refreshing Apple Cider Vinegar Iced Tea recipe that will cool you off and leave your taste buds singing.
Heinz® Unfiltered Apple Cider Vinegar is vinegar in its most natural and wholesome form. The product retains the "mother" of the vinegar – a compound created naturally during vinegar's fermentation process.
Apple Cider Vinegar is used in cooking to bring out refreshing flavors, and has a variety of other unique uses.
I've always heard that apple cider vinegar with the mother left  in it was healthier for you. I know many people in the south would probably agree. Vinegar is used in the south in many ways that most people might not be aware of, like topping off a glass of iced or hot tea with a teaspoon of unfiltered apple cider vinegar with mother.
Besides using unfiltered apple cider vinegar to make a salad dressing many people enjoy it in a beverage for the possible health benefits.. That might be shocking to many of you but don't knock it until you try it.
Apple cider vinegar has a smoother and more mellow flavor than white vinegar. If you have never used it to make a salad dressing next time replace the white vinegar in the recipe with some Heinz unfiltered apple cider vinegar and compare the flavors.
I adapted this recipe from the  Green Tea with Fresh Mint and Honey recipe from the Heinz recipe page. Instead of using honey as the sweetener I made a mint simple syrup to sweeten my glass of Apple Cider  Vinegar Green Tea. I hope you enjoy my version!
Print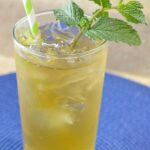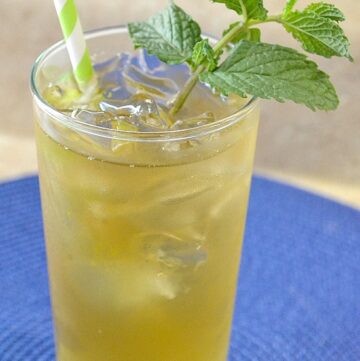 Apple Cider Vinegar Iced Tea #HeinzVinegar
---
Scale
Ingredients
2 cups

water

2

green tea bags

2

–

3

teasspoons mint simple syrup
---
Instructions
Green Tea
Put the water in a pot and heat until bubbles form of the bottom.
Remove the pot from the heat and place 2 green tea bags in.
Steep 5 minutes.
Mint Simple Syrup
/2 cup water
/2 cup sugar
handful of fresh mint leaves
Put sugar and water in a small sauce pan.
Bring to a boil and remove from heat.
Add the mint leaves to the syrup and steep 5-10 minutes.
Allow to cool.
To make a glass of tea
Fill a glass with ice.
Add 2-3 teaspoons mint simple syrup and 1 teaspoon of Heinz Unfiltered Apple Cider Vinegar
Pour tea to fill the glass.
garnish with some mint leaves and a slice or wedge of lime. (optional)
---
---
Recipe Card powered by