25 Holiday Side Dish Recipes
Are you counting down the days to Thanksgiving Day? Have you picked out all the side dish recipes you will be making? Here are 25 Holiday Side Dish recipes to make your holiday menu planning easier.
Are you done with your holiday menu planning yet? I have a few family favorite side dish recipes that I make every year. But I like to try one or two new holiday recipes each year. 
I've been collecting so many recipes on Pinterest that I just don't know what I am going to do this year. There are so many mouth watering recipes to choose from. Do you follow Flour On My Face on Pinterest? If not you are missing out because I have become a recipe collecting fool since Pinterest entered my life.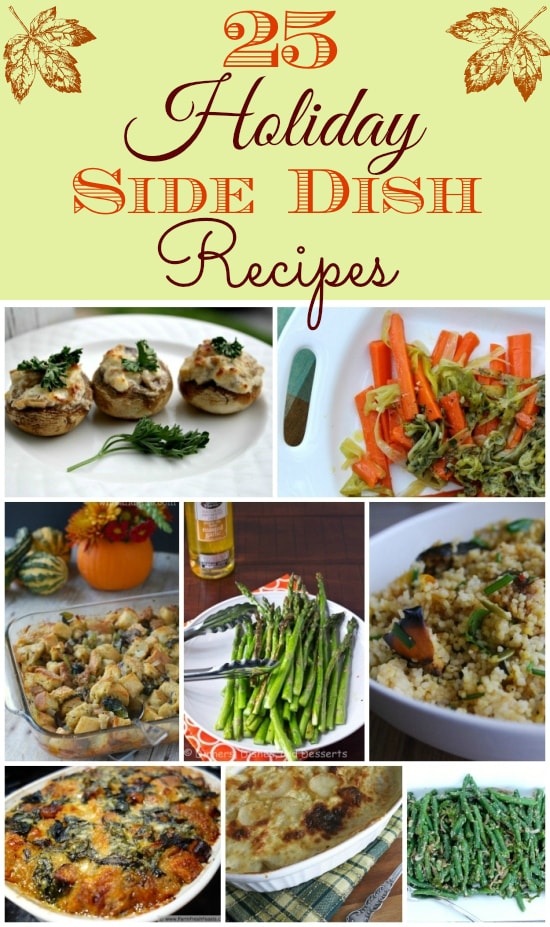 I hope you can find a side dish recipe or two to add to your holiday menu from the round up of side dish recipes below. #15 is on my list to make for our Thanksgiving dinner this year.
1. FreeTail Therapy: Perfect Dinner Rolls
2. Farm Fresh Feasts: Panade with Swiss Chard Onion 
3. Flour On My Face: Ranch Pasta Medley Salad Recipe
4. Wine & Glue: Mushroom Kale Sausage Stuffing 
5. Always Order Dessert: Curried Couscous with Maple Roasted Acorn Squash 
6. An Edible Mosaic: Scalloped Potatoes
7. Slap Dash Mom: Feta Stuffed Mushrooms 
8. Karen's Kitchen Stories: Green Bean Salad With Basil Parmesan 
9. Karen's Kitchen Stories Braised Carrots with Leeks 
10. Dinners Dishes & Desserts: Roasted Asparagus 
11. Cravings of a Lunatic: Fried Smashed Potatoes
12. The Kitchen is my Playground:  Creamed Pearl Onion Gratin
13. Simple Southern Baking:  Greek Orzo Salad
14. Growing Up Gabel:  Maple Roasted Brussel Sprouts
15. Diethood: Slow Cooker Country Style Garlic Mashed Potatoes
16. Farm Fresh Feasts: Simple and Satisfying Green Beans
17. Sweet C's Designs: Perfect Sauteed Mushrooms
18. The Shiksa: Maple Butternut Squash Puree
19. Jilly Inspired:  Sweet Spicy Whipped Sweet Potatoes
20. I wash You Dry:  Cheesy Cauliflower au Gratin
21. The Shiksa: Sweet Potato Latkes with Brown Sugar Syrup
22. Diethood:  Roasted Brussel Sprouts with Bacon
23. Dizzy Busy & Hungry:  Broccoli and Snow Pea Salad
24. Simply Southern Baking:  Sour Cream Waldorf Coleslaw
25. Juggling Act Mama: Easy Oven Roasted Broccoli