25 Festive Christmas Cookie Recipes
Jingle Bells..... Jingle Bells. Here are 25 Festive Christmas Cookie recipes you are going to love! Are you  excited about Christmas yet? I know Thanksgiving is still a week away, but I have been thinking about our yearly Christmas Cookie Exchange for months.
And Gingerbread Houses oh my. Last year I baked up about 2 dozen gingerbread houses in all shapes and sizes and had all the grandkids over to decorate them. We had a blast. The big kids got to decorate a gingerbread house too, of course.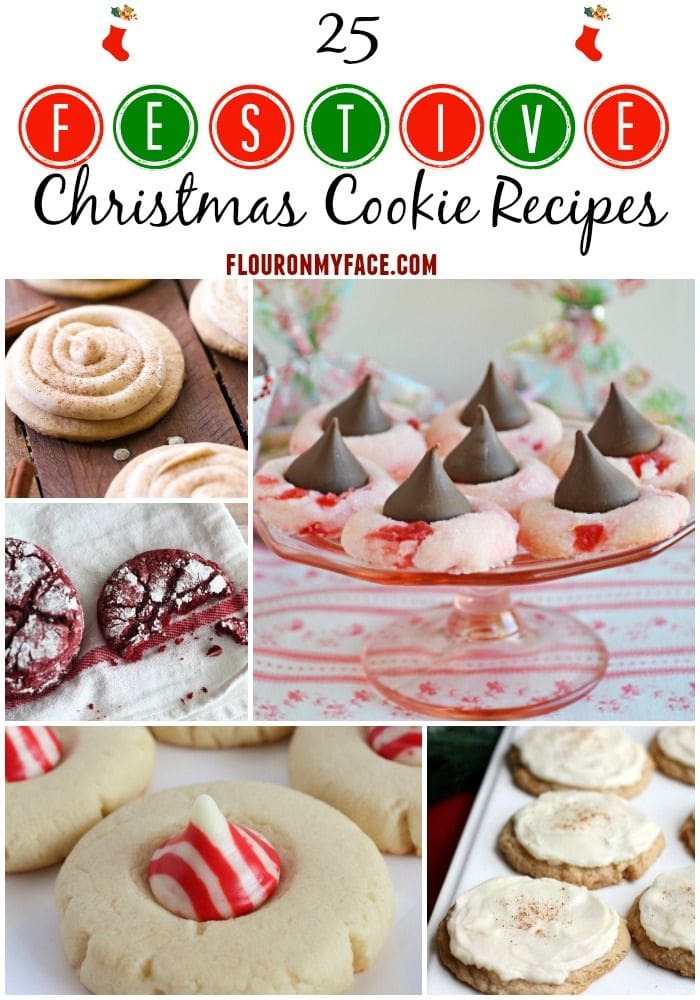 If you love baking at Christmas time as much as I do then I know you are going to love these 25 Festive Christmas Cookie recipes as much as I do. You can never have too many Christmas Cookie recipes I always say.
Every year I have to bake my favorite Cherry Blossom Cookies. Everyone loves them. My husband is partial to my Mexican Wedding Cookies so I have to make them also.
Giveaway alert keep an eye out because on December 7th I will be sharing a huge Amazon gift card giveaway just in time for the holidays.
I love Christmas Cookie Exchange recipes so much that I have a Pinterest board dedicated to Cookie Exchange recipes. Head over and follow my Christmas Cookie Exchange Pinterest Board for even more Christmas cookie recipes.
Happy Baking! Share the love!
[Tweet "25 Festive Christmas Cookie Recipes"]
25 Festive Christmas Cookie Recipes
1. Cinnamon Roll Sugar Cookies
2. Cherry Blossom Cookie
3. Red Velvet Cake Mix Cookies
4. Eggnog Cookies
5. Peppermint Kiss Cookies
6. Twix Thumbprint Cookies
7. Frosted Reindeer Cookies
8. Loaded M&M Oreo Cookie Holiday Bars
9. Lightened Up Snickerdoodle Cookies
10. Mexican Wedding Cookies
11. Santa's Belly Marshmallow Pops
12. Rocky Road Cookies
13. Reindeer Sugar Cookies
14. White Chocolate Cranberry Cookies
15. Skinny Sugar Cookies
16. M&M Sugar Cookie Bars
17. Gingerbread Cheesecake Cookie Cups
18. Cream Cheese Sugar Cookies
19. Marmalade Cookies with Whisky Icing
20. Gingerbread Bar Cookies
21. Chocolate Dipped Christmas Oreo Cookie Pops
22. Cranberry Orange Shortbread Cookies
23. Salted Caramel Molasses Cookies
24. Gluten Free Chocolate Chip Pumpkin Cookies
25. Ginger Crinkle Snowflake Christmas Cookies